Indiana
Indiana
is a state in the heart of the
Midwest
region of the
United States
. It is bordered by
Ohio
,
Kentucky
,
Illinois
, and
Michigan
. Indiana is more than a fly-over state with one large metropolitan area, rural farmland, and cozy college towns.
Regions
Cities
– capital and largest city
– bohemian college town housing Indiana University
– quiet and quaint location of University of Evansville and University of Southern Indiana
– a mix of metropolitan and small town
– an industrial town in Chicagoland which has been rebuilding in the 21st century
– notorious party town with Ball State University
– contains the most beautiful college campus in the state: the University of Notre Dame
– location of several colleges (including Indiana State University)
– Purdue University and a well-preserved historic downtown district
Other destinations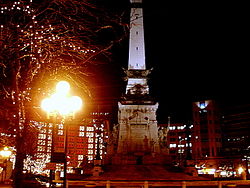 – in the small town that song was about
Understand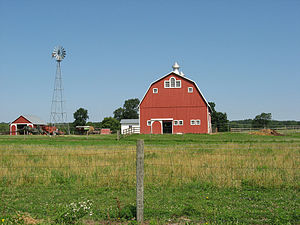 History
Geography & climate
Indiana is mostly rural with high population concentrations in a few major cities/towns. The majority of Indiana is open farmland, though this is changing with expansion.
Time zone
Most of Indiana is in the Eastern Time Zone (same as New York and Washington DC). However, far northwestern Indiana is the Central Time Zone, so it has the same time as nearby
Chicago
. Likewise, for southwestern Indiana, which includes
Evansville
. Since 2006, both zones observe daylight savings from early March to early November, so ignore what older guide books may say about this.
Talk
While English is a the common language, there regions of Indiana where the Amish live who also speak
Pennsylvania Dutch
, which is related to
German
.
Get in
By plane
Indianapolis International Airport
(
IND
) is the major airport in the state with flights to many cities around the country. Direct international service to IND is limited, and includes a daily Air Canada flight to Toronto and, since 2018, Delta flight to Paris.
Small airports in Fort Wayne, Evansville and South Bend offer flights to nearby hub cities. Air service is also available from airports in neighboring states, in Chicago, Cincinnati and Louisville.

By car
Numerous interstate highways enter and leave the state. Interstates 80 and 90 form the Indiana Toll Road in northern Indiana, linking Gary, South Bend and Ohio. Interstate 94 hugs most of Lake Michigan from Illinois to Michigan. Interstate 65 is the major north-south route from Gary south to Indianapolis then entering Kentucky at Louisville. Interstate 70 is the busiest east-west route linking Illinois (at Terre Haute) with Ohio (at Richmond), passing through Indianapolis midway. Interstate 74 does the same thing, except it enters near Danville, Illinois and leaves near Cincinnati. Interstate 64 crosses southern Indiana from Illinois (25 miles northwest of Evansville) to New Albany. Interstate 69 runs from northeast Indiana, out of Michigan, through Fort Wayne and Indianapolis to Evansville, with a gap between Indianapolis and Bloomington that is under construction. Interstate 275 (the Cincinnati bypass) briefly enters Indiana for about five miles. US 41 extends from Gary to Evansville and is the major north-south route through western Indiana.

By train
Amtrak's Cardinal provides service between Chicago and New York City via Indianapolis. The Capitol Limited and Lake Shore Limited serve South Bend and a few other stops along Indiana's northern border.

By bus
Greyhound and Miller Trailways serve Indianapolis and most of other major cities of Indiana, on a very basic schedule. Megabus runs between Chicago, Indianapolis, and Cincinnati, Louisville, and other cities to the south.

By foot
Get around
Indiana's motto is "The Crossroads of America" and it is deserving. Indiana has more Interstates (14) than any other state its size, although the original name comes from all the railroad tracks that went through the state.
Amtrak offers a daily train service from Indianapolis to Chicago and vice versa. The fare is reasonable (about $15–25 each way). The train also passes through Lafayette as well as a few other towns along its way to Chicago. The time of travel is roughly about 4½ hours compared to about 3–3½ hours by car.
South Shore Line links Northern Indiana to Chicago, stopping at Hammond, East Chicago, Gary, Ogden Dunes, Beverly Shore, Michigan City, Hudson Lake and South Bend. It terminates at Chicago's Millennium Station. The overall travel time from South Bend to Chicago (and vice versa) 2½ hours. The line utilizes a zone-based fare system, with prices rising based on the distance, and the prices drop slightly on the weekends. The prices range from $3.80–10.75 on weekdays and $3.00–9.00 on weekends.
Besides Greyhound, Miller Trailways (aka Hoosier Ride) operates intercity bus service throughout Indiana.
Several shuttle bus companies connect Indianapolis Airport with other cities in central Indiana (Terre Haute, Bloomington, West Lafayette, Muncie), making the airport a hub of ground transportation of sorts as well; some of them also have occasional bus service on non-airport routes (to Chicago, shopping malls, etc). GoExpress also runs regular shuttle service between Bloomington and downtown Indianapolis/IUPUI (Campus Commute).
Hitchhiking is legal in Indiana, except on the interstate freeways.
See
Your traditional sightseeing in Indiana belongs in
Indianapolis
, which is flush with big museums, an inordinate quantity of giant monuments and memorials, and a very nice canal walk with paddleboats and public art.
Outside the cities, and outside of the seemingly endless farmland in the plains, are a host of parks and outdoor recreation areas worth visiting. Without a doubt, the one to see, if you must choose, is
Indiana Dunes National Park
(and Indiana Dunes State Park). The dunes are enormous, the water crystal clear, the swampy forests beautiful, and the far-off industrial views intriguing.
State parks
Do
Festivals and events
Sports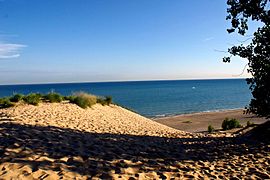 College sports- Indiana is home to many Division I NCAA schools:
Ball State University (Muncie)
Butler University and IUPUI (Indianapolis)
University of Evansville (Evansville)
Indiana University (Bloomington)
Indiana State University (Terre Haute)
University of Notre Dame (South Bend)
Purdue University (West Lafayette)
Purdue University Fort Wayne
Valparaiso University (Valparaiso)
Baseball- Indiana is home to a number of minor league baseball teams, including: Gary SouthShore RailCats, Fort Wayne TinCaps, Indianapolis Indians, South Bend Blue Sox, South Bend Silver Hawks, and Evansville Otters.
Racing- The Indianapolis 500 race is the most attended sporting event in the world. It's common to see many vendors and spectacular displays during the pre-race (most notably the singing of "Back Home Again In Indiana", formerly by the now-deceased Jim Nabors, and the overfly of the stealth bomber at the conclusion of the National Anthem). Also don't forget the Allstate 400 (formerly the Brickyard 400) NASCAR race held every summer in Indianapolis. IRP (Indianapolis Raceway Park) also holds the grand nationals of drag racing at its facility. IRP is located about 10 miles west north-west of Indianapolis in Hendricks County
Racing- Salem Speedway. Home to many small-circuit races throughout the year, Salem is often called the "fastest half mile in the world." With only a chain-link fence separating the pit lane from the infield, Salem offers a more interactive fan experience than many larger tracks.
Eat
Cuisine throughout much of the state is typical Midwestern, with the occasional odd dish like Corn Casserole. Outside of the main cities most of the restaurants are diners or family-style, while in the bigger cities you can find all sorts of varied cuisine.
Indianapolis
, in particular, has a very cosmopolitan selection of ethnic restaurants from around the world, as do major campus towns (Bloomington, West Lafayette).
Lake County
, as in most everything, diverges from the norm in Indiana, and is a better place to find
Chicago-style
food like hot dogs and pizza.
Drink
Hoosiers know how to drink! Wherever you are, you would be hard pressed to not find a bar. The trendiest part of the state for a drink is probably Broad Ripple in
Indianapolis
, but you will find streets packed with bars and pubs throughout the cities of the state,
especially
near major universities in
Bloomington
,
West Lafayette
, and
South Bend
. Micro-breweries are present in all the major cities,
Upland
from Bloomington is especially popular and available throughout the state. Drink prices can be very low in Indiana—especially out of the
Nine-County Region
. It's not uncommon to find domestic bottled beer for $1 during the week, with other varying specials.
For dancing and nightlife, the main options are in and around
Indianapolis
and
Fort Wayne
, as well as by the major universities.
Liquor stores are open on Sundays throughout the state. Hours are noon to 8PM.
Bars and restaurants are allowed to serve beer, wine, and liquor seven days a week, between the hours of 7AM and 3AM (the following morning), local time. Hours for bars can vary by population density and owner preference, but the vast majority of full-service "chain" restaurants with alcohol sales will not remain open beyond 11PM or midnight. In most localities however, one can always find a neighborhood bar or nightclub that will serve drinks right up to 3AM. In all substantial cities, almost all bars will remain open until this time.
There have been many rumors about a liquor law in Indiana that prohibits the "take home" sale of cold beer. This is absolutely false. Throughout the state in any liquor store, Village Pantry service stations, and some grocery stores it can be purchased cold. Liquor stores that sell hard alcohol cannot sell pop or soda cold, rather it must be at room temperature.
Stay safe
Largely rural, Indiana has a fairly low crime rate per capita. In 2006 (the latest year for which data is available) it ranked 29th in crimes per 100,000 population. Large urban areas are exceptions like the former steel town Gary and the outlying Chicago area in the Northwest and certain segments of Indianapolis.
While outside of Tornado Alley, Indiana has a fairly high occurrence of tornados. You might want to check the
Tornado safety
page if you are visiting Indiana.
High incidence of
HIV
and hepatitis C infection have been reported in 2015 in certain areas of southeastern Indiana, centered on the town of Austin in
Scott County
. (See official press releases here:
HIV outbreak in southeastern Indiana
.)
Connect
The vast majority of Indiana is on Eastern Time and began observing Daylight Savings Time in 2006. The five counties of
Northwestern Indiana
(near
Chicago
) as well as several counties around Evansville are on Central Time.
Go next
Illinois – Chicago, the largest city in the Midwest, is located just across Indiana's western border, making it an ideal day-trip destination.
Kentucky – Indiana's neighbor to the south is known for its rolling hills, horses, and rural inhabitants, offering travelers a less-visited but tremendously beautiful destination.
Ohio – Located to the east of Indiana, the city of Cincinnati is a short drive from southeastern Indiana.
Michigan – Indiana's northern neighbor borders four of the five Great Lakes and features stunning natural beauty.