Indira Gandhi International Airport
Indira Gandhi International Airport
(
DEL
) is the main airport of the Delhi metropolitan area in India. As the airport of the nation's capital and second highest populated city as well as the primary hub of Air India, it is the busiest airport in India.

Understand

Once notoriously bad, the airport has been made better with the building of T3 and the renovation of T2. There are several security checkpoints in the airport and you may have to show your boarding pass and passport a dozen times before boarding the plane.
When leaving Delhi from the international terminal, you should show up 3 hours before your flight is scheduled. For domestic flights, 2 hours should be enough, depending on whether or not you must wait in the queues to check luggage. While sometimes time-consuming, the process is smooth, and the new terminal's shops and restaurants are sensibly located at the gate area, not before security. However, if you wish to change Rupees back into foreign currency, you must do this before clearing security.

Flights
Terminals 1 and 3 are colored after the metro lines that directly serve them.
T1
Most domestic flights, with concourses T1C for arrivals and T1D for departures
T2
Hajj flights terminal, now runs GoAir, IndiGo (denoted by flight numbers 6E 2000-2999) and SpiceJet (denoted by flight numbers SG 8000-8999) domestic flights
T3
International flights (right side of the terminal as you enter) as well as domestic Air India flights (left side)
One flight of note is AI 139 to
Ben Gurion Airport
, as it is the first flight to bypass a ban on flying to Israel over Saudi Arabian airspace that has existed for decades. For the time conscious traveler, this flight, which takes seven and a half hours, is two hours faster than a route that circumvents this airspace, and of course is much faster than a connection.
Ground transportation
By metro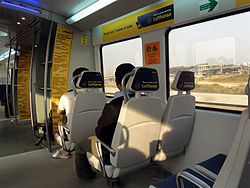 The
Delhi Airport Metro Express
or the
Orange Line
is a train line that operates between New Delhi Metro Station and Dwarka Sector 21, with a stop at the . A feeder bus from T1 to the is also available. Trains run every 10 minutes at peak hours; see the
website
for the exact schedule. The journey to New Delhi Metro Station takes 20 minutes and costs ₹60 from T3 and ₹50 from Aerocity (T1). From the railway station, you can transfer to the Metro (crossing the city street to reach the station). Return tickets have been discontinued - now there are only multitrip (10, 30 or 45 trips on the same route with varying discounts) and stored value cards (with a 10% discount on fares).
The New Delhi and Shivaji Stadium stations have city check in facilities for Air India passengers on domestic, Gulf, and select international flights.
The
Magenta Line
of the Delhi Metro directly connects to T1. However, the station is across the street from the terminals, taking a while to get to, although the path is now marked and cleared. Since this is a normal metro line, there is no city check-in, it is slower and normal metro baggage limits apply. However, it still has its advantages, as the line is an easier way to get to Noida.
By bus
Delhi Transport Corporation
and
EATS (Ex Serviceman's Airlink Transport Service)
operate buses between the airport and the city 24 hours per day. Travel time is approximately 50 minutes and the cost is ₹50 per adult, ₹25 per child below 12 years, ₹25 for heavy luggage. Buses run to ISBT (Inter State Bus Terminal) near Kashmiri Gate, Connaught Place, Delhi Train Station and many hotels in the city centre, departing from both airport terminals every 60 minutes from 10:00-23:20. Tickets can be bought and a fixed seat can be booked at a desk in the Arrivals Hall.
By taxi
Taxis
from the airport should only be booked from the
yellow prepaid taxi booths
operated by the Delhi Police. There is one located directly outside of the airport and one located near the rental car counters to the right of the exit doors. You may be approached by touts offering pre-paid taxis; just ignore them as there have been safety incidents reported. It is worth it to wait in the long queue for a prepaid taxi. A prepaid taxi to the city centre will cost ₹500-600. Ignore any requests by the driver for additional payment. There is no practice of tipping taxi drivers anywhere in India. When you reach your destination, take your bags first, then give the driver the receipt and walk away without further discussion. Note that taxis routinely get stuck in traffic during rush-hour, but the journey to the city centre is much quicker at night.
Prearranged pick-ups
are also available from most hotels. The cost may be double the charge from the prepaid taxi booths, but you will have someone waiting for you at the airport with your name on a sign and you won't have to wait in the taxi queue.
Ride sharing
is possible from the airport, with both Uber and Ola operating designated pick-up areas. At Terminal 3, the pick-up area for rideshare vehicles is located at the ground floor of the multilevel parking structure, about 5-10 minutes away from the terminal on foot.
Get around
Every 20 minutes a complementary shuttle bus runs between international and domestic terminals.
A complementary golfcart service is available between T1C and T1D.
Due to the introduction of regular passenger service from T2, a free shuttle between it and T1 has been started.

Wait
Lounges
Air India Lounge

address: Terminal 3

Both domestic and international lounges are available for passengers. Access is free for Air India First Class, Business Class, Maharaja Club members of Flying Returns and Star Alliance Gold customers.

Allways VIP Guest Service

ITC Lounge

address: T3 International Departures

Plaza Nap & Shower

Plaza Premium

The Amex Platinum Lounge

address: T3 Domestic Departures

Emirates Lounge

address: Terminal 3

Vistara Lounge

Lufthansa Lounges
Eat and drink
StarbucksWhile absent from India for many years, this world-famous coffee chain now has multiple locations in the airport.
address: T1 Departures

address: T3 Domestic Arrivals

address: T3 Domestic Departures

address: T3 International Departures
Buy
There are many stores at the airport, with many famous brand names and, of course, some duty free shops. A full list can be found
here
.
Connect
Wi-Fi is available, but a mobile number is needed to send a one-time password via text message.

Sleep