Inglewood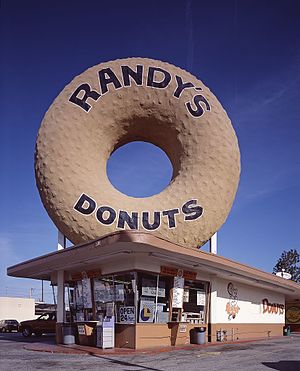 Inglewood
is a city in
Los Angeles County
in
Southern
California
. Sandwiched between
South Central Los Angeles
and
Los Angeles International Airport
(LAX), it is a somewhat impoverished area. Though there isn't much for a tourist to see, there are some excellent eats here and a number of chain motels taking advantage of the city's proximity to LAX.
Get in
By car
While Inglewood is not served by any major Interstate, U.S or California Highway Route, the city is served by auxiliary Interstates. Interstate 405, which is near the LAX, is always busy. Interstate 105 and 110, although less busy, are still pretty clogged with traffic. The California State Highway Route 90, while does not directly go to Inglewood, is near the city. Although it might take a longer time, if the traveler wants less traffic to deal with, they may want to take the California State Highway Route 90, then take West Slauson Avenue, then turning to South La Cienega Boulevard and then turning at West Manchester Boulevard.
By plane
While Inglewood doesn't have its own airport, there are many major airports that surround Inglewood, giving it the motto "Harbor of the Air". The
Los Angeles International Airport (LAX)
is the major airport that serves flights to Inglewood. The Hawthorne Municipal Airport is just south of the city. The Compton Woodley, Santa Monica and Long Beach Airports are also nearby.
Get around
By car
There are many car rental shops in Inglewood, especially near the LAX. This is probably one of your fastest ways of getting in and around Inglewood.

By bus
There are various buses and bus stations around Inglewood. Many of these stop at main tourist destinations and restaurants, such as Randy's and The Forum.

See
There isn't much to see in Inglewood. The city is mainly just single-family homes and apartments, although there are a few nice parks and the famous Forum arena. However, that's set to change in the 2020s with the development of two major sports venues. The NFL's Los Angeles Rams are building SoFi Stadium, which will be the home for themselves and for the Los Angeles Chargers once it opens in 2020. The Los Angeles Clippers of the NBA, which share Staples Center in downtown L.A. with the Lakers, have announced plans to build their own new arena and open it in 2024.
phone: +1 310 412-6500

address: 720 E Florence Ave

One of the oldest cemeteries in the Los Angeles area. Has some beautiful chapels.
Do
phone: +1 310 330-7300

address: 3900 West Manchester Blvd

The former home of the Los Angeles Lakers, it was overshadowed for many years due to the opening of the Staples Center in Downtown LA in 1999. However, a major renovation (completed in 2014) transformed the Forum from a sports arena to a premier concert venue, removing the scoreboards and luxury boxes and focusing heavily on creating a space with great acoustics. Today it is a 17,500 seat arena that regularly hosts major musical acts and awards shows.

Centinela Park

phone: +1 310 412-5370

address: 700 Warren Ln

Take a stroll around this beautiful and large park. The park offers a public swimming pool and has a nice amazing view.

phone: +1 310 330-2800

address: 3883 W Century Blvd

SoFi StadiumStadium set to open in 2020 as the new home of the NFL's Los Angeles Rams and Los Angeles Chargers.
Buy
phone: +1 323 418-0592

address: 2718 West Imperial Highway

Crenshaw Imperial Shopping Center

phone: +1 310 677-3014

address: 3130 West 111th Pl

Inglewood Wholesale Elec Co

phone: +1 310 673-4400

address: 923 South Prairie Ave
Eat
As Inglewood is mainly suburban and has low tourism, most restaurants are fast food restaurants (such as McDonald's, KFC, Subway, etc.). However, Inglewood has some distinct and well known famous eateries.
Budget
phone: +1 310 645-4707

address: 805 W Manchester Blvd

Home of the "Big Donut", Randy's is one of only 4 surviving "giant donuts" in the Los Angeles area. The donuts and coffee and other snacks are pretty cheap yet also tasty, so you shouldn't have much problem on finding something you like. The store has gone as far as to give worldwide deliveries of their donuts. This drive-thru shop is shaped like a giant donut and is visible from the 405 freeway.

Lee's Caribbean Restaurant

address: 1041 S Prairie Ave

Near Toni's, this traditional Caribbean restaurant has some pretty good chicken. The service may be a little slow, but it's worth it.

phone: +1 310 674-2344

address: 11205 Crenshaw Blvd

A local hamburger restaurant with some pretty good cheeseburgers and burritos. Probably Inglewood's 2nd best well known restaurant, just behind Randy's. If you're looking to indulge into some unhealthy food, this is your paradise. If you are health savvy, you're better off looking elsewhere.

Roscoe's Chicken & WafflesRhis is the most well-known of the ubiquitous LA-area chicken & waffles restaurants. Cheap, and with good service, this restaurant is a convenient, quick dinner spot.
Mid-range
address: 1035 S Prairie Ave

Very good fast food restaurant. Makes some good burgers. This is a pretty busy restaurant, so expect to wait for a long time. However, it's worth the wait.

phone: +1 310 671-8000

address: 147 W Manchester Blvd

One of the best Mexican restaurants in Inglewood. They serve some pretty good tortas and seafood. They also have some good burritos, tacos, and burgers.
Splurge
phone: +1 310 671-0115

address: 114 N Market St

A completely vegan restaurant for those who have certain consumption beliefs or those watching weight. It's not cheap, but the food is fresh and healthy.

phone: +1 310 671-3345

address: 202 E Manchester Blvd

A very pricey restaurant in Inglewood that serves 100% authentic soul and American Southern food. The restaurant tends to be moderately busy, which means the service is a little slow, but the food is very good.
Drink
phone: +1 310 649-6776

address: 1662 Centinela Ave

Probably Inglewood's most famous bar, with a distinctive "Green Horse" sign on top of the bar. This bar serves some great cocktails, beer and food, and also has some great music.
Sleep
There's no shortage of cheap motels here. There are a few standard chain hotels near LAX which offer standard anonymous airport area accommodation. Luxury hotels, however, are in short supply.
phone: +1 310 677-7378

address: 640 W Manchester Blvd

Best Western Airport Plaza Inn

phone: +1 310 568-0071

address: 1730 Centinela Ave

phone: +1 310 671-7213

address: 4922 W Century Blvd

Days Inn Los Angeles - Airport Center

phone: +1 310 649-0800

address: 901 W Manchester Blvd

Los Angeles / LAX Microtel Inn & Suites

phone: +1 310 491-7000

address: 4751 W Century Blvd

phone: +1 310 419-1234

address: 5101 W Century Blvd

Hollywood Park Motel

phone: +1 310 673-1919

address: 823 S Prairie Ave

Westfield Inn at LAX Inglewood

address: 4652 W. Century Blvd
Stay safe
Inglewood is not as dangerous as commonly believed. Since the 1992 riots the crime rate has been dropping; however, rates of robbery and assault are much higher than the national average. During the day gang activity is low and police patrol the streets. At night time, be careful of your surroundings and avoid anyone acting suspicious. Avoid large groups of people wearing gang colors, and also be alert for anyone who is on drugs or drunk. Most crime happens in the central part of the city, and the outer areas have a lower crime rate. Be careful when in the central neighborhoods (such as the City Center or the intersection between Crenshaw and Manchester Boulevards), the areas surrounding Lennox Boulevard and Burl Avenue, 104th Street and Crenshaw Boulevard and the area between Van Ness Avenue and the Imperial Freeway. These are the areas that you will most likely encounter trouble.

Go next
The following cities and neighborhoods share a border with Inglewood:
Westchester - Inglewood's western neighbor is the home of Los Angeles International Airport and a number of lodging options.
Hawthorne - Bordering Inglewood to the south, Hawthorne is home to several aerospace companies including SpaceX, and is an option for those needing lodging near Los Angeles International Airport.
South Central LA - Located northeast of Inglewood, South Central has its rough parts but is definitely worth a visit to see the Space Shuttle Endeavour at the California Science Center, as well as the campus of USC and the sights of Exposition Park.