Iniö
Iniö
is a former municipality, now part of
Pargas
, in the
Archipelago Sea
in south-west
Finland
. It consists of group of four main islands and over one thousand minor ones. Ten islands have permanent residents, most people living on Iniölandet. Before Iniö was merged to Pargas it was the smallest muncipality in Finland excluding Åland with just 250 inhabitans. Now this title belongs to
Luhanka
in Central Finland.
Iniö is part of the
Archipelago Trail
.
Understand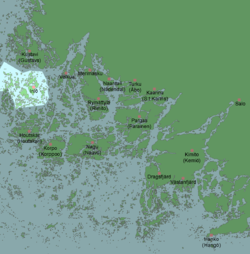 Iniö is located in the middle of the
Archipelago Sea
and people have traditionally lived from fishing, agriculture, sea fowl hunting and seafaring.
Most people live on the main island, Iniölandet. Another important island is Jumo, as Kannvik ferry harbour is located there. These two islands are connected by a road ferry and the main road runs through them. Minor inhabited islands, some with just a few families, are connected to the mainland with regular ferry services.
There are some archaeological findings from the bronze age. First permanent inhabitans have probably been Swedish speaking fishermen during the early medieval period. The name Iniö appears first in 1554 as a chapel under
Taivassalo
parish.
Iniö is traditionally
Swedish
speaking and still has a Swedish speaking majority. Service is usually available in both Swedish and Finnish, as well as in English.
Get in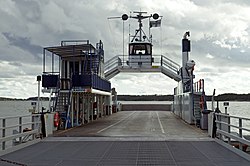 Iniö is on the
Archipelago Trail
from Turku via Houtskär to Iniö and back to Turku via Kustavi.
Iniö can be reached only by boat or ferry. Even though Iniö belongs to Pargas, it is connected to other parts of Pargas only during the summer months. The year-round ferry operates between Iniö and
Kustavi
in the north. The
main village
, Norrby, is on the east coast of Iniölandet, some 7 km from the Kannvik ferry jetty and 4 km from the Dalen ferry jetty. The road is paved and is in good condition to both directions.
Road ferry
M/S Aura
operates year-round between Heponiemi in Kustavi and Kannvik in Iniö. See the
timetables
. The ferry is free of charge and has a café. There is a café in Kannvik but no services but dry toilets in Heponiemi.
Road ferry
M/S Antonia
operates during the summer season (May 31th to September 1st in 2019) five times a day Mon–Sat and three times in Sundays between Mossala in
Houtskär
and Dalen in Iniö. See the timetables
here
. Transport fees: adult €10, children €5, bicycles €12, MC/moped €25, car €40, and caravan €75. The fees for vehicles include all passengers. The ferry has a small café. There is a restaurant in Mossala but no services in Dalen.
It is possible to come from
Åland
with M/S Satava, departing from Torsholma in Brändö, connected to the Åland mainland with other ferries. See
Brändö
and
Get around
below.
There are
coaches
from Turku to Heponiemi in Kustavi twice a day (about €14, children 4–11 half price). Check the timetables at
Matkahuolto
. Use
Laupunen laituri Heponiemi
as your destination in the Matkahuolto search. The bus is operated by
Taivassalon Auto
. M/S Aura takes you to Kannvik in Iniö.
A more adventurous way is to take coach from Turku to Houtskär (about €23). The coach from Turku leaves you in the Galtby ferry harbour and another coach is waiting in Kittuis ferry harbour in Houtskär. Changing coaches actually means a 30 min ferry trip here! In Houtskär the terminus is usually
Näsby
, but
on Sundays
the coach drives all the way to
Mossala
village. From Mossala village there is 3 km left to Mossala ferry jetty (12 km from Näsby). This connection is operated by
TLO
using Skärgårdsbuss's white-green livery. Use
Mossala (Parainen)
as your destination in Matkahuolto search. M/S Antonia takes you to Dalen in Iniö.
There is a good
bike
route from Turku to Pargas. Some kilometres after the Pargas centre it gets narrow and starts going up and down any hill, but it continues to Lillmälö. In Nagu, Korpo, and Houtskär you mostly have to cope with the road traffic. It is a good strategy to get off when the batch of cars from a ferry is approaching. Otherwise there is very little traffic on these roads. Stay to the right as the local drivers really don't expect a bicyclist after the next turn...
If you're coming by a
yacht
the Iniö guest marina is operated by
Björklund Båtslip
and is located 1.5 km north from the centre of Norrby.
Get around
Iniö is a very little place so there is no public transportation. The roads are quiet and very suitable for
walking
and
biking
. Outside the main road between Kannvik and Dalen roads are gravel roads. Ask for renting a bike from your accommodation.
The Skagen road ferry between the islands Iniölandet and Jumo runs when needed.
The nearby island Keistiö is connected by scheduled road ferry from Dalen. See the timetables
here
. From Kannvik there is also a small road ferry to some of the minor islands including Åselholm.
Many smaller islands are served by
ship-like ferry
M/S Satava departing from Norrby/Kannvik harbour with timetables and routes differing depending on day of week. The complete route takes several hours. This vessel goes all the way to Torsholma in
Brändö
, Åland. The timetable (
Iniön lisäreitti summer 2019
) is fairly complex, and in most cases the ferry must be ordered at least one day in advance. Contact the vessel by phone and ask.
With a
yacht
all small islands are in reach. Be careful about islets with nesting birds.
There are
kayaks
for rent at some lodging businesses.
See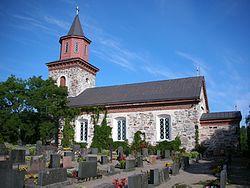 Traditionally the church has been the number one destination. The Norrby village itself is small and cosy. It is also easy to visit the small Keistiö village on Keistiö island, just across the strait from Dalen. Åselholm is a very beautiful archipelago village.
Iniö kyrka

address: Norrby

Stone church built 1797–1800 and named after Sophia Wilhelmina, the princess of Sweden. Small graveyard. The bells are still ringed by hand, the Saturday evening ringing at sunset.

phone: +358 41-456-6454

address: Norrby

Exhibition consisting of hundreds of pulleys and some other seafaring artefacts. Probably the only pulley museum in the world. Easily worth of visit. Call or SMS to check when it is open.
Do
Fishing, boating, swimming, enjoy the nature.
Norrby nature trailThis nature trail takes you to Kasberget and back, just follow the white triangles on the trees. Being 40 meters above sea level the top of Kasberget is the highest point of Iniö islands. If the weather is clear enough you may see both to mainland Finland and Brändö in Åland. The trail is rocky and has climbs. Total length 2.5 km to Kasberget and back.
Events
The Midsummer is the main event everywhere in the archipelago.
Buy
Grocery store is in the middle of Norrby village.
phone: +358 40 015 8734

address: Norrby hamn 9
The tiny
market square
is behind the grocery store.
Eat
Out of season the restaurants are open only either at lunch on workdays or at request. Check beforehand.
At Norrby
phone: +358 40 590 5794

address: Norrby

Excellent pizzas and hamburgers.

Lola's Service Lunch & Catering

phone: +358 50 566 2832

address: Norrby

Archipelago style lunch.

phone: +358 2 463 5343

address: Bruddalen 42

Thai food(!), café
At Kannvik
phone: +358 40 595 8794

address: Iniövägen 27

Café with some food
Drink
For nightlife, Leonella is open until 22 at summer.

Sleep
There are some B&B:s and cottages for rent.
phone: +358 44-055-2253

address: Kommunhusbacken 17

Former municipality office, built 1933.

phone: +358 44-970-3347, +358 44-243-5452

address: Jumovägen 38

Farmhouse, lodgings in the barn, toilets and showers in the main building. Sheep, goats, horses and hens in the yard. Closed off season. Linen and breakfast included.

phone: +358 40-595-8794

address: Iniövägen 27

Very cheap cottage accommodation
Camping
phone: +358 2 463-5343

address: Bruddalen 42

Guest marina and café. Camping site and electricity for caravans. Thai restaurant at the summer season. Sauna. Main village 1.5 kilometres away.
Connect
Postal code: 23390 Iniö (all islands)

Stay safe
Beware of
ticks
and
sunburn
. There are lots of deer around, especially at dusk.
There is no pharmacy in Iniö but some self-care drugs are sold in the grocery store.
Go next