Intercourse
Intercourse
is a small Amish village in
Lancaster County
in
Pennsylvania Dutch Country
.
Understand
Founded in 1754 as "Cross Keys", Intercourse (pop. 1,400) is one of multiple small villages
with unusual names
in the heart of Pennsylvania's Amish country.
Other charmingly-named
local Pennsylvania Dutch villages include Blue Ball, Gap, Fertility, Mount Joy,
Lititz
, Bareville, Bird-in-Hand, and Paradise.
As Amish villages are only about from
Wilmington (Delaware)
and from
Philadelphia
, these tiny communities are flooded with thousands of visitors.
Get in
Get around
See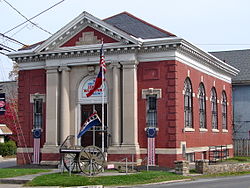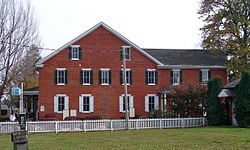 American Military Edged Weaponry Museum

phone: +1 717-768-7185

address: 3562 Old Philadelphia Pike

Military knives and artifacts. Items from the Spanish-American War, the two world wars, Korea, Vietnam and Iraq (Desert Storm).

address: 3510 Old Philadelphia Pike

On second floor of historic Old Country Store. Exhibits antique Amish quilts and decorative arts.
Do
Aaron and Jessica's Amish Buggy Rides

phone: +1 717 768-8828

address: 3121 Old Philadelphia Pike, Bird in Hand

phone: +1 717-768-8400

address: 3121 Old Philadelphia Pike, Bird in Hand

Shuttle van tour of Amish country.
Buy
phone: +1 717 768-7101

address: 3510 Old Philadelphia Pike

Amish and Mennonite crafts, quilts, toys and tablecloths.

address: 3529 Old Philadelphia Pike

A group of forty stores include handmade items, antiques, food and furniture.

Bird-in-Hand VillageA visit to the Village of Bird-in-Hand is like returning to a bygone era. Here you will find friendly shopkeepers, homegrown Lancaster County foods and restful lodging for weary voyagers. An old-fashioned Farmer's Market in the heart of town offers fresh foods, handmade crafts and homegrown produce. The town's Old Village Store is still open for business, filled with unique and nostalgic inventory.

Intercourse Merchants Association GroupIntercourse is the hub where the Amish and local folks do their business and host thousands of visitors each year. The beautiful Amish farms surround the Village which is on the Old Philadelphia Pike (Route 340), earlier known as King's Highway, in Eastern Lancaster County. Intercourse is in close proximity to all Lancaster County attractions and in particular, the sister villages of Bird-in-Hand and Strasburg.
Eat
phone: +1 717 768-2746

address: 3529 Old Philadelphia Pike

Restaurant in old farmhouse, open for breakfast and lunch.

Immergut Hand-Rolled Soft Pretzels

phone: +1 717 768-0657

address: 3537 Old Phila Pike

Hand-rolled and baked regular pretzels, specialty pretzels and pretzel wraps.
Drink
phone: +1 717 768-1501

address: 2715 Old Philadelphia Pike, Bird-in-Hand, PA

Homemade casual cuisine for breakfast lunch, or early dinner. Baked goods (especially pies, cakes, cookies, etc), specialty coffee, and artisan ice cream.

Kitchen Kettle Village CaféOne of multiple restaurants in Kitchen Kettle Village.

phone: +1 717 768-7194

address: 3174 Old Philadelphia Pike

The Lancaster Beer and Wine Gallery includes a first-floor Wine Gallery and a Barn Café on the second floor.
Sleep
phone: +1 717 768-8396

address: 3013 Old Philadelphia Pike, Bird-in-Hand

Family-owned motel in the middle of Lancaster's Amish Country (about half-way between the town of Bird-in-Hand and the Village of Intercourse). Outdoor pool. Free Wi-Fi. Free guided bus tour of Amish Country, cable TV, individual room air conditioning and heat, and in-room refrigerator. Book online option.

Holiday Inn Express - Lancaster

phone: +1 717 293-9500

address: 24 S. Willowdale Drive

Situated just off of routes 30 & 896, surrounded by the Rockvale Outlets and located in the heart of the "Amish" countryside.

address: 3529 Old Philadelphia Pike

Inn and Spa at Intercourse Village

phone: +1 717 768-2626 (inn), +1 717 768-0555 (spa)

address: 3542 Old Philadelphia Pike

Antique or locally-made furniture, fireplaces, wi-fi, shower or bathroom en suite, flatscreen TV/DVD.

Intercourse Village Inn and Suites

phone: +1 717 768-3636

address: 3610 E Newport Road

Best Western with indoor pool, restaurant, fitness room.

phone: +1 717 768-7186

address: 3368 Harvest Drive • Gordonville

Fisher's Amish Restaurant, 4500 ft² Scenic Village Banquet and Conference facility, coffee and hot tea in the lobby, gazebo and patio overlooking the farmland, playground, guest coin laundry. Rooms include Wi-fi, refrigerator, microwave, coffee/tea maker, iron/ironing board, hair dryer and 32" flat screen TV. Family suites with 3 beds available.

phone: +1 717 687-5000

address: 312 Paradise Lane, Ronks

All of the rooms are converted railroad cabooses. The restaurant is a real dining car. Located next door to the National Toy Train museum and near the Strasburg railroad and the Choo-Choo barn. Free petting zoo on site. Observation tower on site. Rooms are not fancy and Wi-Fi coverage is spotty.
Sunset Valley Motel, 2288 New Holland Pike, +1 717 656-2091. Clean, quiet, and comfortable. Located away from busy Route 30, but only takes a few minutes to drive to all the tourist areas. All rooms have cable TV and microwave oven/refrigerators.

phone: +1 717 768-8731

address: 3701 Old Philadelphia Pike

Motel in Intercourse, PA. Free Wi-Fi and cable TV. Free deluxe continental breakfast with homemade baked goods and farm-fresh hot food. Each room has air conditioning and heat. Easy walking distance from small shops & attractions. Free access to nearby indoor and outdoor swimming pools. Complementary guided bus tour of Amish Country.
Go next