Interior (Iceland)
The
Interior
of
Iceland
is a rugged snowy territory, accessible only in summer.
Other destinations
Anyone's biggest worry in the interior is to run out of fuel. Here are a few places to look for. Accommodation is available in all of them as well as food.
Hótel Hrauneyjar is a small hotel located in the southern interior, just north of Mt. Hekla.

Hveravellir

LakagígarFissures that were formed after an eruption in 1783–1784, which threatened the population of Iceland at the time.

AskjaA volcano that collapsed in on itself after an eruption in 1875. Since then, water has accumulated in the crater, making a 220 meter deep pool of water.
Understand
This is probably the harshest, most "away from it all" place in all of Europe. In addition to being largely covered in glaciers, this area is also volcanically active. The biggest danger to the common visitor however, is running out of gas. Plan accordingly.
The interior is an uninhabited area in Iceland, with the majority of the region over 600 meters above sea level. The region's main attraction is its remoteness and huge expanses of untouched scenery.
Most of the land is barren. Three of the largest glaciers in Iceland are within the region, although the largest one, Vatnajökull, is mainly within the area of South Iceland. The other two, Langjökull and Hofsjökull, cover an area of 1878 square kilometres.

Get in
By bus
The easiest, cheapest and safest way to venture into the interior is by BSI bus (special 4x4 buses with experienced drivers).
Scheduled services are operated by Reykjavík Excursions and Sterna's route 610a crosses the interior through road 35.
By car
As elsewhere in Iceland, roads that start with an "F" are overall in worse condition and more of a challenge than those that are simply a number. Authorities will remove the F from the official designation of a road when it meets the (not terribly high) Icelandic standards for a "regular road". That said, even on normal roads, the Interior can be challenging and there is only very sparse population and service or civilization may be days away in any given direction.
Good starting points are
Akureyri
in North Iceland and
Selfoss
in South Iceland. Both of those towns are connected to the Ring road.
The interior has two important roads, F26 and road 35, known by the locals as Sprengisandur and Kjölur. Both of these roads cross the country, connecting South Iceland with North Iceland. The directions below will guide you to these roads.
From Akureyri follow road 821 in an southern direction. The road then continues as F821. Turn right into F881 and left into F26.
From Selfoss follow road 35 in an north-eastern direction. The road will pass by Geysir and the waterfall Gullfoss (in
Upcountry Árnessýsla
) before it enters the interior.
Renting a 4X4 is very expensive and must be done in advance. It's best to travel with at least one other car as conditions are extreme. Remember that off-road driving is prohibited in Iceland because it contributes to erosion and can be very dangerous.
By bicycle
Iceland has very few long distance bicycle paths. Follow the same routes as a car would to the interior. Don't do this unless you are an experienced long distance cyclist and can fix all conceivable (and some inconceivable) defects in your bike as help may be days off and more accustomed to cars than bikes.
Gear
As the interior is an isolated place, it is important to be prepared.
Jeep trips
Warm clothes - preferably several layers (temperatures are lower in the interior than in the coastal lowlands)
Hiking boots
Gloves, head cover
Windproof and water repellent jacket
Food
Cell phone
GPS
Map
Tyre repair kit or a spare tyre and jack
Jumper cables
Shovel
First aid kit
Tool kit
Fan belt
Rubber boots
Towing rope
Bicycle trips
Bicycle pants
Warm socks
Jogging shoes
Gloves
Windproof and water repellent jacket
Energy packed food
Bicycle helmet
GPS
Cell phone
First aid kit
Pump and tyre repair kit
Strong adhesive tape
Get around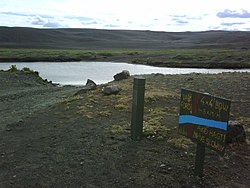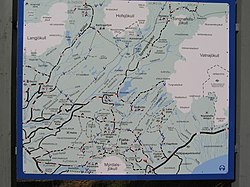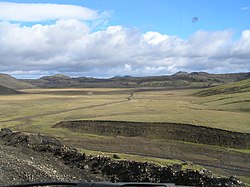 By bus
The easiest, cheapest and safest way to venture into the interior is by BSI bus.
By car
The easiest way of getting around independently is to travel by car. Only 4WD cars are allowed in the interior. Contact the company from which you rent the vehicle and ask for a vehicle that can handle the terrain of the interior. All roads in the interior are closed in the winter and spring, but are open in the summer.
Attractions in the interior are situated within walking distances from the roads. Usually there are parking areas near the starting points.
By bicycle
Travel distances within the interior are great and previous cycling experience is recommended. Cycle within your abilities and protect the environment by following roads and paths within the interior.
Fording
On marked routes there are often bridges across rivers. Less known routes have minor streams that are too wide to jump over.
Search for the widest point of the river to cross, as the water stream is slowest at that point. Take it slow, make sure that have a good balance and move one foot at a time.
See
...
While most visitors are amazed by the arctic landscape, many Icelanders actually find it boring.

Do
Swimming is allowed and possible. Lakes are typically located in the southern part of the region. You should keep 50 meters away from cottages. Look out for streams and slippery rocks.
Eat
It is recommended to carry food for several days and replenish by going to shops in other regions, as there are no shops in the interior. Food can somewhat be replenished by picking blueberries and Icelandic moss. The Icelandic moss is used locally as a medicine against the common cold.

Drink
Icelandic tap water is safe to drink in Iceland. Other drinks can be bought from neighbouring regions, but water can be replenished in the interior.
In the wilderness you can usually drink water from springs and streams without treatment. This is an risk however as surface water can contain bacteria. Streams from high ground typically have the best water. Water directly from glaciers should be avoided as it has lots of particles. It may be advisable to boil water from the wilderness for a few minutes unless tested.

Sleep
Tents are a good option, at least as a safeguard. Pitching a tent is free in the wilderness, but usually comes at a price when camping at a site with facilities. Tents that have a waterproof roof and bottom are advisable.
Wilderness huts are operated by
útivist
and
Ferðafélag íslands
. One night costs roughly between 4500 and 7000 kr.
Stay safe
The main hazard in the interior is the environment. It is even more important to be prepared in the interior than in other regions of the country as there are no towns in the region.
Use your own judgement; if something seems risky, it probably is.
Use 2G or 3G phones and be aware that there may not be phone coverage in the lowlands.
Let others know about your plans, so that they can contact authorities in case something happens
Frostbite is a risk at temperatures below 0 °C, particularly when wind adds to the cooling effect
Do not enter glaciers without a skilled guide