Interlaken
Interlaken
is a small city in the
Bernese Highlands
region of central
Switzerland
. Located between two alpine lakes (
Lake Brienz
(Brienzersee)
and
Lake Thun
(Thunersee)
), Interlaken is a popular base camp for outdoor sports and travel in the surrounding Bernese Oberland Alps. Interlaken itself is a superb holiday destination.
Get in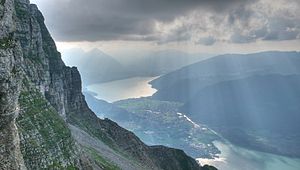 By train
Trains
arrive frequently from
Berne
and
Basel
. An hourly connection to
Lucerne
and a half hourly connection to
Meiringen
is also available. Connection at
Spiez
provides access to the canton
Valais
, to
Zürich
and to
Italy
via
Lötschberg
and
Simplon
tunnels.
There are two stations: Interlaken Ost (east) and Interlaken West, the latter is closer to the city centre. Most trains stop at both stations, except for trains to Lucerne and the trains to
Lauterbrunnen
and
Grindelwald
which stop only at Ost station.
By car
Follow
Autoroute A8
(former N8) into the city center.
By bus
Bus2alps operates direct private buses from Florence, Rome, Paris and Munich to Interlaken. Timetables do vary but are busiest in February and March to cater for winter sport activities. Travel and accommodation packages are available and small and big groups are catered for.
FlorenceForFun provide transport by private bus and accommodation packages departing from Florence on Thursday evenings. Trips depart in November and early December then mid-January through to mid-March for Winter activities. Summer departure dates are in May, June and September. Check the website for departure dates and a full itinerary.
mysterytours provides airport & city transfers.
Get around
Interlaken is small enough to get around
on foot
or
bike
.
Taxis
are available from either train station and most hotels. With the guest card from your hotel, you can travel around Interlaken for free (it also gives discounts to local tourist attractions). Buses around town and to
Thun
are available.
See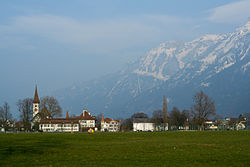 The Höheweg is Interlaken's main street which runs between Interlaken West and Interlaken Ost Railway Stations. On this street you will find many souvenir shops. Have a look at the "Japanese Garden", the 150-year old Victoria Jungfrau Grand Hotel, and don't miss the beautiful view of the famous snow-covered Jungfrau mountain from "Höhematte".
Jungfrau-Aletsch is a glaciated UNESCO World Heritage Site above Interlaken in the Bernese Alps.
Unterseen is a small old town near the Interlaken West train station. It's not as crowded as Interlaken and has several shops and bakeries (including an enormous Coop supermarket in which there is a large selection of groceries and chocolates). To get there, cross the bridge over the water near the train stop, walking in the direction facing away from Interlaken.
Do
All year round
: Shopping in Interlaken's souvenir shops.
Summer activities
Walks: Take a walk along the shores of lake of Thun (Thunersee) or lake of Brienz (Brienzersee). A nice, ca. 2h walk goes from West train station to "Neuhaus". It takes you along the Aare river and through the small but popular nature reserve Neuhaus at the lake of Thun. From Neuhaus you can take a bus or boat back to Interlaken.
Hiking: There are plenty of great hikes in the Interlaken area. Popular near-by hikes include Harder mountain (mountain train 5 min. from Interlaken Ost station) and Schynige Platte (mountain train from Wilderswil). Hiking season runs roughly June through September.
Adventure sports: A whole bunch of adrenaline sports are offered through Interlaken guide groups including paragliding, hang gliding, bungee jumping, canyoning, river rafting, and rock climbing. Outdoor Interlaken is on the main street in Matten. Another great option is Alpin Raft Alpin is the original outdoor aventure company in Interlaken; the owner bought a raft in New Zealand in the late 1980s and was the first to bring white water rafting to Switzerland. He also brought canyoning to Interlaken after trying it in France. The canyoning experience with AlpinRaft is amazing.
Swimming: You can swim in the lakes of Brienz and Thun. The water in the lake of Thun is generally warmer (around 20°C in July/August). A popular swimming area with showers, changing rooms, a restaurant, etc. is in Neuhaus. A real insider-tip is the beautiful "Burgseeli" in Ringgenberg-Goldswil. Burgseeli is a nature reserve, where water temperatures can reach up to 27°C and you can swim among ducks and water lilies. The natural lido offers a non-swimmers pool, paddling pool, children´s playground, restaurant, changing rooms, showers, etc.
Sailing: Lake Thun is quite popular for sailing. You can rent sail boats and book classes in Neuhaus.

Take a boat tripBoats traveling the Thunersee leave from Interlaken West. If you go all the way to Thun, you will see many cute towns and beautiful buildings/small castles on your way (Spiez, Oberhofen). There is also a castle in Thun. Boats traveling the Brienzersee leave from Interlaken Ost. The water in the Brienzersee is a beautiful shade of turquoise. The boat is free if you have the Swiss rail pass.

Biking:Take an awesome mountainbike ride around the lake of Brienz (4 hours) and visit the Giessbach waterfalls on the way. Alternatively, visit Lauterbrunnen by bike (~2 hours one-way)and look inside the Trümmelbach-Waterfalls (Trümmelbachfälle).
Skydiving in Interlaken: Funrental Interlaken offers helicopter or plane jumps including 4000 metres in 40 seconds freefall jumps.

Winter activities
Ski/snowboard: Interlaken has good access to several skiing/snowboarding areas. The largest of them is the "Jungfrau winter sport region" which includes Kleine Scheidegg-Männlichen, Grindelwald First and Mürren-Schilthorn. A day-pass costs Fr. 62/39/24 (adults/youth/children). Beatenberg-Niederhorn and Habkern are two smaller, family-friendly ski areas with easy lifts and slopes for beginners. A day-pass is Fr. 35/17 (adults/children). If you need to rent equipment that can be easily arranged at the SwissRentaSport shop.
Sledging: The best but also most challenging sledging is from the Faulhorn to Grindelwald. Take the first gondola cableway from Grindelwald and prepare for a beautiful but challenging, 2-2½h uphill hike to the Faulhorn. Enjoy the amazing view of the Alps from the Faulhorn peak before you sledge down to Grindelwald for 15 km (!) on the longest sledging run in Europe. Alternatively, several sledging runs are accessible by bus/train: Bussalp-Grindelwald (8 km), Eiger Run in Grindelwald (3 km), Niederhorn-Beatenberg (7 km), Suhlwald-Isenfluh and Habkern (4 km).

Night sleddingThere is a company who makes night sledding trips every night. The cost is €74 and includes a Swiss cheese fondue dinner in a restaurant at the end of the sled run. There are no "fitness requirements" and bookings are necessary in advance.

Cross-country skiing: A beautiful and sunny cross-country area is in Aeschiried near Spiez (about 1h by train/bus) where you have a great view on the lake of Thun. Good cross-country trails are also in Habkern/Lombach and Beatenberg.
Ice-skating: An indoor ice-rink is in Matten near Interlaken.
Swimming/Wellness: The Bödelibad in Interlaken offers an indoor pool with a 25 m swimming pool and a children's pool. There is also a very nice wellness facility with sauna, steam bath, whirlpool and more.
Buy
Interlaken has the highest concentration of souvenir shops in Switzerland.
Swiss Army Knives: Interlaken is a good place to buy Swiss Army Knives. One of the best shops is the "Swiss Knife Center" (Höheweg 125) as it stocks the full range of Victorinox and Wenger Swiss Army Knives. Other knife shops in Interlaken are "ALSCHER", "Bühler Chalet Shop", "Royal St Georges Gift Shop", "Gallerie Metropole". Most of the mentioned shops engrave text on the knife for free. Remember to pack Swiss army knives in your hold luggage.
Watches: Interlaken has two main watch and jewellery shops: "Bucherer" and "Kirchhofer" which stock all the big traditional Swiss brands (Tag Heuer, Omega, IWC, Rolex). Alternatively, most souvenir shops sell some inexpensive Swiss-made watches like Swiss Military and Swatch.
Chocolate: You best buy Swiss chocolate at the Coop supermarket (one is just by the Ost train station; there is also a large Coop supermarket in Unterseen, a town right near the Interlaken West train station) where you have a very good choice of Lindt and Cailler chocolates, Toblerones, etc. at much lower prices than you'd pay in the souvenir shops.
Woodcarving: If you want to purchase a Swiss woodcarving, go to Brienz (about 30 minutes by train from Interlaken Ost), which is the centre for Swiss woodcarving. In Interlaken, woodcarvings can be found for example at the shops "Bazar Tivoli" and "Albert Schild".
Other souvenirs: Other items to purchase in Interlaken's souvenir shops are: Swiss music boxes, leather wallets and purses, cow bells, Swiss embroideries, cuckoo clocks, some inexpensive Swiss-made watches (like Swiss Military or Swatch), Switzerland T-shirts, sweatshirts, backpacks, etc.
Eat
address: Bahnhofstrasse

A popular but touristy place for traditional Swiss dishes including fondue and raclette. It´s right next to Interlaken West train station.
If you're into Korean food there is an excellent, cheap and easy-going restaurant in a hot basement opposite Interlaken West train station. Star serves simple and good Korean food like hot pots and sweet dumplings. Prices are below average for Interlaken.

Kang Chon Central

address: Centralstrasse 13

Kang Chon Central also serves a range of delicious Korean dishes at reasonable prices, including a range of traditional Korean accompaniments with your meal. The staff are friendly and helpful, explaining any menu items that you may not be familiar with, and the ambience of the restaurant is very pleasant, especially on summer evenings.

My Little Thai

address: Hauptstrasse, Matten

Interlaken's best kept secret. Fantastic Thai food at very good prices keeps this little gem packed all day and night. Reservations are highly recommended for evening eating and take away is available.

El AztecaAn authentic Mexican food restaurant owned and operated by a gentleman who migrated from Mexico around 1984. Located on the street level of Hotel Blume in a street mall on the west side of town (Jungfraustr.), it is small, and very friendly. The staff will go above and beyond to help you celebrate birthdays and other events. Groups up to 25, and a bar that can seat about 10 more. Prices are quite high if you're used to paying for Mexican food in the USA, but considering everything is imported, it is understandable. All the best Mexican beers, and top notch Mexican cuisine.

Coop SupermarketIf you want to save some money on any meals, you can buy the ingredients for making, for example, sandwiches at Coop or Migros (Coop opposite Interlaken Ost station, or both Coop and Migros near Interlaken West). For example, buying material for four sandwiches costs about Fr. 25, whereas an average entree at a restaurant in the area costs Fr. 20-25.

phone: +41 33 888 80 50

address: Höheweg 56, 3800 Interlaken

Grand Café Restaurant Schuh.
Drink
Rugenbrau 'lager hell': the local beer and one of the best you'll ever taste as the water in the area is the cleanest in Europe.
For a small Swiss town, Interlaken has quite a lot of nightlife options, including one of Switzerland's three Hooters Bar & Restaurant. Most of these bars serve the seasonal tide of tourists, but off the main road, many more mellow local venues can be found. Try the Brasserie 17 (Rosenstr. 17) which has a nice summer terrace, good beer and snacks and sometimes live music.
The two best nightlife spots in town are Balmer's hostel and the Funny Farm, which are located fairly close to each other (both at Hauptstrasse, Matten). Balmers has a decent underground bar and dance club and the Funny Farm has great outdoor chill out areas, including a bonfire. Both hostels have good happy hour specials, and you can kind of bounce back and forth between the two to get your drink for the best price.
Sleep
Reservations are a must during the busy summer season. Note that not all hotels are open all year round.
Budget
Mid-range
Splurge
address: Jungfraustrasse 19

Reception open daily from 06:00 until 22:00, but you can ask about rooms in the restaurant until midnight. This nice little family-run hotel features a restaurant which seems to be quite a local hangout. The rooms are clean and the staff is friendly and attentive. Fr. 170-240 (breakfast included).

phone: +41 33 826 44 45

address: Obere Goldey 85

This is a hotel for the middle-aged traveller. It's rather expensive but offers tremendous service in a wonderful location, e.g. couples can spend a romantic and erotic night in the loveroom. The river-side rooms are the best.

address: Höheweg 37

Four star hotel 0.5 km from the railway station. Single room from Fr. 187, double room from Fr. 293 (as of low season 2009).
Connect

x-Port Pizzeria GmbH, Hauptstrasse 21, high speed Internet access, terminals and notebook connection through LAN available, laserprinting facilities, try the kitchen while surfing the net (Fr. 9 per hour).
McDonald's (150 m from the train station) offers 30 minutes of free WLAN internet access.

Cope
Internet Laundry, Marktgasse 45/ beside post.
Laundry for €2; per load,
Internet 15 minutes free,
Bicycle rental > €10/day,
Scooter rental > €20/day.
Go next
Trains up into the Jungfrau region leave from Interlaken East station.
Nearby destinations include: