Inujima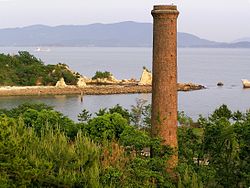 Inujima
is an island in the
Seto Inland Sea
and is part of
Japan
.
Understand
The name
Inujima
means "dog island". The island was named after a 3.6-m-high rock that looks like a dog. According to a legend, while traveling, the poet Sugawara no Michizane heard the call of a dog in the distance and was saved when he reached the island.
The island comprises 133 acres and has less than 100 full time residents.
History
During the feudal age (1185-1603), the island was used as a source of granite to construct castles, including those in
Osaka
and
Okayama
.
In 1909, a copper refinery was opened and the population of the island increased to over 1,000 people. However, copper prices plummeted soon afterwards, and the refinery was permanently shut down in 1919.
In 2008, the ruins of the refinery were converted into the
Inujima Seirensho Art Museum
.
Get in
From
Okayama
, take a train to Saidaiji Station (20 minutes, ¥240). Then take a
Ryobi Bus
in the direction of Higashi Hoden (東宝伝), but get off at Nishi Hoden (西宝伝) (55 minutes, ¥510). Then take a ferry to Inujima (10 minutes, ¥300). Ferry schedules are available
online
.
Inujima can also be reached via ferry from
Naoshima
(55 minutes, ¥1,850) and
Teshima
(25 minutes, ¥1,230). Check the ferry schedules
online
.
Get around
The island must be traversed on foot. Maps are available
online
. A guide to the island is also available
online
See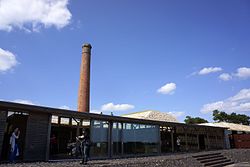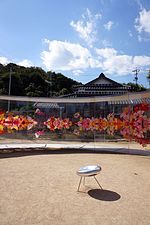 phone: +81 86-947-1112

address: 327-5

An art museum that was built in the ruins of a former copper refinery. The refinery was built in 1909 and shutdown in 1919 after a decline in copper prices. The art was inspired by the late novelist Yukio Mishima, a controversial figure who opposed Japan's modernization and movements away from its culture and traditions. The abandoned copper refinery is symbolic of how modernization at the expense of culture and heritage leaves a society empty and without identity. The museum is mostly underground and incorporates local materials. The museum only has a few exhibits, including a tunnel of mirrors and pieces of Yukio Mishima's residence suspended in mid-air.

Inujima Art House Project5 galleries constructed of material from the island, including parts of abandoned houses.
Do
During the summer, the island is a popular place for swimming, camping, and kayaking.
Swimming Beach

phone: +81 86-252-4183

Open from mid-July to mid-August
Festivals and events
There are often mini-festivals and other special events related to art at various times.
Eat
There are a few small cafes near the port.

Sleep
address: 4-11 Nishiki-cho

Open from April 15 until October 15. Equipment rental is offered.
Go next