Invermere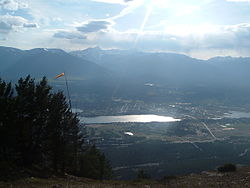 Invermere
is a popular year-round tourist and recreation destination in the Columbia River Valley of southeastern
British Columbia
in the
East Kootenays
nestled between the
Rocky Mountains
to the east and the Purcell Mountains to the west. The town has about 3,400 residents (2016), and is on the north end of Lake Windermere.
Understand
Climate
Invermere's climate is characterized by warm summers and cool winters. The Rocky Mountains to the east shield Invermere from the Arctic air in winter, although extreme cold spells do occur on occasion. Spring arrives earlier than on the prairies to the east of the Rocky Mountains. Although warm, summers are variable, with weather alternating between hot, dry spells and cool, showery periods.

Get in
The nearest airport of any size is in
Calgary
. From Calgary, take the Trans-Canada Highway (Route 1) West as far as Castle Junction. This connects to Highway 93 South (southwest), a distance of about 90 km to Radium Hot Springs. Invermere is on the north end of Windermere Lake about 30 minutes south of Radium.
Get around
Within the town centre, most facilities are within walking distance, but otherwise, the various parts of Invermere are somewhat spread out. A bike or a car would be a help in getting around. Invermere is also difficult to reach without a car as there is little convenient public transportation in the area.

See
phone: +1 250-342-9769

address: 222 6th Avenue

Bavin GlassWatch live glass-making demonstrations.
Do
Panorama Ski Resort14 km west of the city.

Windermere Lake Provincial Park

address: Westside Road

This 220-ha park protects one of the last remaining tracts of native grassland and riparian habitats along the western shores of Windermere Lake. Large populations of ungulates (white-tail deer, mule deer and elk) also use this area for winter range. This park has no developed areas or facilities and there is no public access. Overnight use of the park and open fires are not permitted.
Columbia Wetlands, administered by the Canadian Wildlife Service, is a long wetland area along the headwaters of the Columbia River from Columbia Lake to Donald, about 170 km north. There are several areas that are good for bird-watching just a few km north of Invermere.
Golfing can be enjoyed on one of the many golf courses in the area.
Mountain Biking is a popular summer activity, but not for the feint of heart if you are not used to riding in the mountains. Head to one of the local bike shops to ask for advice based on your skill level. Panorama Mountain Resort, offers lift access downhill mountain biking, rentals, and lessons for those new to the sport.
Hiking. Lots of amazing hikes to choose from. Ask locals in town for advice based on time of year and fitness level. Note you share the woods with bears, plan accordingly by attaching bells to your pack (so as to warn wildlife you are coming), and by bringing 'bear bangers' (basically a flare that creates a loud bang to scare off any curious bears).
Skating'. The longest ice skating trail in the world can be found on the Lake Windermere Whiteway. The naturally frozen trail measures 29.98 km (18.63 mi).
Gliding and soaring. The Invermere Airport is home to the non-profit Canadian Rockies Soaring Club. The club is active during the summer months, when it welcomes dozens of student pilots and private owners. The Invermere Soaring Centre is a separate commercial operation which provides aerotowing services and glider rides to the general public. The local area is also a popular destination for other non-motorized forms of flying including hang-gliding and paragliding. There are designated launch sites at nearby Mount Swansea.
Curling. The Valley is host to the biggest outdoor bonspiel in Canada every January. The spiel is held on the frozen Windermere Lake. The curling club is also host to many leagues and bonspiels throughout the season.
Hot springs are numerous in the area, with the major developed ones being Fairmont and Radium Hot Springs; the latter is in Kootenay National Park.
Less developed wilderness hot springs can be found in the southern Columbia Valley, in Whiteswan Lake Provincial Park.
Buy
phone: +1 778-526-4812

address: 4884 Althalmer Ave
Eat
Drink
phone: +1 778-526-2739

address: 481 Arrow Rd

6 permanent beers available, and 3 to 5 seasonal varieties. In their 1950s gastown taproom, they have alcoholic and non-alcoholic options, and a few snacks. Kids are welcome, provided they're attended closely by an adult.
If you are looking to party, there is usually something going on in the bars at Panorama Resort but not in the off seasons (Sept-Nov and Apr-May).
Sleep
phone: +1 778 776-1744

address: 380 Laurier St

phone: +1 250 342-9246

address: 1310 7th Ave

Mountainview Bed and Breakfast

phone: +1 250-342-2678

address: 5155 Juniper Heights Road

Wireless internet available; no TV available.
address: Panorama, BC
A small ski resort town.
Connect
Internet access and wireless capabilities are available at the
Invermere Public Library
, 201-7th Ave. The Library occupies a converted RCMP Detachment building near the Sobey's grocery store.