Ioannina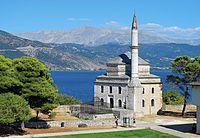 Ioannina
(Ιωάννινα) (population: 112,486 (2011)) is a beautiful small town in
Northern Greece
whose old town is surrounded by tall defensive walls.
Understand
Set atop a 100-metre cliff overlooking the Lake Pamvotida, the capital of
Epirus
is an old town with an intriguing history. The city gained prominence in the late 18th and early 19th centuries, as the seat of an almost independent state ruled by Ali Pasha of Tepeleni, who successfully rebelled against the central government of the Ottoman Empire, and kept fighting until the end, but was killed by Ottoman soldiers during the siege of his fortress in January 1822, and his head cut off to be sent to Sultan Mahmud II. His grave still stands into the ancient citadel (
the Kastro
) and has became a popular tourist attraction.
Ioannina was also a significant trade center, hosting a Greek-speaking Jewish community observing their own tradition and religious rituals. They were neither Ashkenazi, nor Sephardic, but rather indigenous Jews of Greece who have lived on Greek soil for over 2,300 years. At the beginning of the 20th century these Hellenized Jews, known as "Romaniotes" immigrated to the US, mostly to the Lower East Side of New York City, where their little synagogue in Broome St. has remained unchanged from 1927. In March 1944, the Jewish Community of Ioannina was rounded up and deported to Auschwitz-Birkenau. Today the community numbers fewer than 50 members, most of them elderly.
Get in
Get around

The city is small enough to travel through via foot.

See
CastleThe old town surrounded by tall defensive walls overhanging the lake Pamvotida.

address: 6, "25 Martiou" Square

It presents many of the findings from the excavations at Dodona area

Municipal Ethnographic Museum of Ioannina

address: 8, Noutsou Str

Housed in the Mosque of Ali Pasha. The museum collections include craft of local silversmiths, guns, Epirote costumes, rugs and tapestries. The mosque dates from 1618 and still retains its decoration as well as a tall mihrab pointing towards Mecca

Byzantine MuseumCollections of sculptures, icons and other artifacts retrieved from ruined churches and monasteries in Epirus countryside and housed in the inner fortress (Turkish: İçkale), where Ali Pasha built his palace.

Fethiye MosqueThe graves of Ali Pasha and his first wife are located inside the mosque.

Islet of IoanninaIt is the only inhabited islet in the lake Pamvotida , with around 200 inhabitants. Green and peaceful, dotted with Byzantine monasteries, the islet can be reached by a 20-minute boat ride from Ioannina . Its main attraction is the 16th-century Pandelimonos Monastery, now the Ali Pasha Museum, where the pasha was killed on January 17, 1822.
Do
At the bus station there are lockers where you can leave your luggage (1€)
The lake and castle are 10 minutes away from the station.

Buy

Ioannina is well known for its production of hand-made silver crafts. There are about 90 workshops in the city. Prices are quite high but can drop considerably as vendors expect a bit of bargaining.

Eat
Toros Steakhouse

Stoa Louli

phone: +30 2651 071322

address: 78, Anexartisias St.

phone: +30 26510 65325, +30 6977 748479 (mobile), +30 6972 871031 (mobile)

address: 44, Koundouriotou St.

Nousia

address: 1, "Konstantinou Karamanli" Str

Fysa roufa

phone: +302561026262

address: Averof, Ioannina 454 44, Greece
Sleep
Budget
phone: +30 26510 25265

address: 10, "Konstantinou Kanari" Str

Owned by Ioannina Nautical Club

Agapi Hotel

phone: +30 26510 27139

address: 6, Tsirigoti Str

1-star hotel

Paradissos Hotel

phone: +30 26510 74124, +30 26510 25365

address: 15, "21st Fevrouariou" Str

1-star hotel. 22 rooms

Hermes Hotel

phone: +30 26510 75992

address: 2, Sina & Tsirigoti Str

1-star hotel

El Greco Hotel

phone: +30 26510 30726

address: 8, Tsirigoti Str

Old hotel built in 1979

Elpis Hotel

phone: +30 26510 26209, +30 6975-521573 (Mobile)

address: 10, Neoptolemou Str

1-star hotel

phone: +30 26510 27032, +30 26510 27864

address: 10, Tsirigoti Str

2-star hotel built in 1999 and renovated in 2007

Tourist Hotel

phone: +30 26510 26443, +30 26510 25070

address: 18, Koleti Str

2-star hotel built in 1957 and renovated in 2001

phone: +30 26510 25667, +30 26510 24886

address: 20, Aravantinou & Dagkli Str

2-star hotel built in 1970 and renovated in 2005

Bretannia Hotel

phone: +30 26510 26380, +30 26510 25174, +30 26510 29396

address: 11A, Dimokratias Square

2-star hotel built in 1985 and renovated in 2006

Esperia Hotel

phone: +30 26510 24111, +30 26510 27682,

address: 3, Kaplani Str

2-star hotel

Ke.Kop Hotel

phone: +30 26510 20188, +30 26510 32037

address: 3, Acheronta Str

2-star hotel
Mid-range
Splurge
Connect
Many hotels and bars have wifi connections or you can use Instabridge application for finding available wifi connections.

Go next
Perama CaveA show cave just 4 km from Ioannina.

Dodonaarchaeological site of the oldest Hellenic oracle, 25 min away by car. The well preserved theater is a must-see and hosts theatrical performances. It was built in the 3rd century B.C., during the reign of Pyrrhus, and was destroyed by the Roman consul Lucius Aemilius Paullus, in 167 B.C. Under Roman rule, it was restored and turned into an arena.

Zagoriimpressive landscape with high mountains, dense barely inhabited forests and impressive gorges and the wild beauty of the Zagoria mountain villages

Kipina MonasteryBeautiful monastery build into the rocks

Gjirokastër - A town and a UNESCO world heritage site in Southern Albania.
Arta village
Corfu island