Iona
Iona
(Gaelic
Ì Chaluim Chille
) is an island just west of
Mull
in the Scottish
Inner Hebrides
. It's only 3.5 miles long by 1.5 miles across and its main settlement Baile Mor (meaning "big town") is just a straggle of cottages. The reason to visit Iona is its fine restored
abbey
, founded by St Columba (521-597). He grew up in Ireland and became a monk, but a dispute caused his exile. He sailed with several companions to Kintyre in Scotland but found it still within sight of Ireland (and therefore he was still within reach of his enemies) so they continued to Iona. Here in 563 they founded a monastery, which became a centre for pilgrimage, and the hub of a network of churches and monks across the west of Scotland.
Get in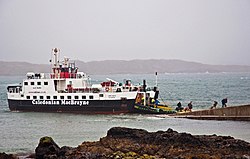 The
Calmac ferry
plies to from
Fionnphort
on the island of
Mull
. It runs roughly hourly 08:30-18:15, but on demand in summer, taking 10 mins. Adult single fare is £1.75, bikes are free, visitors' cars are not permitted.
The ferry connects with Bus 496 to
Craignure
, which has a car ferry to Oban; and Oban has trains and buses to Glasgow. With an early start you can travel between Glasgow and Iona in a single day, taking five hours. Buses and ferries are held to make the connection but in bad weather, Fionnphort is exposed to the Atlantic and ferries may be cancelled. Ferry staff at Fionnphort will advise non-residents against crossing if the forecast is bad.
With your own car, park up at Fionnphort - the car park next to the ferry terminal is expensive, there's a free car park at the back of the village but it's small and fills up quickly at the height of summer.
Boat and coach tours of Mull often include Iona.
Get around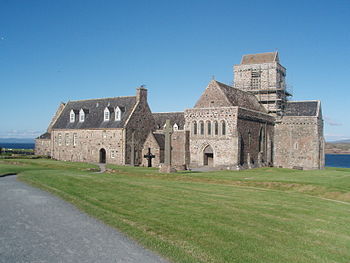 Mostly just walk. Hotels or retreats may pick up from the pier, or bring a hand-cart for your luggage.
Iona Taxi
(+44 781 032 5990) is run by the Skerryvore B&B. They can pick up from Craignure or even Glasgow airport.
See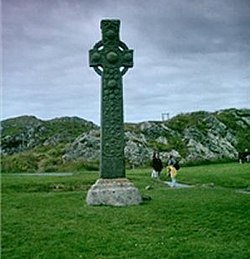 Iona AbbeyThis is the main reason to visit Iona. It was founded in 563 AD by Columba, who'd fled Ireland and established a monastic community here. It became a centre of scholarship, with the richly illustrated Book of Kells being created circa 800 AD. Iona came under repeated attack from the Vikings and many monks moved to Kells in Ireland, taking the book, which is now in Trinity College Dublin. The abbey became disused and derelict after the 16th C Reformation, but was reconstructed in the 20th C and remains an active Christian centre. Highlights are the sturdy abbey itself, the associated Nunnery, St Oran's Chapel, and the High Crosses.

There were some 360 stone crosses on Iona, free-standing or as grave markers, all but 3 being destroyed in the Reformation. St Martin's Cross is just outside the abbey and St John's is within. MacLean's Cross, free-standing 250 yards south of the abbey, is richly carved and dates to the 15th C.
The Lewissian Gneiss rocks on the western half of Iona are 2 billion years old, among the oldest in Europe. They are a mixture of pink, white, red, green and black.
Iona Heritage Centre is basically a gift shop but has a small museum display.
Do
Walk north beyond the abbey to the top end of Iona where there are several beaches with white sand, clear water and beautiful rocks. The views take in the Ross of Mull, Tiree, Coll, the Treshnish Isles, Staffa, the Small Isles of Eigg and Muck, and Skye.
Walk southwest to the beach at Camas Cuil an t-Saimh, the "Bay at the Back of the Ocean". To the south of the bay there is a spouting cave.
Golf: the 18-hole course is in the machair a mile south of the pier; free. The main hazard is the bull that frequents the ninth hole.
Staffa Tours have boat trips to Fingal's Cave on Staffa; they pick up from Iona and from Fionnphort.
Buy
Spar supermarket near the pier is open M-Sa 09:00-18:00, Su 11:00-18:00.
There's a few gift and craft shops, and a post office.
Eat
Heritage Garden Cafe is open M-Sa 10:30-16:00.
You can get meals at Argyll Hotel, St Columba Hotel and Martyr's Bay, see "Sleep".
Drink
It's either Martyr's Bay or the hotels.

Sleep
, open April-Sept, is a mile inland, camping £8 ppn. Nice views but the site is breezy and boggy.

phone: +44 1681 700781

address: Lagandorain, Iona

Open all year, the hostel is a corrugated metal cabin on a sheep farm near the north tip of the island. It has 21 beds in 5 dorms, with a kitchen for self-catering. For even greater seclusion, the Shepherd's Bothy is a metal trailer behind the hostel.
B&Bs include Martyr's Bay, Iona Cottage, Ardoran House a little way south, and Skerryvore inland.
Argyll Hotel is a comfy 3-star hotel just north of the pier, tel +44 1681 700334. B&B double from £80.
Bishop's House, north end of the village, is a church retreat centre, 13 rooms sleeps 26. Tel +44 1681 700111 or email iona@island-retreats.org.
St Columba Hotel is near the abbey, tel +44 1681 700304. B&B double from £120.
Several self-catering cottages plus Iona Pods north of the village. Is Iona the only Hebridean island to lack yurts?
Stay safe

It's safe. The biggest danger on Iona is from the elements. In 1998, four men from Iona were killed when their boat capsized on an evening trip to Mull .

Go next
Back to Mull via Fionnphort it must be.