Iqaluit
Iqaluit
( in Inuktitut syllabics; formerly,
Frobisher Bay
) is the capital and largest settlement of the
Canadian
territory of
Nunavut
. It is on a south-eastern inlet of
Baffin Island
. As of 2016, the population stood at just over 7,700 people.
Understand
Iqaluit is in the Everett Mountains rising from Koojesse (Kuujussi) Inlet, an inlet of Frobisher Bay, on the southeast part of Baffin Island. It is well to the east of Nunavut's mainland, and northeast of Hudson Bay.
It had long been used as a campsite and fishing spot by the Inuit (Aboriginal) people, who called it Iqaluit – "place of many fish" in Inuktitut. The US and Canadian authorities named it Frobisher Bay, after the name of the body of water it borders. In 1984 the settlement's name was changed from Frobisher Bay to Iqaluit
History
Iqaluit has been a traditional fishing location used by Inuit for thousands of years.
World War II resulted in an influx of non-Inuit to the area, as Canada and the United States cooperated in the defence of Europe. In 1942, the United States built an air base there, on a long-term lease with the Canadian government, in order to provide a stop-over and refuelling site for the short-range aircraft being ferried to Europe to support the war effort.
In 1949, after the war, the Hudson's Bay Company moved its south Baffin operations to the neighbouring valley of Niaqunngut, also called Apex, in order to use the airfield. In the mid-1950s, the population of Frobisher Bay increased rapidly during the construction of the Distant Early Warning Line (DEW line, a system of defensive radar stations—see North American Aerospace Defense Command (NORAD)). Hundreds of mostly non-Inuit construction workers, military personnel, and administrative staff moved into the community, and several hundred Inuit followed, to take advantage of the access to jobs and medical care provided by the base operations. By 1957, 489 of the town's 1,200 residents were reported to be Inuit. After 1959, the Canadian government established permanent services at Frobisher Bay, including full-time doctors, a school, and social services. The Inuit population grew rapidly in response, as the government encouraged Inuit to settle permanently in communities supported by government services.
The American military left Iqaluit in 1963, as their development of intercontinental ballistic missiles diminished the strategic value of the DEW line and Arctic airbases. Canada continued to operate an administrative and logistical centre for much of the eastern Arctic at Frobisher Bay. The founding of the Gordon Robertson Educational Centre, now Inuksuk High School, in the early 1970s at Iqaluit confirmed the government's commitment to the community as an administrative centre. At the time of its founding, this was the sole high school operating in what constituted more than one-seventh of Canadian territory.
Climate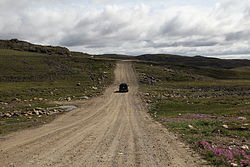 The season in which you choose to visit Iqaluit will largely determine what you'll be able to see and do. The peak time for visiting Iqaluit is during its brief summer. The ice on Frobisher Bay begins to thaw in June, when temperatures start rising and the nights are short. Hiking is excellent about this time. The bay remains inaccessible during its thaw, but an icebreaker will arrive to clear a path for boats usually by the end of June. July and August are both the warmest and wettest months. Wildflowers and berries flourish, but so do the mosquitos. Fishing on Sylvia Grinnell River is best on the shoulders of summer, when the arctic char migrate down toward the bay and then back up again.
Snow starts falling regularly again in September and continues through early June. The bay stays open to boats until November. Daylight hours become increasingly short in the winter months, but the
northern lights
are entrancing. January and February are the coldest and darkest months of the year, and life in the town can get a bit grim at this time. April and May are the ideal months for dog-sledding, kite-skiing and other snow activities.
Visitor information
Unikkaarvik Regional Visitor Centre

phone: +1 867 979-4636

address: 220 Sinaa Street

Has information on the whole territory, plus displays on local wildlife and culture in an adjoining museum.
Get in
Iqaluit is generally accessible only by air and, under the right ice conditions, by sea. It is not connected by road to any other town. Due to its isolation and the lack of competition, getting to Iqaluit is a very expensive prospect.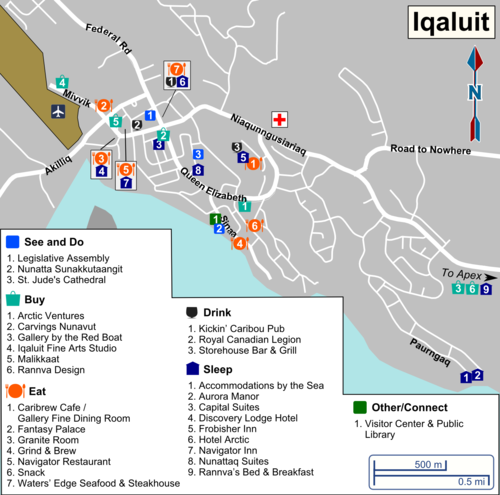 By plane
Iqaluit AirportIqaluit Airport is a public airport a short walk west of the town centre. It hosts scheduled passenger services from Ottawa, Montreal, Rankin Inlet, and smaller communities throughout eastern Nunavut. Services also connect to Yellowknife and Winnipeg via Rankin Inlet.
First AirThe region's primary airline has nearly daily jet services from the south. It flies from Ottawa, Montreal (via Kuujjuaq, on the northern coast of Quebec) and Rankin Inlet, with connections to Yellowknife and Winnipeg. With its partner Qikiqtani, the airline serves all communities on Baffin Island, as well as Resolute, Igloolik and Hall Beach.

Canadian NorthCanadian North offers scheduled jet flights from Ottawa, Rankin Inlet, and seven other communities in the Baffin Region. Services to Yellowknife are linked through Rankin Inlet.
Several companies that operate chartered flights from Iqaluit to nearby communities have offices at the airport. The largest operators are Air Nunavut, Kenn Borek Air and Air Inuit.
Get around
Iqaluit is small enough that most things are within walking distance of each other. Taxis charge a flat $8 fee per person to anywhere in town. In the summer, you can rent bicycles from the visitor's centre. There are also several automotive outfitters in town that rent snowmobiles and ATVs.

See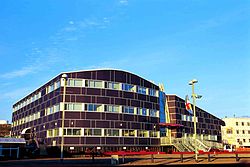 Legislative Building of Nunavut

phone: +1 867 975-5000

address: 926 Federal Road

Home to Nunavut's unicameral parliament, this building contains some excellent examples of Inuit art. The main entrance has two spires of wood which resemble a Qamotiq, a type of Inuit dog sled. Feel free to look around the main floor of the building, but be sure to announce yourself to the security guard before going too far. You may observe the proceedings of the legislative chamber from its public gallery. Contact the public affairs office to find out when the next sitting will be. Guided tours of the building are conducted Jun–Aug on weekdays at 1:30PM, or by appointment.

Nunatta Sunakkutaangit Museum

phone: +1 867 979-5537

address: 212 Sinaa Street

Housed in a reconstructed trading post of the Hudson Bay Company, this small museum contains a collection of Inuit art and artifacts. It is on the beach in a red and white building.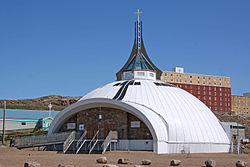 phone: +1 867 979-5595

One of Iqaluit's most recognizable landmarks is a white-domed church designed to resemble an igloo. The cathedral is the seat of the Diocese of the Arctic, which serves the largest area of any Anglican diocese in the world. The cathedral is also the parish church for the parish of Iqaluit. The building was opened in 2012.
Do
Outdoor activities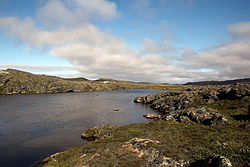 Iqaluit is the main base from which to explore
Baffin Island
. Several outfitters organize guided excursions around the island and Arctic expeditions further afield. Most activities are seasonal. Summer activities include trekking, and boat and fishing tours in Frobisher Bay. In the winter months, dog-sledding journeys are an excellent way to get out and explore the landscape. As well as the commercial outfitters, there are several dog-team owners in town who take visitors out for an afternoon or overnight. Kite-skiing is an increasingly popular activity, and frozen Frobisher Bay is considered one of the best spots for it in Canada. Aerial sightseeing tours are easy to organize at any time of the year and there will always be a charter company available to take you up, depending on the weather.
Some of the more reliable outfitters in town include
Inupak Outfitting
,
Northwinds Arctic Adventures
,
Polynya Adventure
and Qairrulik Outfitting. Call the local tourism authority for more. Dates for longer expeditions are usually scheduled well in advance, but even most day trips require a minimum number of people, so be sure to book early to give the outfitters time to organize others.
Opportunities for trekking around Iqaluit are almost endless, thanks to wide-open surroundings, including two
protected areas
on its doorstep. The terrain can be rough, however, and there are very few trails and no roads. You can also rent snowmobiles and all-terrain vehicles (ATVs) from several outfitters in town.
Surrounding the lower reaches of the Sylvia Grinnell River, the Sylvia Grinnell Territorial Park contains some excellent tundra scenery. Several hiking trails run along the river, which has good fishing, while another leads to a waterfall. On the bank of the river is an ancient camping ground (Crystal II archaeological site) used by the Dorset and Thule peoples. You will need to have local assistance to find the site. Caribou and arctic foxes can be seen roaming through the area depending on the season. The park is located west of the airport, about 2 kilometres from town.
Off the coast to the south of Iqaluit is Qaummaarviit Territorial Park. This island preserves another archaeological site, a 750-year-old campsite dating back to the Thule culture. It is 12 km from town, and can be accessed by boat in the summer months and by ski, dogsled or snowmobile in the winter months. Going with an outfitter is recommended, and usually gets you there quicker. Camping in the park is not permitted.
The Itijjagiaq Trail, part of the Trans Canada Trail system, runs 177 km from Iqaluit and Kimmirut. It does not connect to other parts of the Trans Canada Trail. One branch heads north for several kilometres, while the other begins with a navigable water trail about 25 km across Frobisher Bay to the Katannilik Territorial Park on Meta Incognita Peninsula.
Festivals
Alianait Arts FestivalThis annual festival, held in late June, is a celebration of Inuit arts and culture. It draws musicians and other performers from all over the Arctic.

Toonik TymeThe annual spring festival, is held for a week in early April. It involves a large variety of community events, including snowmobile and ski races, traditional games, concerts and feasts.
Buy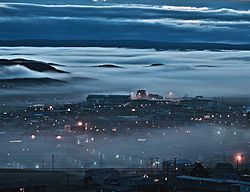 Inuit artists are recognized internationally for their stone carvings and prints, and there are several galleries in Iqaluit selling arts and crafts from all over Nunavut. In addition, artists often tout their wares along the waterfront and in restaurants, creating excellent opportunities to experience the local art culture.
Arctic Ventures

phone: +1 867 979-5992

address: 192 Queen Elizabeth Way

Department store run by Arctic Co-operatives.

phone: +1 867 979-0650

address: 626 Tumiit Plaza

Sells Inuit sculptures and jewellery.

Gallery by the Red Boat

phone: +1 867 979-2055

address: Bill Mackenzie Lane, Apex Beach

Housed in one of the old Hudson Bay Company buildings on Apex Beach, this gallery displays carvings by local artist Saila Kipanek.

Iqaluit Fine Arts Studio

phone: +1 867 979-5578

address: 1127 Mivvik Street

Inuit carvings.

Malikkaat

phone: +1 867 979-6426

address: 1083 Mivvik Street

A gift store selling Inuit-made art, clothing and jewellery from Iqaluit and other communities in the north.

phone: +1 867 979-3183

address: 3102 Angel Street

Fur and sealskin garments designed by owner Rannva Simonsen.
Eat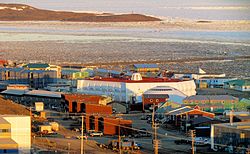 Local specialties consist mainly of game meats (caribou) and seafood (Arctic char, mussels, scallops and shrimp). Another staple is bannock, a type of bread.
The best restaurants are in the hotels, but all of them are open to non-guests. Prices for food are generally much higher here than in other parts of Canada.
address: Astro Hill Complex

Inside the Frobisher Inn. Serves espresso drinks, coffee, tea, baked goods, sandwiches, salads and soups.

Fantasy Palace

address: 1085E Mivvik Street

Café with fresh coffee, pastries and ice cream.

phone: +1 867 979-2222

address: Astro Hill Complex

Nice restaurant in the Frobisher Inn. Brunch on Sundays.

phone: +1 867 979-4433

address: 1056 Mivvik Street

Located in the Discovery Hotel, known affectionately as "the disco". French cuisine with some pub-style options too. Salad bar at lunch. Home-made soups.

Grind & Brew

phone: +1 867 979-0606

address: 116 Sinaa Street

Down on the beach. Serves coffee, pizza and sandwiches.

Snack

phone: +1 867 979-6767

address: 163 Nipisa Street

Fast food. Lunch and dinner. Also serves wine.

Yummy Shawarma & Pizza

phone: +1 867 979-1515

address: 1089 Mivvik St Building 1089e

Lebanese restaurant serving kebab, authentic shawarma, salads, pizza, pasta and desserts. Delivery available.
Drink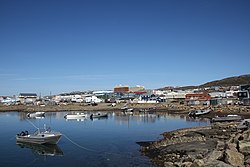 While many communities in Nunavut have restrictions on the sale, possession and consumption of alcohol, Iqaluit does not. You are free to bring alcohol into the community for your own use, and you can buy and drink it in bars and licensed restaurants.
Beer and wine store

address: on Niuraivik

Royal Canadian Legion

phone: +1 867 979-6215

address: 944 Iglulik Drive

A popular place to go on Friday and Saturday nights. Live music on one side, dance floor and pool tables on the other. You must be a member of the Legion or have a member sign you in.

phone: +1 867 979-2222

address: Astro Hill Complex

Has a big screen for hockey, pool tables, dance floor, fireplaces and comfy chairs.

Nu Brew (Nunavut Brewing Company)

phone: +1 867 979-2337

address: 2025 Iqaluit Lane

The most northerly microbrewery in Canada opened 24 Aug 2018. The brewery has four beers available: the Flow Edge light lager, Frob Gold British golden ale, Aupaqtuq ("red" in Inuktitut) Irish red ale, and a Celebration Ale. You can sample all four for $15. Their products are expected to be available in restaurants and the beer and wine store by the end of 2018.
Sleep
Being a small town, Iqaluit doesn't have much of a choice in the way of accommodation. Rates for rooms are generally much higher than their value, and amenities can be lacking. Booking ahead and securing a room before your arrival is essential. Budget travellers are restricted to
camping
and
couch surfing
. When the local college (
Nunavut Arctic College
) is not in session, visitors can stay at the college residence, which costs much less than local hotels.
phone: +1 867 979-6074

address: 2536 Paurngaq Crescent

Bed and breakfast.

Aurora Manor

phone: +1 867 979-0941

address: 2530 Paurngaq Crescent

Bed and breakfast.

phone: +1 867 975-4000

address: 807 Aiviq Street

Hotel suites.

phone: +1 867 979-4433

address: 1056 Mivvik Street

Hotel suites. Also has a restaurant (see section above).

phone: +1 867 979-2222

address: 505 Astro Hill

Part of the Astro Hill Complex, which also houses a bar, restaurant, swimming pool and cinema.

phone: +1 867 979-6684

address: 923 Federal Road

Waters' Edge Seafood & Steakhouse (daily 7AM–10:30AM, noon–2PM and 5PM–9PM, phone +1 867 979-4726) serves brunch on Sundays. Kickin' Caribou Pub (M-Sa noon–2:30PM and 4PM–midnight, Su 11AM–4PM, phone +1 867 979-4726) is a place to relax with good pub food and local musicians performing live on Wednesday and Friday nights.

Navigator Inn

phone: +1 867 979-6201

address: 1036 Ring Road

Hotel with Navigator Restaurant, which serves Chinese food and greasy food; their kooyoo burger is very popular.

phone: +1 867 979-2221

address: 4141 Lake View

Apartment suites.

Rannva's Bed & Breakfast

phone: +1 867 979-3183

address: 3102 Helen Maksagak Drive

The owner of this bed and breakfast also has a gallery of fur and sealskin garments located on Angel Street.
Connect
There is cell phone coverage in Iqaluit, but your phone may not work because of the lack of coverage by the major Canadian wireless companies and outdated infrastructure (which is being upgraded).
Ice Wireless, a regional phone carrier, provides a 3G network and is the only GSM option at this time. Its phones and plans are sold at QITC in the RBC Building on Queen Elizabeth Way. Rogers Wireless has an exclusive roaming agreement with Ice Wireless, so Rogers customers can use the network for a fee, but it is voice-only (data roaming is not available).
The other wireless option is Bell, which operates a 3G/UMTS system.
Internet
Iqaluit Centennial Library

phone: +1 867 979-5400

address: 220 Sinaa Street

A public library in the same building as the visitor centre. Has free internet.
Cope
Healthcare services
phone: +1 867 975-8600

Public Health Centre

phone: +1 867 975-4800
Religious services
address: Mattaaq Crescent

See listing in "See" above.

Baha'i Group

phone: +1 867 979-6580

address: Building 112

Our Lady of the Assumption Catholic Church

phone: +1 867 979-5805

address: 911 Niaqunngusiariaq

Pentecostal Church

phone: +1 867 979-5779

address: 761 Fred Coman
Publications
phone: +1 867 979-5990

phone: +1 867 979-5357
Go next