Ischigualasto Provincial Park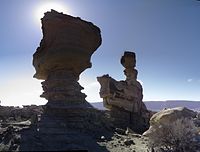 Ischigualasto Provincial Park
is in the
Cuyo
region of
Argentina
. It is listed as a
UNESCO World Heritage Site
with
Talampaya National Park
in La Rioja.
Understand
History
The park shows layers of ground that the Andes Cordillera pushed so that it is now horizontal and in the surface. The rocks are from the Triassic era (240-195 million years ago) which is the beginning of the dinausors era.

Landscape
Flora and fauna
Climate
The park can close some days in February and March due to rain but the sky is rather clear the rest of the year.
The temperatures can be as high as 60ºC during summer afternoons and as low as -15ºC during winter nights.

Get in
The nearest place to get in from is
Valle Fértil
(45 minutes), either with your own car or bus travel agencies in Valle Fértil. As many people go with their car, another option is to hitchhike.
You can also get in the park from
San Juan
(around 4 hours).
Fees and permits
the park entrance costs AR$70 (AR$35 for Argentinians).
It is open from 09:00 till 16:00 during winter and 08:00 till 17:00 during summer. It can also be visited during full-moon nights.

See
There are 5 main view points in the park:
El Gusano, rock formations that look like a worm
Valle Pintado where you can see the different parts of the triacic based on the landscape colors
Cancha de Bochas, rocks shaped as balls that formed by adherence in a river
El Submarino, rocks that look like a submarine viewed from a certain angle
El Hongo, a single rock that looks like a mushroom
Do
A bike tour and a trek to a mountain that offer a panoramic view of the park.

Buy
There is an artesanal shop at the entrance of the park.

Drink
Even though the tour through the provincial park doesn't last longer than 2½ hours, bring at least a 1.5 liter bottle of water as the climate is characterised by dazzlingly dry warmth. There is a kiosco at the entrance of the park where you can buy snacks and drinks.

Sleep
There are no hostels or camp sites at the provincial park. The best thing to do is to stay at a hostel in
Valle Fértil
and go to Ischigualasto by car or book an organised excursion from there to Ischigualasto.