Iskenderun
İskenderun
, also known as
Alexandretta
, is a city in
Hatay
,
Mediterranean Turkey
. It's located on the coast of Mediterranean Sea.
Understand
This is one of the few still-existing cities in the world which was founded by, and indeed gets its name from
Alexander the Great
(who is known as
Büyük İskender
in Turkish), with
Alexandria
in
Egypt
being the other notable example. İskenderun today has a population of about 300,000 people and is an industrialized city, surrounded by petrochemical plants and steelworks, although the city centre is still enjoyable with its lovely palm-lined promenade on the shore of the sea.
Get in
By plane
Nearest airport for international flights is located in Adana (
ADA
) to the north. For domestic flights, Hatay Airport (HTY) located in the outskirts of Antakya to the south (45 min driving) is another possibility alongside Adana Airport.

By train

The national operator TCDD runs regional trains from Mersin via Adana twice daily, one morning and one late afternoon departure. The railway station,
is located at the end of İstasyon road, east of the city centre.

By car

The city is connected to the rest of Turkey by the motorway numbered O-53 (toll-road). The southward road towards Antakya and Syria is also well-paved but windy when crossing the mountain range inbetween.

Get around
There are no dolmuşes in Iskenderun, and though there may be city buses, they're not easy for one to figure out with no Turkish. The center of town is walkable, however to get from the town center to the bus station, you're best off taking a taxi, which should cost about 10-15 TL.

See
Iskenderun Naval Museum

address: Atatürk Blv

contains artifacts from the Ottoman navy, and a room dedicated to the reincorporation of Hatay (for several decades ruled by France) into Turkey.
On the waterfront, there is a big globe surrounded by flags of Turkic countries, and a park with a number of interesting structures.
Do
Take a walk in Iskenderun coast
Great nature of Iskenderun will bewitch your mind.
If you love forest and calmness. soğukoluk give you a magnificent opportunity. You can find hundreds of shades of green there ( Müftüler, 31350 Belen/Hatay)
There is small and cute museum in Iskenderun.
Shopping mall near the coast has great landscape.You can find stores,cafes and food chains inside of it.
The town center is located 40 kilometres (25 mi) South of İskenderun .Arsuz had many names throughout history, including: Rhosus, Rhossus, Rhopolis.This area is predominantly small rural farms (usually located inland towards the mountains) and small groups of summer homes (usually located near the coastline). Arsuz was declared the center of Arsuz ilçe (district) in 2012 by the Metropolitan Law in Turkey.
If you like sun,beaches and sea.there will give you all of it.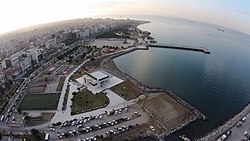 Eat
Kunefe - One of the most famous dessert in this region. a desert with in cheese and eating hot. There is no doubt that is tasty.
Doner - type of kebab, made of meat cooked on a vertical rotisserie. Seasoned meat stacked in the shape of an inverted cone is turned slowly on the rotisserie, next to a vertical cooking element.slicing thin parts and wrapping special bread. Generally in Europe calls like after party food.
Sleep
phone: +90 326 616 66 68

address: Savaş Mahallesi, 47

phone: +90 326 617 81 81

address: 5 Temmuz Cad. No:42