Isla Amantani
Isla Amantáni
is an island on the
Peru
side
Lake Titicaca
. It's a very peaceful place where times seems to have taken a halt a century ago.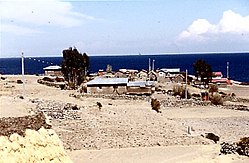 Get in
Every morning around 08:30 a boat leaves from
Puno
. It takes about 4 hours and sometimes there is 10 minute break at the floating island to pick up people.
In the morning there are direct boats from the island back to Puno, but you can also opt for the boat to
Isla Taquile
, with a few hours break to explore that island as well.
A S/2 (
soles
) fee is usually charged somewhere during your stay.
Get around

Electricity is not yet integrated in the village, so a torch is handy to get around after dark.

Do

Hike up pachatata or the slightly higher pachamama. Both offer superb views and ancient ruins. On pachatata there is a small museum as well as a temple (closed for public), which is still used for ritual offering. On pachamama there is small ancient tower, climb up for a 360° panorama, and another temple.
Plan on hiking to the pachamama in time to see the sunset; it is a spectacular setting, but as soon as the sun disappears, it can get awfully cool ( even by Canadian standards) so take a jacket. Your hosts will often have typical Peruvian toques to lend you or otherwise you can buy one- they are very cheap.
Another popular activity for tourists is to play a soccer match against the locals. However, due to the altitude the match can be very challenging tourists unless already acclimated.

Buy
Local CraftsSome of the villagers weave beautiful hats out of alpaca wool. They are a bit more expensive than the ones on the mainland, but they are more unique and helps your host family out to buy them.
Eat

There is no restaurant in town, but food is included in the accommodation. There is a small shop selling snacks, candies and the like.

Drink

Every night there is a party, specially organized for the tourist. Locals will lend you their colorful clothes and try to teach you their local dance.
You can buy beer here for S/5-10.

Sleep
About 50 families have accommodation for tourists. To give everyone a fair share of tourist dollars, tourists are assigned to a family on a rotational system. So one does not have much choice where to stay.
The accommodations are very basic, but include tasty lunch, dinner and a breakfast. The price is around S/20 per person including food.