Isla Gorgona
Isla Gorgona
is a Pacific Ocean island of
Colombia
35 km from the mainland.
Understand
Parque Nacional Natural Isla Gorgona
is an small island 35 km off the Colombian Pacific Coast. There are 2 main islands (Gorgona and Gorgonilla) and 2 tiny rocky keys. The main island of Gorgona is around 26 km 2 in area. There are no permanent residents on the island.
History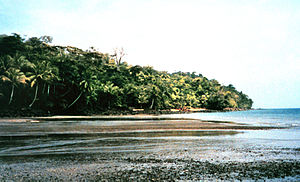 Spanish conquerors visited the island for periods of time from the 15th to the 18th century. Simon Bolivar, liberator of Colombia, gave the island as to an English army man who helped with the local war of independence against Spain. The island was retained by his descendants until the mid-20th century when the country claimed back the territory (by law, all islands belong to the central government).
It was a prison island from 1960 until 1984 when the prison was closed and the island became a national park. The ancient houses of the personnel working at the prison were remodeled and reconverted into a research centre, comfortable accommodation and a restaurant. Since 1985 exuberant rainforest populated again the island. A section of the old prison can be still visited. In the 21st century a concession was given to a tourist company to run a private and secluded hotel.
Landscape
Flora and fauna
The island is covered with tropical forest, which includes 46 species of reptile, 18 of these snakes, bats, sloths, monkeys, tortoises, and the abundant marine life in its waters which can be seen snorkeling from the beach or diving.
The ocean is roamed by sea turtles, whales, whalesharks, whitetip sharks and a lot of other fish species.
From mid-June till November is whale season. Male humpback whales can be seen breaching while the females and their offspring come close to the island at the surface to breath.
Climate
Warm and wet.
Get in
The only way to get there is by boats, which leave from three places on the mainland.
From Buenaventura
There are several ways to get to the island by boat from
Buenaventura
: cargo ships, dive boats, and launches.
The cargo ships typically leave from the Muelle el Piñal in the afternoon (4PM-6PM) and are headed south towards
Saltinga
.
Bodega Lizcano (Muelle el Piñal), +57 2 244-6106, has overcrowded cargoboats shipping food and wood to the southern part of the country. If there are enough passegners it makes the de-tour to the island. The one-way fair is COP$80,000. It leaves at 4PM (but is usually late) and takes 10 hours. Reserve early.
M/N Discovery, +57 2 244-6021, +57 2 243-9540, tight cabins, and cargo destined for (bocas de) Satinga. COP$90,000 per person, but you !ay be able to negotiate COP$150,000 for two.
There are other cargo ships at the Muelle el Piñal- tell the locals there you want to go to Gorgona and they will take you to whichever ship happens to be leaving that day (if any).
Launches are faster boats that take 4 hours. Boats can be arranged through Aviatur, or you can arrange it yourself.
Embarcaciones de Turismo "Asturias"', +57 2 242-4620, +57 2 241-5370. Reservations can be made on +57 2 242-4521 or +57 2 241-2738. Boats leave from Muelle Turistico and the price is about COP$200,000 two ways.
Pacifico Express, it has a speedboat for groups of at least 10 persons. it takes 4~5 hours and the cost is about COP$80,000 per person. For info and reservations contact the office in Cali (Centro commercial passeo de la 5a of. 225, +57 2 554-8142) or in Buenaventura +57 2 241-6507.
You can also arrange for a live-aboard dive boat to take you to the islands. There are at least three different boats that visit the islands (depending on the season). They are typically weekend trips leaving from Buenaventura at 6PM Fridays, and returning 6AM Monday morning, with approximately 6-7 dives around the island, visits to the islands sights, and are all inclusive of meals and park entry fees. These trips are about COP$890,000, and can be arranged through the various dive shops in Cali and Buenaventura.
From Guapi
This is the shorter boat trip, about 2 hours.
Guapi
is only accessible by air.
Aerolíneas Satena
has flights from
Cali
. Contact them in
Cali
+57 2 885-7709 or in
Guapi
+57 2 840-0547, +57 2 840-0313
Several companies have boats with a maximum capacity of 10 people. The price is between COP$350,000 and COP$500,000 for the 2-hour trip. Here is a list of contacts.
Ruber Aguiño: +57 2 840-0329, +57 2 840-0208, +57 2 840-0004
Santiago Aguiño: +57 2 840-0974, +57 2 840-0313
Adolfo Aguiño: +57 2 840-0501, +57 2 840-0499
Plutarco Grueso - Rafael Grueso: +57 2 840-0208, +57 2 840-0137, +57 2 840-0150
Rubén Antonio Montaño: +57 2 840-0502
Juan Antonio Estupiñan: +57 2 840-0196, cell +57 314 747-9604
Pacífico Express: Guapi +57 2 840-0960, Buenaventura +57 2 241-6507, Cali +57 2 554-8142
From El Charco
Taxi de Carga
+57 2 666-3042 has flights from
Cali
.
Contact Dagobert Paredes (in El Charco +57 2 747-0177, +57 2 747-0091, or in
Cali
+57 2 315-5605 ) for boats to the island. The capacity is 15 to 20 persons and cost COP$500,000 one-way.
If your boat out of the island doesn't show up, you get a free night on the island.
It is not allowed to bring alcohol to the island. Bags are sometimes checked on entrance. Confiscated goods will be returned at your departure. On departure bags are sometimes checked for corals or endangered animal species.
Fees
The entrance to the park is COP$31,000 and has to be paid in advanced together with the cost of accommodation.
Aviatur
has the concession for Isla Gorgona. You can get your entry fee at any Aviatur location (there is one in
Buenaventura
, as well as locations in
Cali
, +57 2 664 5050
Get around
Access to the park is restricted. You're only allowed without a guide on the area, called El Poblado between the accommodations and the dive shop. With a (free) guide it is possible to visit the former prison area and the one trail leading to the other side of the island.

See
Tour around part of the old prison located on the island. Until 1984, the island had been a maximum security prison designed for 1,500 but holding up to 2,000 prisoners. Conditions were appalling, with rooms for torture including one, the " bottle" where the victim was forced to stand for days in the impossibly tiny cell not more than 60 cm (2 feet) wide, with a central hole as a toilet & meager rations dropped in from above.
Do
Diving is the main reason people visit this island. There is one dive shop. The prices are low and the equipment is what you expect for that price. The dive sites are amazing and it is likely you see seaturtles, moreens and whitefin sharks. If you are really lucky you might see a whale or a whaleshark. It's possible to do a PADI open water or a PADI advance courses.
Watch humpback whales: around 1,200 humpback whales are expected to arrive every June - July in the Pacific ocean waters of Isla Gorgona, Utria and Sanquianga National Parks. A small number of lucky tourists get to see this spectacle every year. The whales spend the summer months feeding in polar waters and head to tropical waters in winter for mating and calving, traveling more than 15,000 km. They are black, grey and white, can grow up to 18 m long and weigh up to 40 tons.
Liveaboard diving is another way to explore this very unknown diving destinations. Colombia Dive Adventures offers 4 nights trips from Buenaventura.
Buy
There is a small souvenir shop. However, take everything you need with you.

Eat

There is only one restaurant. The meals are good, but prepare for lots of seafood and rice. Three meals included in the accommodation cost (see budget section).

Drink

As a national park, alcohol is not permitted in the island.

Sleep
There is only one hotel in the island. Accommodations are comfortable for a secluded and tropical island, prices are fair for what you get.
Cope

Vaccination against yellow fever, tetanus and hepatitus B is recommended.
There are several species of poisonous snakes on the island. Walking to playa Blanca and further is only allowed with guide and rubber boots (you can rent them at restaurant for COP$7,000). After 5PM, it's advisable to wear rubber boots and use torches. The hotel is well designed to avoid snakes and every tour guide will teach you simple rules to be safe at all times. No snake bites have been reported since the hotel opened 5 years ago.