Isla Malpelo
Malpelo Island
is in the Pacific Ocean 400 km west of
Colombia
. The island has been inscribed on the
UNESCO World Heritage list
. Some divers know it as "shark heaven."
Understand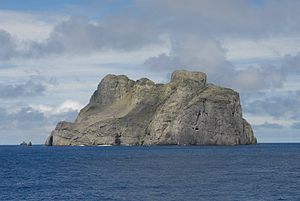 The only inhabitants on the island is the staff of a military outpost.
History
Landscape
Flora and fauna
Part of a solitary volcanic submarine ridge, Malpelo island looks like just another barren rock. Bird guano deposits, however, allow algae, lichens, mosses, shrubs and ferns grow on and around it.
The waters around the island are fantastic for shark diving. You may see swarms of hundreds of hammerhead and silky sharks and even the threatened smalltooth sand tiger.
Climate
Get in
Anyone hoping to visit Malpelo must get permission from the National Natural Park offices in Bogotá. Since the island is a Marine Park, the only way to visit it is via Liveaboard; the Malpelo Foundation allows one Liveaboard dive ship to be present at the island at a time, with a maximum of 25 divers. Anchoring is not allowed anywhere within the marine protected area.
The main port to travel to Malpelo is Buenaventura, and the trip by boat from Buenaventura takes between 30 and 40 hours (via
Gorgona Island
, also supposed to be a diver's paradise).
In 2018 it is not possible anymore for Panamanian boats to go directly to Maleplo.
Colombia Dive Adventures
offers liveaboard dive trips from Buenaventura.
The easiest way to get to Malpelo might be with
Coiba Dive Expeditions
in Panama City. Through them, a 11-day trip with 6 days of diving (2 days to Malpelo and 2 days back) starts at about US$4500 per person (May 2017). That does not include the $90/day park fee for diving, nor equipment rental (they prefer you bring your own gear). Of course they will deal with the bureaucracy for you.
Fees and permits

US$90/day park fee for divers on boat under Colombian flag (2017).

Get around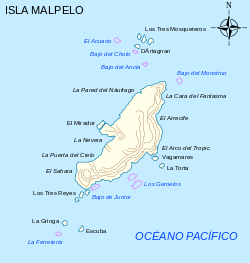 Sleep

You'll sleep on your boat.

Lodging
Camping
Backcountry