Islay
Islay
(Gaelic
Ìle
, say "eye-la") is an island in the
Inner Hebrides
of Scotland, famed for its collection of big name whisky distilleries - nine at the latest count and more coming. Islay is mostly low-lying, with Port Ellen and Bowmore its two main settlements. It's exposed to the Atlantic, with a mild climate and strong breezes, which help keep the midges at bay. In winter, fierce gales and storms are common, with disruption of transport.
You have to travel via Islay to reach the nearby
Isle of Jura.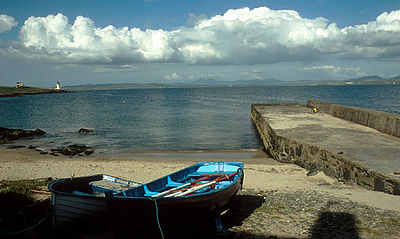 Get in
By plane
Islay AirportLoganair has two flights a day from Glasgow () and one from Edinburgh (); these are in medium-sized turbo-props with a normal baggage allowance. Hebridean Air Services fly one day a week (Thursday at least to mid-Oct 2019) from Oban for £70-85 each way. This is a triangular route, with the morning flight continuing from Islay to Colonsay then back to Oban, while the afternoon flight goes to Colonsay then Islay then back to Oban. The aircraft are small BNF Islanders with 10 kg max baggage allowance. Islay airport terminal is very small, with toilets; one hour before flight suffices for check-in and security. Local car hire firms pick up and drop off at the airport, but you must book. The bus stops at the airport, see "Get around".
By boat
Calmac
car ferries sail from Kennacraig to two ports on Islay, both taking about 2 hr 20 min and with single fares of £7 per adult, £35 per car. March to Oct there are usually a couple of sailings daily to both and to . On Wednesdays and Saturdays the Port Askaig ferry continues to
Colonsay
, and this is also the ferry to use to reach Jura. In winter there are only one or two ferries per day.
The mainland port Kennacraig is near
Tarbert
on the Mull of Kintyre, almost a 3 hour drive from Glasgow. Citylink buses connect with some sailings.
Kintyre Express
is a ferry for foot passengers to Port Ellen from Ballycastle in County Antrim, Northern Ireland. This runs F-M in April and Sept, daily May-Aug. It sails from Ballycastle at 09:30, taking an hour and returning at 15:00, so a day trip is possible from Ireland but not from Islay. Adult fare is £60 single, £95 return, bikes are free. This ferry is a continuation of the sailing from
Campbeltown
on the Mull of Kintyre at 07:30, returning from Ballycastle at 16:30 and taking 90 mins.
Get around
Remember to wave to other road users, whether it be vehicle drivers, cyclists, or pedestrians.
By bus
Islay Coaches
Bus 450 / 451 runs along the spine of the island from Ardbeg to Port Ellen, the airport, Bowmore and Bridgend then either east to Port Askaig, or west to Bruichladdich, Port Charlotte and Portnahaven. It runs M-F only, roughly hourly on the Port Ellen - Bowmore stretch, with the route varying slightly on schooldays.
By car
Two companies on the island offer car hire:
phone: +44 1496 810544 or +44 7824 665099 (mobile phone)

Based at Bridgend, can pick up and drop off at ferry piers (but won't do one-day hires there) or airport. No dogs, bikes, sleeping or smoking in cars. Cars can be taken to Jura but not to the mainland.

phone: +44 1496 302 300

They do a meet & greet service for booking at airport & ferry piers. No dogs, bikes, smoking or sleeping in vehicles. You may take the car to Jura but not the mainland.
By bicycle
Bicycle hire is available in Bowmore (next to the Post Office).

phone: +44 7760 196592

address: Port Ellen
By thumb
Hitchhiking is easy and relatively safe on Islay.
See
Whisky distilleries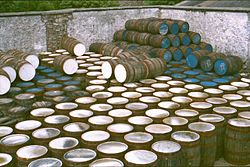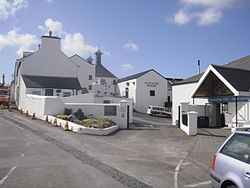 Islay has a remarkable number of whisky distilleries dotted around its coast. Most date to the 19th century, though the tradition goes back to the 13th. One factor was the local barley, fresh peaty water and salt-sprayed environment conducive to good whisky. Another was the intricate coastline, so small ships could easily bring materials in and carry the whisky out, duty free if it was for export. (Their skippers would surely not be tempted, as soon as the sun set, to run the barrels ashore on some mainland beach?) Some distilleries have come and gone but there are nine as of 2019, with probably more on the way; they all offer tours, booking recommended, and have shops or visitor centres.
The reason for their recent expansion is a change in the interpretation of the law in 2009. It's illegal to distil your own spirits (of any kind) for personal consumption, but you're permitted under licence to set up a commercial distillery. That was held to mean a still of at least 1800 litres capacity, but in 2009 a legal case overthrew that minimum, and opened the door to micro-distilleries, which then popped up all over the UK but particularly in Scotland. Most of these produce gin, but that market was quickly over-saturated. Scotch whisky as a protected trade name has many extra rules and has to mature at least 3 years before it may be sold. So it's only in recent years that a slower second wave of Scotch distilleries has begun trading, hopefully on a more sustainable basis than the "boutique gin" fashion.
Three of the Islay distilleries - Ardbeg, Laphroaig, Lagavulin and Ardbeg - are connected by a footpath with each other and to Port Ellen, a 4 mile walk each way. The others are scattered around the island. See also
Jura
, which has one distillery.
Other sights
Do
phone: +44 1496 810767

address: School Street, Bowmore PA43 7JS

Use the swimming pool, sauna and gym.

phone: +44 7973 725456 (mobile phone)

address: Port Ellen

Sea kayaking around the coastline of Islay. Based in Port Ellen, but tours from other points on Islay or Jura are possible on request. The half day is recommended for beginners.
You can sit on the beach at The Oa, and watch as Highland cows stroll past
Events
Buy
phone: +44 1496 810014

address: Islay House Square, Bridgend, PA44 7NZ

The only brewery on Islay. Producing real ales since 2004.
Eat
address: Port Ellen, PA42 7EA

Rustic cafe within Ardbeg distillery offers light meals.

Bridgend Hotel

address: Bridgend PA44 7PB

3 star with rooms, but it's best known for its restaurant. The bar also does meals.

Taj Mahal

address: Shore Street, Bowmore

A good Indian restaurant in the centre of Bowmore. They don't serve alcohol, but you can bring your own. Cash only.
Other options in Bowmore are the Chinese takeaway, Pizzeria, and "Cottage restaurant" lunchtime M-Sat.
And see the Drink and Sleep listings.
Drink
address: 11 Queen Street, Portnahaven PA47 7SJ

Cosy bar and restaurant serving local food. No dogs inside.
In Port Ellen the Ardview Inn is open daily and serves meals. No 1 Charlotte St, the former White Hart Hotel, is now just a bar but plans to re-open for B&B.
Wine from Islay? Yes, flavours include rhubarb and bramble, taste before you buy. Mis en bouteille at Mansfield Rd Port Ellen, open M-Sa 10:00-18:00.
And see the hotels listed in "Sleep".
Sleep
Islay Hotel is by the ferry pier in Port Ellen, B&B double from £220.

phone: +44 1496 810330

address: The Square, Bowmore

Hotel owned by Bowmore Distillery with seven rooms as well as a restaurant and a cosy pub with good selection of whisky. Restaurant also open to non-residents, 07:30-10:00, 12:00-14:00 & 18:00-22:00. They also run several nearby self-catering cottages.
Bowmore B&Bs include the Lambeth and the Lochside Inn.

phone: +44 1496 840277

address: Ballygrant PA45 7QR

Small hotel with bar and restaurant daily 19:00-21:00. Ten min walk to Finlaggan.

phone: +44 1496 840245

address: Port Askaig, PA46 7RD

Right next to the ferry pier, this is one of the island's oldest inns, and feels it - needs refurbishment. No dogs. The pub does bar meals.

phone: +44 1496 850441 or +44 1496 850442 (the cafe)

address: Port Charlotte PA48 7UE

Camp & caravan site open Mar-Nov. Licensed cafe is open daily 08:00-20:30, no dogs indoors.

phone: +44 1496 850385

address: Port Charlotte PA48 7TX

Hostel open March-Sept in old whisky warehouse. 30 beds with good common room facilities, free wifi. The well-equipped kitchen is locked between 10 am and 2 pm.

phone: +44 1496 850360

address: Main Street, Port Charlotte PA48 7TU

Comfy hotel, does good bar meals and often has live traditional music on Wednesday and Sunday evenings. There is a beer garden at the back. Excellent selection of whisky, but establish the price first (especially if they're coy about it) - it could be £50 a shot.
Lochindaal Hotel in Port Charlotte has accommodation in four adjacent converted cottages.
Self-catering cottages are dotted all over Islay. They're usually rented by the week, expect to pay £400 or more for that.
Stay safe

Islay is a pretty safe place and any crime here is likely to be big news.

Go next
Isle of Jura — a 5-min ferry trip from Port Askaig, but then a long lonely road, you need a car. Jura has a distillery, an attractive walled garden, and lots of walks. It's an easy day-trip.
Colonsay — the ferries from Kennacraig to Port Askaig continue to Colonsay Apr-Oct on Weds and Sats, taking 70 min. A day-trip is possible with six hours on Colonsay, as the ferry sails on to Oban then turns around and retraces its route. Nov-March there's still a connection once or twice a week, but only one sailing so a day-trip isn't possible.
Otherwise it's back to the mainland of Argyll, but there are other islands within reach. A short drive from Kennacraig brings you to Claonaig, which has a ferry to Arran. Or continue south for the short crossing from Tayinloan to Gigha.