Isle of Jura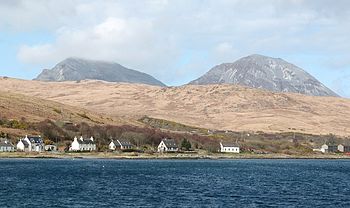 Jura
(Gaelic
Diùra
) is an island in the
Inner Hebrides
, off the west coast of Scotland. It's 30 miles long by 7 miles wide, sparsely populated, with poor boggy soil, and three conical mountains known as the Paps of Jura. At its closest it's only 5 miles from the mainland, yet feels remote, with bleak terrain and lack of direct transport links. Most visitors come here as part of a trip to nearby Islay.
Understand
Jura has 7000 red deer, and its name probably derives from Old Norse
Dyrøy,
"deer island". Much of the land is used for deer-stalking, and during the season (Aug-Oct) it may be unsafe or prohibited to enter these areas.
The main access point is at Feolin on the southwest coast, where the ferry arrives from Islay. From here a narrow lane, grandly designated the A846, winds south then east over the hills to
Craighouse
. This tiny settlement is Jura's metropolis, with the only shop, hotel and pub on the island, and the only two places to eat out. The Jura whisky distillery is also here. The entire south part of the island is designated as a
National Scenic Area
, notable for bird life, and its seas are similarly protected. The Paps - ie breasts - rear up just west, though from this close they look like what they are - bleak pyramids of scree surrounded by bog. The classic views of them are from some miles away on the mainland or Islay, perhaps louring with cloud or set against a golden sky as the sun westers behind them.
The west coast of Jura is uninhabited but is notable for a number of raised beaches. The residents, all 200 of them, live along the more sheltered east coast, and from Craighouse the A846 continues north through Lagg, Tarbet and Ardlussa. Here the road forks: go right (south) to Inverlussa, where it is possible to wild camp. The left fork runs north for 3 miles to the end of the public highway. A private track (permission and 4X4 essential) continues from there to the north of the island. This track passes Barnhill, where
George Orwell
(Eric Blair 1903-1950) lived towards the end of his life, seriously ill with tuberculosis, and wrote his dystopian classic
Nineteen Eighty-Four.
A footpath to the island's north tip gives views of the
Corryvreckan whirlpool.
Get in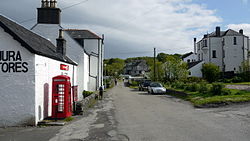 There's no air service to Jura so you have to come by boat, usually via
Islay
- see that page for long-distance travel options. The ferry from Kennacraig on the Scottish mainland sails either to Port Ellen or to Port Askaig which is also the ferry pier for Jura.
A small ro-ro
car ferry
runs from Port Askaig to on Jura. April-Oct it runs hourly M-Sa and every two hours Sunday (Nov-March timetable not yet posted), taking 5 min. It's run by ASP Ship Management (+44 1496 840681) so you won't find the definitive timetable on the Calmac website. No booking, just pay on board, return fares are £15.40 per vehicle plus £3.70 per passenger. Don't be tardy at Feolin Ferry, as the ferry is often battling against the wind and currents, and won't stay on the pier a moment longer than it needs to. The "terminal" there is little more than a cabin, but at least it gets you out of the rain.
April-Sept the
Jura Passenger Ferry
is a direct service for foot passengers only from Tayvallich (near Crinan / Lochgilphead) on the mainland to Craighouse on Jura. There are two sailings M and W-Sa, one on Sunday, no Tuesday sailing. It takes 45-60 min in a bouncy Rib, which has a cabin so you stay dry. Fares are £20 each way, bikes & dogs free, advance booking needed (+44 7768 450000). A day-trip gives you 6 hours on the island.
A few boat owners provide a private water taxi service from the Tayvallich and Crinan area and can drop you at various points on the island.
Get around
By bus:
The one and only public bus along Jura's one and only road is
Bus 456
operated by
Garelochhead Coaches
(+44 1436 810200). This runs between Feolin ferry pier and Craighouse up to five times a day, taking 20 min, fare £2.40. It continues north to road's end at Inverlussa twice a day, more often on school days. The bus makes other runs on request, by phone the previous day.
Jura Island Tours
run minibuses, for private hire or guided tour.
By car:
Most visitors bring their own car over from the mainland, or hire one on Islay. There's no car hire on Jura, but see above for minibus hire.
It's a long
long
narrow windy road, where you can seldom reach 40 mph, so don't cut it fine returning to the ferry pier.
Do pick up hitchers if they're not hopelessly dirty or weird, you may be their last hope of catching the ferry.
By bike:
via the ferry, or hire from the Jura Hotel. The hills aren't massive but there's a lot of up and down, and it'll also help if you like rain and stiff headwinds.
See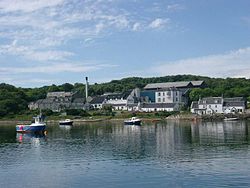 phone: +44 1496 820385

address: Craighouse PA60 7XT

Scotch whisky distillery, smaller than those on Islay, and with a distinctive flavour. The standard tour is at 11:00 and 14:00, M-F year round plus Saturday Apr-Oct, book in advance. No tours during the annual summer maintenance shutdown mid-July to mid-Aug, and limited opening during the Islay Festival late May and Jura Festival late Sept.
is a micro-distillery near the end of the road 25 miles north of Craighouse. Tours M-F 11:30 & 14:30 must be booked in advance on +44 1496 820196 or email tours@lussagin.com.
Jura House walled gardens, along the road between the ferry and Craighouse, closed in 2011 and there are no plans to re-open them.
Do
Walk: the island's trails come in all grades. Easy hikes taking an hour or so are at Craighouse, the bay near Feolin Ferry, Corran Sands, and coast-to-coast at Tarbert. The classic hike is the Paps of Jura, a 10-hour, 10-mile slog through bog and scree to reach all three peaks. The highest Beinn an Òir is 785 metres (2575 ft), so it ranks as a Corbett. Another hike, from the road's north end at Ardlussa, follows a track to Barnhill then a rough boggy path to the view over Corryvreckan - and you'll hear its roar when the tide's running.
The island fell race is held annually in late May. The course record for this 28-km, 7-summit, slog-in-a-bog is just over 3 hours. The next race is on Sa 25 May 2019, starting from Craighouse at 10:30.
Go to a ceilidh or other live entertainment in Craighouse village hall: check local listings.
Jura Music Festival is held in Craighouse on the last weekend of September, 3 days of traditional music and dance. The next event is 27-29 Sep 2019.
Buy
Spar supermarket in Craighouse is open M-Sa 09:00-21:00 & Su 09:00-17:00.
Jura Community Shop (+44 1496 820231) in Craighouse takes orders and can deliver. It's also the Post Office, and is open M-Sa 09:00-17:00.
Eat
The Antlers Bistro

phone: +44 1496 820123

address: Craighouse

Bistro restaurant offering tea, coffee, home baking and freshly produced, locally sourced food, like venison. Great decked area to watch the world go but while having lunch. Also sells local crafts, and has a local heritage display in the entrance delving into the history and customs of Jura.
Jura Hotel (see "Sleep") is open daily for lunch 12:00-14:00, dinner 18:00-20:30, but Nov-Mar dinner only by reservation.
Drink
Jura Hotel (see Sleep section)
Sleep
phone: +44 1496 820243

address: Craighouse PA60 7XU

A family-run hotel with 17 bedrooms in Jura's main village. Serves food using local produce in the dining room, lounge bar and bar. These bars are the only place to drink on the island, so they're the centre of Jura's social life. They can get very busy during annual events or on the night of a ceilidh. There's also a "gifts cabinet" (you couldn't call it a gift shop) with items such as postcards, jewellery, tea towels and hip flasks.

phone: +44 1786 850274

The remote cottage where George Orwell wrote 1984, can be rented for self-catering by the week. No mains electricity but there's a small generator, gas-powered fridge, and coal-fired Rayburn for hot water. You'll need to be self-sufficient for food, and get here by 4X4 up the rough track, or arrange a boat to bring you in and out.
Camping. The Jura Hotel provides camping in a scenic field situated between the hotel and the shore. Campers use toilets and showers at the hotel. No charge, but donations are accepted in the hotel bar. There are also many places on the island where you can wild camp, including Corran Sands (2 miles/3.2 km north of Craighouse), and Inverlussa (3/4 of a mile/1.2 km outside Ardlussa), which is an excellent place due to its flat and large open areas. Take some midge/mosquito repellent - you will need it!
There's bed & breakfast at Craighouse, Corran and Ardlussa, plus some two dozen self-catering lets, search online with Jura Development.
Go next