Ismailli
İsmayıllı
(also
Ismailli
,
Ismayilli
, or
Ismayilly
) is a historic town in the
Sheki Region
of
Azerbaijan
Understand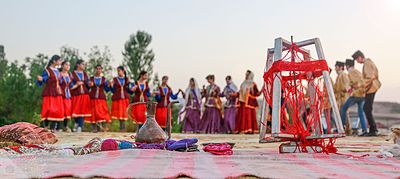 İsmayıllı is a convenient travel hub to nearby destinations, especially in the Caucasus Mountains, including
Lahich
.
Get in
Buses from
Baku
to Ismailli depart from the large and confusing Baku International Bus Terminal. On the third floor of the bus terminal, tickets to Ismailli are sold at ticket window 15. If tickets are sold out for the regular bus to Ismailli, marshrutkas (minivans) outside the ticket hall periodically depart for the 2½ hr ride when all seats are full. These will drop you off at the Central Bazar (Mərkəzi bazar) in the middle of İsmayıllı, where a cluster of taxis will be waiting for you.
Get around
A taxi to most destinations in town should not cost more than 2 to 3 manat by taxi. A horde of taxi drivers will greet you when you depart your bus at the Central Bazar. However, many destinations are walkable and there are also many local marshrutkas to nearby destinations available, like
Lahich
.
See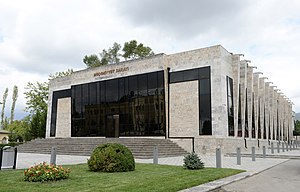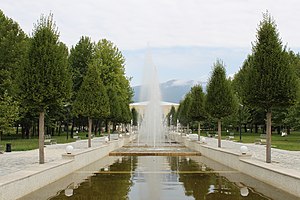 Ismayıllı Palace of Culture

See the fountains in Ismailli
Do
Ismayilli State Nature Sanctuary
Buy
The Central Bazar area is packed with phone shops, restaurants, supermarkets and every other assortment of stores that you'll find in a mid-sized Azerbaijani town.

Eat
There are a number of hole-in-the-wall restaurants around the Central Bazar (Mərkəzi bazar) with the typical selection of kebabs, bread and salads that will cost just a few manat for a meal.

Sleep
Ismayilli Guest House

phone: +994 502865156

address: Mican kəndi

A hostel run by a local family. Located 2½ km from the center of town, the hostel is a bit far out from the center of town, so load up on food essentials and drinks before you come. Breakfast and meals are available, and expect to be offered plenty of free tea and fruit in evening. Rooms are limited, so best to book in advance.
Go next
Buses depart from the Ismailli bus station to the following destinations (in order of closeness):