Issyk Kul
Issyk Kul
(
Kyrgyz
: Ысык көл
Ysyk Köl
,
Russian
: Иссык-Куль) is a lake in
Kyrgyzstan
. The name refers both to the lake and the
oblast
(region) containing the lake. The region is centered around the massive Issyk Kul lake, which is the second largest alpine lake in the world. It is completely ringed by the massive snow-capped
Tian Shan
mountains that lie between 3,000 and 4,000 m.
Cities and villages
– the gateway to Issyk Kul, Balykchy is a small, dying industrial center on the western shore, and a former fishing town, with a train service from Bishkek through a beautiful passant Chui Valley
– a laid-back village east of Tamga, horse treks and eagle shows
– an upscale summer resort town and central city for tourism surrounded by mountains, with the popular Grigorievskoe Trail nearby and most of the resorts within 50 km
– a small lakeside picturesque town, where you can (literally!) have a radioactive bath, climb the nearby Tashta Ata Mountain, or have a magnificent view from the Shatyly Panorama outlook. Its twin village Kadji-Sai 2 is a popular beach resort at the highway
– mainly a beach resort, overnight yurt stays and horseback riding trips can be arranged here, too
– town with a red sand beach; named after the nearby petroglyphs
There are plenty of smaller villages at lake shore, with cheaper accommodation and less tourists.
Understand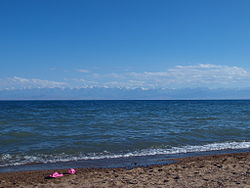 Issyk Kul is a slightly saline deep water body. Years of over-fishing have decimated its fisheries and many of the smoked fish sold in the surrounding cities come from other alpine lakes. Due to a lack of reasonable control on tourism, many sub-standard and unfinished low quality tourism resorts ring the lake's north shore. Nevertheless, there still remain numerous places to appreciate the true beauty of Issyk Kul.
A mountain pass road being constructed between Issyk Kul and Almaty, Kazakhstan is set to increase the number of tourists in the coming years and without government controls on development, exposing the lake to more tourists will only deplete its natural beauty.
The Issyk Kul lake reaches to 663 m deep in the center. The east end of the lake was also once used as a torpedo testing site by the Soviet Navy, making the region off limits to foreigners for a period of time. Issyk Kul is divided between the more populated and touristy North Shore and the more rugged and less populated South Shore.
Talk
Russian
and
Kyrgyz
are the primary languages. Some hospitality staff may speak English, but it is much more helpful to know basic Russian.
Get in
By bus
The simplest way to reach Issyk Kul is by minibus from
Bishkek
western bus station (Западный автовокзал
Zapadniy avtovokzal
). There are minibuses that goes over northern or southern shore, you can arrange with driver to stop at your desired village. The price is 280 som to
Cholpon Ata
and about 350 som to
Karakol
.
By taxi
You can arrange a van or taxi from
Almaty
or
Bishkek
. A hired driver one-way from Bishkek will cost up to US$100. Leave from the western bus station (Западный автовокзал
Zapadniy avtovokzal
) to get to Issyk Kul. A seat in a 4-person shared car to
Cholpon Ata
will cost about 500–1000 som. Beware that prices may differ largely between different drivers and be prepared to bargain. You may wish to team up with other travelers (or locals) and negotiate a price together, locals often pleased to ensure that you pay the local fare. Prices may be higher on weekends or peak season.
By train
There is also a scenic train ride from Bishkek to
Balykchy
(see
here
for more details). The train is slower than bus or taxi, and there is only one train to Balykchy departing early morning and returning back at afternoon. But the train ride boasts amazing views of the mountain pass. And the tickets are very cheap, for 69 som.
Get around
By bus
All of the larger cities have bus stations with frequent marshrutkas. If you are in a smaller city, town or village, you might have to head to the highway around the lake to catch a marshrutka.
By autostop
Hitching a ride around the lake or into any direction is easy—see
Kyrgyzstan#By autostop
. This can be especially useful if you leave the main road around the lake and head for instance into the mountains, where there is no public transport.
By taxi
Most bus stations have a taxi stand nearby where you can negotiate additional rides. But also in smaller cities, towns or villages, you can just ask around for a car and driver—there are plenty.
See
The locally published
Spektator
magazine had an online guide to circumnavigating Issyk Kul.
Do
Issyk Kul is also ringed by hundreds of kilometers of beaches popular for swimming and sunning.

Eat
Most of the restaurants serve "national and European" cuisine, which amounts to local and Russian food. There are few restaurants catering to western tastes. Most locals pack their own food and prepare in their hotel rooms and on the beach. You can find numerous shashlik stands in the summer serving marinated grilled lamb and beef.

Drink
Some locals believe drinking the slightly saline water of Issyk Kul has health benefits. But, there is a uranium tailing pond on the south shore, that likely runs off into the lake.

Stay safe
There are no lifeguards at any of the beaches.
There are no nudist beaches and women being topless is quite rare, but local custom has no aversion to extremely skimpy swimsuits.
Beware, as the lake sits at 1,600 m above sea level, a few days in the sun can do more damage to your skin than a week at sea level.