Istanbul/Asian Side
The
Asian Side
(Turkish:
Asya Yakası
) or the
Anatolian Side
(
Anadolu Yakası
, which is the more common designation for the area in Turkish) is the half of
Istanbul
that is on the
Asia
mainland, east of the Bosphorus.
Understand

Kadıköy (ancient Chalcedon) and Üsküdar (ancient Chrysopolis or Scutari) form the historical cores of this area. Both started as independent ports - indeed Chalkedon was founded 30–40 years before the oldest parts of Istanbul - and were only incorporated into the city of Istanbul in the late 19th century. Regular steamer ferries began to ply the Bosphorus between them; it would be another 150 years before bridges and Metro tunnels created a land connection.
Today Kadıköy and Üsküdar are the main areas of visitor interest on the Asian side. Inland are miles of bland suburbs, with high-rise apartment blocks and shopping malls, which sprang up when the first Bosphorus bridge made inter-continental commuting easier. The Asian Side houses about 4.4 million people, a third of Istanbul's population, and 1.3 million of them commute daily to Europe. However there's a string of interesting places along the Bosphorus coast, with old palaces, mansions, and neighbourhoods with character, and stretches of parkland along the Marmara coast. In 2005 the city boundaries were extended to engulf the former "Istanbul Province" on both the Asian and European sides. So nowadays the city, and the scope of this page, goes all the way east to the boundary with Kocaeli Province, from just north of Gebze on the Marmara coast to Ağva Merkez on the Black Sea coast. These new areas of Istanbul are mostly rural, but suburban developers are eagerly marking out plots and cranking up their cement mixers.

Get in
From beyond Istanbul
And see main
Istanbul
page for details of these links.
By plane:
Sabiha Gökçen AirportThis airport has many domestic and international flights and is much more convenient for this side of the city, and less congested, Use bus E10 to get between airport and city, there's no metro link. Buses also run from Pendik metro station to the airport, but this takes longer than the E10. Buses are erratic, a taxi might be best.
There's a hotel at the airport, some half a dozen (e.g. a Hilton) at Kurtköy 2 km north, then another dozen at Pendik town (on the Marmara coast near the YHT station) 6 km south.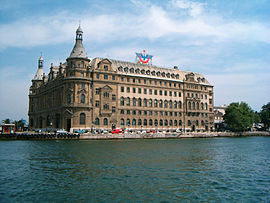 By train:
Istanbul's terminus for high speed trains from Ankara and other eastern cities is , near the disused historic terminus of Haydarpaşa. These trains also stop at near the ferry pier, and , which is convenient for reaching Sabiha Gökçen Airport. Bostanci and Pendik mainline railway stations are about 1 km south of the metro stations of the same name.
By bus
, Harem is the main bus station, with buses arriving from all over Asian Turkey. It's mid-way between Üsküdar and Kadıköy and has frequent ferry links with
Eminönü/Sirkeci
. There aren't many amenities, so bring a book or commune with your i-phone if you're going to be there long.
By boat:
Fast ferries from towns along the southern coast of the Marmara Sea, such as
Yalova
or
Bandirma
, land at the pier at
Bostancı
. Some are direct, while others transfer to a smaller ferry after arriving at Yenikapı pier on the European side. The fast catamarans offer a smooth and pleasant ride - a great option for reaching
İznik
or beyond.
From European Istanbul
Metro:
the Marmaray line rushes between continents in a very few minutes.
Ayrılık Çeşmesi
station, the interchange between the Marmaray line and M4 for Kadıköy and east towards Kartal and SAW airport, is closed until early March 2019, with bus replacements.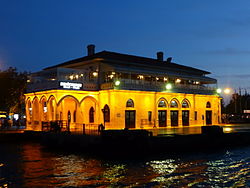 By boat
across the Bosphorus is the most pleasant method, and always quicker than trying to cross the congested bridges. The main ferry lines are:
Ferries from the western suburbs eg Bakırköy also run to Kadıköy and Bostancı, but they are much more expensive than local ferries.
Buses
across the bridges are slow at any time, and tediously slow in rush hour (07:00-10:00 going west into Europe, 18:00-20:00 coming east into Asia). Buses across the bridges require two tickets (or the equivalent cash) rather than one (one exception is #129L Levent-Kozyatağı which visitors are unlikely to use). The most useful inter-continental buses are:
However the
metrobüs
(#34A) is quicker, as it has a dedicated bus lane, and only needs one ticket. It runs from Edirnekapı just outside
the old city
to Söğütlüçeşme just east of downtown Kadıköy, via
Mecidiyeköy
.
Metrobüs
stations are usually a little off the usual tourist trail, but easily reached by a variety of public transportation, including the metro from
Taksim Square
for Mecidiyeköy station.
Overland to Üsküdar
Kéraban-le-têtu
("Keraban the Inflexible") is the stubborn title character of the 1883 novel by Jules Verne. Keraban Agha is a merchant who lives in Üsküdar, Asia side, but works in Galata, Europe side. He has two business visitors from Rotterdam, and wants to entertain them at home - but the government have imposed a new tax on crossing the Bosphorus. It's ten
para
- a para is 1/40th of a
kuruş
, which is 1/100th of a Turkish lira, so it's an amount you could barely see with a microscope. But it's the principle! Damn this government! I'll show them! Kereban is as fixated on getting his guests to Üsküdar as he is on not paying the tax - so he leads them there
the wrong way
. They go overland round the entire 4000 km coastline of the Black Sea via what is now Bulgaria, Romania, Ukraine, Crimea, Northern Caucasus, Abkhazia, and north coast of Turkey. Apart from the prospect of dinner, there's also a race against time, involving a fair young woman and an inheritance, and dastardly villains out to thwart Kereban's progress. The trio arrive at his residence after a 45-day journey.
In December 2008 a group of Turkish artists repeated the journey, under the name "In the Footsteps of Jules Verne." They had to arch around Moldova to avoid the conflict zone of Transnistria, were unable to cross the Russia-Georgia border, and encountered many other hassles. They got around in 14 days, but declared that it was even harder to follow the same route after 125 years.
Dolmuş
routes run 24 hours a day between
Taksim
-Kadıköy, and Taksim-Bostancı. They depart from the street next to
Atatürk Kültür Merkezi
in Taksim Square (opposite edge of the square from Istiklal Street) and cost about 5.50 TL/person.
Or
go overland, the wrong way round
just to prove you can: see the infobox.
Around the district
The main transport hubs here are Kadıköy and Üsküdar, with
dolmuş
, bus and minibus routes across the district. Bostancı on the Marmara coast is a secondary hub.
Dolmuş
es ply between Kadıköy-Üsküdar, Kadıköy-Bostancı and Bostancı-Kadıköy until late at night, and also run from Kadıköy to Acıbadem, Koşuyolu and various points.
Metro
M4 runs from Kadiköy east as far as Kartal, Pendik and Tavşantepe. It might be extended to Sabiha Gökçen Airport by 2019 / 2020.
By car:
the major roads on the Asian side mostly follow a west-east axis. These are the three major roads which connect
Kadıköy
with locations east (from south to north): The
causeway
(
Sahil Yolu
), which follows the coast of Marmara Sea,
Bağdat Avenue
(one-way, and that is
east to west
which means you
cannot
enter from Kadıköy), and the road colloquially known as
Minibüs Yolu
. From
Üsküdar
, the major road colloquially known with its former European road number
E-5
lies to east towards depths of
Asia
, while another road also named
Sahil Yolu
(Causeway) connects the neighborhoods on the bank of Bosphorus in the north to Üsküdar.
By bicycle:
there's some 20 km of marked bicycle lane along the park which lies along the sea coast, starting from a few km east of Kadıköy, passing by Bostancı and eventually reaching the eastern edge of the city. The bike lane is well-maintained but watch out for pedestrians who haven't quite grasped the concept.
A tram
runs between Kadıköy and Moda, but it's more a nostalgia trip than practical transport.
See
Around Kadıköy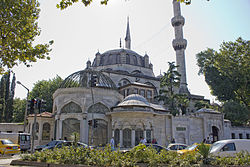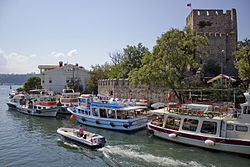 Haydarpaşa StationIstanbul's former Asia-side railway station nowadays has no trains, but is worth a look. It was built by the Germans in 1908 in a distinctive Teutonic-castle style - to make an impact on travellers from Asia about to step into Europe, and a counterpoint to Sirkeci station (also closed) on the European side which is modelled in Oriental style. It's intended eventually to make this the terminus for the high speed rail network.

Just north of Haydarpaşa station and a little difficult to find (it is surrounded on three sides by Turkish military barracks) is the British cemetery with an obelisk commemorating the Crimean war and many Crimean war, Victorian era (and later) graves as well as a modern British and Commonwealth war graves cemetery. This is a beautiful, leafy oasis of calm, with views on the Bosphorus.

Bağdat Caddesihas nothing to do with Baghdad, Iraq except that, during the Ottoman period, it was the beginning part of the road which connected the capital city, Istanbul with Baghdad, another important city of the empire then. This avenue got its name because an Ottoman Sultan, Murat IV, went to Baghdad on that avenue. In fact, with its sidewalk cafés and Western restaurants, Bağdat Caddesi is usually considered as one of Istanbul's most European-flavoured streets, ironically located in Asia. This street is not completely pedestrianized like the Istiklal Street of the European Side, but its broad sidewalks shaded with trees offer a pleasant walk. The restaurants and cafés on the avenue are mainly upscale, but there are also some quite affordable ones scattered around occasionally. Shopping opportunities also abound. From Kadıköy, take 'Bostancı' dolmuş (they depart from near that big yellow balloon) or public bus #4 (its stop is also near the balloon, but separate from dolmuş stop).

ModaA neighbourhood occupying the peninsula just south of Kadıköy, Moda features some neo-classical architecture and parks on the sides of the peninsula. It is a favourite place for people of Kadıköy of all ages to take a short stroll on a summer evening, and for the youth to enjoy a few beers against the minaret and dome-filled skyline of Old City. To get there, you can follow the waterfront promenade from that big yellow balloon, or take the vintage tram from downtown Kadıköy, though the circular tram line does not make it all the way to tip of the peninsula of Moda.

phone: +90 216 359-45-50

address: Ömerpaşa Caddesi, Dr. Zeki Zeren Sokağı 17, Göztepe

Dedicated to toys, this is a museum which adults can enjoy as much as kids. Founded by poet Sunay Akın, the museum is housed in a historical mansion in Göztepe neighbourhood east of Kadıköy. Among the 2,000 pieces of toys from around the world that are in exhibition, the oldest ones are a violin made in France in 1817 and a doll made in the United States in 1820.
Üsküdar to Beylerbeyi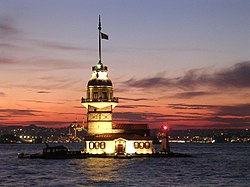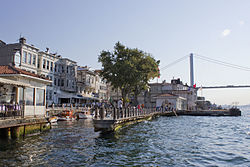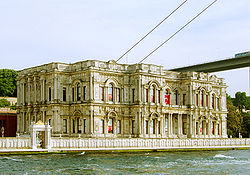 phone: +90 216 342-47-47

address: Salacak

Maiden's Tower, also called Leander's Tower, is built on a small islet surrounded by waters of Bosphorus off the Üsküdar coast where you can have breakfast before noon (a standard breakfast costs 35 TL pp), have drinks during day or dine (mid-expensive) inside the tower itself. The Tower is accessible by boats both from Salacak (very frequent intervals four seasons) or from Kabataş in European Side, on the Bosphorus waterfront at the end of the funicular line from Taksim Square (about once every two hours, summers only). Story has it that a powerful emperor built the tower in the middle of the sea to protect his beloved daughter from death after hearing a prophecy told by a fortune-teller, but a snake had found its way to the tower (inside a basket of fruits) and, as you have already guessed, had bitten and killed the princess, although in reality it is far more likely that the place was built as a lighthouse to warn the ships entering the Bosphorus about the rocky islet the tower was built on. There is also a viewing area on the coast directly opposite the Tower where you can buy tea and sit down to enjoy the beauty of Bosphorus while listening to traditional Turkish music—much cheaper than the Tower. It is recommended to visit right at sunset, when the sun is reflecting off the water and the Tower's lights are turning on. Also at the viewing area, there are 2-person gondola rides.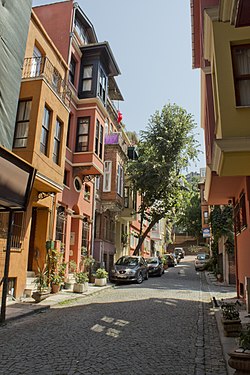 KuzguncukHome to a large Christian and Jewish population until some decades ago and still has a number of sights like two synagogues, some churches among which the Armenian Surp Krikor Lusavoriç, dozens of wooden houses and a Jewish and Christian cemetery.

is a small port with a popular fishing dock. There are many restaurants: those on the port-side serve alcohol and are moderately expensive, those down the side-streets are cheaper. Notable buildings include the 18th-century Hamid-i Evvel mosque, and the 19th-century highway tunnel (which is closed as of Dec 2018). But the standout attraction is the palace.

phone: +90 216 321-93-20

address: Beylerbeyi

Bling palace-cum-summer house in mid-19th-century Ottoman style. Notable for its reception hall, bathing pavilion, and second floor restroom with spectacular Bosphorus view. Visit by guided tour only, these start every half-hour.

ÇengelköyAbout 15 minutes walking north of Beylerbeyi lies the historical fishing village Çengelköy. Its long history is attested by a 800-year-old sycamore tree on one of the two main terraced squares, and the Byzantine Aya Yorgi church. The restaurants and piers of Çengelköy offer some of the best panoramas along the Bosphorus, including a view on the old city under the first bridge. The neighborhood was popular amongst TV directors during the 1970s and it has become a (possibly the most) popular location to have lunch or dinner on the eastern side of Istanbul. Many historic mansions have been restored and multiple boutique chocolatiers were opened. Most restaurants in Çengelköy don't offer alcoholic beverages. Exceptions include the restaurant at the main pier (Iskele), and Tapasuma, the restaurant of hotel 'Sumahan on the Water', located in a former Ottoman Raki distillery. You can get there by taking bus 15 or 15F from Üsküdar, it is just a few stops further than Beylerbeyi. Going to Çengelköy by car is not advised; traffic can be very intense on the narrow road along this side of the Bosphorus.

Çamlica HillOne of the highest hills of Istanbul (268 m high). Almost all major broadcasting antennas are located on this hill, since it dominates a great part of the city. On the top of the hill, a public park with cafes remind the visitors of an Ottoman atmosphere. Thıs public park is sponsored by the government, so expect lower prices on food and drink than usual. The cafe in a building at the top of the hill is moderately expensive; don't worry about it though because you'll get excellent food and service.

Anadolu CitadelA medieval citadel on the Bosphorus at the mouth of the Göksu creek. It was built late 14th century to control (polite word for "choke off") shipping along the Bosphorus, which narrows to 660 m at this point. It worked in tandem with Rumeli Citadel, built some 50 years later on the European bank. It fell into disrepair but was restored in the 1990s. You can't go in, but it's a pleasant setting; the entire village is named Anadolu Hisarı after the fort and has many traditional wooden houses (yalı). Ferries along the Bosphorus call here.
Further out
is a village with an impressive citadel overlooking the Bosphorus. By land it's accessible only by a windy and narrow road through the forest, with few buses. It's best reached by ferry from Eminönü (twice daily) or Sariyer (frequent). In the village, the footpath is signposted to the hilltop Yoros citadel (20 mins, free admission). There's a pleasant area with cafés by the ferry pier; the place gets crowded at weekends during summer. Nasty big dogs stalk the citadel area at night.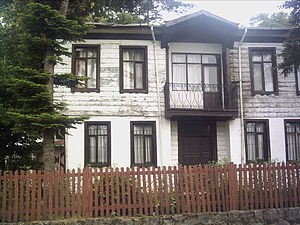 Aydos HillThis is a forested hill 20 km east of the city, at 537 m the highest point of Istanbul. It's a state park, and there's the scrappy remains of a Roman fort. It's probably easiest accessed by Metro to Kartal then dolmuş to Yakacık.

is a suburb just north of the port and ship-building town of Tuzla. (It's not to be confused with the tourist resort of İçmeler near Marmaris, or with the Bosnian city of Tuzla; Tuzla means "salt mine".) It has hot springs, supposedly with medicinal properties, but in Dec 2018 they're closed and inaccessible. İçmeler railway station nearby is on the Marmaris line.
the Polish village. (25 miles east of city, from Highway O-6 exit for Beykoz.) Founded in 1842 by Polish settlers in the wake of the failed uprising against Russian Imperial rule, and reinforced by more settlers after every subsequent civil upheaval until Poland's independence in 1918. Most then returned, but several stayed on, adopting Turkish citizenship but maintaining their Polish language and culture. The village has houses in traditional Polish style, a 1914 little Catholic chapel, and the Church of Matka Boska Częstochowska. It's set in woodland (a nature park) and is a popular day-trip from the city. There's four restaurants and half a dozen small hotels, plus more of each in nearby Beykoz.
Black Sea Coast (Asia side): there's a string of small coastal resorts, from Poyrazköy just beyond the north Bosphorus bridge, through Anadolufenerli, Riva, (the largest) to Ağva / Yeşilçay at the eastern edge of the province. Usual beach attractions, but the Black Sea is often rough, and drownings are not uncommon.
Do
Caddebostan BeachRecently opened on the site of a beach existed 40 years ago, before Istanbul became the behemoth it is today. Complete with a (re-created) sandy strand 450 m long, and a kiosk offering snacks and soft drinks, the beach is run by the city council. Becomes very crowded in summer weekends, though.

phone: +90 216 553 15 93 (men), +90 216 334 97 10 (women)

address: Murat Reis Mahallesi, Çavuşdere Caddesi No. 204

Cheaper then in European side - about 40 TL for full massage and scrub.
Catch a classical musical performance at the Süreyya Opera House. For a time a movie theatre, this turn-of-the-20th-century Beaux Arts building now houses performances of ballet, opera, and classical concerts once more, and good tickets are often extremely cheap.

phone: +90 216 553-66-55

address: Halk Cd. Emin Ongan Sk. 10, Üsküdar

Founded in 1918, the society is often considered the most respected of the social clubs offering classes in the classical Ottoman music, and catching up with their frequent public concerts is certainly a good way of entering the vast world of this genre.
Buy
You can go shopping in Kadıköy, Üsküdar and Bağdat Street. The sale (prices 50% off) season for winter is after New Years Day and for summer after July.
Smart locals do a lot of their shopping at the Salı Pazarı or Tuesday Bazaar, located in Hasanpaşa not far from the Fenerbahçe Stadium. You can get good deals here on everything from produce to clothes to housewares. This is a less touristy bazaar experience than what many see at the Grand Bazaar on the European side.
The fish bazaar in the Kadıköy market area is where the locals go for fresh fish and seafood. Fish shops are open all week long; most of them will clean the fish for you (though not necessarily the hamsi, or delicious local anchovies). Keep an eye out for stray cats sneaking off with bits of abandoned fish.
Eat
Budget
phone: +90 216 341-54-44

address: Selmanipak Cad. no: 25, Üsküdar

Kanaat Lokantası, which dates back to 1933, is famous for its traditional Ottoman cuisine as well as a variety of fascinating desserts. The prices are reasonable but they accept nothing but cash.

phone: +90 216 330-44-20

address: Mühürdar Cad. Güneşli Bahçe Sok. No:60, Kadıköy

Kebabs and similar stuff. Kebab with yoghurt (İskender) there is tasty and slightly cheaper than elsewhere.
Balık-ekmek (literally "fish-bread", a grilled fish sandwiched inside half a bread) is an increasingly popular low-budget meal in buffets in Kadıköy coast, which can be had for 3-3.50 TL. The best balık ekmek can be bought from any of the stands just off the ferry dock. Some of the various fish restaurants in the market area a little inland also sell balık ekmek and mussel sandwiches with garlic sauce onto the street.

phone: +90 216 355 65 65

address: Mehmet Şevki Paşa Caddesi 7/A Bostanci Kadikoy Istanbul

A patisserie and pastry shop with some hot Turkish dishes in the menu. A good choice to eat baklava and also kadayif.

phone: +90 216 321 9320

address: Beylerbeyi Mahallesi, 34676 / İstanbul

Serving traditional food including lahmacun, kebabs and also Turkish home-style items. Average prices for good food.
Mid-range
Splurge
Drink
Kadıköy has a nightlife scene of its own, smaller than
Beyoğlu
of European Side, but just as lively. From the quay where liners from
Eminönü
arrives (signed as
Eminönü Karaköy İskelesi
), first cross the main street, then turn right, from the corner where Starbucks is located, turn left. You'll come across two churches facing each other; turn right there. On that street and the upper one parallel to it, you'll find lots of bars (some of which offer live music), pubs, and Turkish taverns. A few blocks uphill from there is the street colloquially known as
Barlar Sokağı
(Turkish for "Street of Bars"), where there are more places for a drink. If you can't manage to find that street, ask young people for directions to
Rexx Sineması
(pronounced
rex cinema-suh
). That cinema/movie theatre is very near that street, and is widely known.
phone: +90 216 449 1725

address: Kadife Sokak 16, Kadıköy

A finely decorated bar situated in a three-storey old building with wooden ceilings and floors. Also has a small yard at the back.

phone: +90 216 214 56 16

address: Caferağa Mahallesi, Osmancık Sokak, No 13 Kadikoy

Trendy cocktail bar close to Kadikoy centre with a dark atmosphere.
Caddebostan Balans Brau, very nice place for beer (especially house-made Weisbier) and sausage. On the Bağdat Street.
Coffee chains around the Anatolian side (Kadıköy and Bağdat Caddesi) are very popular. Starbucks, Gloria Jean's Coffee, and Kahve Dünyası (especially for Turkish Coffee). Kahve Dünyası is well worth a visit as a comparatively upscale, indigenously Turkish take on the Starbucks theme.
Sleep
There's a slew of inexpensive places between Kadıköy ferry pier and the old railway terminus.
phone: +90 216 450 4363

address: Lounge: İskele Sk No:46, Moda: Caferağa Mah. Güneşli Bahçe Sok. 50/B

Rooms are generously spacious, bright, clean & cosy. Bathrooms are typically shared, Wi-Fi is very slow.
They also run Hush Moda nearby.

Hotel Zirve

phone: +90 216 414 5142

address: Rıhtım Caddesi, Reşitefendi Sokak No:36, Kadıköy

2-star, all rooms have cable TV, wireless internet and are comfortable lodgings at a good price.

phone: +90 216 445 84 24

address: Bağdat caddesi, Plaj Yolu Sokak No:25, 34740 Kadıköy

4-star hotel, rooms include air-con, TV, safe, Wi-Fi.

phone: +90 216 413 9300

address: Çubuklu Cad. Ahmet Rasim Paşa Yalısı No:27, 34810 Beykoz

Boutique waterfront hotel. Rooms include air-con, TV, safe, Wi-Fi.
Connect
The area code of this half of the city is (+90)
216
, which is different from the
European Side
.
Internet
Cafeinn Internet Cafe

address: Caferağa Mah. Sarraf Ali Sokak 35/1, Kadıköy

Quite good computers though most software is a little outdated, so may not support latest additions, such as some kinds of alphabets/fonts.