Istanbul/Galata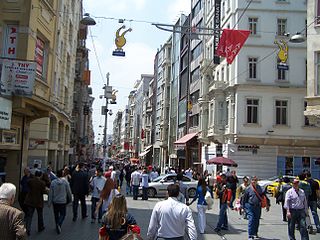 Galata
, and
Beyoğlu
further north with its main thoroughfare, the pedestrianized
Istiklal Street
, and the adjoining
Taksim Square
is the district of
Istanbul
north of
Sultanahmet/Old City
, across the Golden Horn. If anywhere can be regarded as the "downtown" of Istanbul, it is this district, more specifically the Taksim Square. Primarily visited for its nightlife, this district has also its own share of sights and accommodation.
Understand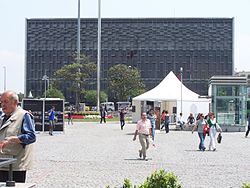 Beginning as a village named Sykai ("the fig fields"), Galata (Turkish:
Karaköy
) rose to prominence as a trade colony of the
Genoese
, also with a large population of the
Venetians
, just north of the then-Byzantine
Constantinople
. After the
Ottomans
captured Istanbul, the autonomous status of Galata was left largely untouched, except that its city walls were razed (all what remains of the once mighty Galata Castle are the Galata Tower, built as a tower of the castle, and a short wall section in ruins just below the metro bridge spanning over the Golden Horn). While there were a few countryside retreats of the rich and powerful as well as dervish lodges of those seeking seclusion among its wilderness at that time, the first time the
Beyoğlu
area ("son of the lord", probably after the certain son of a Genoese ruler of the area, who had a mansion there), formerly
Pera
(Greek for "the other side", as it literally is from the point of view of Constantinople), which lies north of Galata, was settled
en masse
is during the 1850s, when the
Grande Rue de Péra
("the Great Road of Pera"), today's
Istiklal Street
(
İstiklal Caddesi
), was opened.
Taksim Square
(
Taksim Meydanı
) is even younger; it was developed as a city square as late as the 1930s.
Starting its life as a Western/Catholic (Genoese/Venetian) foothold beside the Eastern (Orthodox Byzantine/Muslim Ottoman) Constantinople, Galata has always represented the "West". This is quite easily visible from the neo-classical architecture of the most of the area, but there is more to that than what meets the eye: the first street lighting, the first underground railway (
Tünel
, built in 1875, also the oldest in continental Europe), and the first European-style theaters in Turkey had all come about in this district. During the last century of the Ottoman Empire, when the modernization and westernization efforts reached a climax, the decision of the Ottoman dynasty to abandon the centuries-old Topkapı Palace in the
old city
for the western-style
Dolmabahçe Palace
near Beyoğlu was a symbolic act that clearly manifested the direction that was decided for the country to take.
The core of the district is pedestrianised
İstiklal Caddesi
(or Avenue, or Boulevard), thronged by people strolling and lined by restaurants and retail outlets. It's 2 km long and connects three squares: Taksim in the north is the biggest, Galatasaray Square in the middle is really just a widening of the street, and Tünel Square in the south. A vintage tram trundles along its length. This is the former diplomatic district from when Istanbul was the capital of the Ottoman Empire, so look for the various impressive embassy buildings, nowadays consulates since the capital moved to Ankara. The British consulate in Hamalbaşı Caddesi is worth a look.
Get in
Vintage tram
The famous vintage tram of Istiklal Street is not as ancient as it may seem. Well, the tram
cars
are ancient (dating back to 1920s) but its track is not. The tram service in European Side of Istanbul had come to an end in 1961, when they were replaced by buses and their tracks were surfaced upon. In 1992, the city council decided to pedestrianize Istiklal Street (after the opening of a new and wider parallel avenue - which cost the city several hundred historical buildings). After the motorized vehicles were banned from the street, its tarmac was shelled out and new tracks for ancient tram were laid down.
A metro line connects Taksim Square with districts located north and airport (change at Yenicapi)
Airport shuttle buses run by Havaş connect Taksim Square with Istanbul (new) Airport and with Asia-side Sabiha Gökçen Airport.
Because of its very central location in the city life, it's possible to find a direct bus from everywhere but the outermost suburbs in the city to Taksim Square. The most useful public bus lines for the travellers are:
A funicular connects Istiklal Caddesi with Karaköy on the shore of Golden Horn. The Tünel funicular is the second oldest urban underground railway in the world (after London's Underground), dating back to 1875. Although the distance travelled is rather short between its two stations (a whopping 573 meters, which perhaps make it also the title winner for being the shortest metro line of the planet), it beats the effort one has to make to climb up the steep slope between the aforementioned locations. For its lower station, look for the sign Tünel on the side of a building just over the Galata Bridge on the western side of the street. It costs 2.50 TL/person one-way Istanbulkart is accepted) and departs every 5 minutes M-Sa 07:00-22:30, Su 07:30-22:30.
See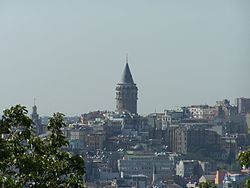 Around Galata Tower
The bankers' town of Galata and the Tower: A cosmopolis and a finance center with bankers and stock exchange crowned by the Tower which was built by the Genoese in the 14th century, offering a great birds-eye view of the old city.
phone: +90 212 293 81 80

It was built by the Genoese on the city walls of Galata, then a western (Genoese/Venetian) stronghold beside eastern (Byzantine/Ottoman) Constantinople. Ride an elevator and take two flights of stairs to the top, then walk the parapet for a 360-degree view of Istanbul, including the entire Sultanahmet peninsula: crowned by Topkapı Palace, the Blue Mosque and Hagia Sophia. A beautiful spot worthy of a lot of pictures. Also has an underwhelming restaurant and a café at the top.

Galata Convent of Whirling Dervishes

phone: +90 212 245-41-41

address: Galip Dede Caddesi 15

A ritual dancing hall of the mystical Mevlevi order (who are the followers of the teachings of Mewlānā Jalāl ad-Dīn, better known as Rumi in the West), the quiet and peaceful garden of this place is a welcome escape from the hustle and bustle of Beyoğlu. The oldest Mevlevi lodge in Istanbul, the convent was started in 1491, when the surrounding area was, hard to believe today but, pure wilderness beyond the city walls of Galata, although the current building dates back to 1855, which took its shape after many repairs, rebuildings, and fires. However, the lodge was shut down in the early years of the republic (in 1925) along with all other 'reactionary' movements in Turkey, and the building has been serving as a museum dedicated to the Mevlevi order since 2010. Downstairs is a series of rooms dealing with the daily life of an average dervish, with informational signs in Turkish and English about the history of Islam and the Mevlevi order (also notice the original wooden pillars that support the building on this floor). On the upper floor is a dancing hall, a perfect example of 19th century Ottoman Baroque, where sema dervish ceremonies are held (every Saturday and Sunday at 17:00, an extra 90 TL—buy tickets in advance, as space is limited). On the third floor is a display of various traditional Turkish/Islamic arts, including paper marbling (ebru), and calligraphy. After exiting the building, check out the small graveyard (or the "silent house" as the sign at its entrance says) on one side of the building, shaded by a number of hackberry trees, which Ottomans favoured to plant in the yards of mosques and graves to sign holiness. Here, the carved fez, or the basket of flowers in case of women, perched upon the highly detailed marble gravestone indicates the occupant's rank in the dervish hierarchy. At one corner of the necropolis is the grave of İbrahim Müteferrika, a converted Hungarian who was the first to start automated publishing in Ottoman Turkish in the 18th century, and served as the translator of Hungarian revolutionaries who sought asylum in Turkey, such as Kossuth, who stayed for a year in Kütahya, or Ferenc Rakoczi, who lived his last years in Tekirdağ.

address: Kumbaracıbaşı Yokuşu

A neo-gothic Anglican cathedral which would not be out of place in northwestern Europe, Crimean Memorial Church was built for the protestant community of the city by Britain in late 1800s. It was named in honour of the soldiers died in Crimean War of 1856, which was fought against Russia by the allied Ottoman and British Empires. Still open for religious purposes, its congregation today mostly consists of Anglican East Asia and Sri Lanka residing in Istanbul.

Arap Camii

address: Galata Mahkemesi Sokak

The building was erected as a Roman Catholic church in 1325 by the friars of the Dominican Order, near or above an earlier chapel dedicated to Saint Paul (Italian: San Paolo) in 1233. In 1299, the Dominican Friar Guillaume Bernard de Sévérac bought a house near the church, where he established a monastery with 12 friars. A new, much larger church was built near or above the chapel of San Paolo in 1325. Thereafter the church was officially dedicated to San Domenico. After the Fall of Constantinople, according to the Capitulations of the Ottoman Empire with the Republic of Genoa, the church, which by that time was known by the Turks under the name of Mesa Domenico, remained in Genoese hands, but between 1475 and 1478 it was transformed, with minor modifications, into a mosque by the Ottoman Sultan Mehmed II and became known as Galata Camii ("Galata Mosque") or Cami-i Kebir ("Great Mosque"). Towards the end of the century Sultan Bayezid II assigned the building to those Muslims of Spain (Andalusia) who had fled the Spanish Inquisition and migrated to Istanbul; hence the present name Arap Camii (Arab Mosque). Today, Arap Camii is the largest mosque on the Galata side of the Golden Horn. It is one of the most interesting mosques in the city due to its early Italian Gothic architectural style and church belfry, which has practically remained unaltered even after being converted into a minaret.
Jewish Heritage
Since 1492 the prosperity and creativity of the Ottoman Jews rivaled that of the Golden Age of Spain. Today the Jewish community in Turkey is about 26,000 and most of them live in Istanbul.
phone: +90 212 244 1576

The most beautiful and the largest in the city where most of the religious ceremonies like bar-mitzvahs, weddings and funerals are held.

Ashkenazi SynagogueThe only active Ashkenazi Synagogue open to visits and prayers.

phone: +90 212 292 63 33

address: Bereketzade Mahallesi, Büyük Hendek Caddesi No: 39, Beyoğlu

Witness the past 700 years how the mixed cultures influenced each other.
Along İstiklal Caddesi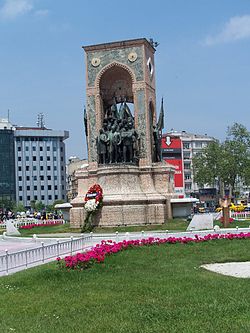 phone: +90 212 334-99-00

address: Meşrutiyet Caddesi 65

A private museum with a large painting collection and archaeological collections of measurement units and tools used in Asia Minor since antiquity and faiences of Kütahya.

phone: +90 212 393-81-11

address: İstiklal Caddesi 4

They have good art exhibits for free and sometimes have French films in the cinema.

Hagia Triada Greek Orthodox Church

address: Taksim Square

Finding a quite large and still operating church on the edge of the main square of the largest city of a predominantly Muslim country may not be expected by everyone, but this is exactly the definition of the quite elaborate Hagia Triada.
S. Antonio di Padova Catholic Church

phone: +90 212 244 09 35

address: Istiklal Caddesi No: 171 A

Although not at the size of Hagia Sophia, this is the largest church (still used for religious activities) in Turkey. It's directly on Istiklal St, but somewhat hidden from view by its yard portal. Catholic Masses in Italian, Turkish, and English (in different days of the week).

Cezayir StreetBetter known as Fransız Sokağı or La Rue Française, i.e. "French Street", is an alley of statues and geraniums hanging from windows, featuring France-themed restaurants, cafes, and pubs housed in renovated and brightly-painted neo-classical buildings. Upon its inauguration in its present form in 2005, there was a brief debate on how political correct it is to rename the street from Cezayir (Algeria) to Fransız, who fought a bitter war against Algerian independence in 1960s, which led the city council to abandon the idea of renaming the street.

phone: +90 212 334 7300

address: Asmalımescit Mahallesi Meşrutiyet Caddesi, No:99

A nice, organized museum with contemporary installations. It may be seen as overpriced given its small size. It also has a simple cafe.

phone: +90 121 252 9738

address: Çukurcuma Caddesi, Dalgıç Çıkmazı, 2

Opened in 2012, this museum is unique and a must-see when you are in the Beyoğlu area. It was created by Turkish Nobel laureate Orhan Pamuk alongside a novel of the same name. It tells the love story of the two main characters from the novel, and represents life in Istanbul during the late 1970s to early 1980s, as it exhibits thousands of objects from that era.
Elsewhere
Buy
Bazaars
Beşiktaş MarketThis is where locals go shopping. If you are keen to buy fruits, vegetables, walnuts or olives at local prices, this is where you should head. It is always a good idea to bring rome walnuts (30 TL/kg) or olives (16-40 TL/kg) back home. Otherwise it is just nice to visit and soak in the atmosphere. This is an authentic market not to be missed.
Shops
phone: +90 212 2930378

address: Yenicarsi Caddesi, 16/A Petek Han, Galatasaray

Best antiquarian bookshop in Turkey, owner knows every Turkish excavation site first hand.

Gonul Paksoy

phone: +90 212 2360209

address: 6/A Atiye Sokak, Tesvikiye

Peerless one-of-a-kind dresses made for royalty from refined, antique Ottoman-era cloth.

Paristexas Concept Store

phone: +90 212 252 6161

address: Buyukhendek Cad. 4/A Galata, Beyoglu

Sertaç Haznedaroğlu, the fashion-forward owner, stocks quirky Japanese labels and rare collections created for an Eastern market by designers such as Marc Jacobs, Vivienne Westwood and Chloé. Also check out custom-made leather bags & shoes by Turkish designer Ahmet Baytar.

Sedef Mum

phone: +90 212 2535793

address: 50 Irmak Caddesi, Dolapdere

Artisans of the time honoured art of candle making, intricately sculpted and aromatic wares make very portable gifts.

Seyahan Jewelry

address: Camekan Sokak
Eat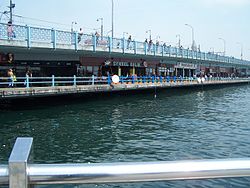 Budget
phone: +90 212 2514221

address: İstiklal Cad. Sadri Alışık S. 5

A quite good value restaurant featuring döner (also on the plate as opposed to the usual wrap/sandwich variety; dipped in tomato sauce to the point of swimming) and traditional Turkish cuisine. The restaurant is a self-service one, i.e., you take a tray, and order your food by pointing at the entrance, and pay at the cash register right next to the food display (take your tableware and bread at this point as you won't be served any at the table), and then take your food to a table—there are two more floors upstairs. No alcohol is served.
are renowned for their burgers, much smaller than the American variety. While Kızılkayalar Burger is the oldest one, all stalls, which are open 24-hr and serve as a sit-in and take-out, offer basically the same stuff—döner, french fries, toasts, various cold and hot snacks, freshly squeezed juices, as well as canned soft drinks, and ayran.
On the (literally Fish Market, next to Çiçek Pasajı and opposite Galatasaray Lisesi), there is a number of small eateries side by side, offering delicious fried mussels (midye tava, 3.50 TL per sandwich) with a yogurt sauce, best to be washed down by a pint of beer.

address: Kemankeş Karamustafa Paşa Mahallesi, Hoca Tahsin Sokak, No 15/A Beyoglu

A special restaurant mostly focused in kokorec which is a special form of lamb intestines. It tastes great and is very budget-friendly: only 10 TL/wrap. Try stuffed mussels as well.
Mid-range
phone: +90 212 292 06 67

address: Balık Pazarı S. 25

The restaurant is meyhane style, where lively conversation is the main dish on every table, next to fish and Rakı. A lot of negative reviews.

phone: +90 212 293-37-86

address: Kallavi Sokağı 13

The restaurant offers an exceptional value lunch, but is also pleasantly busy at night. Several of the staff speak English and foreign tourists are welcome alongside the many locals who eat there regularly. Fıccın is unusual in being a Circassian restaurant, which also serves Turkish food. Seats are available on the street and in several rooms inside. Alcohol is also served.

Nevizade StreetOne of the most famous streets in Istiklal boulevard. It's narrow, and is mostly known for its meyhane style restaurants, where lively conversation is the main dish on every table, next to fish and Rakı that is.

phone: +90 212 293-85-61, +90 212 293-08-51

address: Ağa Camii, Atıf Yılmaz Caddesi (Eski Sakizagaci Caddesi) No: 9/A

One of the best Ottoman restaurants in the country. You can find very traditional foods there. No alcohol.

Leb-i DeryaA nice cafe-restaurant with a splendid view of the Bosphorus and the Topkapi Palace in Tunel, Beyoglu.

phone: +90 0212 251 7991

address: Istiklal Caddesi Mısır Apt. No:163

They serve giant salads, main dishes and pizzas pleasing even to the gourmets. The menu is seasonal which allows them to use only the freshest ingredients.

Zencefil

phone: +90 212 243 8234

address: Kurabiye Sokak 8

A vegetarian/vegan cafe serving healthy and home-style dishes in Beyoglu. Also has a backyard.

phone: +90 212 251 3234

address: Meşrutiyet Caddesi 86A

Very cozy Italian restaurant run by three women serving pizza, pasta, and salads.

phone: +90 212 293 20 55

address: Tımarcı Sokak 3B

Traditional Turkish food with a focus on vegetarian dishes. Great for breakfast. Has a small patio in the back with a view of the Galata tower.
Splurge
phone: +90 212 251 10 42

address: Istiklal Cad. 311, Mısır Apartmanı, floor 8

This gem is in the Beyoglu district on a 360 degrees rooftop, has awesome views of the city. Has a DJ and more party atmosphere late at night and quiet dinners before.
Drink
The
liveliest part of the city
is definitely Beyoglu and again the area of Istiklal Caddesi. Many clubs offer live music.
phone: +90 212 2451307

address: Akarsu Sokak 309, Galatasaray

Live music throughout the week.

Balans & Balans ToniqueIstiklal cad. Balo sok. 22 Beyoğlu. Live music in Balans, Experimental live music and electronic music in Blans Tonique.

phone: +90 212 2927368

address: Şehbender Sokağı 3

Jazz and world music.

Mojo

phone: +90 212 2432927

address: Buyukparmakkapi Sokak 25

Rock music

Dulcinea

address: Meselik Sokak 20

Popular bar, café, restaurant and art gallery during the week, but on Friday and Saturday it is club night with trance and techno music.

Jazz Cafe

address: Hasnun Galip Sokak 20

For some fine jazz, on the top level of the two-floored club there's a performance space where you can enjoy live funk/acid jazz/ blues Tuesday through Thursday

Biz Jazz Bar

address: Topcu Caddesi 18, Talimhane Taksim.

Cozy bar with live music every night

Riddim

phone: +90 0212 251 27 23

A complex with three floor. Rıddim live is the performance hall of complex and you can listen rock pop and alternative kinds of music. Riddim Special is the conceptual parties floor. İstanbul's best R&B-HipHop club is Rıddım R&B-HipHop (the 3rd floor).

Atlas AxisGreat for listening to jazz, ethnic jazz, funk, trip hop or world music while enjoying your food or drink; you should visit that terrace social club on Beyoglu. Offers an amazing view of Istanbul through Galata Tower, Sultan Ahmet and Marmara Sea and lets you enjoy the quality of the food/drink together with live performances and Bosphorus scenery with low prices.

Sal

phone: +90 212 243 4196

address: Buyukparmakkapi Sokak 18

Very popular with tourists seeking a true Turkish experience. Here low coffee tables bump your knees while you sip raki and watch some rowdy musicians.

Mektup

address: Imam Adnan Sokal 20

Authentic live music. But, there is restaurant, too. Do expect to pay a cover charge (approximately 15 TL) if there is a band playing.

phone: +90212 292 48 49

address: İstiklal Caddesi Ayhan Işık Sk. No : 19

Different types of traditional Turkish coffees and snacks.

Haymatlos Bar

address: İstiklal Caddesi Rumeli Han 48 C Blok

Live music at the weekend. Rock, folk, etc.

address: İmam Adnan Sokak 10, Beyoğlu

One of the few still operating bars in the city playing loud heavy metal music, which used to be far plentier in 1990s and early 2000s. And unlike the rest of them, this one also heavily features more extreme genres such as death and black metal, with live performances on Saturday and Sunday nights. DoRock is easily recognizable by its frequenters with their black clothes and miles of hair sitting in the sidewalk patio in front of the bar. Also one of the cheapest places to have a drink (if you can stand to loud music, that is).

phone: +90 212 302 25 35

address: Hüseyin Ağa Mahallesi Nevizade sokak no:12

Located in Nevizade where you can see so many small bars located next to each other. The cocktail list is sufficent and prices are OK. They do have a small smoking terrace as well.

Snog Rooftop Bar

address: Galip Dede Caddesi 56

Good bar. But the attraction here is the stunning view.
address: Asmalımescit Mahallesi, İstikal Caddesi, No 172
Live jazz music throughout the week. Friendly staff and nice atmosphere
Cafés
Melekler Kahvesi Ayhan Işık Sk No:36 Taksim, 212 251 31 01. Melekler Kahvesi which is a backstreet cafe is in Taksim. It is a very popular place among young people. You can play games such as Scrabble and drink Turkish coffee (6 TL). After drinking Turkish coffee, fortunetellers will look at the coffee grounds and tell your future for free.
Small streets south of Taksim Square offer a variety of cafes with more than reasonable prices. Tea can cost 1-1.50 TL instead of 5-6 TL in more touristy areas. A more authentic feel with locals spending their time there and also playing boardgames.
Hooka
In
Tophane
near the waterfront are a number of well-known hooka/hubble bubble (
nargile
) cafes all clustered together, though the national ban on smoking tobacco products indoors in public places led these cafes not to serve traditional hooka unless you are sitting on their outdoor patios. In reaction to the ban, they have "invented" some other kind of hooka which does not contain tobacco and touted as
bitkisel
("herbal"), thus staying within the borders of legality for smoking inside, though those passionately in love with traditional hooka usually find it unpleasant.
Sleep
Much accommodation is business-oriented, for people on expenses. There's a dearth of mid-range hotels, and many hostels and other budget places have perished in the downturn. Nevertheless it's still possible to stay for budget to mid-range prices in this part of the city.
Budget
phone: +90 212 293 55 20

address: Galipdede Caddesi No:85

Nice and friendly new hostel, popular with long-term travellers. Free internet.

phone: +90 212 243 31 77

address: Bogazkesen cad. No:96, Beyoğlu

Basic hotel with internet, kitchen, common rooms, breakfast and tea; pets are welcome; Organised by a very friendly collective.

Hotel Mara

address: Turnacıbasi Cad. No:4 Kuloglu Mah, Beyoglu

3-star, reasonably spacious for the price, clean rooms with en suite bathroom. Decent wifi in the rooms.

Planet Paprika Hostel

address: Taksim akarcası sokağı 3

Hostel is clean and cozy, staff is fluent in English, Turkish and Serbo-Croato-Bosnian, very friendly and helpful. Breakfast is not included, but there is a kitchen that guests can use, with free tea and coffee.
Mid-range
phone: +90 212 361 6767

address: Lamartin Cad. No. 13

Modern business hotel.

phone: +90 212 243 1500

address: Mesrutiyet Caddesi No 87, Tepebaşı, Beyoğlu

Nice little hotel about a ten minute walk from Taksim square, near Modern Art museum & national stadium. Free Wifi.
Splurge
Stay safe
Generally, it is safe to walk around in this district, even by night, though crossing the Tarlabaşı Boulevard (
Tarlabaşı Bulvarı
) towards the dilapidated quarter of
Tarlabaşı
to the west of Beyoğlu/Istiklal Avenue wouldn't certainly be wise after the night falls. Some other parts of this district also have some
crime
issues. A rule of thumb to follow would be to look for young people around having fun, which suggests that you are more likely in an OK zone.
Taksim Square and Istiklal Street there are always (7/24) police officers and security cameras. Do not be afraid. This is a safe area.
This part of the city is where much of the
bar scams
take place. These scams are explained in
dedicated section of main Istanbul article
in detail.
Connect
There are some internet cafes on the side alleys of Istiklal Avenue, especially on the ones nearer Taksim Square. Look for the signs when passing by, especially for those hanging from the second or third floors of the buildings. Most cost around 1.50 TL/hour.