Istanbul/New City
Istanbul's
New City
is a modern district north of
Taksim Square
. Its neighbourhoods of Elmadağ, Nişantaşı, Kurtuluş and Şişli were built up in the early 20th C, then more recently appeared the business district between Mecidiyeköy and Levent-Maslak. Most of Istanbul's steel-and-glass skyscrapers are located in Levent-Maslak. The district's main thoroughfare is Cumhuriyet Caddesi between Taksim Square and Mecidiyeköy (passing through or near Nişantaşı and Şişli) and its extension Büyükdere Caddesi, which runs through Levent and Maslak and eventually reaches Sarıyer on the Bosphorus bank to the north.
Get in
The quickest way to reach New City is by metro which runs beneath Cumhuriyet Caddesi from Taksim to Maslak, with stations every couple of kilometres.
Buses from other parts of the city run to Mecidiyeköy. Metrobüs, a rapid transit system plying along its own bus lane between western suburbs and Asian Side also passes through the district, calling at Mecidiyeköy and Zincirlikuyu stations (close to those metro stations).
Dolmuşes ply between Beşiktaş and Nişantaşı.
See
Atatürk Museum

phone: +90 212 240-63-19

address: Halaskargazi Caddesi 250, Şişli

The historical 3-storey house, easily recognizable among concrete apartment buildings with its pink exterior, which the founder of Turkish Republic, Kemal Atatürk rented while staying in Istanbul before setting sail to Samsun on Black Sea coast to start the Turkish War of Independence. Hosts Atatürk-related paraphernalia and photos.

phone: +90 212 233-27-20

address: Cumhuriyet Caddesi, Harbiye

Among the exhibition of this museum are five thousand pieces from the Ottoman era through the WWII, with the most prominent piece possibly being the huge chain that the Byzantines stretched across the mouth of the Golden Horn to keep out the Sultan's navy in 1453 during the siege of Constantinople. In the yard of the museum, the Janissary Band (Mehter Takımı), world's oldest military band gives concerts of march music in traditional uniforms each afternoon, at 15:00.

NişantaşıNişantaşı is a neighbourhood east of Şişli/northwest of Maçka Park known for its Art Nouveau apartment buildings, ground floors of many of which are occupied by upmarket restaurants, cafes, pubs, and garment stores lining the sidewalks. Nobel laureate Orhan Pamuk, well-known Turkish novelist, is a lifelong resident of the neighbourhood which formed the background of several of his novels.

Radio Building

address: Cumhuriyet Caddesi, Harbiye

This building dating back to 1945 houses the local radio branch of state radio and television corporation of Turkey (TRT). Not an architectural pearl for sure (although fans of 1940s' totalitarian architecture may find a thing or two on its stately exterior), its importance lies on the part it played in the political history of Turkey: It was occupied three times by the Army, in 1960, 1971, and most recently in 1980, when the local radio was decidedly the broadcast type ranging most wide and far, to announce that they had taken over the governance of the country (i.e., they have launched a coup d'etat).

Maçka ParkThis is a park occupying two sides of a valley of this hilly city, with an avenue in between. Sides of the valley are connected to each other by a 4-person gondola lift line offering a shortcut when walking to Taksim Square as well as nice views of Bosphorus (access to northern station from Maçka Caddesi/Eytam Caddesi, every 5 minutes 08:00-20:00, 1.50 TL pp one-way), and by a wooden bridge over the bisecting avenue if you prefer to take a stroll along nice footpaths of the park.
Architecture

When you are bored of Roman/Byzantine/Ottoman architecture whatsoever, this district—especially the northern sections around Levent and Maslak—is where you want to be to run an eye over steel-and-glass skyscrapers of Istanbul. However, southern sections around Harbiye, Elmadağ, Osmanbey, Nişantaşı, Kurtuluş, and Şişli has large numbers of neo-classical and Art Nouveau buildings which date back to the turn of 20th century, making a nice contrast to northern section of New Istanbul.
Do
Attend the Tataula CarnivalDespite a 1943 ban on this Greek Orthodox pre-Lent carnival by the Turkish authorities, it has been revived since 2010. The tradition began in the 19th century or earlier, and even though the event was led by local Greeks, the celebrations were open to everyone. It's also a nice opportunity to look into Turkey's multicultural past. Takes place in the Kurtuluş (previously named Tataula) neighborhood.
Buy
This part of the city is characterized by having a modern shopping mall every few kilometers along the metro line. Here is a list of them:
City's Nişantaşı, about a 10-minute walk (250 m) from Osmanbey Metro statıon.

CevahirThe newest one of malls in Istanbul. At Şişli. Metro: Şişli-Mecidiyeköy. Also accessible from Mecidiyeköy Metrobus Station.

ProfiloLocated a bit away from main street (about 10 min walk) at Mecidiyeköy. Metro: Şişli-Mecidiyeköy. Also accessible from Mecidiyeköy Metrobus Station.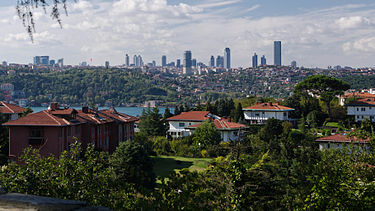 MetrocityLevent metro station has a direct exit to the mall.

Kanyonone of the most exclusive shopping malls in Istanbul with sophisticated, modernistic architecture, has a conncection to Levent subway station and to Metrocity by an underground passage.
Additıonally, Nişantaşı, downhill from Osmanbey metro station, is quite literally full of upscale boutique shopping options (e.g.: Gucci, Prada, Armani).
Eat
Budget
Mid-range
Sultana's Dinner and 1001 Nights ShowIn Elmadag, near Taksim, has traditional Turkish cuisine (meze, kebabs, desserts) with a show every evening of belly dancing, Turkish folklore and live music.

Set Kebap at Nispetiye Cad. No:13 in Levent. Has a wonderful meze table and delicious Adana Kebab. The staff speaks very little English but are most anxious to be helpful.

Kosebasi KebapThis Zagat-rated kebab joint serves traditional Turkish kebabs in modern/ upscale atmosphere. Levent is the main branch but they have 7 more locations (including 3 express versions) in Istanbul.

Sosa. At Akmerkez Mall, Etiler. tel - +90 212 282 01 51. Fairly priced salads and wraps among others.

Kristal Ocakbaşı

phone: +90 2122243969

address: Eşref Efendi Sokak 14

Classic Turkish steak-house.
Splurge
Drink
Aytekin Cafe

phone: +90 212 361 8402

address: Sehit Muhtar Cad. 71

Sidewalk cafe offering hooka (nargile).
Reassürans Pasajı in Nişantaşı houses many bars and cafés and is a good place for bar hopping on a Saturday night.

TapsA bar, restaurant and brewery in one. The crowd is the general Nişantaşı crowd, it also attracts a lot of expatriates.

address: Teşvikiye Mah. Şakayık Sokak Sisli

Nice cocktail bar in Mecidiyekoy/Sisli area. They also do have imported beers and bar food as well.
Adult entertainment
The city's most reputable strip club, or gentleman's club, is Regina Revue, in Elmadag, near Taksim. It's not a sleazy place and has been running for nearly 30 years. Rather than a standard strip club with just a pole on the stage, Regina has many different decors and performances to music, with the girls acting out different scenarios on stage.
Sleep
At its south end this district shades into Taksim / Galata, where there's more choice.
Budget
Mid-range
Splurge