Istanbul/Princes' Islands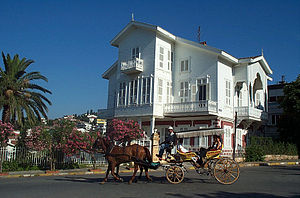 An archipelago of nine islands in the Sea of Marmara just off the
Asian coast
of
Istanbul
, the
Princes' Islands
(
Turkish
:
Prens Adaları
, also
İstanbul Adaları
,
Kızıl Adalar
or just
Adalar
, "Islands of Istanbul", "Red Islands", and "Islands" respectively) are a perfect escape whenever the frantic crowds of Istanbul start to overwhelm you.
Understand
Named after the dynasty members who were exiled here after falling out of favour during the Byzantine and
Ottoman
periods, the Princes' Islands were back then desolate and remote, despite being within the eyesight of Constantinople, and getting there was more of an expedition until the late 19th century, when regular steamer transportation was introduced to the Sea of Marmara. Apart from the exiled princes, these islands were then found to be inhabitable only by a handful of hermits seeking seclusion, after whom the Ottoman Turkish name of the archipelago,
Keşiş Adaları
, literally "the Monks' Islands", derives.
The Princes' Islands consist of four major and five minor islands. Major ones are as follows (from west to east, also from smallest to biggest):
Kınalıada
,
Burgaz
,
Heybeliada
, and
Büyükada
. Apart from these, only one more island of the archipelago is inhabited, that is
Sedef
which lies east of Büyükada. The other, unhabited ones are:
Tavşan
south of Büyükada,
Kaşık
(between Burgaz and Heybeliada),
Yassıada
and
Sivriada
(both lying further away in the sea, southwest of Kınalıada). This article will focus on the four major ones, as public transport to uninhabited islands is virtually non-existent, and much of Sedef is private property with limited access.
The islands are an interesting anomaly because they allow for a very rare, albeit incomplete, insight into a multicultural society in modern Turkey, possibly alike to the multicultural society that once existed during the Ottoman Empire in places such as nearby Istanbul/Constantinople. Prior to 1950s, each of the inhabited islands had significant communities of ethnic minorities of Turkey, which still is the case to a much smaller extent. Since the vast majority of the residents and visitors are Turkish, today their legacy is of cultural rather than of demographic importance: Kınalıada (Greek:
Proti
) used to be the summer retreat of the Armenian archbishop and the Armenian community of Istanbul, Burgazada (Greek:
Antigoni
) used to be a sleepy village inhabited by Greek fishermen. Heybeliada (Greek:
Halki
) was the main Turkish settlement on the Princes' Islands, while Büyükada (Greek:
Prinkipos
) was mostly favored by local Jews and foreign residents of Istanbul, mostly of European descent, although all of these ethnicities could be encountered on Büyükada. This is partially responsible for the different characters of the islands that lie so close to each other.
These islands prove to be a good day-trip especially when you are bored of the crowd, noise, and traffic of Istanbul. Quite a shock is what many travellers experience upon their return to the city, when full-blast car horns are still the way how they were when left behind early in the morning.
One of the best times to be on the islands is during spring (April-May) and during autumn (September-October). During these seasons, the air is neither that cold nor hot, the islands are not very crowded and during spring (especially in late March), the mimosa trees, which are some sort of symbol of the islands, are in full bloom of their yellow flowers. At weekends during summer (June-August), all of the islands are really crowded, and so are the ships. Avoid if you can. During winter, the exact opposite is the case. However, if you want to enjoy the islands blanketed by snow and/or a very gloomy and almost deserted "ghost-town" experience and don't mind the biting cold, then winter is definitely that season.
If you don't have time to visit all of the islands, pick
Büyükada
: it's undoubtedly the "queen" of the islands.
The name of the archipelago is variously—and incorrectly—spelled also as the "Prince's Islands" or the "Princess' Islands" across the World Wide Web.
Orientation
Büyükada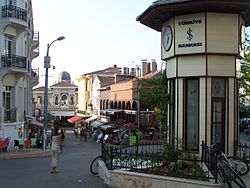 Upon getting off the ferry, you'll recognize the clock at the square just a block up in front of you. This is the main square of Büyükada, and around it is the town centre. Most grocery stores are to your left, as well as the restaurants which also occupy the waterfront to your left when exiting the quay. From the clock, major roads of the island diverge left (east), right (west), and straight ahead (south) among some mansions (best of which are lined on the main road to right) towards the hill, as well as narrower streets and alleys connecting these. These roads join each other again in
Birlik Meydanı
Square (lit. "union square", perhaps because the roads "unite" there), the geographical centre point of the island, lying amongst pine woods between the two main hilltops. From that square, whether you take the road to left or right, you will end up in the same square, as that road encircles the southern half of the island, at a distance to the sea. The Church of St George lies at the end of another cobbled uphill path starting from
Birlik Meydanı
.
There is a large and detailed map of the island posted at the left of exit of ferry quay.
Get in
From Istanbul
The only way to get here is by sea: whether
Istanbul ferries
or
fast ferries
, available at various hours every day. From the
European Side of Istanbul
, you can take a ferry from either Beşiktaş or Eminönü. As of summer 2017, you can not take boats, ferries or seabuses from
Kabataş
because of construction, while from
Asian Side
, the
piers with a connection to the islands
are in Kadıköy, Bostancı, Maltepe and Kartal. The most frequent departures are from Bostancı (especially in winter), which also has private mid-sized boat connection to the islands in addition to liners and fast ferries.See
Asian Side
article for an extensive detail of how to get to Bostancı from more central parts of the city.
A trip on liners takes around 1½ hours from European Side, and 45 minutes from Asian Side, and costs 7 TL one way (cheaper with Istanbulkart). Seabus fast ferries (Deniz Otobüs) are more than twice as expensive but will get you much faster to the islands and have air conditioning. However their service quits earlier and they run less frequent.
Almost all ferries call at all four major islands in a row when departing from the European side; so you can also use them for
island-hopping
. From Bostanci, Mavi Marmara ferries typically go to Büyükada and Heybeli islands, and the second route to Kınalıada and Burgazada islands (island = ada). Island names are not announced by voice inside the ships, so be sure to check the large signs on the quays to make sure that the island you are about to step on is the one that you
want
to step on. Besides the Mavi Marmara line you find also the city line of ferries (Şehir Hatları) which are real ferries in comparison to the Mavi Marmara ferries which are more like large boats rather than ships.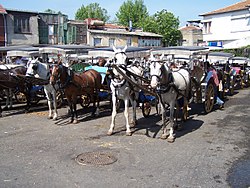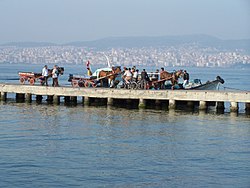 On the islands
As the motorized vehicles (save for service vehicles like school buses or ambulances) are all banned on the islands, the most popular way of getting around is
horse-drawn carriages
(
fayton
), which can be likened to taxis, or the
dolmuş
, of the mainland. There is a fixed price for every location (in Büyükada, they are announced on the sign in the main
fayton
stop near the quay). The highest price is for a total loop (known as
Büyük Tur
) around the island (length: about 15 km, price: 140 TL for Büyükada in October 2018). Price is per
fayton
, i.e. not dependent on how much people the
fayton
carries (but they accept no more than 4, and some horses are not very comfortable with more than 3 passengers). There are no
faytons
in Kınalıada, as that island is not big enough to justify taking one.
Also renting a
bike
is another alternative. The fare was 20 TL per day in 2018. Most renters require you to leave an official identification to be returned after the payment is made. A student ID may suffice. Some renters distribute a road map of the island free of charge, don't forget to ask for it.
Walking
the pleasant streets of the islands is an alternative.
See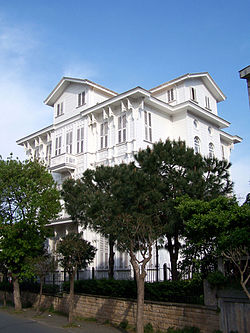 Hagios Giorgios ChurchHagios Giorgios Church (Saint George/Aya Yorgi) is located on one of two summits of Büyükada. After reaching the central point of the island (known as Birlik Meydanı Square), you should climb a steep cobblestoned path on foot to get there (it's too steep for a fayton, as well as a bike, to climb). It takes about 35-40 minutes. Although the church building itself is unexceptional with nothing really fascinating, the backyard of the church offers some very beautiful sights of the other islands and the sea. On April 23rd every year, which is considered as St George's holy day, a crowd of seemingly tens of thousands attend the church to make wishes. Wishmaking rituals that day range from usual burning a candle to climbing the cobbled path on bare feet to untying wool balls all along the path. The final part of the path that day is as crowded as a rock concert (except very early in the morning, like 06:00, it's reported), because police officers let people in in groups of 10-15 at once, to avoid an overcrowding inside the church. The nearer the church you are, the cheaper the candles being sold (for example, in 2007 it was 2 TL near the quay, while the going price very near the church was 0.50 TL per candle). But better of all would be to buy the candle inside the church for a donation (it's up to you how much to pay) as none of the profit of the candles sold on the streets benefits the church. Most of the people attending the church and waiting for a blessing from the priest upon exit that day are non-Christian Turks, but there is nothing surprising about that: this is Turkey, where east meets west (and vice versa) and cultures truly mix

Greek OrphanageOn the other summit of Büyükada, amidst the pine woods lies the abandoned and dilapidated Greek Orphanage (Rum Yetimhanesi), looking like a haunted manor. Built as a hotel in late 19th century, this completely-wooden, 4-story building is the second largest wooden construction in whole world (the largest in Europe). It's dangerous to enter the building (because it's slowly decaying), and also forbidden.

Victorian-style mansionsBoth the eastern and western side of Büyükada is full of wooden Victorian-style mansions dating back to late 19th/early 20th century, similars of which have been bulldozed in the rest of Istanbul (with the exception of neighborhoods on Bosphorus banks) to make way for concrete, multi-story apartment buildings. The ones on the western side (right side when looking out of quay) seem more splendid. Just don't be surprised and don't start looking for them as soon as you get off the ship: Around the quay is more like a modest town centre. They are located about 15-min walk away from the quay
Do
Great/Total Circuit (Büyük Tur, about 15 km in Büyükada): Either by fayton or bike. It's not as hard as it may sound, except a few slopes.
Have a picnic in a scenic spot.
Eat
Alibaba Restaurant

phone: +90 216 382-37-33

address: Gülistan Cad. no: 18, Büyükada

Seafood restaurant in Büyükada. Reservation is advised on Saturdays.

Konak Lokantası

phone: +90 216 382-54-79

address: Recep Koçak Cad. no: 87, Büyükada

Kebab and traditional Turkish cuisine.

Köşem Restoran

phone: +90 216 382-11-20

address: ş.Recep Koçak Cad. No:49, Büyükada

Very nice and cheap place, lots of locals eat here. There is both cafe-like service and self-service.

Sofrada Restoran

phone: +90 216 382-76-39

address: Recep Koçak Cad. İsa Çelebi Sokak 10, Büyükada

This small quaint restaurant is run by a family and was formerly called Ada Ev Yemekleri. It features traditional Turkish and Eastern Med cuisine at great prices. Very tasty and an authentic slice of the Islands and Turkish cuisine.
Drink
By Şükrü

phone: +90 216 382-12-45, +90 532-700-22-11 (for group or fixed menu pricing please call Susan)

address: Gülistan Caddesi #16, Büyükada

By Şükrü is located right on the sea front with a variety of fresh seafood, kebob and vegetarian dishes. You can enjoy live music every Saturday night in the tavern, and for those of you who miss a good T-bone steak or Shrimp Scampi you may visit By Şükrü's Winehouse. Minutes from the pier, By Şükrü is easy to get to and one of the most visited restaurants on the island. Reservations are suggested for weekends.
Sleep
Most of the islands' accommodation is on Büyükada close to the ferry pier. Some also on Heybeliada.
phone: +90 216 382-34-44

address: Malulgazi Cad.No:24 Buyukada

One-star with 15 rooms.

phone: +90 216 382-28-88

address: Madenler Mahallesi, Çınar Caddesi 6, Büyükada

A new boutique hotel with a pool, garden, restaurant, and bar. 22 rooms with en-suite bathrooms.

phone: +90216 382 1444

address: Maden Mah. Çiçekli Sokak No: 24 Büyükada – İstanbul

Luxury boutique hotel with free Wi-fi. Only 300 m from the port.

İdeal Pansiyon

phone: +90 216 382-68-57

address: Kadıyoran Caddesi 4, Büyükada

Cheap pension in a historical wooden mansion. While the beds and linens are clean, not all rooms have en-suite bathrooms, thin walls, erratic heating.

phone: +90 216 382-74-35

address: Çınar Cd. No:17 Büyükada

Guesthouse offering rooms with central heating, air conditioner, hot water, and wireless internet.

phone: +90 216 382 6950

address: 23 Nisan Cad. no: 53, Büyükada

Located in an Art-Nouveau building which dates back to 1908.
Stay safe
If you are doing the great circuit of Büyükada, beware of dogs near the cemetery, which suddenly start barking at and chasing you when you are about to re-enter the built-up area in the east of the island if you are circumambulating the island counter-clockwise (or after you have just entered the wooded section if you are doing clockwise). The best reaction is to speed up as much as your legs and the bicycle can endure, they give up after a certain length of chase. This warning is especially true for winter.
Also, whether you are a pedestrian or a cyclist, always give way to faytons to avoid dangerous collisions. Don't be fooled by the absence of motorized vehicles: Always check the road first when crossing. The horses can and do have real high speeds.

Connect
The telephone code for islands is (+90)
216
, which is same with the
Asian Side
but different from European Side.
Go next
If you are not going to stay overnight in the islands,
don't forget to take a note of departure times of ships back to the city
before leaving the quay building. Ships are less frequent after the night falls, especially in winter. Generally the most frequent line (and the one with the latest departure) is Islands-
Bostancı
one. From Bostancı, you can take
dolmuş
or public bus (#112) to
Taksim
in European Side. (once in Bostancı quay, cross the street, walk straight ahead, cross the pedestrian passage under the railway, climb up the second stairs on the left. You'll come across a little square, on the opposite edge of it is where
dolmuş
es and buses to Taksim depart).
The
sea can be rough
in spring, autumn and winter, and the islands are sometimes cut off from the outside world when the
ferry services are cancelled due to storms and high waves
.