Itoman
Itoman
(糸満市) is in
Okinawa
,
Japan
.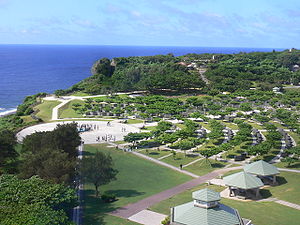 Understand
Throughout its history, the city has been an invaluable port city in Okinawa with a thriving fishing industry. Even today, many of the city's biggest festivals revolve around fishing.
The city's trajectory and notability completely changed in early 1945 when it became one of the bloodiest battlefields in the American invasion of Okinawa. Thousands of Japanese, Americans, and native Okinawans died here. The city now contains multiple sites dedicated to
World War II
, the Battle of Okinawa and its affects on the island and the people, and peace. The museums here are considered must-visit sites by many visitors to Okinawa.
Get in
There are many buses that travel to Itoman from
Naha
.
Get around
Once you get to Itoman Bus Terminal, you can then transfer to a bus that will take you to your destination within the city. Bus #82 goes to the Peace Park (Heiwa Kinendo Iriguchi Bus Stop) and passes the Himeyuri Peace Museum (107 and 108 pass the Himeyuri Peace Museum but do not go to the Peace Park). Check
Bus Map Okinawa
for bus routes.
See
address: 671-1 Aza-Ihara, Itoman

Students from two girls' schools, together called Himeyuri, were mobilized to work as field nurses during the Battle of Okinawa in 1945. This memorial museum documents, from a personal perspective, their lives before and during the battle, in which many of them died. Exhibits are labeled in English. The museum gives voice to the victims and provides real stories and faces that help give the victims some humanity as opposed to being statistics.

Gushikawa Castle RuinsQuiet ruins near Cape Kyan. It is unknown who built the castle, but excavation results indicate it was used from the end of the 12th century to the mid-15th century.

Konpaku-no-To
Peace Park
Okinawa Peace Park
(平和祈念公園, heiwa kinen kōen) has several memorials relating to the Battle of Okinawa. To get there by bus, take bus no. 89 from Naha bus terminal, change to bus no. 82 at Itoman bus terminal, and get off at the Heiwa-kinendo-iriguchi stop.
Peace ParkThis park has a beautiful view overlooking the ocean, and features several open-air memorials including the Cornerstone of Peace, wave-like walls of granite on which are engraved the names of those who died in the battle on the front as well as the back. It is a very interesting park.

Okinawa Prefectural Peace Memorial Museum

address: 614-1 Mabuni

Museum describes the Battle of Okinawa.

Okinawa Peace Memorial Hall

phone: +81 98-997-3011

address: 448-2 Mabuni Itoman

A separate memorial, marked by a high tower, with the Peace Memorial Statue and exhibitions of Japanese artists.
Do
Ryukyu Glass VillageHere you can try making your own Ryukyu Glass items, such as dishes, vases, and jewelry along with other things like candles. Reservations are required in order to participate.
Events
Peaceful IlluminationAn annual illumination event that always has a peace-related theme.
Connect
Tourist Information
Go next