Itu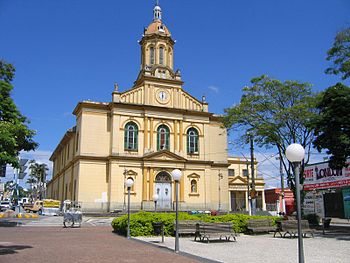 Itu
is a city in
Sorocabana
,
São Paulo
,
Brazil
. The short name of the city hides its historical relevance, founded in the Colonial period and considered to be the birthplace of Brazilian Republic. A state-recognized resort town, Itu's main attractions are its valuable historical heritage, both in the city center and rural area of the municipality, and its recurring theme of "oversized things", ranging from urban decorations, handcrafts and even food.
Understand

Itu was founded in 1610 by the bandeirante Domingos Fernandes. The settlement grew slowly until 1777, when Itu became a major trading outpost for sugarcane and slaves. In 1842, Itu gained city rights and it was the richest city of the São Paulo state.
In 1873, Itu hosted the first Republican Convention in Brazil, which would ultimately lead to the country becoming a Republic in 1889. After established, the Republican government helped bringing Italian immigrants to work in Itu's coffee farms, with coffee quickly becoming the basis of the city economy.
After the Great Depression of 1929, Itu stagnated economically as most of the state of São Paulo. Industrialization started in 1950, and got a large boost in 1970 when the Castelo Branco motorway reached the city.
Nowadays Itu is a prosperous medium-sized city, highly attractive for industry, and is expecting to gain a large FoxConn factory by the end of 2013. Beginning from 1967, a local comedian called Francisco Flaviano de Almeida, nickname Simplício, gained national prominence by making jokes about the exaggerated size of all sorts of things in Itu. What started as a joke was seen as an opportunity for tourism, with oversized objects becoming a symbol and local souvenir of Itu.

Get in
By car
Itu is 1 hour from
São Paulo
, and 20 minutes from the International Airport of Viracopos, in
Campinas
.
See
Historic Center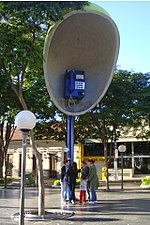 Praça Padre Miguel

address: Centro

Itu's most famous square contains the city's mother church, a nice collection of 19th century houses, and some oversized objects that honor the reputation of the city.
Igreja Matriz Nossa Senhora da Candelária

phone: +55 11 4023-0638

Itu's mother church was constructed in 1780, afterwards subject to various reforms, in the hands of renowned architects such as Ramos Azevedo and Paula Souza. Its interior contains paintings of José Patrício da Silva, Father Jesuíno do Monte Carmelo and Almeida Júnior.

Giant phone boothOne of the most photographed sights of Itu, it is a 7-meter high phone booth constructed by the now extinct company Telesp. It is now painted in purple colors and owned by VIVO.
Igreja do Senhor Bom Jesus e Santuário

phone: +55 11 4022-3871

address: Praça Padre Anchieta - Centro

The beautiful construction, adorned with images of four saints and four animals, is the former mother church of Itu, constructed in the place of the original chapel of Itu. Its current appearance comes from a reform made in 1765, and the church hasn't changed ever since.
Igreja e Convento Nossa Sra. do Carmo

phone: +55 11 4023-1919

address: Praça da Independência - Centro

A Colonial-style construction composed by church, monastery and other facilities. It was built in 1719, and has been rented gated and extended several times. Its interior has paintings of Father Jesuíno do Monte Carmelo.
Museu Republicano Convenção de Itu

phone: +55 11 4023-0240

address: Rua Barão do Itaim, 67 - Centro

Museum in the 19th century house where the first Republican Convention happened, former house of the Almeida Prado family. Owned by University of São Paulo, it is a musem about the history of the Paulista Republican party.
Regimento Deodoro

phone: +55 11 4022-1184

address: Praça Duque de Caxias, 284 - Centro

The imponent construction was built as Catholic high school in 1867. After 1917, it became quarters for the Brazilian Army, a function that it retains until nowadays. Contains a museum with artifacts of the Army.
Other neighborhoods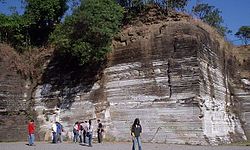 Parque do Varvito

phone: +55 11 4022-2181

address: Estrada Municipal do Jacu, Parque Nossa Senhora da Candelária

A state heritage site, the geological park, open to visit, contains rock formations that are at least 270 million years old.

Praça dos Exageros

address: Between R. Alfredo Barbi and R. José Maria dos Passos, Vila Padre Bento

A large square containing several oversized objects, including giant insects, pencils, chess pieces and an ATM. However, the real must-see is the giant statue of Simplício, the comedian who made Itu nationwide famous, sitting in a bench as he did in the TV show A Praça é Nossa.
Do
The city has many kinds of farms with different attractions, like:
Feeding animals
Fishing
Horseback riding
Old-fashioned agriculture demonstrations
Buy
Eat