Iwaizumi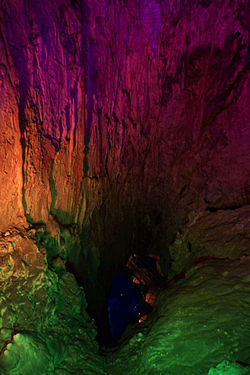 Iwaizumi
(岩泉) in
Iwate
prefecture is the largest town on Honshu — by land area, that is. It's well known for its clear spring water and caves across town.
Understand
Iwaizumi Town covers a total area of 992.9km2, making it the largest town in mainland Japan. The Kitakami mountains extend to the west, while the Sanriku coast borders the town's eastern side. The town is blessed with an array of fascinating features, including a group of limestone caves, white birches' forests, and the Hayasaka Plateau.

Get in
By train
JR Iwaizumi Line serves Iwaizumi from Moichi, the transit station for JR Yamada Line links Morioka and
Miyako
. However it is extremely infrequent (3 times a day, 1 in AM, 2 in PM) and unless you really are train lovers, it is very difficult to negotiate. Japan Rail Pass is accepted.
If you are on the Sanriku Coast, Sanriku Railway does have a station in the east edge of Iwaizumi Town. Omoto Station is 40 mins away from Miyako (750 yen single). The town council operates shuttle bus service from Omoto into Town via Ryusendo Cave (600 yen single) usually connect train arrival times.
By bus
JR Tohoku Bus Co. operates a direct bus service (4 times daily) from
Morioka
Station to Ryusendo Cave via Iwaizumi Town Center. The journey takes 2hrs 10mins. Japan Rail Pass is accepted on this bus service.
Morioka Station - Ryusendo (via Iwaizumi)
, daily, ¥2590
From Morioka Station 09:40, 12:40, 14:40, 17:40
From Ryusendo 05:55, 08:55, 13:30, 16:00
The bus leaves from Morioka Eastside Bus Terminal, Bus Stop No.1. No toilet on the bus, but there's a break at the Mitakai SA along the way. All buses go via Iwaizumi Sanbonmatsu. (8 mins before Ryusendo arrival).
By car
Another option is to hire a rental car at Morioka station. Driving in this region is less stressful than in cities like Tokyo. National Road 455 is the shortest route from Morioka, passing through picturesque Gando-ko and Sotoyama lakes. Since the new tunnel through Hayasaka Plateau was completed, the journey time has been cut Morioka to Iwaizumi takes around 90 minutes. In the winter, driving times are often longer and conditions are often less safe.
Get around
There are limited
commuter bus
links mainly serving for locals connecting between settlements, the town hall and medical center. There are couple of useful services for visitors. One is the line mentioned above, linking between Omoto Station and Iwaizumi Town center, and the other one is to Ryusendo and Sugawatari Caves. Ryusendo can be within walking distance (although 30 mins from town center). All buses start/end at Iwaizumi Station, passing through Sanbonmatsu (8 min away) along the way.
Iwaizumi Sanbonmatsu - Omoto
, daily, ¥600
From Sanbonmatsu 05:58, 06:40, 07:25(
*1), 08:05(Sat,Sun,
08:05
),
11:06
,
12:58
,
14:33
, 16:30(*1),
17:33
, 19:23
From Omoto Station 06:37(
*1), 07:21,
08:42
,
09:53
,
12:47
,
14:10
, 15:46(*1), 17:03, 18:52, 20:50
No mark= Operated by Iwaizumi Un-yu Bus
(*1)= Operated by Iwate Kenpoku Bus
Times in bold = via Ryusendo Cave (add 8 mins from Sanbonmatsu)
Iwaizumi Sanbonmatsu - Ryusendo Cave
, Mon-Fri, ¥150
*4), 11:06, 11:30(*3), 11:53(*2), 12:58, 14:33, 14:47(*4), 14:53(*2),16:00(*3), 16:53(*2), 17:33, 17:37(*4), 19:53(*2)
From Ryusendo Cave 05:55(
*2), 07:41(*4), 07:52(*3), 08:55(*2), 09:08, 09:36(*4), 10:19, 13:13, 13:30(*2), 14:36, 16:00(*2), 17:01(*4)
Saturday - Sunday, Public holiday
From Sanbonmatsu 08:05, 11:06, 11:35(
*3), 11:53(*2), 12:58, 14:33, 14:53(*2), 16:53(*2), 17:33, 19:53(*2)
From Ryusendo Cave 05:55(
*2), 08:55(*2), 09:08, 10:19, 13:13, 13:30(*2), 14:36, 16:00(*2)
No mark= Operated by Iwaizumi Un-yu Bus
(*2)= Operated by JR Tohoku Bus
(*3)= Operated by Tanohata Kotsu Bus
(*4)= Operated by Ogawa Taxi
Iwaizumi Sanbonmatsu - Ankado (for Sugawatari Cave)
, Mon-Fri only, ¥720
Monday - Friday
From Sanbonmatsu 08:07, 14:47, 17:37
From Ankado 07:10, 09:05, 16:30
See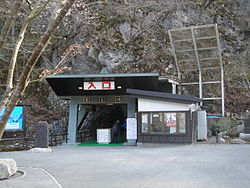 phone: +81 194 22-2566

address: 日本 〒027-0501 岩手県下閉伊郡岩泉町岩泉字神成1番地1

A Japanese national monument and one of three largest caves in Japan.

Sugawatari Tankendo Cave

Kumanohana Observatory
Sleep
phone: +81 194-22-4141

address: 日本 〒027-0501 岩手県下閉伊郡岩泉町岩泉町字府金48

This hotel and onsen is located a few kilometers south of the caves.

Numa no Hei CampgroundA nice campground on the ocean. There's a sandy beach, and the campground has bathrooms and showers, a large fire pit, and vending machines.