Iwate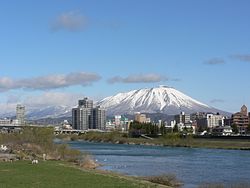 Iwate Prefecture
(岩手県
Iwate-ken
) is in the northeastern
Tohoku
region of the main
Japan
island
Honshu
.
Cities
— The prefectural capital.
— Hanamaki is most famous as the birthplace of Kenji Miyazawa and for its onsen.
— once rivaled Kyoto, but now known for two temples and a poet who visited 400 years ago.
— the town has Ryusendo, one of Japan's three famous caves.
— has rich nature.
— a small city famous for its folk tales.
— is proud of Kitayamasaki Cape, seaweed and farm products.
Other destinations
— located in Iwaizumi, considered one of the three major limestone caves in Japan. It also boasts one of the largest underground lakes in Japan, with crystal-clear water.
— one of the best ski grounds in Tohoku, with runs for all levels.
Get in
By plane
Hanamaki Airport (
HNA
)

By train
The Tohoku Shinkansen barrels through Ichinoseki and Morioka on its way from Sendai north to Aomori.
IGR Iwate Ginga Tetsudo It's north train of Iwate
JR Yamada Line
JR Hanawa Line
JR Tazawako Line
JR Iwaizumi Line One of JR's least frequent service lines with 3 daily round-trip services between Moichi and Iwaizumi.
Sanriku Railway (Kita-Lias Line) runs between Miyako (Iwate) and Kuji.
By bus
See
Geibikei Gorge

Enjoy a ride on one of the boats and listen to the singing of your guide. Feed koi carp in warmer weather, enjoy the changing leaves in the fall and the snow in the winter.
Eat
Azumaya you can eat wanko-soba
Pyon pyon Sya It's famous for Reimen (cold noodles) shop. There are many chain shops in Iwate and Tokyo.
Go next