Iznik
İznik
(pop.~22,000) is a historic town in
Eastern Marmara
, on the eastern shore of Lake İznik (ancient
Ascanius
); east of
Bursa
.
Understand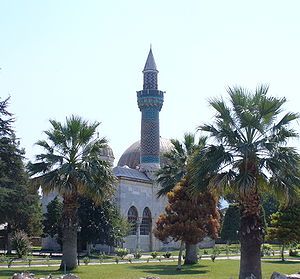 İznik
, or
Nicaea
(Latin)/
Nikaia
(Greek) as known in ancient times, was the site of the first and seventh ecumenical councils of Christianity (i.e. First and Second Councils of Nicaea), convened in 325 and 787 respectively. Later it served as the capital city of Sultanate of Rum, first Turkic state established in Asia Minor. After the Crusaders of Fourth Crusade captured
Constantinople
and established Latin Empire in 1204, it also served as the capital of Empire of Nicaea, a rump Byzantine state, for more than 60 years. Despite maintaining some traces of its past, the town today has a somewhat provincial feel to it, and is far from the importance it possessed in history.
İznik is still mostly surrounded by ancient walls with four major gates roughly corresponding to the cardinal directions. They are named after the major town the road exiting through the gate in question leads to. In clockwise order, they are (starting from north):
Istanbul Gate
(
İstanbul Kapı
),
Lefke Gate
(
Lefke Kapı
),
Yenişehir Gate
(
Yenişehir Kapı
), and
Lake Gate
(
Göl Kapı
), providing access to the lake shore, not a town. All are roughly the same distance away from town square, which is the intersection of the two major streets of the town:
Atatürk Caddesi
(north-south, between Istanbul and Yenişehir Gates) and
Kılıçaslan Caddesi
(east-west, between Lefke and Lake Gates).
İznik is also famous for its tiles (
çini
), though much less so than in the past.
Tourism Information Office

phone: +90 224 757 19 33

address: Atatürk Caddesi

This official information office provides free brochures (which include a map) of the town.
Get in
By minibus
There are minibuses, mostly running on the road following the southern shore of the lake, heading to İznik from all surrounding towns.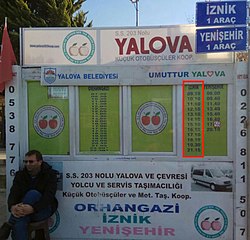 The minibuses are run by
İznik Minibüs ve Otobüsçüler Koop.
(
phone: +90 224 757-16-48 (İznik), +90 262 414-99-49 (Gölcük)
) with 20 min intervals between 8AM-midnight from
Bursa
. From Yalova, minibuses leave at hour intervals between 7:30AM-9PM (except Su when the first departure is at 9:10AM; costs 12 TL pp as of 2017; and takes approx 1 hr) (see the picture to the right for exact times from Yalova), and three times a day (at 10:30AM, 3PM, and 7PM) from
Gölcük
just west of
İzmit
via
Karamürsel
.
By car
From Istanbul - you can either take D100 or O-4/E80 (motorway/toll-road) east to Izmit, then head west there along the southern shore of the Gulf of İzmit to Yalova, or take a ferry -which can accommodate cars- to Yalova. Once in Yalova, take D575/E881 highway south to Bursa. After about 30-40 km away from Yalova, you'll arrive in Orhangazi. At Orhangazi, you'll notice the junction of the secondary road lying on the northern shore of Lake İznik (there are İznik/Nicaea signs). From that junction, İznik is about a 30-40 min drive away.
If you don't take a ferry to Yalova, you can take the mountainous road which forks from the main highway about 5 km west of
Karamürsel
. This road is shorter than the above route, but curvier.
By boat
If travelling from
Istanbul
, take a
fast ferry
to
Yalova
(cost 26 TL one way, 2017). The ferry takes 1hr 15min from Istanbul's Yenikapı port. Once you've arrived into Yalova, exit the port, turn right and walk for one minute to the domluş / bus station. You can take a dolmuş (mini-van) from here to Iznik. See the 'By minibus' section above for more information on how to get from Yalova to Iznik by minibus
By train
The nearest train station is located in
Osmaneli
, about 30-40 km to the east. Osmaneli lies on the main trunk rail line between
Istanbul
and
Ankara
, therefore many daily trains have a stop at the town.
Minibuses run by
İznik Minibüs ve Otobüsçüler Koop
(
phone: +90 228 461-30-30 (Osmaneli)
) connect Osmaneli with İznik, six times a day, with two-hour intervals between 8:30AM-6:30PM, except in winter when the last minibus departs at 5:30PM from Osmaneli.
Get around
İznik is not very big, and lies on a flat ground, so walking around is a viable option. Each of the gates – the most distant sections of the town – are about 15-20 minutes at most on foot from town square – the focal point of the town.
Taxi
There are also taxi stands around the town, one block from town square, diagonally across from Hagia Sophia.
İznik Taksi

phone: +90 224 757-37-37

address: Selcuk Sokak and Atatürk Caddesi

Merkez Taksi

phone: +90 224 757-51-64

address: Yoncalı Sokak and Atatürk Caddesi
See
Hagia SophiaWhile much smaller than the cathedral of the same name in Istanbul, this rectangular, red brick building built in typical Byzantine style, holds as much historical importance, if not more, as it's the site of the seventh ecumenical council of Christianity (i.e. Second Council of Nicaea, in 787). Located in a pleasant small park, the edifice was converted to a mosque in the early days of Ottoman Empire, and after suffering from a fire during the turmoil of the 1920s, the place laid in a semi-ruinous state for more than eight decades. After the long-awaited restoration finally finished, it has been silently re-dedicated as a mosque by the current Islamist government in 2011, much to the dismay of architectural conservationists, tourism professionals, and many others, who hoped to see it turned into a museum in the fashion of Istanbul's Hagia Sophia.

Green MosqueBuilt in early 14th century, this mosque with its impressive minaret (tower) covered with green-turquoise-blue mosaics and tiles (that's where the name of the mosque comes from) looks more like earlier Seljuk edifices rather than Ottoman mosques.

phone: +90 (224) 220 99 26

Housed inside Nilüfer Hatun imaret (a social security instution of the past which provided free food for the poor), built in 14th century. There are also some marble sarcographi, columns, and columnheads dating back to Roman and Byzantine times in its yard.

address: Kılıçaslan Caddesi

A neighbourhood mosque built in 2007 with an ancient minaret (tower; when it was constructed is not exactly known, but likely 16th century) decorated with green tiles, in a similar fashion with the one of the Green Mosque, except that the tiles of this one are far less showy than those of the Green Mosque. So, if you have just started your trip around the town and come across with this one first, don't be disappointed and confuse it with Green Mosque.

City WallsThe town is still mostly enclosed by ancient walls, if partially a bit weary. You can also come across with some slowly crumbling towers here and there. Istanbul Gate (northern gate) and Lefke Gate (the eastern one) are more or less still completely intact and are quite beautiful. Just outside the Lefke Gate is an ancient aqueduct running for some hundreds of metres and eventually disappearing in the fields out of town.

Candarlioglu MosqueA small mosque built in 1996. An ordinary building with nothing fascinating except that it's mostly coated with blue/green tiles all over its exterior walls, making a quite pleasant sight. It's directly on the street and a bit hidden from view by the surrounding multi-story buildings on both sides, so for not passing-by without noticing it, watch the left side of the street while walking.

Roman AmphitheatreIt's not open to the public as it is being excavated. The ruins can be seen partly from the road, and will be impressive when opened.
Do
Take a stroll in the park along the lakefront.
Take a dip in the lake. In the summer months the water is usually calm and pleasant. There are several easily identified spots along the lakefront that are suitable for entering the lake.
Every Wednesday there is a huge market in town in the market square, out east from the clock tower. Definitely worth a look to see what kind of delicious local fruit and veg are being grown in the area.
Buy
Tiles
İznik has been well known for its local faience/tile (
çini
) and pottery tradition since 15th century.
Nowadays, designs range from classical/traditional to somewhat kitsch to avant-garde. You can see lots of tile and pottery workshops, which also double as showrooms for tiles painted on square ceramics and other products on sale, in alleys on both sides of Kılıçaslan Caddesi St, especially near the Green Mosque/the museum.
İznik Foundation
has revived the art of tiles and pottery in the traditional 15th/16th century styles, as well as applying contemporary designs and motifs on tiles and tableware. In their showrooms, there is a large choice of tiles and household pottery such as bowls, dishware, and vases, hand-painted in the traditional İznik style. Most of the production is custom-made, for architectural purposes, interior decoration, and private demands.
The design department, headquarters, and export department of Iznik Foundation are in
Istanbul
where a larger collection of products from the Foundation workshops are displayed and sales take place.
phone: +90 224 757-60-25

address: Sahil Yolu, Vakıf Sokak 13
Banks
Most banks are on either Atatürk Caddesi or Kılıçaslan Caddesi, usually very near the town square. All are equipped with ATMs on their exterior walls.
Supermarkets
BİM

address: Atatürk Caddesi 108

One of two İznik stores of national supermarket chain BİM, where you can find bottled water, soft drinks, and snacks on a discounted rate. No beer or wine.

BİM

address: Mevlana Sokak 7

Another BİM store in İznik.

Dia

address: Atatürk Caddesi, Ateşoğlu İş Merkezi 101

A store of another national supermarket chain.

Şok

phone: +90 224 757 68 68, +90 224 444 10 44 (orders)

address: Selçuk Sokak

A store of yet another national supermarket chain.
Eat
phone: +90 224 757 35 97, +90 224 444 61 62 (order-out service paket servisi)

address: Atatürk Caddesi 73

This very clean restaurant, popular among the locals, serves reasonably priced meat-balls (köfte) in various styles, similar to Akçaabat Köftesi of Trabzon. A portion consists of 6 meat-balls and comes with an endless basket of toasted bread and barbecued green peppers. There is no written menu (list of dishes), but as usual in Turkey you can select and order-by-pointing from the display inside. Vegetarians may try çoban salatası (shepherd's salad), soğan ızgara (plain roasted onion slices), domates ve biber ızgara (roasted tomatoes and hot green peppers), and piyaz (bean salad), though vegans should be aware that the latter comes topped with some slices of boiled egg. The restaurant has an open-air terrace and a lovely open-air roof on the second floor. Efficient service.

phone: +90 224 757 07 38

address: Göl Sahili Yolu

This is one of several fish restaurants on the lakefront, but unlike most of the others, it also serves beer and wine. The specialty is wels catfish (also called European catfish or sheatfish, Turkish yayın balığı; scientific name Silurus glanis), a tasty fish that is abundant in the lake, served grilled or fried. Another lake fish served is carp (Turkish sazan; scientific name Cyprinus carpio). Vegetarians can have a salad, various meze (appetizers) – although only some of these are vegetarian dishes, and various zeytinyağlılar (vegetables cooked with olive oil, typically served cold).

Karcicegi

phone: +90 224 7573213

address: Kılıçaslan Cd, No.54

Very friendly local restaurant service soups, salads, kebabs and pide for reasonable prices. Staff are very friendly and speak some English, food is simple yet tasty. Recommended if you're looking for good value.
Sleep
Connect
The telephone code of the town is (+90) 224.