Izu
Izu
(伊豆市
Izu-shi
) is a city in
Shizuoka
. People often use the word "Izu" to refer to the entire
Izu Peninsula
, located in eastern
Shizuoka Prefecture
.
Shūzenji
(修善寺) is a major hot spring town which merged with other towns in 2004 to form Izu.
Understand
In 2007, Shuzenji celebrated the 1200th anniversary of its founding. The original town was built around Shuzen-ji Temple, from which it gains its name. It is a pleasant little town with many hot spring hotels overlooking the river.
Get in
is the last station on a ride through a broad valley on the Izuhakone Railway Sunzu Line, connecting to
Mishima
on the Tokaido Shinkansen and the JR Tokaido Main Line. From Mishima, it takes about 35 minutes and costs ¥510. A trip from Tokyo on the
Hikari
or
Kodama
Shinkansen takes 1½-2 hours (¥4,830; with Japan Rail Pass you only have to pay the ¥510 for the Izuhakone Railway segment). From Tokyo, there is also a twice-daily (departing 09:00 and 12:00, returning 12:35 and 15:39)
Odoriko
limited express, completing the trip in about 2 hours for ¥4,510.
Shuzenji can also be reached by
Tokai bus
from other places on the
Izu Peninsula
.
Get around

The old town center of Shuzenji can be reached by bus from Shuzenji Station in about 10 minutes, departing roughly every 15 minutes.

See
phone: +81 558-72-0053

Shuzenji Temple has a small museum with some nice artifacts that are related to its founder, Kobo Daishi.
Do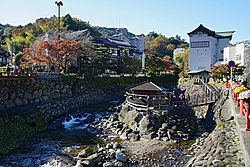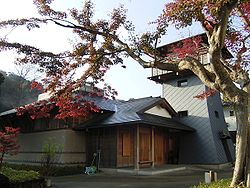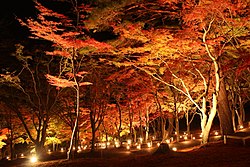 Cycle Sport CenterA bicycle themed amusement park with pedal-powered roller coasters, a 5-km bike course, a 400-m racing piste and an MTB course. An adjacent onsen spa is available.

HakoyuA cedar-lined public bath built in 2000 by the tourist association. Also has a three-story tower that gives a nice view over the roofline of the town.

phone: +81 558-72-7111

address: 4279-3 Shuzenji

A large amusement theme park on nature and British architecture with a Canadian village, an English village, and completed with a train and a Japanese garden.

Shuzenji BairinA plum garden park atop Mt. Daruma. In February the tourist association holds a plum blossom festival.

Tokko-no-yuThe historic spot where Shuzenji's springs were first discovered by Kobo Daishi. A small public rotenburo (open-air bath) in the middle of the town center — but it's not for bathing your whole body, only your feet!

phone: +81 558 83-2636 (Izu tourism bureau Nakaizu branch)

address: Ikadaba
Buy
Shuzenji's numerous gift shops feature fresh wasabi (and all manner of wasabi flavored foods), black rice, and locally made bamboo products such as baskets and kitchen utensils

Eat
Opposite to the Sora Togetsusou Kinryu hotel is the Nayuta bar with a laidback atmosphere and it is decorated with a large collection of miniature toys. They serve different foods, from ramen to their own version of takoyaki. The bar owner is a fan of Santana.

Sleep
There are many hot spring hotels in town.