Jämtland County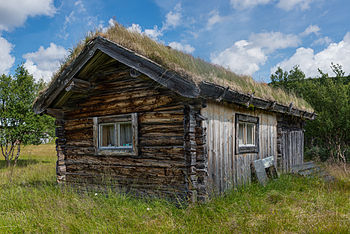 Jämtland County
is a division of the
Norrland
region in
Sweden
, containing the
Jämtland
province (archaic spelling
Jemtland
), as well as the smaller province
Härjedalen
. With 130,000 inhabitants on a land area slightly larger than
Denmark
, these provinces are known for
winter sport
and
hiking
, with some of Sweden's busiest ski resorts.
Municipalities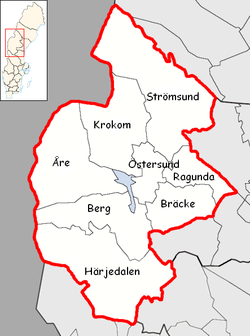 is the county seat, and the only city.
is arguably Sweden's most famous ski resort.
, a railway hub, and the gateway to Västernorrland County.
, the northern, and least populated, part of Jämtland.
just north of Storsjön.
, a province on its own, with Sveg as the municipal seat.
Other destinations
, a ski resort at the Norwegian border
Understand
With 12 per cent of Sweden's land area, Jämtland County has only 1.5 per cent of the national population, and is among the least populated regions of Europe.
Jämtland's history differs from the rest of Norrland; during the Middle Ages, it was governed by the
Jamtamot
, essentially an independent republic. From the 12th century until the 17th, Jämtland was governed by
Norway
. The
Sami culture
has been present in Jämtland since time immemorial.
Population is concentrated around Storsjön (literally "the Great Lake"), and the ski resorts.
Get in
Resrobot
is a search engine for all public transport in Sweden.
By plane
Åre Östersund Airport. If going from another country, flying with SAS from Stockholm-Arlanda would be best. Other operators to Östersund are e.g. Malmö Aviation.
Sveg Airport (EVG) flights from Stockholm-Arlanda.
Røros airport in Norway, if going to western Härjedalen. Flights from Oslo. A car should be rented. Some ski resorts offer taxi transfer, ask them.
Trondheim Airport in Stjørdalshalsen
By train
By bus
Going to Sveg, there are local buses from Mora, Ljusdal or Ånge, which have train connections. You can get a ticket all the way from SJ.
By car
From Stockholm: E4 past Gävle, then road 83 to Ånge and then E14.
From Malmö: E4 to Jönköping, then road 26 to Mora and then E45.
From Oslo: E6 almost to Hamar, road 3 and then road 25 to the border. After that road 311 to Särna and then the road to Sveg (no number but good condition) and so road E45.
Get around
Settlements in Jämtland are far from each other. Car is often the most suitable travel method.
By train
Norrtåg has trains Storlien-Åre-Östersund-Sundsvall with more intermediate stops.
Inlandsbanan has tourist trains Mora-Sveg-Östersund-Dorotea and further north.
By bus
See
The Scandinavian Mountains,
fjällen
.
Itineraries
Do
Stay safe
Go next