Järvenpää
Järvenpää
is a city in
Uusimaa
.
Understand
Järvenpää is a city of about 40,000 inhabitants, located 40 km north of Helsinki. It is situated at the northern end of Lake Tuusula and it's name translates to "Lake's end"

Get in
By train
You can reach Järvenpää by local trains from
Helsinki
and
Vantaa
.
By bus
There are
buses
(timetables in Finnish only) from Helsinki both along Freeway 45 passing through Tuusula and Freeway 4.
By car
You can drive from Helsinki to Järvenpää in about half an hour.
Get around
Järvenpää isn't very large so you can get around by foot. There are also a couple of
local bus lines
, (site in Finnish only) should you need to go to the villages around Järvenpää.
You can also rent bicycles from Järvenpää Art Museum.
See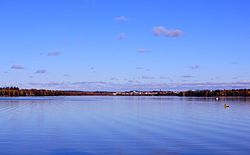 Ainola

phone: +358 9287 322

address: Ainolankatu

Järvenpää's best known attraction is Ainola, the home of the composer Jean Sibelius (1865–1957).

The shore of Lake TuusulaSeveral Finnish 19th century painters such as Eero Järnefelt and Pekka Halonen and author Juhani Aho had their villas along the shore.
Do
Eat
Casa Toscana

phone: +358 9 271 41

address: Asema-aukio

An Italian restaurant.

Kulmakonditoria

phone: +358 9 2790 3001

address: Sibeliuksenkatu 17

A café famous for its large cinnamon buns (korvapuusti).

phone: +358 9 2711 511 (Bar), +358 9 2911 007 (Kitchen)

address: Mannilantie 44

A Mexican restaurant and bar.

phone: +358 9 271 5754

address: Kartanontie 14

A pizzeria/kebab place,
Drink
address: Mannilantie 37

A small Irish pub.
Sleep
phone: +358 9 27141

address: Asema-aukio
Go next