Jönköping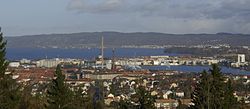 Jönköping
is by many Swedes referred to the
Jerusalem of Sweden
- this is due to the town's many churches. The city is on the southern end of Sweden's second largest lake, Vättern. Jönköping also has two smaller lakes of its own, Munksjön ('The Monk Lake') and Rocksjön ('The Rock Lake'). It is Sweden's 10th largest municipality with about 136,000 inhabitants (2017).
Understand
Tourist office
phone: +46 77-121 13 00

address: Södra Strandgatan 13B
Get in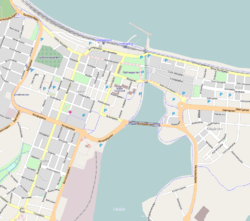 By plane
The closest
major
airport is
Gothenburg
's
Landvetter
, about 120 km to the west. It has flights from most major European cities and is served by some budget airlines as well.
If you don't mind sitting in a bus for a longer time, budget airlines fly from
Skavsta airport
in
Nyköping
(which also serves Stockholm). From the bus station,
Swebus
operates several buses daily; the journey takes three hours.
Jönköping AirportThe local airport has connections to Stockholm, Visby, Frankfurt and other destinations in south of Europe.
By train
Jönköping is surprisingly underserved by rail for a city of its size. There are no direct
SJ
trains from either
Stockholm
and
Malmö
and only slower regional trains from
Gothenburg
. In general a change of trains is required in either
Skövde
or
Nässjö
. There are plenty of regional trains from other cities in
Småland
however.
address: Järnvägsgatan 12
By car
By bus
SwebusBy far the largest domestic coach operator and operates services to Jönköping from throughout Sweden. Advance ticketing is usually required and recommended practice in any case.

phone: +46 771-67 67 67

Services to Jönköping from some cities in Sweden.

phone: +46 8 30 12 45
Get around
The city center is small and very walkable. In general the city is very pedestrian and biker friendly. A good starting point for discovering Jönköping is its central station, Jönköping Resecentrum, where trains and buses to and from other cities depart and arrive. The station is connected with Juneporten, which is the place where all the inner-city buses leave. Bus tickets within the city cost 20 kr and 16 kr flat rate, during peak and off-peak respectively. Young people and children usually get discounts. The last inner-city bus usually leaves around midnight on weekdays, so if you plan on traveling late be prepared to take a taxi which can be rather expensive. On weekends you may be able to catch a bus up until two in the morning, but check the schedules in advance on the regional traffic office homepage,
Jönköpings Länstrafik
.
See
The city also has a harbor with a pier. This harbor is quite popular during summertime - often you may find people eating icecream there and enjoying a beer at the harbor's bar.
Do
The beach. The beach of lake Vättern is one of Jönköping's prides. During summertime it is an excellent place to go swimming or playing volleyball.

DreamHackA LAN gaming event which takes place in the Elmia expohall, right next to the bathhouse of Rosenlund. It is the world's largest LAN party. In 2017, 50 000 people were expected to visit the event. It usually takes place twice a year, once in June and once in November. You can attend as a visitor or by bringing your computer to the party.

phone: +46 36-10 70 34

address: Elmiavägen 4

Literally 'The bathhouse of Rosenlund', is a swimming hall for adults and children. It is quite a big swimming hall with an 'adventure' section for the young ones, a diving room and also massages can be booked.
Buy
The largest shopping center in Jönköping is
A6 Center
. In A6 you can find everything from hairdressers to clothing and furniture, like the Swedish company IKEA. There are also several electronic companies, computer store chains and sports shops in this area.
The center of Jönköping is divided into two parts, the east (Östra Centrum) and the west (Västra Centrum).
The eastern part contains the biggest shopping street in the city with 200 shops that are scattered over a small pedestrian friendly area.
The western part is considered to be the exclusive part of Jönköping. Many administrations and authorities has got their offices here and Jönköping University allures many students. Most of the taverns and clubs in Jönköping lies here and of course there are many cafes where you can enjoy the Swedish
fika
.
Eat
Drink
address: Tändsticksgränd 23

A central bar in Jönköping that focuses on beer. They offer over 20 different kinds of beer.

address: Tändsticksgränd 13

Where the more alternative people hang out. Not much of a dancing place, but great music and nice people. It is in Tändsticksområdet.
Sleep
Budget
phone: +46 36 34 00 41

address: Rekrytvägen 7

phone: +46 36-34 18 90

address: Strömsnäsgatan 3

phone: +46 31 360 77 35

address: Långsbo 20, 571 97 Forserum
Mid-range
Splurge
Connect
address: Tändsticksgränd 33

Pressbyrån

address: Barnarpsgatan 36
Go next
Habo Kyrka (Habo Church) lies several kilometers northwest of Jönköping, just off the road to Falköping. It's a small frame church whose interior is decorated with peasant folk art depicting biblical scenes.
Gränna is the hometown of the peppermint rock candy. One can also take the boat from here to get to the island of "Visingsö".
Taberg, interesting mountain just south of Jönköping. Called the miracle in Småland by Carl von Linné.
Visingsö is an island in lake Vättern, not far from Jönköping. It has a total area of 24 km² and its sights include its herb garden, the old castle ruins and going on a tour through the island by horse buggy. One gets out to the island by first getting to the town of Gränna to which one can take the local bus. After that you leave from Gränna on a boat which departs for Visingsö every hour or so.
60 km east of Jönköping lies the village of Eksjö. It is a town that has been able to preserve many wooden buildings in the center. Most of these houses are built around quiet courtyards. One house is now a museum where you can see how a well-off family lived around 1900.
Outside of Eksjö there is a nature reserve were you can walk through a small canyon, the Skurugata, and then on up the hilltop, the Skuruhatt. The trail that takes past both is only 4 km long, but beware not to wander of onto the longer hiking trails that cross it. Walking through the Skurugata is a little adventurous, especially if it rains and the rocks become slippery. From the Skuruhatt you can see the surrounding countryside and forests.