Jackson (Wyoming)
Jackson
is the largest town (population 10,000) in the Jackson Hole valley in Teton County,
Northwest Wyoming
, close to the south end of
Grand Teton National Park
. It is the gateway to two of the United States' best-known national parks, Grand Teton itself and nearby
Yellowstone
. Many famous people maintain vacation homes in and around this area. The combined elements of beautiful mountain scenery, Old West heritage, tourist traps and celebrity residents give this small town a unique atmosphere both cosmopolitan and frontier.
Understand
The terms "Jackson" and "Jackson Hole" are often mistakenly interchanged. "Jackson" is the name of the town. "Jackson Hole" refers to either the greater valley area (including, for example, the towns of Wilson and Kelly) or the Jackson Hole ski resort.
Jackson transforms from a popular ski town during the winter into a mecca for travelers here to admire and participate in boundless summer beauty and activities. Meanwhile, in the spring and fall seasons, the town slows down as only the 6,000 or so year-round residents remain (and many of them may leave during this time as well) and many of the hotels and restaurants close for the season. Each of the seasons have their pluses and minuses depending on the visitor's expectations and desires, but it pays to know what time of year is best for what activity, especially in Jackson's unique high-altitude environment.
phone: +1 307 739-3606

address: 532 North Cache St

Mostly a gift shop, but also very friendly staff with good maps and local knowledge, and some wildlife exhibits on the upper floor and outside.
Climate
Get in
By plane
Jackson Hole Airport
(
JAC
) is 7 miles north of the CBD, within the boundaries of Grand Teton National Park. Year-round flights are provided from Salt Lake City by Delta, and from Denver Airport by United. Seasonal services are provided by American, Frontier ,United, and Delta from those cities and eleven others across the US. Alltrans runs a seasonal shuttle from the airport to Jackson and many hotels and motels offer free shuttle service. Rental cars are available at the airport from Avis, Hertz, and Enterprise

By car
Jackson is a few miles south of Grand Teton National Park on U.S. Route 191. Wyoming State Highway 22 intersects US-191 in Jackson, connecting to Victor, Idaho. The nearest city of size, Salt Lake City, Utah, served by several major airlines, is 307 miles or about a five-hour drive away.

By bus
Get around
START Bus (Southern Teton Area Rapid Transit)
serves Jackson, Teton Village, Star Valley to the south as far as Etna, and Teton Valley as far as Driggs,
Idaho
. Travel is free within the town limits and north to the National Museum of Wildlife Art.
In addition to the rental car companies at the airport, Dollar and Thrifty both have depots downtown.
The town of Jackson is small enough to be explored by walking, or bicycle.
See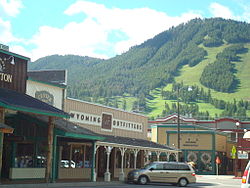 Do
Skiing
Skiing is a popular activity during the winter in Jackson, with a handful of top-notch resorts nearby.
Snow King Resort, 400 East Snow King Ave., +1-800-522-5464. The base of this smaller mountain is incredibly convenient to the town, located a mere 6 blocks from the town square.

Jackson Hole Mountain Resort, 3395 Cody Lane, Teton Village, +1 307 733-2292. Featuring a vertical rise of over 4,000 feet, this resort offers world-class skiing, and is in Teton Village, about a 15 minute drive from Jackson. Accessible by bus.
Grand Targhee Resort, 3300 East Ski Hill Rd., Alta, +1 307 353-2300. Located over Teton Pass, about an hour and a half from Jackson, this mountain that receives of 500 inches of snow every winter might be worth the trip for a taste of fresh powder.
Hiking
An extensive network of trails runs through the mountains just outside of town, most easily accessible from the Cache Creek trailhead. Superb hiking opportunities abound in the nearby National Parks.
phone: +1 307 733-6556

address: 9600 South US Highway 89

Offers morning and afternoon rides up to the top of a mesa for a spectacular view of a section of Lewis and Clark's trail, followed by a pretty good cowboy meal. Guides are helpful and friendly. Great family activity. Around $45 per rider for a 2-hour ride plus meal.
River trips
address: 945 West Broadway

A family owned and operated Snake River whitewater rafting and float company with guides and gourmet meals.

address: 1255 South US Highway 89

One of several float companies in Jackson, offering scenic leisurely trips or whitewater rafting trips with up to Class 3 rapids on the Snake River. Great fun with safe and knowledgeable guides. Great for older kids.
Day Spas
Jackson Hole supports a community of people in the healing arts, with some great local day spas whose quality and service rival the big resorts.
phone: +1 307 413-4456

address: 565 N Cache suite 6

Liked for its local charm, character and prices. The signature special is the 1-hour Tootsy Footsy Massage for $43.99. There are 3 treatment rooms and 5 people can be accommodated comfortably. Also offers therapeutic massage, facials and men's and women's waxing. Advance reservations are requested.

phone: +1 307 413-8949

address: 235 E. Broadway

Profile is HIPAA compliant, guaranteeing the privacy of your medical records, and the therapists are extensively trained, nationally certified and specialize in outcome-based treatments for relief from pain and stress. The spa features original artwork by Heather Erson and has space for large groups. Profile Massage provides excellent bodywork, not your usual cookie cutter spa fluff. Therapists can also do house calls to your home or lodging.
Buy
The downtown area has all manner of stores spread across several city blocks. Goods offered range from outdoor apparel to artwork to run-of-the-mill souvenirs.
RARE Gallery Jackson Hole Arts

phone: +1 307 733-8726

address: 485 West Broadway

Jackson Hole Art gallery featuring western contemporary art from Warhol, Lichtenstein, Ansel Adams, Tomas Lasansky, Michael Kalish, and many others.
Eat
phone: +1 307 733-3912

address: 160 North Millward St

Somewhat pricey but well worth it. The stuffed mushrooms and mud pie are incredible.

Dornan's Chuckwagon7 miles north of town on Route 89 in Moose. Offers hearty chuckwagon fare for lunch and dinner (beef stew, ribs, beans, corn bread). But the real attraction is the view: picnic table dining at the foot of the Grand Tetons. Great for kids.

phone: +1 307 734-4457

address: 1160 Alpine Ln

Inexpensive burritos made with fresh, healthy ingredients. Excellent guacamole.

phone: +1 307 733-0557

address: 84 East Broadway

Every day, from 5:30PM in summer, 6PM in winter. Offers excellent dinners, with local touches found in not only the atmosphere, but the menu and ingredients, too. Nationally recognized chef. Most sought after reservations in town. Rather expensive, about $40-$50 a person.

phone: +1 307 733-3553

Corner of Pearl and King St. Great homemade soups and sandwiches for lunch, slightly expensive but awesome dinner (the macaroni and cheese side dish is a must).

phone: +1 307-739-1218

address: 145 West Pearl Ave

Great service, good vibes, free wi-fi, totally yummy menu (including bagels, sandwiches, coffee), long but reasonably fast moving line. Also has an outlet in the town of Wilson.

Jedediah's at the Airport

phone: +1 307 734-1633

address: 155 N. Glenwood

phone: +1 307 739-1100

address: 380 S. Broadway

Authentic French bistro food. Excellent. One of the most popular restaurants in town.

phone: +1 307 0734-8038

address: 45 S Glenwood

Classic American cuisine. Very popular with locals.

phone: +1 307 264-1820

address: 72 S Glenwood St, Jackson, WY 83001

Creative local entrees like the popular elk Bolognese. Also small plates like delicious steamed pork buns and Korean ribs. Half-priced drinks daily from 5PM to 6PM.

phone: +1 307 201-5208

address: 2820 Rungius Rd, Jackson, WY 83001

Locally inspired lunch dishes with great views of the National Elk Refuge. Located in the National Museum of Wildlife Art and offers beer, wine, a kid's menu, and an outdoor patio.
Teton Village (base of Jackson Hole ski area)
address: Jackson Hole

pizza and bar. Great après ski.

phone: +1 307 733-0022

address: 7342 Granite Loop Road

A short walk from the tram building, where the locals go for excellent Thai food at a reasonable price.
Drink
phone: +1 307 773-2190

Corner of Glenwood and Broadway. Located inside the Wort Hotel. Offers great drinks and food in an Old West saloon-style setting.

phone: +1 307 739-2337

address: 265 South Millward St

A good place to go for an excellent microbrew at the end of a long hike or ski. Award winning beer and a boisterous atmosphere.

Million Dollar Cowboy Bar

phone: +1 307 733-2207

address: 25 N. Cache, on the Square

The landmark Jackson Hole barnot to be missed; dancing nightly, saddle bar stools, good restaurant in basement.
Sleep
Generally speaking, hotel prices and availability in Jackson can fluctuate wildly by the season. During the summer months (and especially summer weekends) hotel rooms can be very difficult to obtain without a reservation or without a lot of money. During the wintertime, there are typically always rooms available, however prime rooms near the ski resorts may require advance planning and additional funds. On the other hand, during the off-season, many hotels in town close due to lack of demand.

Budget
Mid-range
Splurge
Camping

Camping, of course, abounds on the nearby National Forest, National Park, and BLM lands, and can range from isolated dispersed camping to highly sought-after sites reserved months in advance. Most camping spots, however, will require at least a half-hour drive from Jackson town proper.

Go next