Jacksonville
Jacksonville
occupies one of the most coveted spots on the Atlantic coast. The city is in the Northeast Florida region, about 25 miles (40 km) south of the Georgia state line and about 340 miles (547 km) north of Miami. Set amongst abundant beaches and possessing an ideal subtropical climate, its crown jewel is the unique habitat and natural beauty of the St. Johns River. For this reason and more, "The River City" is a popular destination for vacationers looking for a laid-back Sunshine State escape.
Understand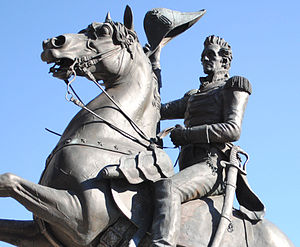 Jacksonville is the largest city, by land area, in Florida in and the contiguous United States. It is the county seat of Duval County, with which the city government consolidated in 1968. That merger gave Jacksonville its great size and placed most of its larger metropolitan population within the city limits; with a population of 880,619, it is the most populous city in Florida, and the eleventh most populous in the United States. The surrounding Greater Jacksonville Metropolitan Area had a population of 1,345,596 in 2010.
Simply put, Jacksonville is an authentic Floridian city. Its economy is diversified and not wholly based on tourism. Harbor improvements since the late 19th century have made Jacksonville a major military and civilian deep-water port. Its riverfront location facilitates two U.S. Navy bases and the Port of Jacksonville, Florida's third largest seaport. Significant industries in the local economy include services such as banking, insurance, healthcare, and logistics. Despite this, Jacksonville is still a city in Florida, and tourism is important to the area, particularly in regards to its historical, cultural, and environmental assets.
Once holding the distinctions of "Insurance Capital of the South" and "Winter Film Capital of the World", and home to a formidable financial industry, this underrated cosmopolitan city is a composite of northern aesthetics and southern charm. A combination of rich architectural diversity, influential African-American ancestry, and substantial musical contributions have gifted Jacksonville an international appeal for its relatively small piece of the world. The city was listed as a "High sufficiency" world city in the World Cities Study Group's inventory, ranking alongside Salt Lake City and Las Vegas.
History
The area was first inhabited by the Timucua people, and in 1564 was the site of the French colony of Fort Caroline, one of the earliest European settlements in what is now the continental United States. Under British rule, settlement grew at the narrow point in the river where cattle crossed, known as Wacca Pilatka to the Seminole Native Americans and Cowford to the British. A platted town was established there in 1822, a year after the United States acquired the colony of Florida from Spain; it was named after Andrew Jackson, the first military governor of the Florida Territory and seventh President of the United States.
Get in
By plane
Jacksonville International AirportThe primary commercial airport in Northeast Florida, with scheduled service offered by American, Delta, JetBlue, Southwest, and United. The airport has one terminal building with two concourses. There are two areas for ground transportation, at the center front for taxis and area hotel shuttles, and at the north end for arranged ground transportation, including limousines, rental cars, intercity buses/shuttles, and local JTA city buses. Generally arriving one hour before a flight's scheduled departure is plenty of time, but during major holidays, such as Thanksgiving, allow one and a half to two hours.
To travel between the city and JAX:
Local bus - Costing just a dolar, public transit from JAX to Downtown Jacksonville is provided by JTA Route CT-3, every hour, picking up at Pre-Arranged Ground Transportation (north end of the terminal outside Baggage Carousel 1, lower level). Approximately one hour to the city center.
Gator City Taxi - Local taxi service, no reservation needed for arriving passengers. (904) 999-9999.
Super Shuttle - Offers shared ride, non-stop, and black car service to and from the airport.
ExecuCar - Private black car service to and from the airport, as well as around the city.
Lyft and Uber are both authorized to pick up and drop off at JAX.
Other airports
Northeast Florida Regional Airport
UST
, formerly St. Augustine Airport, is four miles north of St. Augustine, and about 30 miles south of Jacksonville. The airport offers service to Trenton, New Jersey through Frontier Airlines. No regular auto service is available to Jacksonville.
Jacksonville has three general aviation airports: Cecil Field, Herlong, and Craig airports, all of which are administered by the Jacksonville Aviation Authority.

By train

Jacksonville is served by Amtrak via its daily Silver Meteor and Silver Star trains, providing connections from other destinations in Florida such as Orlando and Miami, but also from cities as far north as New York. Jacksonville Station is located at 3570 Clifford Lane, approximately 5 miles northwest of downtown.

By bus
address: 1111 W Forsyth St Jacksonville, FL 32204

Greyhound offers service west to Tallahassee and New Orleans, south to Orlando and Miami, and north to Charleston and New York, as well as to regional destinations such as St. Augustine and Lake City.

address: 1100 West Forsyth St

To and from trips for the cities of Atlanta, Daytona Beach and Orlando. Once daily for Daytona and 3 times daily for Atlanta and for Orlando. Bus fares vary with day of the week. The bus stop is located at the Jacksonville Skyway Convention Center Station. The stop will be at the last loading bay which is closest to Johnson St.
By ship
phone: +1 904 357-3006

address: 9810 August Dr

Jacksonville departures offers travelers a taste of a different kind of Florida city, before setting sail to more traditional destinations like Key West and the Bahamas. Low airfare and economical accommodations have made cruises from Jacksonville a popular choice. The Port of Jacksonville operates several facilities along the St. Johns River. It is the second largest point of entry for vehicles into the United States along with housing an active cruise terminal.
Get around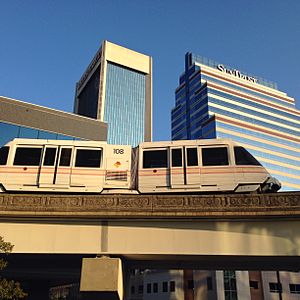 Jacksonville is sprawling with most of the city's more popular destinations not within walking distance of each other, with the exception of the city center. There, monorail service is free and connects the north and south banks of the river, offering travelers a great view of the city and an easy route to their destination. Most travelers to Jacksonville will want to venture out, see the beaches, shop and dine in its commercial districts, or visit historical sites and parks. This would be impossible or greatly hindered
without a car
. Unless you are planning on remaining at the beaches or the downtown area it can be time consuming to travel by bus, and too expensive by taxi.
By public transit
JTA
The
Jacksonville Transportation Authority (JTA)
operates the Skyway monorail system in the heart of Jacksonville, and a fairly extensive regional bus network. Rosa Parks Transit Station is the main transfer hub between systems. Nearly all bus lines, and both lines of the Skyway stop at Rosa Parks.
The
Skyway
is a free automated people-mover system in downtown Jacksonville. Eight stations are located throughout the Northbank, Southbank, and LaVilla districts. The system is open to commuters M-F 6AM to 9PM. Extended hours vary with special events, check JTA's website if you are planning on traveling in downtown during the weekend.
Bus
frequency is between 30 minutes and an hour. Buses are reasonably comfortable, but JTA buses struggle with on-time performance. Buses do not run past midnight, and many bus routes stop running at around 8 or 9PM. All buses are linked via GPS to a central control system and stops are well-marked throughout the entire city.
By taxi
Taxi services are available, but expensive due to the sprawl of the city. Jacksonville is not New York City. Taxis are not readily available in every part of town, though they can be found at some downtown tourist destinations and central hotels. Service is also readily available at the airport.
By car
Given the huge area Jacksonville covers (largest city in the continental U.S.A.), cars are the only practical way of getting around. Lyft and Uber are well established in the city and by far the most practical and affordable mode of transportation if you don't have your own car. You must have a smartphone and their apps.
Car rentals are also a convenient form of transportation for visitors, with local companies offering better prices but national chains offering more convenience vis-a-vis return policies and times.
Car Rental Companies include:
Alamo Rent A Car, Toll free: +1-800-462-5266, .
Avis Rent A Car, Toll free: +1-800-331-1212, .
Budget Rent A Car, Toll free: +1-800-527-0700, .
Dollar Rent A Car, Toll free: +1-800-800-3665, .
E-Z Rent-A-Car, Toll free: +1-800-277-5171, .
Enterprise Rent-A-Car, Toll free: +1-800-261-7331, .
Hertz Car Rental, Toll free: +1-800-654-3131, .
Thrifty, Toll free: +1-800-847-4389, .
By bike
Biking has become a popular means of getting around in some of Jacksonville's central neighborhoods and districts, such as Riverside, Avondale, Murray Hill, San Marco, and downtown. Starting in Riverside, you can walk or bike down the Riverwalk to the Main St. Bridge, in downtown. Ride or walk over the bridge to access San Marco and its many shops and restaurants. Biking is a great way to enjoy the urban core's varied and beautiful architecture which is so easy to miss by car.
See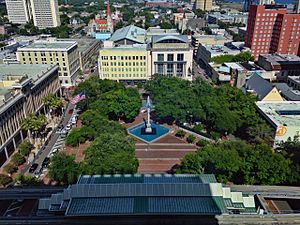 Landmarks
City Hall (St. James Building)

address: 117 West Duval St

One of the most beautiful city halls in America and open to the public. The building was designed in Prairie School style by noted local architect Henry John Klutho. It was constructed as a department store in 1912, purchased by the city in 1993, and became the new city hall in 1997. The name was chosen by its investors, businessmen from Connecticut, the relevance being that Saint James is the patron Saint of travelers. The interior features a spectacular sunlit atrium with a dominating octagonal glass dome. The defining feature of the structure is the large abstract decorative cornices on the buildings exterior.

phone: +1 904 355-5661

address: 128 East Forsyth St

The Florida Theatre offers 200 cultural and entertainment events annually, bringing 250,000 people to Jacksonville's downtown every year. The restored theatre is recognized as one of the finest concert venues in the Southeast, and is also listed on the National Register of Historic Places. The Florida Theatre has been Jacksonville's premier entertainment center since 1927.

Friendship FountainOpened in 1965 as the world's largest and tallest fountain, it's capable of spraying 17,000 gallons (64,000 L) of water a minute to a height of 120 feet (37 m). The fountain and surrounding park are directly across from the Northbank and offer visitors some of the best views of the city. It is also adjacent to the Museum of Science and History and is part of the Southbank Riverwalk.

Main Street BridgeOpened in 1941, the bridge was the second crossing to be built over the St. Johns River. It is one of the most recognized structures in the city and offers visitors some of the best views of the downtown skyline.

Jacksonville TerminalConverted in 1986 into a convention center, Jacksonville Terminal once served as one of the busiest train stations in the South. Designed by famed architect Kenneth MacKenzie Murchison, the station exhibits Beaux-art features and is reminiscent of New York's Old Penn Station.

phone: +1 904 396-4845

address: 1996 San Marco Blvd

The oldest running first-run single-screen theatre in Jacksonville. Serving up your favorite beers, wine and food while you watch the movie. Fantastic midnight film series.
Museums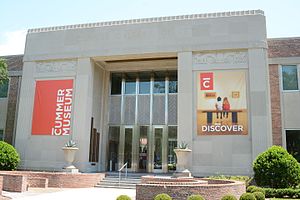 Neighborhoods
Parks and outdoors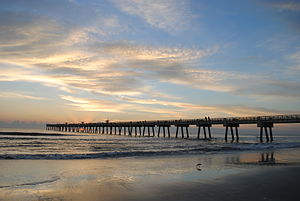 Beaches - Jacksonville is on the Atlantic Ocean, and has a thriving beach culture, but not as packed or as crowded as the beaches in south Florida. Three cities within Duval county occupy most of the coastal real estate: Atlantic Beach, Neptune Beach, and Jacksonville Beach.
City parks:
Hemming ParkA block-sized park in the center of Jacksonville's downtown. Named for Confederate veteran Charles C. Hemming, who in 1898 donated to the City the Confederate monument which is the focal point of the park. The park is surrounded by Jacksonville's City Hall, the United States Courthouse, the Museum Of Contemporary Art, the new public Main Library for Jacksonville, the former Snyder Memorial Church and various restaurants. Step inside City Hall, which is a restored department store built in 1912 and designed in the prairie style by noted local architect Henry John Klutho, and take a look at the large, sunlit atrium which dominates the interior of the structure. The new downtown Main Library opened in 2005 and is the largest Main Library in the state of Florida. The postmodern structure was designed by noted architect Robert A.M. Stern and features a Grand Reading Room and a quiet Courtyard for outdoor reading.

address: 1620 Riverside Avenue

Perhaps the most iconic city park in all of Florida, it was designed by the renowned Olmsted Brothers who also designed many other national and city parks, including Yosemite. The park is located in the historic neighbourhood of Riverside, near the 5 Points area. It is located along the banks of the St. Johns River and houses the statue known as Life which now has become associated with Riverside in general. Totally worth a gander.
phone: +1 904 757-4463

Hosts more than 2,000 rare and exotic animals and 1,000 varieties of plants. It is constantly growing and changing and always a pleasurable experience.
RiverwalkA scenic walk system along the north and south shores of the St. John's River. It's a great place for a date.
Fort Caroline National MemorialThe original French fort, destroyed by Spanish troops from St. Augustine, now lies somewhere beneath the St. John's River. A modern recreation stands on the riverbank with a museum dedicated to the first settlements by the French in the area.

Kingsley PlantationA well-preserved Southern plantation on Fort George Island. Well worth the trip to see.

Machaba Balu PreserveConsist of a collection of sites within Timucuan's vast area. The salt march looks much as it did 500 years ago and is a haven of wildlife and biodiversity. The properties are under the management of the Nature Conservancy in partnership with the National Park Service.

Theodore Roosevelt AreaA nature preserve adjacent to the Fort Caroline Memorial. Donated by Willie Browne, the land sits on a marshy patch of riverfront property and offers visitors a taste of "Old Florida".
Do
Events
Jacksonville Jazz FestivalJazz festival featuring major names in jazz as well as local and up-and-coming jazz artists.

Main Street Cruise

address: 1st St. to 12th St. on Main St.

A surreal experience and a fun time, this old school cruise is like stepping into the 1970s movie American Graffiti. Poodle dresses, classic music, and an endless array of cars.

Springing the BluesFlorida's largest free outdoor blues festival.

Isle of Eight Flags Shrimp FestivalFernandina Beach, on Amelia Island (about 35 miles from Jacksonville), holds an annual festival every summer, the highlight of which is a mock pirate invasion terrorizing the locals. Additional Awards go to the biggest drunken pirate who plunders the most booty. And there is also the world famous wet wench contest.

Jacksonville Sea & Sky SpectacularAir show location alternates each year between Jacksonville Beach and Naval Air Station Jacksonville. The Blue Angels are typically the main event to close the show.

World Arts Film FestivalThe World Arts Film Festival is an event showcasing a diverse array of filmmakers of all ages and backgrounds. The central theme is a global message of inclusion through the arts and education.

JaxFlowA spin jam group local to Jacksonville. They spin various flow toys, such as hula hoops and fire poi in various parks and at nightlife spots all over Jacksonville.

address: Downtown Jacksonville

One Spark is an annual event for creators of all kinds. Artists, entrepreneurs and innovators display projects in different downtown venues each year. It offers the opportunity to get involved, be inspired, connect and collaborate. It connects people with great ideas to the resources they need to make them come true. Participants get the chance to pitch their idea to the voting public for a possible cash prize and a chance to make their project a reality.

phone: +1 904 389-2449

address: 715 Riverside Ave

More than 100 vendors offer handmade art, specialty foods, farmers' market, and a variety of entertainment. Open every Saturday, March through December, "RAM" is Jacksonville's Premiere Outdoor Arts & Entertainment venue!

address: Five Points in Riverside

Activities are usually centered in the Riverside neighborhood, The festival and parade are family friendly and feature friends and supporters of the gay community in Jacksonville. Late nights are whatever you make of them. Jacksonville offers a wonderful nightlife with a host of events at area gay bars and regular bars alike.
Sports
Buy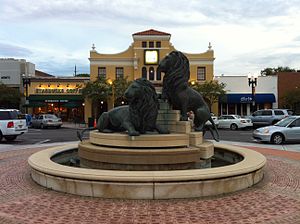 Shopping districts
DowntownThe Jacksonville Landing mall offers plenty of restaurants and a few shops. For a more authentic feel, travel outside that area and explore the surrounding streets. Laura Street near Adams offers a few shops and a lovely atmosphere. Adams Street at Ocean and Bay Street at Market also have some interesting places to visit.

Five PointsA shopping district on the western edge of the Riverside neighborhood. Home to Riverside Park, Memorial Park, and the Cummer Museum of Arts and Gardens, this area attracts an eclectic group of locals and is a haven for trendy shops and hip bars.

San Marco SquareA good used book store, shops, galleries, restaurants, and a Peterbrooke chocolate shop make up this small shopping area. The Grotto, a nice upscale wine store with a small seating area, is very popular.

Shoppes of AvondaleSpecialty shops, boutiques, galleries, and restaurants line these few blocks.
Shopping malls
St. John's Town CenterNear the intersection of Butler Blvd and the I-295 Beltway, this is an open-air mall sprawled over a large area. Lots of shopping and fine dining options, it's hands down one of the most popular and most visited malls in North Florida.

phone: +1 904 363-3054

address: 10300 Southside Blvd.

In Jacksonville's Southside neighborhood, the Avenues is one of the more popular enclosed malls in town. It offers a wide array of stores and most of the one you'd come to expect in a mall setting.

phone: +1 904 353-1188

This festival market-style shopping center sits adjacent to the St. Johns River in the downtown. It houses quite a few restaurants and offers weekend nightlife. shopping is limited to a few stores, though downtown offers its own selection of retail stores just blocks away.
Specialty stores
Eat
Downtown
Riverside
Al's Pizza

phone: +1 904 388-8384

address: Riverside at 1620 Margaret St

Also near Intracoastal West at 14286 Beach Blvd. +1 904 223-0991 and the original location at 303 Atlantic Blvd. in Atlantic Beach +1 904 249-0002,

phone: +1 904 389-0330

address: 887 Stockton St.

Firmly rooted in tradition, this restaurant offers authentic Spanish cuisine made fresh daily.
Avondale
phone: +1 904 387-0606

address: 3585 St. Johns Ave

Creative menu with good food; on a street with lots of shops. Outside dining is available.

Biscotti's

phone: +1 904 387-2060

address: 3556 St. Johns Ave

Cool atmosphere with delicious, interesting food. Take a look at the desserts in the display case. They taste even better than they look.
Springfield
phone: +1 904 356-3100

address: 1001 N Main St

Authentic Mexican restaurant located on Confederate Park in the beautiful neighborhood of Springfield.

Chan's Chinese

phone: +1 904 358-2808

address: 1508 N Main St

phone: +1 904 355-9050

address: 2527 N Main St

Caribbean cuisine

phone: +1 904 683-8313

address: 1544 N Main St

Middle-eastern cuisine
San Marco
The Loop Pizza GrillRestaurant chain that started in Jacksonville. Good burgers, pizza, salads, onion rings, milk shakes, etc. Several locations in Jacksonville.

phone: +1 904 438-3321

address: 3302 Hendricks Ave.

A popular breakfast spot for locals.
Southside
St. Johns Seafood & SteaksSeveral locations in Jacksonville. Just what it sounds like, a variety of seafood and steak with all the trimmings. Make sure to have grits as a side.

Gene's Seafood. Several locations in Jacksonville. The usual fried shrimp, fish, etc. in addition to delicious entrees like stuffed flounder. Consistently delicious.

phone: +1 904 399-0609

address: 2578 Atlantic Blvd

Delicious Cuban food. Most dinners come with rice, black beans, and plantains. Very good flan.

The Madrid

phone: +1 904 642-3741

address: 11233 Beach Blvd

Caribbean and Cuban cuisine. Everything is delicious.

Grinder's Cafe

phone: +1 904 725-2712

address: 10230 Atlantic Blvd

Ste 8-9. One of the very few "down home" southern food restaurants in Jacksonville. Very friendly atmosphere with a wide selection of southern specialties.

phone: +1 904 268-3474

address: 12903 Hood Landing Rd

A local favorite with lots of atmosphere. If you are a vegetarian, you might not enjoy this restaurant. Try the Fish Camp Platter or the Prime Rib, you'll be glad you did. Great place to take the kids.
Beaches
Angies Subs at Jax Beach

phone: +1 904 246-2519

address: 1436 Beach Blvd

Jacksonville Beach, When seen from the street you may think twice about eating there, but the large number of cars outside shows that it is a great favorite of the locals. For enjoying the best subs and experiencing local beach flavor, a visit here is a must. Lunch time is peak time and may be crowded. Hours are 11 to 8PM Monday through Saturday.

Beach Hut Cafe

phone: +1 904 249-3516

address: 1281 Third Street South

Jacksonville Beach. This is where locals go for breakfast. Weekend mornings are very busy.
Drink
Adult beverages
Downtown
Five Points
phone: +1 904 356-4444

address: 1044 Park St.

Rain Dogs

phone: +1 904 379-4969

address: 1045 Park St.

Wall Street Deli and Lounge

phone: +1 904 355-6969

address: 1050 Park St.

phone: +1 904 380-3091

address: 1534 Oak St.
King Street
phone: +1 904 388-9551

address: 910 King St.

address: 2692 Post St.

address: 927 King St.

address: 925 King St.

phone: +1 904 337-0146

address: 901 King Street

Park Place Lounge

phone: +1 904 389-6616

address: 931 King St.
Springfield
Shantytown Pub

phone: +1 904 798-8222

address: 22 W 6th St.

1 mile north of downtown in Jacksonville's historic Springfield, this hole-in-the-wall bar offers hundreds of beers and boasts a spacious backyard which hosts barbecues once a week.

Uptown Kitchen and Bar

phone: +1 904 355-0734

address: 1303 N Main St.

The Birdhouse

address: 1827 N Pearl St
Beaches
Lynch's Irish Pub

address: 514 N. First St, Jacksonville Beach

A well known Irish pub in Jacksonville Beach. Many good imported pints on tap, with live music, and a raucous atmosphere.

Pete's Bar

address: 117 1st Street, Neptune Beach, FL

Cheap beer and 25 cent pool. One of the oldest bars in Jacksonville. It is definitely a staple at the beaches. Opened the day prohibition was repealed.

address: 967 Atlantic Blvd., Atlantic Beach, Fl 32233

Featured on Diners, Drive-ins & Dives.
Coffee
Sleep
Budget
Mid-range
Splurge
The Elizabeth Pointe LodgeBed & breakfast amenities.

Marriott Sawgrass Beach ResortHome of the Players Championship, on the beach.

address: 200 Ponte Vedra Blvd.

Historic — open since 1928. Rated a 5 Diamond resort by AAA. Features four challenging golf courses, tennis facilities, swimming pools, luxury shops, and fine dining restaurants on site.
Cope
Go next