Jahrom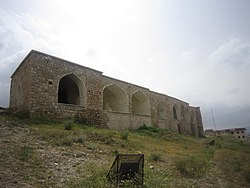 Jahrom
(Persian: جهرم ; Middle Persian: Gahrom) is a city with population of 140,000 in
Fars
province,
Iran
.
Understand
Jahrom, the third largest city of
Fars
, sits in the center of the province, 180 km south of
Shiraz
. Most of the people are Muslims and speak Persian language. It is located 1050 m above sea level. It is famous for Date and citrus fruits.
Get in
By plane
Jahrom Airport

phone: +98 934 085 8523 (mobile)

address: Forudgah boulevard

Has regular flights from Tehran four times a week.
By bus
Jahrom is connected to
Shiraz
,
Tehran
and
Bandar Abbas
.
By car
A highway connects Jahrom to Shiraz and Tehran.also there are routes to Fasa, Qir and Lar which has connection to Bandar Abbas and
Persian Gulf
coast.
Get around
You can get around the city by taxi or bus.You can also go to the small towns near the city such as Qotb Abad, Khafr and Duzeh and villages by bus or taxi.

See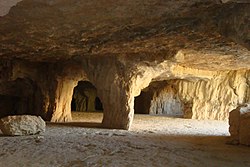 Sangeshkan cave

address: South of the city

The biggest handmade cave in the world

Ghadamgah

address: Azadegan boulevard, across from the literature collage

A Sassanid Fire temple

Jahrom Bazaar

address: Jomhuri street

Historical bazaar from Zand dynasty period

Khan school and mosque

address: Ebrat street

A building from Safavid dynasty period

Jame mosque

address: 22 Bahman street

A Jame mosque from Seljuk period
Do
Muharram MourningsThe event marks the anniversary of the Battle of Karbala, when Imam Hussein ibn Ali, the grandson of Muhammad, was killed by the forces of the second Umayyad caliph. Family members accompanying him were killed or subjected to humiliation. The commemoration of this event during the yearly mourning season, with the Day of Ashura as the focal date, serves to define Shia communal identity.It is held in most of the cities of Iran include Jahrom.
Buy
Jahrom Bazaar
Atlas shopping center
Aftab shopping center
Golha shopping center
zeytun shopping center
central shopping center
jomhuri shopping center
Eat
Some of the famous restaurants in the city are:
Kohan
Haft khan
Pasargad
Salvador
Dominos
Chatre sabz
Pardis
soufi
Tak
Kaze (Italian)
Karno
Nayeb
Goldis
Zhian
Drink
Most of the cofee shops are located in Khayyam street.such as:
Manoto
Shanar
Asal
Bermuda
Mahtab
Jazire
Sleep
Pasargad Hotel

address: Chamran square

Sajjad Hotel

address: 22 Bahman street

Farahmand Hotel

address: Qir road
Learn
Stay safe
Iran is generally a safe country. It is advised however, that being an obvious tourist may attract some unwanted attention from interested Iranians, but do not be alarmed or react negatively. Standard advice to keep your bag secured and safe, and to leave personal and valuable belongings in your hotel room or hotel safe should be regarded. Iranians are generally peaceful, hospitable people, but it is advised to act with caution when walk in the streets alone late at night or when approached by strangers to the same degree that you would in your native country.
Emergency services
Police: 110
Fire department: 125
EMS: 115
Road EMS: 115 or 112
Go next