Jakarta/Central
Central Jakarta
(Indonesian:
Jakarta Pusat
) acts as the commercial and business district of Jakarta. By day the many office buildings are filled with workers; by night, people stream into the shopping malls. Therefore, traffic is heavy all the time! The area encompasses
Tanah Abang
,
Monas
,
Senen
,
Menteng
,
Jalan Jaksa
,
Senayan
, and the road corridors along the
Hotel Indonesia roundabout
.
Understand
The core of Central Jakarta is the Jendral Sudirman Avenue and the M.H. Thamrin Avenue, where the high rises were erected at its backbone, followed by commercial centers and hotels at its branch roads. To the north, it continues to the west side of Monas, to the south it ends at Senayan Roundabout. The area was alive primarily thanks to the founding father Soekarno. The Gelora Bung Karno stadium, the Semanggi interchange, and the Selamat Datang statue was erected to welcome travelers to the 1962 Asian Games. Its success, followed by the booming Indonesian economy, leads big construction companies to pick land and build skyscrapers, even up to this day. The people watching scene here is fabulous. You can see a white collar worker get down to the bus stop and roam the sidewalks to his office on the 20th floor, while a socialite mother was dropped by her car at the mall lobby and a handful of peaceful demonstrators walk around the roundabout to voice their aspiration. In the evening (or a short time for lunch): the crowd shifts to the cosmopolitan shopping centers for a dine and (window) shopping to wrap up their day. At Sunday morning, the road closes for you to walk on the asphalt, or even better, blend in to watch, and even join the various performances from the locals.
Pockets of commercial area to look out include the Tanah Abang wholesale market, the upscale Hotel Indonesia roundabout, the historical Monas, the artsy Cikini, the busy Senen, and the posh Senayan. The Menteng area is an upscale neighborhood, while the Jalan Jaksa is a friendly area for foreigners as a backpacker and budget party area.

Get in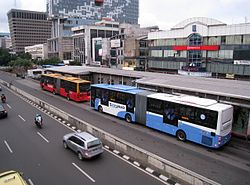 By train
If you are traveling by long distance trains, you will be very likely to arrive right away here. and are the main arrival points for Jakarta, with trains to and from destinations throughout Java island. For the commuter line rail (
KA Commuter Jabodetabek
), key stations in Central Jakarta include
Sudirman
on the yellow line and
Juanda
on the red and blue lines. The train from the Soekarno-Hatta airport goes to
Sudirman Baru
station, which can be reached from Sudirman station on foot.
If you are using Jakarta MRT, you can start from Lebak Bulus MRT station in
South Jakarta
and take the train up to Bundaran HI MRT station.
By bus
The Transjakarta Line

goes to Dukuh Atas from South Jakarta, where you can connect to Line 1 by moving to the platform upstairs. Line

itself goes from Kota at the North, to Blok M at the south, passing through Jendral Sudirman, M.H. Thamrin Avenue, Hayam Wuruk and Gajah Mada.
Harmoni Central Busway is one of the hubs for many of Transjakarta's mainlines, including line 1.
By car
Central Jakarta is circled by Jakarta's inner ring toll road. To reach the centre at the National Monument, the easiest way is to take the Semanggi exit of the southern ring road, and follow the major Sudirman and Thamrin roads to the north for about 4.5 km.
Get around
The Jakarta Government provides
a hop-on tour bus
that will take you to attractions across the city for free. The Transjakarta bus rapid transit line

traverses through the main north-south roads Jendral Sudirman, Thamrin, and along the National Monument, and also several of the other Transjakarta routes traverse Central Jakarta. See the main article on
Jakarta
for more information on how to get around by Transjakarta, taxi, motorcycle taxi, etc.
See
Landmarks
Statues and symbols that made up Jakarta can be traced roughly at the corridor between Monas and Senayan.
Arjuna Wijaya

address: Jl Medan Merdeka Barat

A statue of Arjuna and Krishna riding horse chariot, the scene taken from Mahabharata epic. Created by Nyoman Nuarta.

Farmer Statue

address: Jl. Prapatan

Created by Matvei Manizer and Otto Manizer (from Russia). This statue commemorated the struggle for Independence by Indonesian farmers and their family.

Freedom of Irian Jaya

address: Lapangan Banteng

This statue, right at the center of the court, celebrates the annexation of Irian Jaya (West Papua) into Indonesia from the Netherlands in 1963. Has dancing musical fountain, futsal area, children playground, jogging track, and can be used at night because of good illumination.

General Soedirman

address: Jl. Jendral Sudirman

The statue stands on the avenue named for his namesake. Sudirman is the leader of the Indonesian forces in the guerrilla war against the Dutch in Yogyakarta (1948-1949).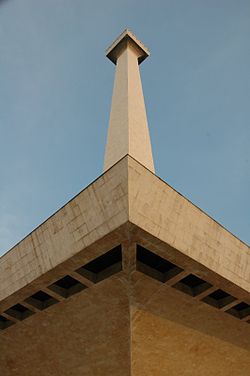 The National Monument

phone: +62 21 384 0451

address: Lapangan Merdeka (BRT Monumen Nasional), Gambir

A towering 137m-tall obelisk of solid bronze platted with 50 kilos of gold shaped into flames up top, this is the most famous landmark in Jakarta. The monument was commissioned by Sukarno in 1961 to celebrate Indonesia's independence, it was completed in 1975 after his death and is consequently known irreverently as Sukarno's Last Erection. The 1 square kilometer Medan Merdeka (Freedom Square) plaza/park around it was created by bulldozing a squatter community. In its basement, look for the collection of dioramas depicting the struggle for Indonesian independence from a firmly revolutionary point of view, while the top has an observation deck. The musical fountain at the east side of the park dances weekends at 19:00.

Prince Diponegoro

address: Surapati Park, Jl Diponegoro

This statue commemorates the rebellion against Dutch occupation (1825-1830), led by Prince Diponegoro from the Kingdom of Mataram, Yogyakarta.

Welcome to Jakarta statue

address: Bundaran HI

This statue was an idea by Soekarno, designed by former Henk Ngantung. The statue waves to the north as athletes from the Asia Pacific region came to play the 1962 Asian Games.
Museums
Most museum in this region has a theme of patriotism, mainly because most of the action took place here.
phone: +62 21 3868172, +62 21 381 1551

address: Jl. Medan Merdeka Barat no.12

Step back in time from humble prehistory to the Hindu Kingdoms, from the Dutch to the Independence. It has a fine collection of Hindu sculptures and cultural artifacts from around the country, as well as an impressive treasure room filled with gold items. Look out for the elephant statue at front, a gift from the King of Siam (Thailand) in 1871. The Gold room is closed 1 hour before the museum normal closing time.

Presidential Palace

address: Jl Medan Merdeka

Along with the Negara Palace and others minor buildings, it forms the Presidential Palace complex. Built in 1796 as a mansion for a Dutch businessman,, it became the center of the Dutch administration during the 19th century, and the official residence of every single president. As of 2014, the Palace doesn't seem to be open for public.

Proclamation Museum

address: Jl. Proklamasi 56

This is where the Declaration of Independence is read on August 17, 1945, by the founding fathers Soekarno and Hatta. Complete storyline of how the Independence came to be, through dioramas, mock-ups, and propaganda posters.

address: Jl. Kramat Raya No. 106

In 1928, a group of youth at the 2nd Youth Congress declares one motherland, one nation, one language. The museum has complete information on how the dispersed youth tied their home region gathered in unity for an idea of a country that was yet to be officially formed, and when the creator of the Indonesian national anthem, W.R. Supratman, performed this piece by violin for the first time ever.
Religious places
Do
Art and culture
phone: +62 21 548-3008

address: Jl Palmerah Selatan No.17

A collection of paintings, especially from Bali, ceramic from the Chinese dynasties, Buddhist statues with hand praying gestures, and other arts and crafts from across the archipelago. Sometimes there is a thematic exhibition or a cultural performance.

Ismail Marzuki Park

address: Jl Cikini Raya no.73

Home of the city's planetarium, theatres, art galleries, and Indonesia's famous non-profit theatre club, Teater Koma. Planetarium: Rp7,000 children over two years until finishing elementary school, otherwise Rp12,000. Saturday, Sunday, and public holidays shows at 09:00, 12:00 and 15:00. Shows are 50-60 minutes long.

phone: +62 21 65867808

address: Jl. Industri Raya Blok B 14 Kavling 1, Kemayoran

The only building in Indonesia whose sole purpose is for classical music hall. Regular performances by the Simfonia Jakarta Orchestra conducted by Stephen Tong and the gigantic 3217 pipes of the organ.

Jakarta Arts Building

phone: +62 21 3441892

address: Jl. Gedung Kesenian no. 1

One of the most well-known places for performing arts in Jakarta. Indie and contemporary music and dance, and orchestra performances.

phone: +6221 23 55 79 00

address: Jalan M.H. Thamrin No. 20 Jakarta Pusat 10350

French cultural center. Host each month several concerts of French and Indonesian musicians, film screenings & conferences about Indonesia culture.
Spa
phone: +62 21 314 3585

address: Jl. KH Wahid Hasyim 133, Central Jakarta

Pamper yourself after a day at the hectic city with Indonesian style massages. For your well-being, the spa also offers swimming pool, sauna, gym, whirlpool, and manicure & pedicure.
Park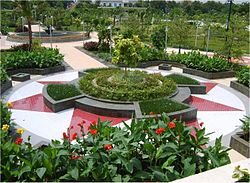 A common stereotype is that Jakartans are all work and no play, mainly because of the rarity of parks. However, empty lands and former shanty homes have increasingly been redeveloped into public parks, oases beneath the concrete jungle. In the parks, some hawkers set up stalls for a cold drink on a hot day, and most of the visitors come here for a date! The Menteng area is well-known for such a spot behind the skyscrapers.
Menteng Park

address: Jl. HOS Cokroaminoto, Central Jakarta

The newest addition to Central Jakarta, 40 hectares of land made use into an excellent park. Wide pathways, fountains, collection of plants, are a remedy for the eyes and the body. At night and on the weekends, there are numerous community performances or doing lessons. There is a greenhouse that, unfortunately, has no plants.

Suropati Park

address: Jl. Untung Suropati, Central Jakarta

A smaller park that but has more high trees that can function as shade. Regular community performances, especially classical music under the trees every weekend!

Situ Lembang Park

address: Jl. Lembang, Central Jakarta

A giant lake with a fountain at its center, jogging track and seating area on its rim.
Expo
address: Jalan Benyamin Suaeb No. 1, Pademangan Timur

Typically the largest events held in Jakarta are held here. The most crowded being the Jakarta Fair held in June and July where impressive deals in food, shopping, and amusement can be found.
Buy
You might assume upon arriving that only upscale shopping options exist here, because what you see is nothing but skyscrapers. But in truth, Central Jakarta is a shopper's mecca, anything you can think of can be bought here! From arts and crafts to fashion, both cheap and expensive, you will never run out of choice. If there is something that you do not like, the next mall is just a short distance away!
Shopping malls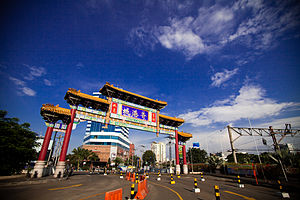 Markets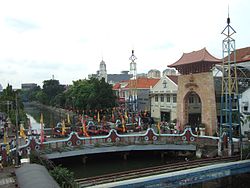 Eat
Being at the center of the city where the commuters work and business travelers & tourists stay, expect a cornucopia of restaurants at all price ranges! A mouthwatering Indonesian
soto
at a street vendor can be just 100 meters away from the most opulent table for two on the 35th floor with food courts peppered around it.
Budget
While typically any restaurant at the food court belong to this category, those that wish to explore the better taste of Jakarta's multicultural foods should venture away from the air-con buildings to standalone or street side restaurants. They are pretty easy to find at the side streets of Soedirman and Thamrin.
phone: +62 21 3522288

address: Jl. Gang Kelinci Raya No. 1-3, Pasar Baru

By default, go with the mie ayam that features yellow noodles with braised chicken and mushrooms. Other dishes include vermicelli, kway teow, and Chinese style snacks and entrees. And they are halal which factors in the frequent crowds.

Gado-Gado Bonbin

phone: +62 21 3141539

address: Jalan Cikini IV No.5

A very popular place for the Indonesian salad gado-gado and the so-called lontong cap gomeh.

Nasi Goreng Kambing Kebon Sirih

phone: +62 811 190 775

address: Jalan Kebon Sirih Barat Dalam I

A street stall which has been a longtime favorite for Middle Eastern lamb (or mutton) fried rice, in which it has a complex scent made from various spices. Expect to be very packed!

Ragusa Es Italia

phone: +62 21 384 9123

address: Jl. Veteran I No. 10, Gambir

Established by the Italian Ragusa brothers in 1932, this hole-in-the-wall gelato parlor provides your imaginable ice cream menu, but has an antique charm that entices you to come back for more.

phone: +62 21 385 8245

address: Jl. Ir. H. Juanda No 19

This restaurant can satisfy those that are on the budget while missing food especially from European or the US, or if you feel peckish for anything else. And where else can you find pizza for just Rp35,000?

Nasi Uduk Kebon Kacang

phone: +62 21 31903863

address: Jalan Kebon Kacang 8 No. 5

Come in to treat yourself with nasi uduk, Jakarta's style of rice cooked in coconut milk and your choice of chicken or beef anyhow you want to have it on the side.
Mid-range
Beirut Lebanon Restaurant

phone: +62 21 3193 8147

address: Jl. H Agus Salim 57, Menteng, Central Jakarta

Reasonably authentic and affordably priced Lebanese eats, with bonus points for the bizarre decor of Arabic weaponry and plastic scenes of green rural idyll.

Dope Burger & Co.

phone: +62 813-8886-7225

address: Jalan Teuku Cik Ditiro No.25, RT.7/RW.5, Menteng, 10310

phone: +62 21 571 9415

address: BRI II Building 9th Floor, Jl. Jendral Sudirman Kav. 44-46, Jakarta 10210

While Indian restaurants are few and far between, this establishment nails it by serving both the northern and southern Indian delicacies.

Kafe Pisa

phone: +62 21 3928568

address: Jl. Gereja Theresia 1, Menteng, Jakarta Pusat

A longtime favorite for Italian cuisine and some gelato. Live music every night.

phone: +62 21 315 3252

address: Jl. Teuku Cik Di Tiro 4, Menteng, Central Jakarta

Old house named after a legend from Prambanan and retrofitted with the contents (and roof!) of a 300-year-old temple that was in Semarang, serving up pompously self-styled "imperial Indonesian cuisine". The staff will be happy to show you around if it's quiet; be sure to check out the gorgeous Lara Djonggrang room. If you are eating with a big group (more than 20 people), book ahead and you will be assigned a room just for your group, with unique interiors.

phone: +62 21 3906757

address: Jl. HOS. Cokroaminoto No.91

Bistro featuring all-day brunch with diner style menus and a modest selection of desserts. Or drop by to drink coffee and mocktails (soda cocktails).

phone: +62 21 3504081

address: Jl. Pecenongan no. 65A

Mouthwatering sweet martabak with a few classic flavors like bananas, cheese and chocolate, in addition to more expensive ingredients like the Ovomaltine, Toblerone and Green Tea Kit Kat. 10 pieces in a medium would already get you through 2 to 3 meals, and even more for the regular 16-piece. The savory egg martabak is also worth to try.

Pondok Laguna

phone: +62 21 345 9991

address: Jl. Batu Tulis Raya No. 45-47, Central Jakarta

Seafood restaurant. Simultaneously big and noisy yet outdoors and peaceful, this popular seafood joint is packed every mealtime with punters queuing up for their famous grilled fish (gurame goreng) and fried tofu with shrimp (tahu kipas). Wash it down with an improbably tasty glass of cucumber juice (es timun).

Putu Made

phone: +62 21 21889061 (ext. 501)

address: Senayan City, Lantai 5, Jl. Asia Afrika, Senayan

An authentic Balinese restaurant by Bali's most renowned chef, Mandif Warokka. Serves mostly Balinese dishes with their own traditional spices.

Kikugawa

phone: +62 21 315 0668

address: Jl. Cikini Raya IV No. 13, Central Jakarta

Established in 1969, Kikugawa is the oldest Japanese restaurant in Jakarta since the Second World War. Serving authentic Japanese cuisine in simple Japanese house atmosphere. The owner is Japanese-Indonesian couple who had also established "Bengawan Solo" Indonesian restaurant in Tokyo.

Tamnak Thai

phone: +62 21 392 3000

address: HOS Cokroaminoto (Menteng), Jakarta Pusat

While their seafood and tom yam are expensive, they are worth the price for using fresh catches. Their pineapple fried rice is a hit.

phone: +62 21 390 9010

address: Jl. Johar No.15

A budget to mid-range option for European specialties, with an emphasis on German breads and pork. Don't let the old interior throw you away!
Splurge
A typical all you can eat buffet in a hotel would cost Rp300,000; in most cases you can just jump in to any hotel to ask for it. While they are frequented by families on weekends or possibly dinner, you can usually get a better deal on weekday for lunch where occupancy is the lowest.
The list below are standalone restaurants that are worth to tantalize your taste buds:
phone: +62 21 2188 9061

address: Jl. Johar No. 8

A splurge Arabian fix frequented especially at dinnertime. The hummus and pita bread are desirable while the rice has a variety of fragrant you can choose from. Top it with a huff of shisha.

phone: +62 21 29923505

address: Jl. M.H. Thamrin No.28-30

Upscale bistro that serves French haute cuisine with a selection of premium tea and desserts to accompany.

Kintan Buffet

phone: +62 21 72781410

address: Senayan City, Jl. Asia Afrika No.19

All you can eat Japanese BBQ where you can also upsize to savor the top quality wagyu beef.

Mother Monster

phone: +62 21 29921939

address: Jalan MH. Thamrin, Thamrin

A fancy restaurant from two established dining and coffee spots in Jakarta, Common Grounds in Thamrin Citywalk and Biko Group.

Momozen

phone: +62 21 29922246

address: The Plaza Level 46, Jl. M.H. Thamrin No 1

A fusion of Japanese and French cuisine that is mainly frequented for tapas. Premium meat and seafood entrees. Reservation required.

Pardon My French

phone: +62 21 21889061

address: Jl. K.H Wahid Hasyim No. 154, Tanah Abang 10250

Serves Japanese-European fusion food. Famous for their signature dish Ube Bomb.

phone: +62 21 23586996

address: BCA Tower 56th floor, Jl. M.H. Thamrin No. 1

Take your dining experience up, way up on the rooftop of a 56-floor building overlooking the forest of Jakarta's skyscrapers. European and American cuisine, some with an Asian twist, and an extensive collection of booze.

phone: +62 21 3900899

address: Jalan Teuku Umar No.1, RT.1/RW.1, Gondangdia, Menteng, 10350

A Rijstafel-styled fine-dining restaurant in an old-fashioned Dutch house, serving mostly Betawi and Indonesian cuisine.
Drink
If you are in for a drink, both alcoholic and non-alcoholic, you're in for a treat! The numerous coffee shops and cafes at malls are often where work colleagues meet and small meetings are sometimes held, while the bar is where they relax after a week's hard work. All of them are quite close to each other and are aplenty.
Due to the conservative nature of Indonesians, you may not see a whole lot of them in the bar with alcohols, save for businessmen and adolescents who just entered the legal age of drinking.
Non-alcoholic
Lewis & Carroll Flower Market

phone: +62 21 21889061

address: Grand Indonesia Mall, UG Floor, Central Dept. Store, Jl. MH Thamrin No. 1

Inspired by the namesake author, it serves a humongous line of tea that for a while makes you imagine the teatime in Alice in Wonderland. If you are hungry for something substantial, they also provide a few items.
Cafés and coffee houses
Coffeehouses are abundant in Jakarta, especially in the heart of the capital city, where you can almost find many newer coffee shops around besides the big-franchises such as Starbucks and The Coffee Bean. The numbers are increasing and surely you'll almost find a new one every month or two.
phone: +62 21 31936608

address: Jalan Cikini Raya No.25, RT.16/RW.1, Cikini, Jakarta 10330

The oldest coffee roaster in Jakarta since 1878.

phone: +62 812 8513466

address: Jl. Veteran 1 No. 1, Gambir, 10110

Known for their nitro brew coffee that provides similar texture to a beer.

phone: +62 21 31923698

address: Jalan Surabaya No.20, Menteng, Jakarta 10310

Mainly serves coffee and has indoor and outdoor spaces for drinking. No smoking allowed.

Goedkoop Warung Kopi Belanda

phone: +62 21 5734430

address: Jl. Bendungan Hilir No.62, RT.5/RW.1, Bendungan Hilir, Jakarta 10210

Saudagar Kopi

phone: +62 21 3143270

address: Jalan Haji Agus Salim No.26F, RT.2/RW.1, Menteng, Jakarta 10340

phone: +62 21 29625599

address: Jalan Kebon Kacang Raya, Tanah Abang, RT.8/RW.9, Jakarta 10230

A wide selection of many Indonesian coffee beans. Offers training classes as well such as barista class, latte art basic class, roasting class etc.

Watt Coffee

phone: +62 21 3908608

address: Jalan Kramat Kwitang No.14, RT.1/RW.7, Kwitang, Jakarta 10420

Has an open roasting site and comfortable seats for hanging out or just working.

Workroom Coffee

phone: +62 881-1641-514

address: Jalan Cikini Raya No.9, RT.16/RW.1, Cikini, Jakarta 10330

A coffee shop designed for a suitable working environment.
Alcoholic
phone: +62 21 39832047

address: Sarinah BuildingLt. 2, Jl.MH Thamrin No. 11 - Jakarta Pusat

Have a shot or snacks as you play pool.

phone: +62 212510888

address: Midplaza Ayana Hotel, LG Jalan Jend Sudirman Kav 10-11, Jakarta 10220

Fine wine bars and bistro.

phone: +62 21 390 1234

address: Jl MH Thamrin Kav 28-30 Grand Hyatt, Jakarta Lt 4, Jakarta 10230

Bar with burgundy (dark shade of red) decoration. The special drink from this bar is called "burgundy crush". Facility: live jazz performance, cigar smoking room. Drinks: fine wine, frozen vodkas, spirit, martini, Caipirinha, Caipiroska etc. It also acts as a bistro that serves snacks to full fledged meals.

phone: +62 21 380 5555

address: Jl Lap Banteng Slt 1 Hotel Borobudur, Jakarta 3rd Fl, Jakarta 10710

An old-school wine bar that also provides an assortment of cigars to puff.

phone: +62 21 574 7777

address: Jl Asia Afrika Hotel Mulia Senayan Lt Mezzanine, Jakarta 10270

Attracts a younger crowd or the youth in spirit because of live music. Cover charge for non-hotel guests: Rp250,000.

Cuba Libre

phone: +62 21 3446703

address: Jalan Veteran Satu, No. 32, Jakarta Pusat

Latin cigar bar next to Domus Italian restaurant. Facility: extensive selection of the best Cuban cigars, 2 private rooms, dance floor, latin music.

Grand Manhattan

phone: +62 21 384 2223

address: Jl Lap Banteng Slt 1 Hotel Borobudur, Jakarta Lt 1-3, Jakarta 10710

Retro style cafe with some alcoholic beverages, but the live music & DJ is what draws the crowd.

Tiga Puluh

phone: +62 21 251 3131

address: Le Meridien 1F, Jl. Jend. Sudirman Kav. 18-20. Jakarta 10220

The Jekyll and Hyde of Jakarta's nightclubs: as you step in, you'll find a stylish, quiet, well-lit wine bar, but behind the double doors lies a dimly lit and noisy nightclub packed with girls. The live bands are, however, a notch above the average. Rp. 75,000 cover on weekends.
Sleep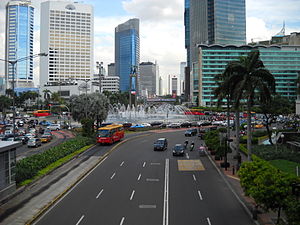 Most visitors staying in Jakarta will stay at Central, especially along the Sudirman-Thamrin strip, mainly because of its easy access to all attractions the city has to offer.
Budget
Jalan Jaksa
Jalan Jaksa
as well as nearby
Jalan Kebon Sirih
at the northern end of Jl Jaksa and
Jalan K.H. Wahid Hasyim
at the southern end are Jakarta's main backpacker hangout, with numerous low-priced hostels (dormitory beds from Rp60,000, fan room Rp80,000–120,000, aircon from Rp150,000) as well as some mid-range hotels. Whilst the area itself has a laid-back feel (which may be what attracts backpackers), it's not worth hanging around at the expense of seeing greater Jakarta. The area is just south of Gambir station (where DAMRI buses from the airport also arrive/depart every 15–30 minutes) and now fairly accessible on the busway (Sarinah stop on Line 1, just walk 200–300 m to the right from the southern end of Jl Jaksa).
Other areas
Mid-range
Most visitors coming to Jakarta stay in Central Jakarta, where a plethora of mid-range to splurge hotels are located.
Splurge
The Soedirman-Thamrin strip is home to worldwide chain hotels, especially catered to businessman for easy commute for a meeting, or even to do it at the hotel.
Soedirman-Thamrin strip
Other areas
Stay healthy
Emergency numbers:
Ambulance: 118.
Police: 110.

Central Jakarta Police station

phone: +62 21 390 9921, +62 21 390 9922, +62 21 390 9425

address: Jl. Kramat Raya No. 61
Hospital with 24 hours emergency room (ER):
RS St Carolus

phone: +62 21 390 4441

address: Jl. Salemba Raya 41

RS Dr. Cipto Mangunkusumo

phone: +62 21 330808

address: Jl. Diponegoro No. 71 Jakarta Pusat

RSU Daerah Tarakan

phone: +62 21 384 2934

address: Jl. Kyai Caringin 7

RS PGI Cikini

phone: +62 21 336961

address: Jl. Raden Saleh No. 40

RS Budi Kemuliaan

phone: +62 21 384 2828

address: Jl . Budi Kemuliaan No. 25 Jakarta Pusat 10110

RS Husada

phone: +62 21 626 0108, +62 21 649 0090

address: Jl. Raya Mangga Besar No. 137-139 Jakarta Pusat 10730
Go next
If you make your way down Gajah Mada street, you will be at the old city of both North Jakarta and West Jakarta.
South Jakarta is the district of many upscale shopping malls and residential areas, as well as more skyscrapers.
In East Jakarta, you can find the Taman Mini theme park, which is centred around the culture of Indonesia and its provinces.
The spacious campus of the University of Indonesia can be found just south of the city in Depok.