Jalpaiguri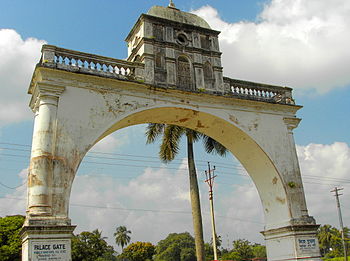 Jalpaiguri
is a city in
North Bengal
in
India
.
Understand
Jalpaiguri
, in the flood plains of the Teesta River, is a city with historical links going back to the deep past, but it really grew as an administrative centre during the British rule. Earlier, Jalpaiguri had a direct broad gauge rail link with Kolkata via eastern Bengal. With the partition of India, railway links were realigned and Jalpaiguri lost some of its strategic importance to
Siliguri
. It is now on the road and rail link for
Assam
and the
North-East
, and Jalpaiguri is re-inventing itself as an agricultural and business centre. It is headquarters of Jalpaiguri Division, comprising the districts of North Bengal.
Get in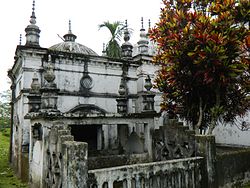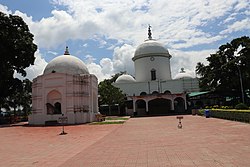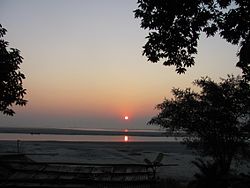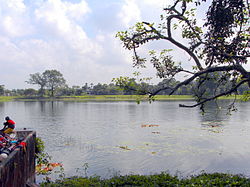 By plane
By bus
Netaji Subhash Central Bus Terminus has bus service to all places within West Bengal.
The North Bengal State Transport Depot beside NBST offers government-operated buses to destinations all over the state.
Kadamtala Bus Terminus- There are private and government buses operating super (1-stop) and non stop buses to Siliguri and Kolkata.
Bowbazaar Bus Stop- Buses to Haldibari are available from here.
By road
The main town of Jalpaiguri is just beside National Highway 31D, which connects Assam and the entire North East to the rest of India. Jalpaiguri is about 42 kilometers from Siliguri.
A state highway begins at Jalpaiguri, connecting to Haldibari, near the border of Bangladesh.
By train
The Jalpaiguri City railway station (0 km. away), New Jalpaiguri railway station (35 km away), Jalpaiguri Road Railway Station (3 km. away), Mohitnagar railway station (4.5 km. away) and the Jalpaiguri Junction railway station (7 km. away) from the main city centre serves the city. These have trains from all over India.
Get around
You can travel by cycle-rickshaw or totos or city-autos or city buses, which you can get everywhere, or you can hire a city taxi from taxi stands.
City landmarks
Jalpaiguri Railway Station

address: Ststion rd. Jalpaiguri

Teesta River

NBSTC TerminusNetaji Subhas Central Terminus is next to it
See
Jubilee Park

address: DM Office Rd

Jubilee Park is situated on the bank of River Teesta. There is a garden with different flowering plants. There is a wooden statue of an elephant. The park also offers beautiful views during sunrise and sunset.

Teesta Udyan

address: DM Office Rd

Rajbari Palace

address: Raikatpara

Palace of Baiknthapur Estate. The building was constructed in the early years of twentieth century in place of the old palace made by Raja Jayantadev Raikot.

Jalpesh temple

address: Maynaguri Road

The massive 126 feet high and 120 feet wide Shiva temple, built in the 9th century, was actually destroyed and rebuilt many times. It looks like a mosque because it was designed by a Muslim architect. The ideal time to visit is July and August, in monsoon, because of the mighty "BoleBom" festival; and in March and April, during the Shivaratri.

Panchmukhi Balaji temple

address: Maskalaibari

Karala riverside

address: Samajpara

Karala, a small river, flows through the middle of the town bisecting it into two halves.

Jogmaya Kalibari

address: Temple Street

Sarojendra Deb Raikat Kala Kendra

address: Hakimpara

Tea GardensThese are very near to Jalpaiguri city and are worth a visit.
Do
Town Club GroundWatch football matches

Pedal boat at Teesta Udyan
Pedal boat at Eco City
Eat
Hotel Ratnadeep in club road
D'la Pritam in Kadamtala.
Motorist Inn on Jalpaiguri-Siliguri road.
Street chats (puchkas, momos, jhal muri etc) at Dinbazar.
Drink
Motorist Inn in Jalpaiguri-Siliguri road.
Chandni bar at highway

D'la Pritam

address: Kadamtala
Sleep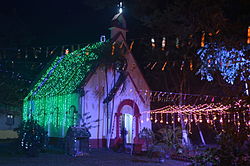 Eco City

address: Jalpiguri Siliguri Road

Resort is covered with tea garden. All rooms have AC, 24 hrs room service, doctor on call, laundry, 24 hrs light

address: 6-49/139, D.B.C. Road, Kadamtala

phone: +91 3561 222501-2

address: Club Road/Main Road

Prantik Lodge

address: Kather Bridge, Jalpaiguri Road
Go next