Jasmund National Park
Jasmund National Park
is a World Heritage national park on the island of
Rügen
in
Germany
.
Understand
At 30 km², this is the smallest national park in Germany.
History
The park was founded in 1990.
On June 25, 2011 the beech forest in Jasmund National Park was added to UNESCO World Heritage List as an extension to the Primeval Beech Forests of the Carpathians and the Ancient Beech Forests of Germany.
Landscape
Chalk cliff on the
Baltic Sea Coast
. Inland forests in a swampy landscape with many small dells and lakes.
Flora and fauna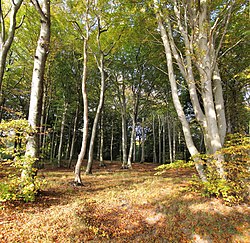 Climate
Get in
The park area is just north of
Sassnitz
.
Parking of cars in the park is discourage, visitors are directed to the visitors centre where there is a parking and entrance fee. The more adventurous can walk into the park from the surrounding area.
Fees and permits
There are no fees to enter the park, but most official car parking and attractions will require payment.

See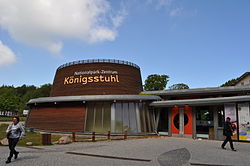 Königsstuhl118 m high chalk cliff on the Stubbenkammer.
Do
Weddingstraße parkingLimited parking places.

Bus available from town center.

WaldhalleAlternative free parking, next to closed Gasthaus
Eat
Sleep
Lodging
There are holiday apartments available in
Hagen (Lohme)
.
Camping
Camping is not allowed in the park.
phone: +49 38302 9244

address: Lohme-Nipmerow