Jataí
Jataí
is a city in the southwest of
Goiás
.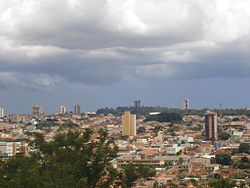 See
Diacuí Park (Parque Diacuí), Rua Capitão Serafim de Barros, Vila Fátima. One of the most happening meet-up places in the city, with a walking track, a pond with various kinds of fish, skating rink, playground, an expansive lawn, and a nice wooded area.
JK Park (Parque JK), at the entrance to the city via BR-060. Features a beautiful lake with waterfalls. The park also has a lookout tower which offers the best scenic views of the city.
Lake Bonsucesso (Lago Bonsucesso), BR-158. The lake attracts enthusiasts of all kinds of activities, including water sports, extreeme sports, beach soccer and volleyball, fishing, bathing, and camping. It has a tower for use in extreme sports, and plenty of refreshment kiosks.
Catedral Divino Espírito Santo - Rua Minas Gerais, nº 955, Setor Santa Maria. The modern architecture of Jataí's cathedral is striking. Seen from above, it has the shape of a beehive, since Jataí is known as the "City of Bees". The façade has 12 columns which symbolize the 12 apostles.
Igreja de São Sebastiao - Avenida Goiás, Praça de São Sebastião, near the Fiat dealership. One of the oldest churches in town, it is one of only a few churches in the Americas to house one of what are said to be the bones of St. Peter.
Museums
Basileu Toledo França Cultural Center

phone: +55 64 3632-4140

Avenida Goiás, nº 1433, Centro. This cultural center hosts a number of exhibits about local intellectual, author, and historian Basileu Toledo França, born in 1919.
Jataí Historical Museum (Museu Histórico de Jataí), Rua José Manoel Vilela, nº 286, Centro. This museum house the most important artifacts of central Brazil, including the skeleton of the Serra do Cafezal Man, considered the oldest of South America at 11,000 years old.

Museum of Contermporary Art

phone: +55 64 3632-4048

Rua Castro Alves, nº 468, Centro. Located in a historically significant 19th-century building, this is the only contemporary art museum in the state.
Memorial JK, +55 64 3632-4137.
Buy
Avenida Goiás - This avenue has a little of everything.
Avenida Rio Claro - Clothing shops and a few restaurants.
Night Fair (Feira da Noite) - Held every Thursday evening at Praça da Igreja Matriz. You can find local handicrafts, clothing, and food products while enjoying live music or cultural exhibitions.

Casa do Artesão

phone: +55 64 3632-4009

Avenida Brasil, nº 610, Centro. A large outlet for local crafts such as ceramics, textiles, handmade furniture, and other souvenirs.
Eat
In general,
Praça Lambari
and
Praça Ten Diomar Menezes
have a good number of sandwich shops and ice cream parlors, while
Rua Rio Verde
has some of the best restaurants in town.
Churrascaria Gaúcha

phone: +55 64 3631-2965

Off of BR-060.

Lanchonete Arte Pão

phone: +55 64 3631-5362

Rua Marechal Rondon.

Medalha Pizzaria

phone: +55 64 3636-2960

Rua Minas Gerais.

Ponto do Açaí

phone: +55 64 3631-7688

Avenida Rio Verde, nº 1806.

Restaurante Chapa Quente

phone: +55 64 3631-2402

Praça da Bandeira, nº 149.

Restaurante Nacional

phone: +55 64 3632-1705

Rua 11, nº 144, Vila Sofia.

Restaurante Panela Velha

phone: +55 64 3636-5943

Avenida Rio Claro, nº 762.
Drink
1º Andar, North side of Praça Lambari, Centro.
Aldeia Lounge, Rua Itarumã nº 1486 - Setor Oeste. The region's best dance club.
Alethéia Bar Cultural, Rua Santa Catarina, Centro

Bar do Osny

phone: +55 64 9988-9945

Rua Dom Pedro II, esquina com Rua Rui Barbosa.
Bar Tio Nana's, Rua Rio Verde.
Corum Club, Rua Marechal Rondon at Rua Tiradentes - Samuel Grahan.

Rodeio Choperia

phone: +55 64 3636-7466

Rua Rio Verde nº 2285 - Setor Oeste.
Sleep
phone: +55 64 3636-2424

phone: +55 64 3606-8800

Rua Sebastião Herculano de Souza nº 3433 - Jardim América.

phone: +55 64 3636-2100

Avenida Goiás nº 2696 - Centro.

phone: +55 64 3632-9300

Avenida Goiás nº 671 - Centro.

Itamaraty Hotel

phone: +55 64 3631-6470

Rua José Carvalho Bastos nº 100 - Centro.
Go next