Jaunpur
Jaunpur
is a city in the Purvanchal part of Eastern Uttar Pradesh. The city is part of world's most fertile plain.
Get in
When to visit: Between October and March
Clothes:
Summer - Cotton
Winter - Woollens
By train
Jaunpur is well-connected with all major cities of India thanks to Indian Railways. It has two major Railway Stations namely Jaunpur City Station (JOP) and Jaunpur Junction (JNU). Mughalsarai , Varanasi and Allahabad Railway Stations are also easily reachable. The Godaan express is a daily Train to Mumbai (erstwhile Bombay) from JNU; Shramjeevi, Sadhbhawana and Farakka Express are daily trains to Delhi.
By bus
Jaunpur is well connected to Lucknow, Varanasi, Allahabad and other cities like Azamgarh, Mirzapur, Bhadohi, Sultanpur, Ghazipur etc. NH-56, SH-36 are the roads connecting all major cities to Jaunpur. UPSTRC bus services are frequent from all the points to the city. There are luxury bus services from Lucknow and Varanasi at all hours.
By plane
Varanasi Airport
Lal Bahadur Shastri International Airport or Varanasi Airport (
VNS
) is just 30-minute drive from Jaunpur city on NH-56 (National Highway - 56), numerous domestic and international flights. Air India and Spice Jet have daily flights to Delhi and there are flights to Mumbai on Air India.

Get around

A cycle-rickshaw is the best thing to travel inside city but there is problem of traffic.

See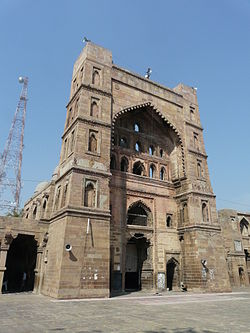 Atala mosque-The mosques display a unique architectural style, combining traditional Hindu and Muslim motifs with purely original elements
Jama Masjid (now known as the Bari (big mosque) Masjid)
Lal Darwaza Masjid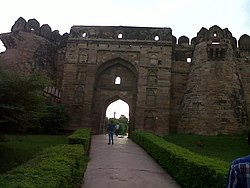 Sahi Fort-Sharqi monuments such as Sahgi fort is one of the marvels built during rule of Sharqi dyansty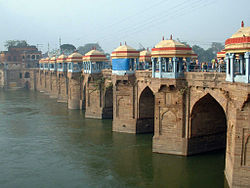 Sahi Pul-one of the finest example of the enginering in the medieval period of India.The old bridge over the Gomti River in Jaunpur dates from 1564, the era of the Mughal emperor Akbar.

Sheetla ChukiaTemple of Sheetla Devi

Trilochan Mahadeva-Temple of Lord Shiva in Trilochan Mahadeva at Trilochan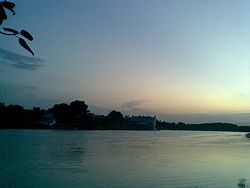 Banking Facilities
All the leading banks in India can be found and ATM are available in the city.

Buy
Perfumes made locally are exported the world over. They are called
"ITTAR" and are both nice and also cheap

Eat
There are various good restaurants such as Garden View, Kishan Coffee House, Varun restaurant,and Amapali.
Imartee/Imirtee -a sweet like Jalebi made from Urad lentil(especially that of Beniram's in the Olandganj area of the city)
Atom Bomb - a mouthwatering sweet from Sujanganj. It is made of dry fruits stuffed in Chhenna. For its big size (diameter =~ 3 Inches) and really good taste.
Dohara - one of the famous Paan-masala like foodstuffs, which is made using Supari (Beatle-nut), Kattha and Opium water.
Batti Chokha
Tikki-Chaat -the best taste of meshed tikia of potato can be found in this city.
Phulki(Pani Puri or batasa)
Papdi specially that of Jhagadu Halwai
Mithai's lot variety of sweets
Muli is special crop in Jaunpur
Makai Jaunpur is high level corn (makai) producing district in India. Rahul Kumar Dubey. Rajni Pur Singramau.
Drink
Thandai is cool milk based drink made with pistachios, almonds and kesar and topped off with a large dollop of malai (cream)
Satu is a drink made using Satu,onion slices, mint and many other ingredients.
Alcohol and beer is available at a few restaurants
Jal zeera or panna
Lassi is drink made by curd which is served in khulhad (glass made from
mud)
Sugarcane Juice can be available every corner of district season by seasons.
Sleep
There are various budget hotels in the city such as
Hotel Ambar Palace

Hotel Day Night
Hotel JP International At Oland Ganj.
Hotel River View
Hotel Varun
Pankaj sweet house polytechnic chauraha mirjapur road
Sahu Dharamsala
Connect
BSNL(cell one), Reliance,IDEA,Tata indicom,Vodafone,Virgin and Airtel are the most popular cell phone services in the region.
Internet is widely available. Price is usually ₹15-₹20/hour, however there are reports of as low as ₹10/hour.

Go next
Agra - city of the Taj Mahal can be easily reached by Marudhar express, a daily train from Jaunpur
Allahabad-pryag nagri and among the most dynamic cities of Eastern Uttar Pradesh. Has lots of items regarding Indian independence, sangam,and education.
Chunar Fort - ruins of battlements and ancient settlement 15 miles from Varanasi.
Lucknow-capital city of Uttar Pradesh is also not far from Jaunpur
Mirzapur-there are various water falls and beautiful scenery.
Ramnagar Fort - historical royal residence and museum across the Ganges
Sarnath - site of the Buddha's first sermon