Jazz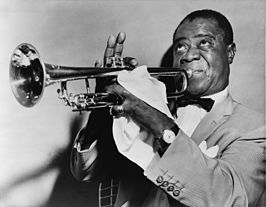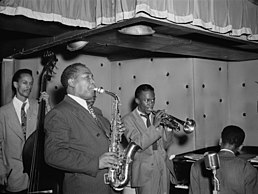 Jazz
is a music genre that includes improvisation, particularly in American music that has African-American and European roots. Over the years, it has gained influences from other cultural music styles, particularly the music of Latin America and classical music.
Understand
Improvisation separates jazz from some other genres of music. In most jazz tunes, a melody is played by a front-line musician before each musician takes an improvised solo. Improvisation involves a musician or singing or playing phrases, melodic patterns, riffs or rhythms based upon the melody or chords played at the beginning of the tune. A selected group of musicians improvises on a track before the melody is returned to.
History
Jazz music began in early 20th-century
Louisiana
with
New Orleans jazz
and
Dixieland jazz
, but new styles of jazz evolved over time. Jazz was initially a development from
ragtime
, a style of late 19th-century origins that took America by storm around the turn of the 20th century. A related African-American style, the
blues
, grew out of preexisting West African and African-American improvisatory storytelling and work song styles, starting probably after the Civil War in rural areas and small towns in the
South
and starting to gain wider notice in the first decades of the 20th century. While the influence of ragtime on jazz waned drastically over the years, the blues has remained a big part of jazz repertoire and vocabulary to the present day, at the same time that it also developed separately.
Buddy Bolden and Bunk Johnson were some of the original creators of the first branch of jazz, which is now known as "traditional jazz". Traditional jazz involves ensemble playing in which multiple musicians improvise at the same time. Jazz groups in traditional jazz usually included at least six musicians. New Orleans jazz prospered in and around
New Orleans
until the
Great Depression
, which forced many New Orleans jazz musicians out of work. New Orleans and Chicago, during the 1920s, became major jazz cities, with Louis Armstrong being one of the top traditional jazz trumpeters.
Another early jazz style, which grew almost directly out of ragtime, with its virtuosic right hand melodies and "oom-pah" chord patterns in the left hand, was
stride piano
. This style, somewhat influenced by that of the Creole ragtime/early jazz pianist from New Orleans, Jelly Roll Morton, was popular from the '20s to the '40s, particularly in
New York City
. Famous stride pianists included James P. Johnson, Willie "The Lion" Smith, Fats Waller, Erroll Garner and Earl Hines, and Art Tatum, arguably the greatest jazz pianist of all, took stride as his foundation and extended it wherever he wanted to go. As the Great Depression came to an end in the late 1930s,
swing
music played by big bands began to dominate not only the jazz scene in America, but also the music scene in general, with a style that was more arranged than heretofore traditional jazz. Famous big bandleaders such as Benny Goodman and Glenn Miller created record-selling recordings in the late 1930s and early 1940s.
While big bands were becoming popular, however, another style of jazz developed that changed the course of jazz permanently -
"modern jazz"
. The first major style of modern jazz was called
bebop
. One of bebop's founders, Charlie Parker, developed a complex improvisation style in the late 1930s in
Kansas City
and he joined the Jay McShann Band in the early 1940s. He then went to
New York City
and began recording with another bebop pioneer, Dizzy Gillespie. By late 1945, Gillespie's quintet included Parker and other upcoming bebop musicians. Charlie Parker left Gillespie's group in 1946 and created his own quintet in 1947. He had a couple years of successful bebop recordings, but by the 1950s, new musicians had become major figures on the modern jazz scene. It is hardly an exaggeration to say that bebop set the tone for just about all the new jazz styles that were developed since World War II, as they were either extensions of bebop ideas and material and/or reactions against bebop.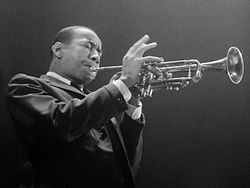 In the mid-1950s, Charlie Parker died, and modern jazz began to return to its African roots and began to be more influenced by blues music. By 1957, bebop drummer Art Blakey's jazz group, the Jazz Messengers, included saxophonist Benny Golson and trumpeter Lee Morgan. Morgan and Golson both had blues influences in their improvisation, and pianist Bobby's Timmons' Gospel-influenced style continued to push jazz in the
"soul jazz"
direction. Over the next few years, younger musicians like Dexter Gordon and Hank Mobley began to improvise with slower phrases and incorporate more blues into their styles. The growth of
rock and roll
and other music styles also influenced jazz at this time. Pianist and composer Herbie Hancock made many important soul jazz recordings during the early 1960s, and his music group at times included jazz trumpeter Freddie Hubbard and saxophonist Dexter Gordon.
The late 50s and early 60s also saw the rise of
cool jazz
, a more relaxed style than bebop and its hard-driving descendants. Quite a few musicians are associated with this style, but probably most of all, Miles Davis and his collaborators in the
Birth of the Cool
(1957) and
Kinda Blue
(1959) albums and the Dave Brubeck Quartet in albums such as
Time Out
(1959).
During the early 1960s,
free jazz
, which uses improvisation that is not based on standard chords or melodies, developed with Jimmy Giuffre's
Free Fall
and the recordings of Ornette Coleman and Don Cherry. Free jazz and
avant-garde jazz
became particularly popular in the late 1970s and 1980s with Bob Berg, Michael Brecker, and the
free improvisation
music in
Europe
during that time, but free jazz's influence with the public proved to not be as prominent as other types of modern jazz.
Another important development, particularly from the '40s onwards, was the increasing popularity of
Latin jazz
, with Afro-
Cuban
and other, similar Latin-American rhythms being integrated into a number of jazz styles. In
Brazil
,
bossa nova
was first developed in the late '50s by composers João Gilberto and Antônio Carlos Jobim as a sort of minimalist variety of samba combining spare acoustic guitar arrangements with an almost whispered singing style. But the massive success of the 1964 album
Getz/Gilberto
—saxophonist Stan Getz's incursion into the genre which featured the hit song "The Girl from
Ipanema
", sung by Gilberto's then-wife Astrud—veered bossa nova firmly into the orbit of jazz, setting the stage for its nearly decade-long period of worldwide popularity during which the careers of such additional greats as Sérgio Mendes, Nara Leão, Luiz Bonfá, and Walter Wanderley were launched. Other important Latin jazz performers include trumpeter Herb Alpert, who, along with his band the
Tijuana
Brass, fused swing and cool jazz with
Mexican
mariachi music for a string of hit albums in the 60s, and percussionist Tito Puente, whose mambo-inflected style is best exemplified by his 1958 album
Dance Mania
.
Although jazz albums were still able to have commercial success into the 60s, the popularity of jazz was increasingly eclipsed by that of rock 'n' roll/rhythm & blues in the 1950s and to a much greater extent by 1960s and '70s rock. Relatedly, the late 1960s saw the rise of a new style, jazz-rock
fusion
, which did indeed have a mass audience. Among the more famous exponents of fusion were the trumpeter, Miles Davis, previously known as a bebopper and then a leader of the cool jazz movement in the late '50s and early-to-mid '60s; Chick Corea; Herbie Hancock; Wayne Shorter and his band, Weather Report; Mahavishnu Orchestra; and Alan Holdsworth. Many listeners and musicians were captivated by the creativity of some of these artists and the literally groovy, virtuosic songs they wrote and performed, but there was also a backlash from a more purist faction of jazz musicians in the '70s who did not want to integrate rock elements into their work and were afraid fusion would take over from jazz completely. The result is that while fusion gradually morphed into radio-friendly
smooth jazz
, with artists such as Kenny G, Al Jarreau, and George Benson enjoying continued commercial success in the '80s and '90s, the more orthodox branch of jazz also survived as a niche genre, integrating some fusion elements but mostly going its own way.
The 1980s and subsequent decades have seen more of a blending of the various different strains of jazz — not only does no single aesthetic predominate within the modern-day scene, but individual musicians too have become adept at mastering a variety of jazz styles, sometimes even within the same performance. Furthermore, jazz has become a more and more important influence on other genres of music: not only rock and pop (chanteuses such as Diana Krall and Norah Jones have enjoyed massive crossover success in the 21st century, and Rod Stewart saw enormous success in the '00s revisiting old big-band standards in his
Great American Songbook
series of albums) but also hip-hop (the music of A Tribe Called Quest, Stetsasonic, and other artists of the early-'90s "Native Tongues" collective was largely built on samples of old jazz records, while Guru of the rap duo Gang Starr performed with greats such as Donald Byrd, Branford Marsalis, and David Sanborn in his
Jazzmatazz
side project), electronica (in the form of
acid jazz
which came roaring out of the
UK
in the '80s and '90s; the band Jamiroquai is the most famous exponent of the style), and even hardcore punk (Greg Ginn's innovative solos as lead guitarist for L.A.'s Black Flag, especially toward the latter part of the band's career, owe a huge stylistic debt to the free jazz of Ornette Coleman).
Destinations
United States
East Coast
Much of the Eastern United States' jazz scene can be covered in an itinerary called the
Jazz Track
.
South
Midwest
West Coast
Outside of the United States
As jazz expanded in its number of subgenres and jazz musicians began to tour the world, jazz became popular in
Europe
and some non-European countries, such as
Japan
. While jazz also gained some popularity in Germany, the Nazis - perhaps due to the music's association with African Americans, which the Nazis emphasized and bizarrely combined with their antisemitism - heavily cracked down on jazz and even after the war some "respectable bourgeois" Germans demeaned the music with words not fit for print which made it hard for the music to get a foothold. That said, Nazi records indicate that listening to jazz was one of the main reasons for Germans to engage in the capital crime of listening to foreign radio stations, though if it was "just" that, even the Gestapo would often let the "delinquent" off with a warning.
Similar things happened in the
Soviet Union
under Joseph Stalin. During some of his period as leader of the USSR, the Soviet Union treated jazz like the Nazi government did.
Europe
Asia
Africa
*
Venues
There are several notable jazz clubs around the world, but they are usually found in large metro areas where there are plenty of people who like jazz. These jazz clubs have become well-known, often due to their interesting history.
Famous jazz clubs in the United States
BirdlandThis jazz club is named after Charlie Parker, whose nickname was "Bird". The jazz club has over the years been at many different addresses: it began at 1678 Broadway, then went out of businesses for twenty years, and then returned to businesses for ten years on 2745 Broadway before finally moving to 315 W. 44th Street in the mid-1990s. George Shearing named a tune after Birdland called "Lullaby of Birdland", which is in the 6th Edition of the Real Book.

phone: +1 212 475-8592

address: 131 West 3rd St.

The Blue Note has a lineup of famous jazz and blues performers. Sometimes, they make sure patrons are quiet while the musicians play, but not always, as they do at Birdland and Village Vanguard.

phone: +1 212-258-9800

address: Frederick P. Rose Hall, 5th Floor, Broadway at 60th St

This organization was founded by the well-known jazz trumpeter and educator, Wynton Marsalis. Many famous jazz musicians perform solo or small combo sets at this venue and there is also a Jazz at Lincoln Center Orchestra, which is quite excellent.

Minton'sMinton's Playhouse was an important jazz club in modern jazz's early development and lasted until the 1970s before it closed for about thirty years. It was then revived for a while, closed again, and then opened for a third time in the 2010s. A tune called "Up at Minton's" is named after the jazz venue.

Village VanguardThis was originally not just a jazz club but increasingly became a jazz club in the 1950s and has existed almost continually since then. Many live recordings have been made at the Village Vanguard, and many of the great jazz musicians, including Miles Davis, Horace Silver, Thelonious Monk, Gerry Mulligan, the Modern Jazz Quartet, Jimmy Giuffre, Sonny Rollins, Anita O'Day, Charlie Mingus, Bill Evans, Stan Getz and Bill Charlap, have performed there.
Yoshi'sInterestingly, this is a combination of a restaurant and jazz club; it was started as a Japanese restaurant in Berkeley by Yoshie Akiba, a World War II war orphan, and her friends Kaz Kajimura and Hiroyuki Hori, the club soon moved to a larger space on Claremont Avenue in Oakland, California and began to feature live jazz music. It eventually gained a reputation as one of the most significant jazz venues on the West Coast. In May 1997, the club moved to Jack London Square during the revitalization of the Port of Oakland, as a 330-seat, 17,000-square-foot (1,600 square meters) jazz concert hall with an attached 220 seat Japanese restaurant, assisted by funding from the Oakland Development Agency.
address: 4802 N Broadway

Located in the Uptown neighborhood of Chicago, this live jazz music venue is known for being a favorite hangout spot for the famous Prohibition-era mobster Al Capone, with his booth still surviving and available to patrons on a first-come-first-serve basis.

address: 11 E Hubbard St

Located two miles west of Michigan Avenue, Chicago's main shopping street, this is one of the city's most respected jazz venues, regularly attracting world-class performers.
address: 726 St Peter St.

No-nonsense live jazz venue in the French Quarter with its own in-house band, dedicated to preserving the traditional New Orleans style of jazz. No bars, public toilets or microphones inside, just a couple of benches, some floor cushions, standing room and world-class jazz musicians, though you may bring your own drinks to the performance. The Preservation Hall Jazz Band also goes on tour to other cities around the world; check to see if they are coming to a venue near you. You can either line up outside before each performance for general admission, or reserve better seats in advance for a higher price. Young children are welcome as long as they do not disrupt the performance.

address: 623 Frenchmen St.

Small, cash-only jazz bar in Faubourg Marigny that is a favorite hangout spot for locals, with reasonably-priced drinks. Considered by many to be the quintessential jazz bar of New Orleans, and frequently hosts the best of New Orleans' local jazz bands.
phone: +1 321 783-4559

address: 7 N Orlando Ave, Cocoa Beach, Florida

Restaurant and jazz club combined; the restaurant serves Central and Eastern European cuisine, and includes a lot of meat. There are jam sessions regularly.
Events
Jazz concerts
There are many jazz concerts all around the world. Jazz concerts are often either part of a concert series dedicated to jazz concerts or are part of a concert series featuring multiple music genres, although sometimes there are single events. Many libraries occasionally host jazz concerts, but jazz concerts are also an occurrence in concert halls, whether these concert halls are at a 300-seat theater or 100-person capacity concert hall that is owned by a store or other business.
Jazz festivals
There are several well-known annual jazz festivals around the United States and other parts of the world. This does not by any means cover every single jazz festival in the United States, let alone the world, because so many cities and towns have jazz festivals. However, this includes the best-known American jazz festivals and some others scattered around the United States and a few in other parts of the world.
United States
Canada
Montreal International Jazz FestivalIf you're looking for jazz festivals, they don't get any bigger than this: this is the largest jazz festival in the world. This jazz festival has featured Keith Jarrett, Pat Metheny, Ray Charles, and Chick Corea.

address: Cumberland Street

This jazz festival has jazz events in multiple venues that are near Cumberland Street in Toronto.
Europe
Festival in about 15 venues in Aberdeen, Stonehaven and Portsoy.

Edinburgh Jazz & Blues Festival

Festival of about 150 concerts in 11 venues.
This is the second-largest jazz festival; the Montreal Jazz Festival is even larger. However, the list of performers at the Montreux Jazz Festival is impressive: Stan Getz, Joe Henderson, Herbie Hancock, Charles Mingus, Dizzy Gillespie, Sonny Rollins, Oscar Peterson, Count Basie, and Ray Charles have all performed there.
This jazz festival has existed since 1948, making it the earliest major jazz festival. Ella Fitzgerald, Dizzy Gillespie, and Miles Davis have performed at this jazz festival.
See
There are many sights, including statues of jazz musicians and museums dedicated to information about the lives of jazz musicians. Here are a few examples:
Colored Musicians' Club Museum

phone: +1 716 855-9383

Located on the city's East Side, the historic Colored Musicians' Club is easily the most storied jazz club in Buffalo. Founded in 1918 as the social club of the all-black, segregated American Federation of Musicians Local 533, the second-floor performance space quickly became the place to see informal jam sessions and rehearsals by members of Buffalo-area jazz bands. Soon enough, the Colored Musicians' Club was a venue in its own right, playing host to world-famous luminaries like Count Basie, Duke Ellington, Ella Fitzgerald, Lena Horne, Dizzy Gillespie, Billie Holiday, Lionel Hampton, and more. The club continues to host live music (show up for big-band concerts on Monday, Tuesday, and Thursday nights or the legendary Sunday-night open jam session), but the attached museum contains a range of artifacts and exhibits that detail the history of the club and of jazz music in Buffalo.

phone: +1 415 673-7144

Named after the famous jazz saxophonist John Coltrane.
Learn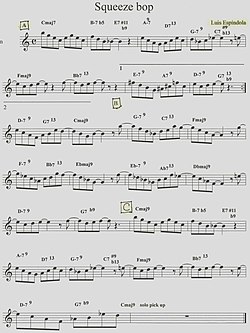 Universities
Over the years, and particularly since the 1970s,
universities
and conservatories finally began to recognize jazz as an appropriate subject for academic study. This had a number of profound effects: one, the ethnic makeup of jazz musicians, especially in the U.S., gradually shifted from majority-black to majority-white, and two, the structure of jazz music, particularly that performed in areas near universities, became more like classical music, rigidly formalized rather than improvised "from the soul". As a result, the production of sheet music for jazz tunes or as part of jazz arrangements became more common (see below). While this has helped open jazz performance up to a wider range of people, many fans complain that modern-day jazz sounds more homogenized and formulaic than before, and the quality of improvisation has gone down.
If your goal is to learn to play jazz yourself, the universities listed below will teach you music theory and give you ways to improvise. But the basis for improvisation is the music you hear, so if you want to
really
know what you're doing, you will need to listen to jazz outside the college classes.
Buy
CDs
If you're interested in expanding your CD collection, a good place to go is a jazz concert or other event where there is a jazz musician or group of jazz musicians performing. A stack of CDs is one of the items many jazz musicians take to every event at which they perform - they will take the big stack and put it on a table near the place where they are performing if they are playing background music at a restaurant or bar, and they will quite possibly bring stacks of CDs to their concerts.
At some point during a jazz event, the leading jazz musician at the event will ask you to check out their CD collection and buy one of their CDs, usually for quite a high price. These CDs will usually include a lot of the musician's own compositions so they do not need to pay publishing companies for rights to songs composed by other individuals. Also, the typical jazz musician's CD will include at least one 12-bar blues and a few relaxing music pieces or perhaps a few tunes with modern music rhythms and instruments.

Fakebooks

Fakebooks are collections of sheet music of popular jazz compositions (called "lead sheets"), including chords so you can improvise along. The first fakebook was published in the early 1970s at Boston's Berklee College of Music under the title of "The Real Book", and the aforementioned academicization of jazz starting in the '80s have led to more and more of them being published. They're widely available at music stores and bookstores and can be an excellent way to learn to play many standard jazz tunes, either on your own or with a band, but keep in mind that many are illegally produced and copyrights have not been paid. (For example, the first five editions of the Real Book were illegal bootlegs, though the version sold nowadays isn't.)

Play-a-longs

Basically miniature fakebooks (usually including about 8-15 lead sheets) plus a CD with accompaniment that you can play along with as if it were a real band. Play-a-long books can be purchased on the internet.

See also