Jefferson City
Jefferson City
is the capital city of
Missouri
, one of the
United States of America
.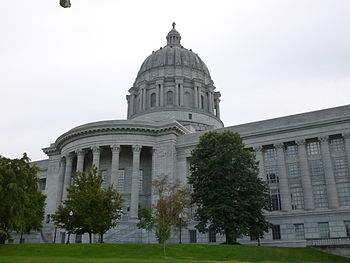 Understand
Jefferson City is named for the third President of the United States, Thomas Jefferson. Jefferson was the President responsible for the Louisiana Purchase. Some of the land from that purchase eventually became the State of Missouri. In 2013, Jefferson City was named America's "Most Beautiful" Small Town by Rand McNally.

Get in
By car
Jefferson is centrally located in the State of Missouri about half-way between St. Louis and Kansas City along the Missouri River.  There are three major highways that run directly through the city: US 50, 54, and 63.
By plane
Jefferson City Memorial Airport
, located just across the Missouri River, only serves general aviation.
The closest airport with commercial service is
Columbia Regional Airport
, from which US Highway 63 goes straight to Jefferson City.
American Airlines
is the only carrier at the airport, with daily non-stop flights between Columbia and Chicago (ORD) or Dallas (DFW).
The closest full-scale commercial airport is
Lambert St. Louis International Airport
, about two hours away.  It is very easy to get from the St. Louis airport to Jefferson City.  Take I-70 west out of St. Louis for about an hour and a half.  At this point take US Highway 54 south for about 30 minutes until you reach Jefferson City.
A little further is the
Kansas City International Airport
, about three hours away.
By train
The Amtrak Station is located in the heart of Downtown Jefferson City at 101 Jefferson Street. At the midpoint of the Kansas City to St. Louis route, the
Missouri River Runner
, there are two departures each direction every day. While a ticket is not needed to board the train, a reservation is. Annual Station Ridership exceeded 50,000 in 2013.
Call 800-USA-Rail or visit
Amtrak
for reservations and schedule information.
Get around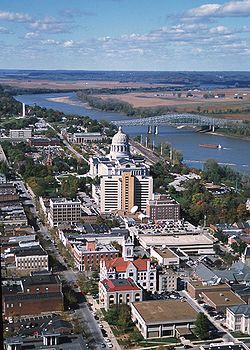 Most of the attractions are located in the heart of Downtown Jefferson City within walking distance of each other.
There is also an extensive greenway with 7.4 miles of paved trails . This is a multi-use greenway and is perfect for walking, running, biking or skating. The greenway now connects via the Missouri River Bike & Pedestrian Bridge to the Katy Trial, one of the national's longest trail projects (238 miles).
See
Museums
phone: +1 573 751-4127

address: 201 W. Capitol Ave

Tours are given for free every hour from 9AM to 4PM. The Missouri State Museum is on the first floor of the Missouri State Capitol Building and managed by the Missouri Department of Natural Resources.Today, the museum continues to showcase Missouri's diverse history and resources. The museum houses both temporary and long-term exhibits, such as exhibits for the 150th anniversary of the Civil War.

Missouri Veterinary Medical Foundation Museum

phone: +1 573 636-8737

address: 2500 Country Club Dr

No visit to Jefferson City is complete without a visit to this museum. Veterinary artifacts and instruments, many over 100 years old are on display. Instruments and equipment used in small and large animal surgery, old diaries and sample drug cases are a part of the display. The Museum is open M-F 9AM to 4PM, Saturday, by appointment.

Jefferson Landing State Historic Site

phone: +1 573 751-2854

Jefferson St & Capital Ave. Tu–Sa, 10AM–4PM, closed December. The area at the base of Jefferson Street, known as Jefferson's Landing, was the site of the original river landing and the first area settled in the city. It is significant as a rare surviving Missouri River landing place. The structures in this historic site date back to 1839 making it the oldest riverfront landing on the Missouri River. As this site was later served by the railroad, several of Jefferson City's largest businesses grew here.

phone: +1 573-635-1850

address: 109 Madison St

You can encounter the roots of Missouri government and discover the charm and culture of the early political society at the Cole County Historical Society Museum. The building stands as a historical site, built by Governor B. Gratz Brown in 1871, and today it draws visitors as a tourist attraction. The museum has a collection of artifacts, antiques and historical documents. Notably, it is the only county museum in the country to own and display inaugural gowns of its state's First Ladies.

Missouri State Highway Patrol Safety Education Center

phone: +1 573 526-6149

address: 1510 East Elm St

The center was opened to the public in April 1982. Nowhere in Missouri is there such a comprehensive display of information concerning traffic safety, law enforcement, drug abuse and many items relating to the history of the Missouri Highway Patrol.

Museum of Missouri Military History

phone: +1 573 638-9603

address: 2007 Retention Dr

This museum is operated by the Missouri National Guard and is free of charge. It features displays about Missouri's involvement in every major military conflict since the Mexican War in 1846.
Outdoor and Landmarks
Missouri State Capitol Building

phone: +1 573 751-2854

address: 201 W. Capitol Ave

Recently the capitol building was rated as being the fifth most beautiful on the outside and first most beautiful on the inside of all 50 United States capitals by USAToday. Completed in 1917, the Capitol covers three acres in downtown Jefferson City. The Capitol tour will provide you with an excellent education on the State of Missouri and the structure that represents its home. Free tours are provided. M-F 9AM-4PM; no tours are offered during the lunch hour. Sa-Su, tours start at 11AM and 2PM. Online reservations are encouraged, walk-ins may have to wait to next tour.

Missouri State Supreme Court Building

phone: +1 573 751-4144

address: 207 West High St

The Supreme Court Building in Jefferson City became a permanent home for the Court at its completion in 1907 using funds from the 1904 Worlds Fair in St. Louis. Look for the glass floors in the library. Because the building did not have lights when it was built, the glass floors allowed light from the windows to filter down to the main floor. Tours of the Supreme Court are given M-F call ahead for times.

phone: +1 573 526-5544

address: 330 Commerce Dr

Enjoy the natural wonders of Missouri and the fish, forests and wildlife found here by strolling through exhibits or hiking nature center trails. Inside the center you will find an indoor wildlife viewing area, a nature library, and a small gift shop. Venture outside to explore over two miles of hiking trails. The Naturescape Trail is accessible to people with disabilities. Self-guided tours are always available; advance notice is required for naturalist-led programs. Free admission.

phone: +1 573 751-4141

address: 100 Madison St

The State's first family invites you to tour their home to see its beautiful architecture and period furniture. Public tours of the first floor are conducted each Tuesday and Thursday from 10AM until 12PM and again at 1PM until 3PM, except during August and December. In December, Candlelight Tours are held on two evenings during the holiday season. Free Admission. Reservations required 24 hours in advance.

Carnahan Memorial Garden

phone: +1 573 751-3249

address: 100 Madison St

The garden behind the Governor's Mansion started in the late 1930s as a WPA (Works Progress Administration) project. The WPA was created in 1938 by Franklin D. Roosevelt to employ the thousands of craftsmen and the laborers out of work during the great Depression. The Governor's Garden was renamed in 2001 as the Carnahan Memorial Garden after the death of Governor Mel Carnahan. A beautiful site for relaxing and enjoying the beauty and smell of blooming flowers. Many use the Garden as a location for weddings. To reserve the Carnahan Memorial Garden, please call +1 573 751-3249.

Lincoln University

phone: +1 573 681-5599

address: 820 Chestnut St

Jefferson City's prized institution of higher education is the internationally recognized Lincoln University. The University was formed at the end of the Civil War by officers and soldiers of the 62nd and 65th U.S. Colored Infantry Regiments (these units were mostly comprised of Missourians).

Soldier's Memorial Plaza

phone: +1 573 681-5599

address: 820 Chestnut St

A memorial to the soldiers of the 62nd and 65th Colored Infantries, who served in the U.S. Civil War, and went on to found Lincoln University.

address: 1024 East McCarty St

Burials in Jefferson City National Cemetery date to summer 1861; its original purpose was for the burial of Civil War soldiers from the surrounding area. The site of the cemetery, which local residents Israel and Mary Read sold to the government, was surveyed for classification as a national cemetery during the war. However, its official designation did not occur until 1867, after the war and approximately 350 interments were completed. Jefferson City National Cemetery was listed on the National Register of Historic Places on Oct. 1, 1998.

Louis and Clark Trail Head PlazaA Lewis and Clark monument next to the Missouri State Capitol in Jefferson City, officially called the Lewis and Clark Monument Trailhead Plaza, is now completed. The site recognizes again the city's connection to Lewis and Clark. The monument is near the corner of Jefferson Street and Capitol Avenue on the Capitol grounds overlooking the Jefferson Landing Historic Site and the Missouri River. This trailhead and monument connects the Katy Trail to the Capitol and the greenway trail network now that the Missouri River Pedestrian Bridge has been completed.

Missouri State PenitentiaryThe longest operating prison west of the Mississippi, the MSP closed its doors in 2004. In 1954, overcrowding, the increasing violence of inmates and aging nature of the penitentiary climaxed into a three day riot. The national Guard was called in to suppress the rioting. When it was all over, four inmates were killed and millions of dollars of damage had been done. In 1963-64, there were 550 serious assaults inside the Missouri State Penitentiary, including hundreds of stabbings, which is why TIME magazine called it the "bloodiest 47 acres in America". A few of the more famous prisoners include: Sonny Liston, James Earl Ray, and "Pretty Boy" Floyd. Decommissioned in 2004, the prison complex is now scheduled for large-scale redevelopment.
Do
Parks
Binder Park

phone: +1 573 634-6482

address: 5840 Rainbow Dr

Binder Park adjoins Joseph C. Miller Park. The main feature of the park is a 150-acre lake which offers excellent fishing for bass, catfish, bluegill and other species. Binder Park is also home to Jefferson City's only disc golf course. The 18 hole course runs through the woods with some open fairways. Binder Park also has a mountain bike trail on its terrain. As the Binder Lake trail system winds across the landscape, it provides something for all users.

Katy Trail State ParkThe Katy Trail is a 225 mile (365 km) bike path stretching across most of the state of Missouri. Over half of it follows Lewis and Clark's path up the Missouri River, where you can ride beneath towering river bluffs while eagles circle overhead. After leaving the river, the trail meanders through peaceful farmland and small-town Americana. America's longest "rails-to-trail" project, formerly the MKT rail line, is flat and scenic. It's ideal for hiking, running, or cycling on just about any kind of bike.

Cole County Park

phone: +1 573 636-3614

address: Country Club Drive

Cole County Park is located near the fairgrounds off Country Club Drive. An attractive 8-acre lake in the park provides opportunities for fishing and picnicking. A general purpose field and a soccer field have been developed at the park.

Ellis Porter/Riverside Park

phone: +1 573 634-6482

address: Grant Street

Located at the north end of Grant Street on a beautiful bluff overlooking the Missouri River.

Joseph C. Miller Park

phone: +1 573 634-6482

address: Highway 50 West

Joseph C. Miller Park is on Highway 50 West, approximately two miles west of Capital Mall.

McClung Park

phone: +1 573 634-6482

address: 930 McClung Park Dr

On Chestnut Street near Lincoln University's Dwight T. Reed Stadium. Contains facilities for large crowds with a covered picnic shelter, and a general purpose air-conditioned building.

phone: +1 573 634-6482

address: 1700 Southridge Dr

5AM-11PM. This park also provides picnic shelters and tables, hiking and fitness trails, basketball courts and a playground. Located off Southwest Boulevard on Sunset Lake Road

Memorial Park and Family Aquatic Center

phone: +1 573 634-6482

address: 111 Memorial Park Dr

Located at 120 Binder Dr., it has an aquatic center, picnic shelter, playground, picnic tables and barbecue pits.

Washington Park

phone: +1 573 634-6482

address: 900 E. Miller Street

Has a multipurpose court with basketball goals, fitness trail, playground equipment, horseshoe pits, picnic tables with grills. No reservations needed.
Breweries
phone: +1 573 635-0678

address: 305 Ash Street

Prison Brews is a unique brewpub located in the historic east side of Jefferson City two blocks from the old Missouri State Penitentiary. They describe themselves as having a diverse food menu and large selection of handcrafted ales. The large outdoor patio and bocce courts provide a great way to enjoy a beautiful Missouri day.
Wineries
phone: +1 573 584-8600

address: 4317 Native Stone Rd

Located atop the bluffs of the Missouri River, Native Stone is a 300 acre estate owned and operated by Cara and Larry Stauffer. The estate has been farmed by the Stauffer family since the 1960s and is named for the national award-winning play "Native Stone" written by Jim Steerman, and based on lives of the Stauffer family's ancestors. For current hours of operation please call.

phone: +1 573 893-9966

address: 1707 South Summit Dr

Opened in February 2002, Summit Lake Winery sits high on the blufftop overlooking Highway 54, the Missouri River, and Jefferson City. They offer distinctive Midwest wines and a creative bistro menu. Also with year round wine tasting, they also have facilities to accommodate rehearsal dinners, receptions, large or small parties, conferences and banquets.
Arts
phone: +1 573 632-2675

address: 126 East High Street

Single-screen cinema, run by a nonprofit, community-based, member-supported movie theater that specializes in independent, foreign and documentary films.

phone: +1 573 644-9989

address: 219 East High Street

B.Y.O.B. art and social studio. You are welcome to bring your favorite bottle of wine or any other beverage of your choice and snacks to enjoy during the class. They supply the brushes, the paint, and the space, and one of their professional artist assists you and the class in making a painting you can take home.
Events
OktoberfestThe last weekend in September, the Old Munichberg Associations puts on the Oktoberfest. Located at Jefferson Street and Dunklin Street in historic Old Munichburg, Oktoberfest is a celebration of Jefferson City's strong German heritage. It includes authentic homemade German food, music and dancing. A parade, car show, craft vendors and demonstrating artisans offer a day full of family activities. Some of the highlights include the Dachsund Derby and the Children's Train. A beer garden with live music serves as entertainment for the adults.

Salute to AmericaOne of the largest 4th of July celebrations in the state! Activities begin on July 3, with a parade and live music on the Capitol Main Stage. Activities take place throughout July 4, and wrap up with more live music and a fireworks show. With a full festival schedule, there will be plenty of fun-filled activities to entertain people of all ages. Whether it's dancing to the sound of great music, enjoying some tasty cuisine or diving into the historic tradition of the Fourth of July, Jefferson City provides the experience through Salute to America.

Missouri River Wine TrailA leisurely, self-paced tour of the 4 wineries of the Missouri River Wine Trail (Les Bourgeois, Native Stone, Summit Lake – Hartsburg, and Summit Lake - Holts Summit). Each stop will present a wine and food pairing. Start at any location; see all 4 locations in 1 day, or take the whole weekend!
Golf
Eagle Knoll

address: 5757 East Eagle Knoll Dr

Hartsburg.

Oak Hills Golf Center/Hough Park

phone: +1 573 634-6532

address: 932 Ellis Blvd

Railwood Golf Course

phone: +1 573 896-GOLF

address: 12925 County Rd

Holts, Summit.

Redfield Golf Course

phone: +1 573 498-0110

address: 14005 Redfield Dr

Turkey Creek Golf Center

phone: +1 573 636-7833

address: 1616 Oil Well Rd
Buy
phone: +1 573 893-5323

address: West Truman Blvd

This mall features three major department stores (Dillard's, Sears and JC Penney), a variety of shops and restaurants, on US 50 at West Truman Blvd. Stores include American Eagle, Victoria's Secret, Buckle,and Bath and Body Works. This mall has seen better days.

phone: +1 573-291-3524

address: 100 East High St.

High Street has been the heart of Jefferson City for more than 150 years. Downtown stores are mixed with more than twenty eateries and include American Shoe, Carrie's Hallmark Shop, Copper Tree Exchange, Downtown Book & Toy, Fine Mess Boutique, High Handsome Men's Exchange, Southbank Gift Company, Samuel's Tuxedos, Saffees Ladies Apparel, Snob Shop Exchange, Tolson Drug and River City Florist & The XChange Boutique.

East SideSpread throughout this mostly residential area you'll find a number of quaint little shops selling everything from clocks to antiques to ceramic zebras.

Old Munichburg

phone: +1 573 634-8198

address: 308 West Dunklin

Located along the south side of Hwy 50, this German influenced neighborhood has seen a resurgence in the past few years with a number of stores, restaurants and festivals. Some stores in this area of Jefferson City are Schaefer House, Kas A Design, Riversong Day Spa, J & D Bike Shop and Busch's Florist.

West SideAmbitious shoppers will enjoy the opportunities on the west side of town. Shopping centers, department stores, and over 30 restaurants are concentrated along Missouri Boulevard and adjacent streets. Best Buy, Staples, Kohl's, and The Marketplace are located on the west side of Jefferson City.

Wildwood Crossings

address: 3535 Missouri Blvd

Jefferson City's most recent shopping development has the stores that you know and love including Old Navy, Barnes and Noble, T.J. Maxx, Petco, Pier 1 and Shoe Carnival.
Eat
phone: +1 573 635-9225

address: 117 W High St

phone: +1 573 634-RIBS

address: 2336 Missouri Blvd

Bingham's

phone: +1 573 635-5388

address: 1510 Jefferson St

Bones Restaurant and Lounge

phone: +1 573 636-8955

address: 210 Commercial Ave.

Capitol City CORK & Provisions

phone: +1 573 632-2675

address: 124 East High St.

Serves a seasonal and changing menu and sources food locally when available.

phone: +1 573 635-6148

address: 610 Madison St

For a refreshing break anytime, stop in at Central Dairy for legendary ice cream treats. The dairy is an excellent stop any time of year and is known as a longtime favorite of locals and many throughout the Midwest.

Das Stein Haus

phone: +1 573 634-3869

address: 1436 Southridge Dr

Downtown Diner

phone: +1 573 415-2480

address: 127 East High St.

Jimmy Johns

phone: +1 573 681-3278

address: 128 East High St.

Hunan Restaurant

phone: +1 573 634-5253

address: 1416 Missouri Blvd

Kate & Ally's New York Pizzeria

phone: +1 573 893-8855

address: 1418 Missouri Blvd

Love Sushi

phone: +1 573 634-0095

address: 2201 Missouri Blvd

address: 3505 Missouri Blvd

Good BBQ food, the store used to be a smoker on the street, now it's part of a gas station. They had many trophies around, including at least one from the American Royal.

phone: +1 573 634-2988

address: 216 Madison St

Northern Italian, American and eclectic fare at its finest; a Jefferson City tradition since 1982. Casual, relaxed, yet elegant dining.

phone: +1 573 893-4242

address: 2421 W Edgewood Dr

phone: +1 573 635-0678

address: 305 Ash St

phone: +1 573 635-9010

address: 200 Madison St

Great food with great prices and a selection of espresso beverages.

Sawaddee Thai Kitchen

phone: +1 573 893-7600

address: 103 E High St

phone: +1 573 632-9700

address: 232 E High St

Three floors with a sports bar on the main level, the upper level is a loft that can be reserved for private parties and the lower level being the game area having amenities including pool tables, foosball and darts. The main and lower levels have a full bar offering great selection and service.

phone: +1 573 632-9700

address: 107 E High St

They profess to serve "exceptional cuisine in a relaxed environment". They have an extensive wine, beer and liquor selection, and their menu changes with the seasons.

phone: +1 573 635-0712

address: 306 E High St

Trappers Too provides quick breakfast and lunch downtown, as well as Trappical drinks after work.

Yanis Coffee Zone

phone: +1 573 761-4277

address: 130 E High St

Home of Rocket Fuel. The capital's best and only Middle Eastern cuisine.

phone: +1 573 644-7581

address: 122 E High St

A mom 'n' pop self-serve frozen yogurt store.
Drink
Bones Restaurant and Lounge

phone: +1 573 636-8955

address: 210 Commercial St

Gumbo Bottoms Ale House

phone: +1 573 619-7703

address: 221 Madison St

phone: +1 573 761-5900

address: 700 W Main St

Extremely good food, GREAT Guinness, Irish music. Best Irish pub in the region.

phone: +1 573-893-2800

address: 915 E High St

Terrific bar with great entertainment!
Sleep
Downtown
Baymont Suites

phone: +1 573 636-5231

address: 319 West Miller St

Capitol Plaza Hotel & Convention Center

phone: +1 573 635-1234

address: 415 West McCarty St

Doubletree Hotel Jefferson City

phone: +1 573 636-5101

address: 422 Monroe St
Other
Best Western Capital Inn

phone: +1 573 635-4175

address: 1937 Christy Dr

Budget Inn

phone: +1 573 636-6167

address: 1309 Jefferson St

Candlewood Suites

phone: +1 573 634-8822

address: 3514 Amazonas Dr

Days Inn

phone: +1 573 761-3600

address: 2100 Jefferson St

Econo Lodge

phone: +1 573 636-2797

address: 1926 Jefferson St

Fairfield Inn

phone: +1 573 761-0400

address: 3621 West Truman Blvd

Holiday Inn Express

phone: +1 573 634-4040

address: 1716 Jefferson St

Motel 6

phone: +1 573 634-4220

address: 1624 Jefferson St

Super 8 Motel

phone: +1 573 636-5456

address: 1710 Jefferson St

Truman Hotel & Conference Center

phone: +1 573 635-7171

address: 1510 Jefferson Street Jefferson