Jeffersonville (Indiana)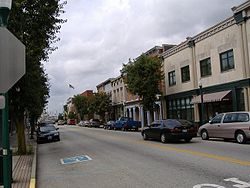 Jeffersonville
, often called "Jeff" by locals, is the county seat of Clark County in
Southern Indiana
, located on the opposite side of the Ohio River from
Louisville
,
Kentucky
and connected to Louisville by the Kennedy, Lincoln, and Lewis and Clark Bridges. It has a population of 30,000, but current annexation plans could increase it's population to about 45,000.
Get in
Interstate 65, which crosses the river on the John F. Kennedy and Abraham Lincoln Bridges (respectively carrying southbound and northbound traffic), connects Jeffersonville with
Louisville
and other points between
Chicago
and
Mobile
, AL. Indiana 265, soon to be redesignated as Interstate 265 with the recent opening of the Lewis and Clark Bridge to
Kentucky
, offers a bypass around the northern end of the city. Note that the 65 and 265 crossings are tolled, with all-electronic tolling (no toll booths). The lowest toll rates are available only to drivers with transponders issued either by the local tolling authority or the multi-state E-ZPass consortium.
Small aircraft can fly into Clark County Airport, five miles north in Sellersburg. Passenger jet service is available at Louisville International Airport, eight miles south off of I-65 and I-264.
Amtrak discontinued service to Jeffersonville and Louisville in 2003.
Get around
The main road through Jeffersonville is 10th St. (formally IN 62). Riverside Dr. and Utica Pk. carry traffic along the Ohio River. Hamburg Pk. runs north-south along the western side of the city. Veterans Pkwy. connects the north side of Jeffersonville with the retail district of
Clarksville
. Holmans Ln. connects Veterans Pkwy with 10th St. on the east side, where at that point Allison Ln connects 10th with Utica Pk..
See
Hidden Hill Nursery & Sculpture Garden

phone: +1 812 280-0347

address: 1011 Utica-Charlestown Rd, Utica

Eight acres of hundreds of rare and unusual trees, shrubs and flowers for sale. A mix of interesting garden art and child pleasing whimsy.

phone: +1 812 283-3728

address: 1101 East Market St

A 22-room, late Victorian mansion features stained and leaded glass windows, intricate hand carved and original furnishings. Artifacts & models of famous boats built in the Howard Shipyards are exhibited.

address: 723 Spring St
Do
address: 304 Mulberry Street

The area around the Big Four Bridge was transformed into one of Jeffersonville Premier parks that is a destination for many people from all over the community and host to special events.

address: 926 French St

A small community park at the site of a former elementary school. Mainly of interest to parents of children with disabilities because of "Lydia's World", a playground featuring disability-friendly equipment.

address: IN 62 East, Charlestown

Hiking trails and camping at the old army ammunition plant.

address: 12510 Covered Bridge Rd, Sellersburg

Fuzzy Zoeller designed 18 hole course with driving range. Annually hosts Wolf Challenge featuring pro and celebrity golfers.

address: 1217 Deam Lake Rd, Borden

194 acre lake and forest with fishing, boating, swimming, camping and hiking.

address: Utica-Sellersburg Rd., Sellersburg

27 holes of golf. An 18 hole championship course and a 9 hole executive course (called The Turning Point).

phone: +1 812 218-1565

address: 501 W. Riverside Dr

River cruises year round offering climate controlled decks with dance floors on each deck, dinner and a variety of other events.
Twilight Golf Course, IN 62 east of IN 265. Nine hole par 3 golf course.
Buy
phone: +1 812 283-8367

address: 347 Spring St

Famous for in cinnamon red-hots. Features a soda fountain, the original tin ceiling, antique, antique memorabilia and tasty candies.
Eat
A Nice Restaurant

address: 2784 Meijer Dr

Specializes in breakfast and lunch. The fare is down-home and simple, at a price you can afford.

address: 700 W. Riverside Dr

Pizza, pasta, Italian sandwiches.

phone: +1 812 284-2919

address: 707 W. Riverside Dr

Mountain lodge atmosphere and American-style fare make this a popular destination. Large menu features meat loaf, pot pies, steak, ribs, and lighter fare for warm weather dining.

address: 1207 E Market Street

This steakhouse serves Certified Angus Beef, hand-cut in their kitchen and aged to perfection from 21 to 28 days. All of their dishes are made from scratch from dressings to dessert.

phone: +1 812 590 3362

address: 100 W Riverside Drive

Upbeat restaurant & sports bar with a chicken-focused menu, including wings, tenders & sandwiches. Overlooking the riverfront.

phone: +1 812 285-1777

address: 415 Spring St

This neighborhood saloon houses a family Italian spot that wouldn't be out of place in Brooklyn.

address: I-65 & IN 311, Sellersburg

Down home cooking with a country store for shopping.
Golden Blossom Buffet, Tenth St. & Jefferson Center Way.

address: 700 W. Riverside Dr

Hooters may draw crowds with its long-standing reputation as a party scene, but you'll stay for the food, an appetizing selection of soups, salads, seafood and more. They are well-known for their chicken wings.

Indi's

phone: +1 812 288 8980

address: 2978 E. Tenth St

Local fried chicken fast food chain.

phone: +1 812 284-3474

address: 601 W. Riverside Dr

Fried fish in a family dining setting overlooking the Ohio River and downtown Louisville make this a popular seafood restaurant.

phone: +1 812 280-8500

address: 301 Indiana Ave

Kobe has an exceptional sushi bar, with skilled and friendly chefs who can be relied on to fashion fresh and tasty bites that are just about certain to please.

Lighthouse Restaurant & Lounge

phone: +1 812 283-0077

address: 202 Main St

The lighthouse has been a beacon of casual, home cooking and tavern environment. Daily specials, appetizers, chicken and fish baskets, salads and desserts round out the meun.

Mai's Thai Restaurant

address: 1411 E. 10th St

With a broad range of well prepared and authentic Thai dishes, Mai's is the eatery to beat among the Louisville area Thai restaurants.

Neil & Patty's Fireside Bar & Grill

address: 7611 IN 311, Sellersburg

Best known for the specialty seasoned fried chicken, Neil's also makes excellent pastas, steaks, seafood and salads. Homemade soups are created daily and coffee and desserts are always fresh.

19th Green Pub & Grill

address: 1740 Williamsburg Dr

phone: +1 812 914-7400

address: 131 W Chestnut Street

Pizza Restaurant

Pizza King

address: 1066 Kehoe Ln

The pizza is baked in a sturdy, clay stone oven and hand-tossed with thinner crust where the ingredients go all the way to the edge.

Puerto Vallarta Mexican Restaurant

address: 125 Quartermaster Ct

Very good Mexican restaurant. Delicious tacos.

address: 253 Spring Street

Louisville's premier authentic, Mexican cuisine.

phone: +1 812 288-5788

address: 256 Spring Street

Narrow, brick-lined hangout featuring classic pub fare & craft beer on tap, including house brews.

address: E. Tenth St. & Meijer Dr

"The Weed" dominates the local Tex-Mex scene with colossal margaritas, gigantic burritos and spicy chili con queso. These days, diners are more likely to dig into a grilled steak and a baked potato. Offers a Southwest focus, large and varied menu and added wine list.

phone: +1 812 218-9882

address: 2781 Jefferson Centre Way

Breakfast and brunch.
Drink
Alcohol
Bob's Pub

phone: +1 812 283-8919

address: 1005 W. Market

Jessi's Bar & Grill

address: 255 Market St, Charlestown

Mick's Lounge

phone: +1 812 283-8096

address: 1448 Gateway Plaza

Sids Pub

address: 935 S. Indiana Ave, Sellersburg

Third Base Tavern

address: 134 Spring St
Coffee & Tea
Dbl Shotz

address: 1315 Spring St

Perfektion, Inc.

address: 359 Spring St

Weezie's Cup A-Java

phone: +1 812 246-9339

address: 116 Hometown Plaza, Sellersburg

Not the best hours, 7-2 M-F.
Sleep
Sheraton Louisville Riverside Hotel

phone: +1 812 284-6711

address: 700 West Riverside Drive

Located directly across the river from Louisville, the lobby at Sheraton Louisville Riverside Hotel features Link @ Sheraton, a connectivity portal with Internet access, web cameras and printing capabilities. The hotel includes 8,000 square feet of meeting space, including the Riverside Ballroom which is capable to accommodate 300 guests.
Connect
Jeffersonville Post Office
Newspaper
Television
By phone
Most telephone numbers in Jeffersonville, as well as the rest of the Indiana side of the Louisville area, consist of +1 812 plus a seven-digit number, but the entire 812 area is now served by an overlay complex of two area codes, with +1 930 as the second. A local or in-state telephone call now requires all 10 digits of the local number be dialed (omitting just the leading +1 from a local landline call).
Signage on many established businesses may still display the original seven-digit numbers; dial 812 before these if no area code is indicated.
Go next
Clarksville
, located on the other side of I-65 offers most of the areas shopping and dining. It also has the Falls of the Ohio State Park.
Louisville
offers major city choices for entertainment and tourist activities.