Jeju City
Jeju City
(제주시) is the largest and capital city of
Jeju
Special Self-Governing Province,
South Korea
.
Understand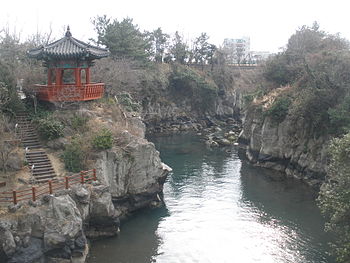 Predominantly the administrative and population capital of Jeju Island, Jeju City is also likely the first and final stop for tourists, playing host to Jeju International Airport as well as the major domestic ferry terminal.
The city is fairly large yet compact, located on the north side of the island and sandwiched between Mt Halla and the coast.
Orientation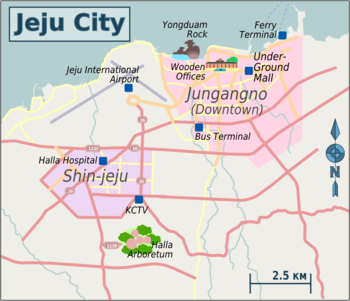 The city consists of the old downtown (
Jungangno
중앙로) to the east and the surrounding areas of
Tapdong
(답동, a port district north of
Jungangno
, also romanised as
Topdong
) and
Yongdam
(romanised differently on almost every sign: if it helps, there's nowhere else on Jeju with a similar name, the rock seems to be spelled Yongduam 영두암 -- and the surrounding suburb Yongdam -- 용담 -- on Naver). The inter city bus terminal lies just south of Jungangno.
Tucked slightly inland to the southwest lies Shin-Jeju: Jeju's new high rise commercial quarter and where the modern Korean highrise apartments reside. A humongous traffic intersection in Shin-Jeju acts as a western hub, feeding cars and buses across the entire west side of the island across one of three major highways: one coastal, one interior and the alpine 1100 metre road.
Finally, on the coast both north of Shin-Jeju and west of Jungangno lies Jeju International Airport.
Get in
By plane
Jeju International AirportThe airport has risen to be South Korea's second busiest in the 2010s and has domestic connections to basically all other South Korean airports as well as international connections to other Asian airports. In 2015 its passenger numbers reached more than 25 million and the tendency points towards more future growth. The route Seoul Gimpo-Jeju is the busiest in the world by passenger numbers.
By bus
Inter-city buses and the Airport Limousine (inter-city bus #600) travel frequently between Seogwipo on the south side of Jeju for ₩3000 or as low as ₩1000 from nearby rural townships. Intercity buses will terminate at the Bus Terminal, but all arriving via the west side of the island will pass by the stop outside Halla Medical Center.
By boat
Daily ferries go between Jeju and the mainland. See the main
Jeju
page.
Get around
By bus
Jeju City has an inner-city (
shin-nae
) bus system that is equally as efficient as it is poorly marked for tourists. Bus shelters have lists of stops in Korean only, but the stop names are mostly fairly non-descript and require you to have local knowledge or a map to make any sense out of them. Bus maps are not available from tourism centers, but English station lists can be obtained, the relevant information from which is reproduced below:
Jeju International Airport - 36, 37, 100, 200, 300, 500
Jeju Ferry Terminal - 92
Inter-city Bus Terminal - 26, 31, 63, 100, 200, 300, 502
Halla Arboretum - 63, 300
National Jeju Museum - 100
Culture and Art Center - 300
Tapdong - 92
Yongdam Junction - 36, 37, 63, 300, 500
Fifth-day Folk Market - 36, 37, 63
Jungangno - 36, 37, 92, 100, 500
Dongmun Market - 100, 300
Shin-jeju Junction - 26, 31, 36, 37, 92, 100, 200, 300, 500, 502
Halla Hospital (Medical Center) - 26, 31, 37, 92, 200, 300, 500, 502
If this system was not frustrating enough as it is, you may have to transfer to go most places and the announcements tend to be quieter than on the mainland. Listen out for this when having to transfer between buses. Buses cost around ₩1,000.
On foot
Nothing in downtown Jeju is more than approximately 2 km from anywhere else so whilst not convenient, walking is quite feasible, and sometimes even faster. This includes the areas of Yongdam, Tapdong, Jungangno and the inter-city bus terminal.
See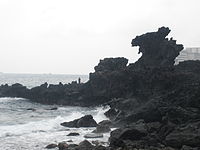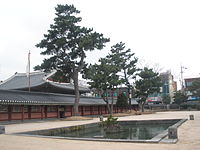 Yongduam Rock and Yongyeon Pond

address: Yongdam

A large piece of volcanic rock said to be the solidified remains of Yimugi, a water dragon. Whilst the legends behind just how he got himself turned to stone in that position vary, it hasn't diminshed his influence, as the surrounding suburb is called Yongdam by extension: literally "Dragon's Head Rock". Just about 100m to the east one can find the lesser known, but probably prettier Yongyeon Pond, a picturesque canyon straddling a pleasantly turquoise pond with a pavilion perched overhead. Again, a dragon features heavily in the legendary history of this site, but simply that it visited. A festival is held here in May. If all this talk of dragons is making you want to sit on a horse for some reason, then there is an old guy out the front who aggressively and inexplicably offers this service for a fee. Both sites are lit up spectacularly at night.

phone: +82 64-728-8665

A comparably nice set of Joseon-era historical buildings in central downtown Jeju City. What's unusual is the existence of a nicely landscaped square pond in the complex, and its tumultuous history of getting built in lieu of a well, destroyed due to an irrational hatred of noisy frogs and ultimately rebuilt.
Do
Halla ArboretumTake a stroll through some botanical gardens. This is actually one of the nicest arboretums in all of South Korea, as it is both well-established and located up on the lower flanks of Mt Halla at the back of Jeju city. The gardens wind themselves over the foothills, giving tantalising views of the coast and Mt Halla through the trees. The ~2km walk from the arboretum to the rear entrance at the military complex is also pleasant and follows the southern limits of Jeju City through a rather atmospheric pine forest.
Buy

Dongmun Traditional Market, some utterly humongous traditional markets exist in Jungangno. As expected, they sell a lot of fish. Furthermore, modern, Western-style shopping can be found in the underground mall out on the main road.
Department stores such as Lotte and E-Mart exist in Shin-Jeju.

Eat
Being a seaside town, there are many great seafood restaurants available, so just take your pick.
Budget
Mid-range
Opposite Hotel Impress there is a row of seafood restaurants. The one closest to the sea has very friendly staff and serves a great meal.
Modu-modu

phone: +82 64-744-5555

address: Jeju-si

A rather large and upmarket Korean restaurant. The restaurant is built in the oddball "mushroom" style with outdoor dining in summer. The food (and the interior design alike) is a modern fusion of Chinese and Korea styles. Mostly serves large expensive group dining platters and course meals, but has an extensive lunch special range for under ₩10,000. Featured in a 2010 SBS K-drama.
Splurge
Sleep
Splurge
Go next
Seogwipo
, a more upmarket and tourist oriented city on the south side of the island and home to the
Jungmun Tourist Complex
.
Alternately, use Jeju City as a base to explore the island's interior and attractions:
Hallasan Mountain, Seongsan Ilchulbong and Manjanggul Lava Tube, the three UNESCO rated natural sights of Jeju.
Loveland, the infamous theme park in central Jeju.