Jekyll Island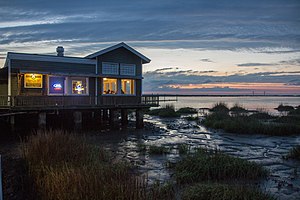 Jekyll Island
is in
Coastal Georgia
.
Understand

Jekyll Island's reputation as a vacation destination was prefaced by a time of status and prestige. For over four decades in the late 1800s, the island belonged exclusively to the renowned Jekyll Island Club - the winter retreat for some of the most elite families in America. The Morgans, Rockefellers, Vanderbilts, Pulitzers and several other families, reputed to hold over one-sixth of the world's wealth, established the Jekyll Island Club and built a group of large cottages along Jekyll Creek. Jekyll Island was sold to the state in 1947, five years after the club was closed.
It is now one of the largest ongoing restoration projects in the southeastern United States, and with over 5 miles (8 km) of beaches and an unlimited number of outdoor activities, one of Georgia's most popular vacation destinations.

Get in
By car
The only route on or off of Jekyll Island by automobile is by the Downing Musgrove Causeway (GA State Route 520). The Causeway can be accessed from Brunswick via US Highway 17 South and from I-95 by Exit 29 and travelling North on US Highway 17. A $6
daily fee
($28 for a week) is charged for each entry to Jekyll Island, and annual passes are available (Jan 2019).
Do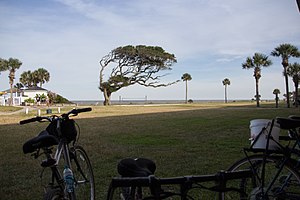 GolfThe island offers many different courses with many different challenges for players of all abilities.

FishingJekyll Island has an amplitude of fishing activities available to guests, from freshwater lake fishing, surf fishing off of the beach, or charter offshore trips. Crabbing and shrimping are also popular among visitors to the island.

BikingVery nice bike trails are available throughout the island. Local hotels offer bike rentals to guests

Summer Waves Water ParkA waterpark on the island that features slides and attractions.
Eat
Blackbeard's

phone: +1 912 635-3522

address: 200 North Beachview Drive

A restaurant that serves lunch and dinner 7 days a week. Has a variety of foods, including fresh shrimp and fish.

phone: +1 912-635-3588

address: 1175 N Beachview Dr

American food, seafood.
Sleep
Go next