Jemez Mountains
The
Jemez Mountains
are a major mountain range in
North Central New Mexico
in the
United States
. The range contains several important travel destinations such as
Los Alamos
,
Bandelier National Monument
, and part of
Santa Fe National Forest
. This article covers attractions in the Jemez not covered in the articles on one of those other destinations.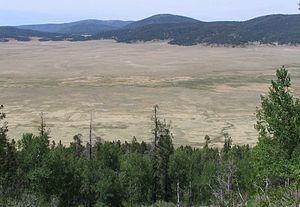 Understand
While the Jemez Mountains may look like part of the
Rocky Mountains
, they are distinct from the Rockies geologically, and are the remnant of a "super-volcano" that had a catastrophic eruption about a million years ago, with several lesser but still significant eruptions since then. This violent past shapes many of the attractions of the region:
Los Alamos
and
Bandelier National Monument
sit on a great ash flow from the climactic eruption, while
Valles Caldera National Preserve
contains a number of volcanic features and preserves the eruptive center itself. You'll enjoy your sightseeing in the mountains more if you do a little homework to understand what you're seeing; web pages that provide good stuff on the geology, without requiring education as a geologist to grok it, are:
The Jemez were the scene of several major forest fires in the latter part of the 20th century, the most serious of which destroyed a number of homes in Los Alamos and nearly 50,000 acres of forest. These fires have had lasting effects on recreational opportunities in the mountains. Several previously excellent hiking areas are either closed altogether or severely restricted because of fire damage. Considerable rethinking of fire-prevention goals and policies is in progress, with the result that limitations on open campfires, etc., may seem a little restrictive. Please honor these restrictions; several of the fires resulted from poorly-constructed campfires, and residents of the area are understandably skittish about it happening again.
Flora and fauna
The forest is predominantly coniferous, with piñon/juniper "scrub" at the lowest elevations that gives way to ponderosa pines mid-range and spruce/fir forest higher up. Aspens are intermixed with the conifers above about 8000' (2400 meters) and provide additional color, particularly in fall. Timberline is unusually high, with even the highest peaks covered mostly in timber.
Black bear and deer are common throughout the forest. The eastern unit contains bighorn sheep (some of which have become so used to human presence as to constitute a camp pest), and a substantial elk population splits time between the western unit (and the
Valles Caldera National Preserve
) in summer and
Bandelier National Monument
in winter. Mountain lions live in the forest but are rarely encountered. Birds are plentiful and diverse, including eagles, wild turkeys, and several species of hummingbirds. Most of the terrain is too high for snakes to be abundant, although rattlesnakes are occasionally seen as high as Pajarito Ski Area near Los Alamos, elevation 9500' (2900 m). Watercourses tend to be small and seasonal, so that there are few large fish, although some lakes and streams are able to sustain a population of trout.
Climate
The large elevation variations in the forest preclude universal, concise statements about climate. Snow and freezing temperatures (at least at night) are possible year-round on the high summits; shirtsleeve weather is common in the winter at the lower elevations. About the only common denominator is that springtime is windy and relatively dry.
Broadly, the higher elevations (say above 8000 feet, or 2400 meters) have conditions typical of continental mountain ranges, generally somewhat warmer and drier than the similar ranges of
Colorado
. Snowfall during winter is wildly variable, but normally persists through spring, commonly closing many campgrounds until May or so. Many hiking trails in the high country still have snow on them in June. Spring is warm and dry, with a gradual onset of thunderstorms starting in June and building to a "monsoon" condition in August. The high peaks are notoriously prone to lightning strikes; if you're hiking, make sure you're off the summits by 1PM during the summer. Fall is clear, crisp and delightful, with the first significant snow usually in October and the first snow that "sticks" frequently occurring around Thanksgiving.
The lower elevations are semi-arid, and winter snowfall is even more variable than at higher elevations. Some winters have seen individual storms that deposit over 40 inches (1 meter) of snow, while in other years, winter passes without this much snow falling in the entire season. Low temperatures can drop below zero (Fahrenheit). Spring is warm and dry, sometimes downright hot high temperatures can reach 90 °F (38 °C) or higher -- and dry conditions persist deeper into the summer than in the higher elevations. The monsoonal thunderstorms begin to drift off the mountains in July to cool (and soak) the lower elevations, until the warm, dry fall conditions begin soon after Labor Day.
Get in
The nearest major airport is in
Albuquerque
. Apart from brief (hours-long) closures due to snowstorms, state highways into the mountains (SR 4/502 on the southeast and southwest, SR 96 on the north and northwest) are generally passable year-round, unlike some of the roads in the higher
Sangre de Cristo Mountains
nearby. Be careful, however, about west-side access via SR 126 from
Cuba
to La Cueva. This road looks tempting on a map, and in summer can be an enjoyable drive, but it is unpaved for much of its length and has sections that can be hazardous or impassable following winter storms. Going the "long way" from Cuba to San Ysidro and then on 4 to La Cueva may be necessary at such times.
Get around

Drive. State highways within the range pose no problems getting around, with the one caveat regarding NM 126 in winter and early spring. High-clearance vehicles are desirable for many of the obscure forest roads as well as some leading to private homes, etc., in the boonies. There is no public transportation to speak of in this region, and traffic volume is so low over most of it that hitchhiking is likely to be unrewarding.
The many trails in the forest are generally accessible to hikers, horses, and mountain bikes. Motorized travel is forbidden in the San Pedro Parks Wilderness, but there are a number of abandoned logging roads outside the wildernesses that are suitable for ORVs and dirt bikes. (Please operate responsibly; damage in this terrain and climate takes a long time to heal.) Trails and, to a lesser extent, logging roads in the high country tend to be soggy until June or even July due to snowmelt.
In much of the area, snowshoes are more satisfactory for winter travel than skis or snowmobiles, because of the steepness and narrowness of the trails. Sparse snow makes all of these means of travel marginal at elevations below 8000' or so. Although most of the mountains have relatively gentle slopes, there is some potential for avalanche hazard.

See
The best road for viewing the unique volcanic scenery is New Mexico SR 4, connecting Los Alamos and San Ysidro. There are several scenic turnoffs as SR 4 passes through Valle Grande, part of the Valles Caldera (a supervolcano) and now managed by the Valles Caldera National Preserve. During the warmer months, a large elk herd inhabits Valle Grande and can often be seen from these turnoffs (bring the biggest binoculars you have).
There are also nice picnic areas along SR 4, at Fenton Lake State Park on SR 126, and in Santa Clara Canyon, on the territory of Santa Clara Pueblo on the east side. A fee is charged to enter Santa Clara Canyon. Stop en route and see the archaeological sites of the Puye Cliff Dwellings (as of 2008 still closed; see note). Note: signs on the route indicate that the Santa Clara points of interest are still closed as of 2006, due to the disastrous 2000 forest fire. Most of the other attractions damaged in that fire are slowly re-opening, so check back occasionally and see if these become available too.
Just before you reach Los Alamos, a turn-off to the right takes you up to the Pajarito Mountain Ski Area. The top of the ski area is on the rim of the Valles Caldera and has a great view of Valle Grande; in summer the lifts are open intermittently for hikers and mountain bikers. Overnight camping is allowed by permit at the adjacent Camp May, a Los Alamos County park.
Jemez State Monument on SR 4 near Jemez Springs (open 8:30-5 except Tuesdays and some holidays, small fee) preserves American Indian and mission ruins of considerable archaeological interest, with a short interpretive trail.
Jemez Pueblo on the western slopes is one of the less "tourist-friendly" of the New Mexico American Indian pueblos, but is open for limited visits on certain feast days. Jemez pottery is excellent and can sometimes be obtained at roadside stands in the stunning red-rock country near the pueblo.
Do
Many of the region's activities are covered in the separate articles on
Bandelier National Monument
and
Los Alamos
. A few that don't fit into one of these areas:
Valles Caldera National Preserve is a new and unusual unit of the national park system that doubles as a working ranch. Activities include hiking, fishing (restricted access), and winter sports that can be spectacular in years with heavy snowfall or nearly nonexistent in drought years. Check the web site to see what's available when you're visiting; recreational activities are still undergoing planning and development.
Rock climbers can find interesting single-pitch sport climbing on some of the basalt cliffs along SR 4 west of the preserve, in some cases barely a hundred feet from SR 4.
There are a number of hot springs in the southwest part of the range where you can soak following a day on the trails or ski slopes. Most are "wild" and undeveloped, some requiring a short hike (and see under "Stay safe"), but Jemez Springs has two developed springs: the village-owned Jemez Springs Bath House, and private Giggling Springs . Both accept walk-ins, but reservations at Jemez Springs Bath House are a good idea on summer weekends.
Hiking and Backpacking
The
San Pedro Parks Wilderness
offers excellent hiking once the snow has melted. By far the most important trailheads into San Pedro Parks are near
San Gregorio Lake
on the south side, reached by a gravel road off rough State Road 126 between La Cueva and
Cuba
. To avoid the crowds, consider instead going in from the north side, but it's way out in the boonies and help will be slow in arriving if something goes wrong. The countryside at San Pedro Parks is very different from the Pecos, featuring open meadows and low, rolling hills rather than the peaks and valleys of the western Pecos and the high mesas of the eastern part. A consequence is that the trails can be soft and boggy pretty much year-round. Hiking boots are a good idea, simply to help keep your feet dry.
Most of the mountain lakes in the wilderness (including man-made San Gregorio Lake) are off limits to camping owing to environmental stresses. Campsites along the streams, however, are abundant and generally satisfactory for the backpacker or horsepacker, as long as you camp at least 1/4 mile from the closed lakes (and 200 feet from the stream itself).
Fishing
Probably the best fishing in the region is at popular San Gregorio Lake, reached by a short walk from the trailheads that continue on into San Pedro Parks. (Don't expect to have it to yourself.) Many of the smaller lakes and streams support small populations of trout that can make it worthwhile for a backpacker to carry in a collapsible rod, although you're not odds-on to catch much. Some of the lakes have been stocked with trout. There are a number of well-developed fishing spots along the
Jemez River
west of the Valle Grande.
Abiquiu Lake
, a man-made reservoir on the northeast side of the range, also offers fishing and some other water sports, but don't expect Lake Mead. The same applies for tiny
Fenton Lake
on the west side of the range (no power boats, but it's hardly big enough to put one in).
Eat
Los Alamos
is the only community in the mountains with significant numbers of restaurants; see separate page. There are also a few restaurants in Jemez Springs (
Laughing Lizard
, phone
+1 575
829-3108;
Los Ojos
including a satisfactory bar, phone
+1 575
829-3547; both on SR 4 with no street numbers) and an excellent one in La Cueva that serves great steaks, trout, elk burgers and homemade chili and soup called the "Ridgeback Cafe".
If you're planning on cooking your own food, provision up in Los Alamos or closer to your point of origin, but one tip: Jemez Pueblo produces delicious bread that can often be purchased at roadside stands along SR 4 west of Jemez Springs. If you're driving from Albuquerque into the mountains, keep an eye out for these stands, which may also sell other goods suitable for supplementing a picnic lunch.
Drink
Don't expect much night life in this highly rural region, although there are a few watering holes in Los Alamos and Jemez Springs. There are however two reasonably interesting wineries in the Jemez: Il Santo Vineyard in White Rock (sometimes, but incorrectly, called Balagna Winery; see description in the
Los Alamos
article) and
Ponderosa Valley Vineyard and Winery
, in the tiny town of Ponderosa south of SR 4. The volcanic soil is surprisingly good for growing grapes, and the resulting wines are worth a try.
Sleep
Lodging
The towns of
Los Alamos
and Jemez Springs have hotels and motels. Few of the smaller towns in the area have much in the way of lodging.
Camping
There are numerous campgrounds administered by the Santa Fe National Forest. Several are free and available on a first-come-first-served basis (no reservations). Most of the busier campgrounds do have a fee; see the forest website for details. A few have the capability to accommodate large groups at sites that can be reserved.
Historically, there have been intermittent problems with theft from and vandalism of vehicles left at a few campgrounds, particularly around Coyote. Some anecdotal evidence suggests that this problem may have diminished in the last few years. Inquire locally and take sensible precautions.
Backcountry
The
San Pedro Parks Wilderness
is a superb backpacking destination. No permits are required. Seasonal restrictions on campfires are common; pack a stove. Most campsites are close to streams, so there is no need to pack in excessive quantities of water, but stream water should be purified as
Giardia
parasites are present in both wildernesses. Hang food, etc., although bear problems are rare.
Most of the campgrounds have fees for overnight stays; there may also be small ($2/night) fees for parking cars overnight at some of the more popular trailheads for backpackers. Most other recreational use of the forest is free. Access to the San Pedro Parks Wilderness was controlled at one time by a permit system, but the permits have been discontinued and access is now free and unlimited. Seasonal closures due to fire hazard may occur in any and all of the national forest area, particularly in June and early July, and open campfires may be restricted during the spring. Inquire locally; the forest website generally does a good job of staying current on fire-related restrictions.
Stay safe
There are no major safety issues in this region. A few minor ones, however:
The north side of the range was the scene of pronounced ethnic conflict (of complicated origin) in the second half of the 20th century, and there are still residual Anglo/Hispanic tensions in some areas. Simply being respectful goes a long way to defuse these, but it's probably wise to avoid small-town bars on the north side, and to be alert at backcountry campsites there.
Please take restrictions on open campfires, etc., seriously. These mountains are flammable and have seen a number of nasty forest fires recently.
If backpacking or backcountry camping, purify stream and lake water, as Giardia parasites are present in water supplies, as usual. (Tap water is OK.) Be careful also not to get water in your nose or eyes if you're bathing at one of the "wild" hot springs; dangerously pathogenic amoebas have been found in some of the springs and can cause life-threatening brain abscesses. You probably won't have any problems from them, but keep your head above water just to be on the safe side.
In many regards the Jemez don't "feel" like high mountains, but they are, and the sun is intense; use sunscreen when outdoors.
Not so much a "safety" issue as a legal one: SR 4 west of the Valle Grande is notorious for radar traps and has numerous, basically inexplicable changes of speed limits that afford opportunities for traffic citations. Pay attention when driving here. DUI is a problem in much of northern New Mexico as well, and can be a concern in this region, although it's less of one than in the valley.
Go next
SR 126 on the west side leads to the lower Nacimiento Mountains, including San Pedro Parks Wilderness. This is a fine hiking/backpacking area that's well worth investigating if your hikes in the Jemez have left you wanting more.
For "friendlier" pueblos than Jemez, return to the east side and the Española Valley, where all manner of Native American pueblos await, several of them excellent for arts and crafts. You can also continue west beyond Jemez Pueblo to US 550, then southeast to Zia Pueblo on the way to Albuquerque. Zia pottery is particularly fine (and better value for dollar than the work of some of the other tribes) and can be obtained at a small cultural center at the pueblo.
Routes out of the mountains on the north side lead to the Jicarilla Apache Reservation, man-made El Vado and Heron Lakes (fishing, camping, small boating), and the red-rock country of north central New Mexico.