Jenolan Caves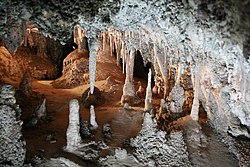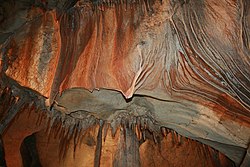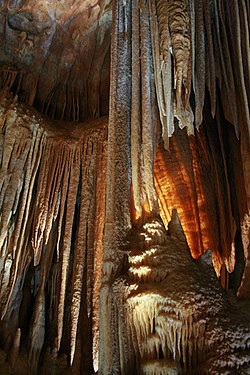 The
Jenolan Caves
are in the
Blue Mountains
region of
New South Wales
,
Australia
. They are regarded as Australia's most outstanding
caves
and are amongst the best in the world. Also the cave system has been dated to 340 million years, making them the oldest known caves on Earth.
Understand
Jenolan's main attractions are the ten spectacular caves that are open to the public, filled with astonishing limestone formations. The caves are open all year. They are very popular, receiving 250,000 visitors per year. In 2008 and 2009, Jenolan Caves won awards for their array of tours, activities and facilities. Visitors can spend a couple of hours and see only 1 cave or stay for a week and have a thorough escape at Jenolan Caves. During school holidays and on long weekends you may find Jenolan Caves crowded (and may have to park in the upper car park), but there will be many more cave tours as well, to cater for all the visitors.

Get in
By car
By car
it will take you about 3 hours from Canberra and 2 hours and 40 minutes from
Sydney
. If you are arriving from the direction of Sydney, Katoomba and Lithgow, the last section of the road into the Jenolan Valley is very windy and narrow. Therefore, it is one way into Jenolan, 11:45AM-1:15PM everyday, to allow coaches to enter safely on the narrow road. Visitors can still leave Jenolan during these times - via the Oberon Road.
Campervans are fine, but the road is unsuitable for caravans and trailers. There are caravan parks in Lithgow and Oberon, where you can leave your trailer.
Normally there is plenty of free parking. However, on long weekends, such as Easter, allow extra travel time and book ahead. Please do not take pets into the Jenolan Reserve, as it is a National Park.
By bus
Trolley tours in Katoomba run a single coach from Katoomba to Jenolan. Departs Katoomba daily at 9:45AM, that gives you plenty of time to get the train up from Sydney if you like. It arrives at Jenolan in time to do an 11:30AM cave tour, and you can also do one other tour in the afternoon before returning to Katoomba by 5PM. Trains run late back to Sydney, so again, you have the opportunity to return to Sydney the same day. The bus isn't part of the Sydney transportation system, so costs $53 return.
By tour
Tours run from Sydney by several operators, including Greyhound.
See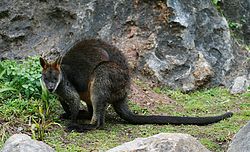 Grand Arch
Devil's Coachhouse
Blue Lake
Caves House
Do
Walks in the rugged mountain bush are clearly marked and free of charge. Easier walks take you around the Blue Lake or along the Jenolan River, passed waterfalls and Australia's first hydroelectricity plant (still in operation). More strenuous walks take you to high lookouts and past natural arches. On any walk, you may encounter Australian native wildlife such as kangaroos and platypuses. Jenolan Caves is in a huge nature reserve, part of the Blue Mountains World Heritage area.
Guided tours of spectacular 'show' caves are available continuously every day and cost between $29 and $40 per adult. Family tickets are available. When you purchase a 'show' cave ticket you also get a 'Jenolan Pass' which lets you access a self-guided tour of the 'twilight' Nettle Cave (available in 8 languages, plus an engaging commentary for children). There are 10 'show' caves to choose from, each tour 1 to 2 hours. Each cave is breathtaking and some are more strenuous than others. The Lucas Cave has about 900 steps, but includes the breathtaking Cathedral, and many other great features. If you're feeling less physically inclined, the Orient, Temple of Baal, Imperial, and Chifley Caves are pretty amazing, and a bit less physical. You can just turn up and join the next tour, or if you want to tour a particular cave, you can book ahead. Last day tour starts at 5:30PM. (Night tours are at 8PM.) Schedule changes between weekdays and weekends. Cave descriptions, tour times and prices are all on www.jenolancaves.org.au.
Discount on cave tours are available by presenting your 'Jenolan Pass' from a previous tour (up to a year old). This will give you half off most of the 'show' cave tours.
Tour Guides are very knowledgeable and friendly, especially on smaller tours (end of the day)
Cave Tour lengths and group sizes:
* Temple of Baal Cave, 25 people, 1.5 hr
* Diamond Cave, 30 people, 1.5 hr
* Lucas Cave, 60 people, 1.5 hr
* Orient Cave, 25 people, 1.5 hr
* Chifley Cave, 40 people, 1 hr
* River Cave, 25 people, 2 hr
* Imperial Cave, 35 people, 1 hr
* Imperial Diamond Cave, 30 people, 1.5 hr
* Ribbon Cave, 8 people, 1.5 hr
* Chifley's Secret Chambers tour, 8 people, 1.5 hr
* Plughole, 12 people, 2 hr
Ghost tours are available on Wednesday and Saturday nights at 8PM. You must book ahead for this serious torchlight tour, on which gimmicks, sound effects, etc., are never used. Your guide will tell you tales of the unexplained, often from their own experiences. Other night tours are available (not Sundays).
Children's tours are available during New South Wales school holidays only. Cave tours for kids and teens provide understanding of the unique environment, its strange life forms, fun, teamwork, leadership skills and a break for parents in school holidays.
Adventure Cave TourThe Plughole Adventure Tour runs once daily, it is an intro to Adventure Caving. Instead of a typical guided tour where you walk along lit pathways, an Adventure Tour is a challenge, requiring climbing, crawling, and squeezing through tight holes. Overalls, helmet, and a headlight are provided, for those tours through 'wild', undeveloped caves. The Plughole begins with a 10-metre abseil (rappel) and takes about 2 hours. There are other Adventure Tours that are longer, more demanding (physically and mentally) and run less frequently.
Underground Concerts - Every month, Georg Mertens (solo cello virtuoso) performs on the 3rd Saturday, while the Paganini Duo (wicked violin and sensual guitar) performs on the 4th Saturday, in the Cathedral Cave (followed by free wine and cheese in Caves House). Throughout the year, there are additional concerts by a variety of performers. Several times a year, there are major concerts in the Grand Arch.
Eat
Chisolm's Restaurant - completed in the Edwardian era, this huge, magnificent restaurant is the traditional grand dining room. Upstairs in Caves House, Chisolm's is open for breakfast, lunch and dinner every day, serving modern Australian cuisine. For a small saving, you can purchase a cave tour/lunch package, and receive a bit of a discount in Chisolm's. At dinner, you can even order wine from the wine cellar which is hidden inside one of the caves. Atmospheric Chisolm's offers a wood fire in winter.
Jeremiah's Bar - cosy area next to Chisolm's, where you can relax in the late afternoon and evening with a drink or a lower priced bar meal.
Downstairs Cafe - The licensed cafe is open 9AM-5PM daily, serving light meals, snacks and drinks. There is a warm fire in winter and a vine covered verandah in summer.
These facilities are not just for Caves House guests - all are welcome. Also, all visitors to Jenolan Caves are welcome to wander through the charming foyer and guest lounge (formerly the ballroom) of Caves House.
Sleep
Jenolan Caves House"Low Season" rates apply if you book Sunday to Thursday night and the "High season" rates apply if you book Friday or Saturday night, New South Wales school holidays or any night of a long weekend.
Caves House is a huge historic guesthouse, built in 1898 - one of few remaining guesthouses from the Victorian Era in Australia. It contains a wide range of accommodation, from small rooms with shared bathrooms to large suites with private rooms and spas. Atmospheric Caves House rooms are heritage-listed and feature period furnishings. Rates (per room, twin-share) range from $100 (low) and $125 (high) for the basic 'traditional' rooms to $220 (low) and $275 (high) for the grand suites. Most guests choose 'Classic' rooms which fall in between. These rooms intentonally do not have phones or TVs, and are favoured by guests who really want to get away or enjoy a romantic interlude.
Mountain Lodge Studio Units have spacous, modern, motel-style units with phones, TVs and kitchenettes. Rates (per room, twin-share) for a one bedroom unit is $125 (low), and $170 (high). Great for families.
Gatehouse is backpacker-style accommodation with 4 or 6 person shared rooms and communal kitchens and bathrooms. Rates are $32 per person (min $64 per room) any night of the week. Great for those on a budget.
Binoomea Cottage is a 2-storey cottage, with 2 extra large, serviced, modern apartments and each with a fully equipped kitchen. Each apartment sleeps up to 12! Rates are $300 (low) to $355 (high) - great for large groups of family or friends.
Bellbird Cottage is a fully equipped, self-contained bush hideaway cottage – double bedrooms and magnificent view over pristine wilderness. Rates are $178 (low) and $208 (high).
Jenolan Caves Cottages - 8 fully equipped, self-contained, 2-bedroom cottages in huge nature reserve, 5 km from the caves, surrounded by many kangaroos and other native wildlife. Rates are $110 (low season) and $145 (high season). For any cottage, there is a minimum 2-night stay, so you pay a bit more if you only want one night.
For all fully serviced rooms, you can choose a dinner, bed and breakfast package, which reduces the cost of your overall stay. A wide range of packages is available. Also, all guests get a 20% discount on their first 'show' cave tour.
Go next