Jersey City
Jersey City
is
New Jersey
's second-largest city. Jersey City sits in the northeastern section of the state across the Hudson from its older and bigger cousin,
New York City
.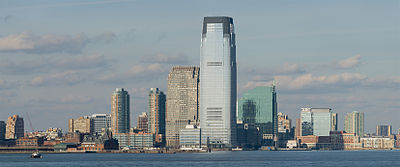 Districts
Historic Downtown - This area, directly to the west of the waterfront, is characterized by rows of restored brownstones, new condominiums, and some retail (largely centered on Grove Street). This area includes the historic neighborhoods of Paulus Hook along the Morris Canal, and Hamilton Park, Harsimus Cove, and Van Vorst Park further inland.
Waterfront - Although considered to be part of Downtown Jersey City by most locals, this area is often categorized as a separate neighborhood because it is so different from the Historic Downtown area. Characterized by high-rise condos and office towers, it's also home to the planned community of Newport, which includes the popular Newport Mall.
Journal Square - Named after the Jersey Journal, whose headquarters are here, this is the commercial heart of the city. It's home to the Hudson County Community College, and to the county's courthouse and administration buildings.
The Heights - Situated atop the Palisades, this primarily residential neighborhood is home to some of the county's best preserved Victorian mansions. This area has unparalleled views of the Manhattan skyline, owing to its location high above downtown Jersey City and Hoboken.
Liberty State Park - This district includes Liberty State Park itself, Cochrane Stadium/Caven Point Athletic Complex, and the exclusive Port Liberte development, which is home to luxury townhouses and condominiums as well as the Liberty National Golf Course.
Bergen/Lafayette - This neighborhood of brownstones, row houses, and pre-war buildings is slowly feeling the effects of gentrification from the neighboring downtown area and the restoration of the massive Art Deco former medical center to residences and commercial space.
West Side - This ethnically diverse neighborhood is home to Lincoln Park, Jersey City's own Central Park, New Jersey City University, and residential developments at the Hackensack River at Droyer's Point.
Greenville - This area in the southern end of Jersey City is considered the roughest part of the city, but it is slowly being redeveloped.
Understand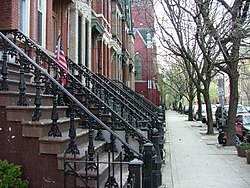 Jersey City is the second-largest city in New Jersey, trailing
Newark
in population, but far surpassing
Trenton
, the state capital. It is on a peninsula that includes
Hoboken
to the north and
Bayonne
to the south, and is bounded by the
Hudson River
and Manhattan to the east and the Hackensack River to the west. An interesting geographic feature of the city is that within its borders are the only two cases in the country where a US state has exclaves that are both geographically and politically surrounded by another state: The Statue of Liberty and Ellis Island, both exclaves of New York in New Jersey. As a result of a 1997 federal court decision, most of Ellis Island is now within Jersey City, with New York retaining a small landlocked portion that encompasses most of the immigration building.
Jersey City shares much of its history, geography, and culture with New York City, much moreso than other parts of New Jersey. Like New York City, it was settled by the Dutch in the 1600s, and this is still evidenced today by the prevalence of Dutch place names in both cities, and the use of the Dutch tricolors in their very similar flags. As in Brooklyn, rows of brownstones and other rowhouses started being built throughout Jersey City with the arrival of the steam ferry in the 1820s and continued throughout the 19th century. Ellis Island was a large source of immigrants from Southern and Eastern Europe and Ireland that shaped the culture of both Jersey City and New York City from the 1880s until the 1920s.
The opening of the Hudson & Manhattan Railroad tunnels into Manhattan in 1908 caused another population boom, with tenements and grand apartment buildings going up in neighborhoods such as Journal Square and along Kennedy Boulevard in the 1910s and 1920s.
Once a humming center of industry, Jersey City housed the booming factories of Colgate and Dixon-Ticonderoga. It was a railroad hub, where the transcontinental rail lines of the country's great railroads (including the famed Pennsylvania Railroad) converged from all across the country. All the railroads to New York City actually ended on the Jersey side of the waterfront, where passengers transferred to ferries to go into Manhattan. Today, Jersey City is neither of these things. Decades of deindustrialization, railroad bankruptcies, government mismanagement and other disappointments had a profound effect on this once booming town. The automobile era and a fear of urban areas caused significant "white flight" to the suburbs in the middle of the 20th century; once affluent areas became centers of poverty and crime. The city lost 87,000 people, almost a third of its population, and apartment buildings and row houses became vacant lots and parking lots. Jersey City was a mirror of what was happening in New York City, although perhaps to a more significant and depressing degree.
During the 1970s, immigrants began moving to Jersey City in droves, attracted by cheap real estate and a chance at experiencing the storied American dream. Today, these immigrants have helped to shape the city into a melting pot of the world's cultures and ethnicities. Nowhere else in the state is there a city as diverse and as interesting as Jersey City in this respect.
Later, the growing popularity of New York City in the 1990s had a significant impact on Jersey City, too. Old railyards along the waterfront became the sites of gleaming new office towers and high-rise condominiums. Brownstones further inland were fixed up by people moving back into the city. Jersey City's renaissance quickly began.
The city has gone through significant transformations over the course of its lifetime. And it's not over yet. High-rises continue to sprout up along the waterfront like weeds, attracting Manhattanites priced out of the real estate market there, while offering quick commutes to jobs in Downtown Manhattan and Midtown. Office towers continue to fill up with new tenants, including the backoffice functions of many New York City-based companies, earning it the moniker "Wall Street West." (In fact, Jersey City has more Class A office space than downtown Pittsburgh or Atlanta.) New stores catering to Jersey City's new gentry continue to pop up almost weekly. It's a city in transition, and it's exciting and frightening at the same time.
Get in
By plane
Jersey City is about a 10-minute ride from
Newark Liberty International Airport
(
EWR
), which is a major hub for United Airlines, and is one of the three airports serving the New York metropolitan area. A taxi to Jersey City from EWR will set you back about $40.
If you don't have a lot of bags, consider taking the train from the airport. Catch AirTrain from your terminal to the Newark Airport train station. Take a New York-bound New Jersey Transit train one stop to Newark Penn Station, then cross the platform to catch the PATH to Jersey City. On weekdays, you can take the North Jersey Coast Line to Hoboken where you can transfer to the PATH train. The AirTrain/NJ Transit train is $8.25; PATH is $2.75. The ride takes about 45 minutes.
The two other airports in the region are LaGuardia Airport (LGA) and John F. Kennedy International Airport (JFK), both in the borough of Queens in New York City. A cab from LGA or JFK to Jersey City will cost about $100. From JFK airport it is also possible to take either the A or E subway trains from Howard Beach or Jamaica respectively and transfer at World Trade Center to the PATH.

By car

Driving into Jersey City is not recommended. While driving into Jersey City is only difficult at rush hour, finding on-street parking once you are there is a hassle at all times of day. Many streets particularly in downtown Jersey City and Journal Square -- require parking permits to park for longer than a couple of hours. If you park in a permit zone, your car may be booted by the Parking Authority, especially if you have out-of-state plates.
Since Jersey City sits at the western end of the Holland Tunnel, your best bet is to take any highway that leads directly to it. On the New Jersey side, this includes Interstate 78 (look for signs to exits 14-14c), US 1-9, and Interstate 280. On the New York side, take the West Side Highway and Canal Street from Manhattan.

By train


The PATH runs to Journal Square, Grove Street, Exchange Place, and Pavonia/Newport in Jersey City with connections to Newark, Lower Manhattan, Midtown Manhattan, and Hoboken. It costs $2.75 one-way. You can purchase a single-ride MetroCard from the vending machines near the turnstiles; they accept cash or credit/debit cards. Pay-Per-Ride MetroCards can be used on the PATH, however the Unlimited MetroCards (i.e., the 7-day and 30-day unlimited ride cards for the subway) cannot.
From the Pavonia/Newport PATH station, Lower Manhattan is about seven minutes away, Midtown Manhattan (33rd Street) is about 15 minutes away, and Newark Penn Station is about 25 minutes away. From Newark Penn Station, you can connect to regional New Jersey Transit and interstate Amtrak trains.
The Hudson-Bergen Light Rail, operated by NJ Transit, connects the Jersey City waterfront to Hoboken, Weehawken, Union City, North Bergen and Bayonne.
The nearest locations that New Jersey Transit trains stop are in Newark-Penn Station and Hoboken -- you will have to switch to either PATH or the Light Rail to get to Jersey City from there.

By bus
NJ Transit and other operators run buses to the Journal Square Transportation Center bus terminal. Greyhound buses stop at the Port Authority Bus Terminal in Manhattan and the bus terminal at Newark Penn Station. From the Port Authority Bus Terminal in New York, take NJ Transit Buses 125 and 119 which go directly to Journal Square (the fare is $3.10; trip takes about 30 minutes) or NJ Transit Bus 1 from Newark Penn Station.

By boat
NY Waterway operates four ferry routes connecting Jersey City to Manhattan. The routes from Port Liberte and Liberty Harbor connect to Pier 11 in Lower Manhattan. The other two ferry routes leave from Exchange Place, and connect to World Financial Center and West 39th Street in Midtown. Check the NY Waterway website for schedules.

Get around
Dollar vans
Intrepid wanderers might find the "dollar" vans a quick and cheap way to travel around town. These vans, which are operated largely by Hispanic immigrants to serve that community, arose in response to the lack of frequent and reliable bus service in the area. Although no longer a dollar (the fare is now $1.75), these small buses travel from Newport Mall up Newark Avenue, brush past Journal Square, and travel up Palisade Avenue towards the Heights (similar vans run up Kennedy Boulevard from Journal Square). Also, they run to-and-fro between NYC and Journal Square, the fare being $2.50, which is much cheaper. These vans don't travel on a fixed schedule, but operate relatively frequently during the day (they come by every five minutes or so). To get on board, flag the driver down. To get off the bus, say "next stop" to the driver about a block or so before your desired stop. Pay the driver as you leave the bus.
The best way to navigate within Jersey City, as a tourist, is likely by PATH or light rail. These trains serve most major sections of town. The bus system is arcane, and even locals have difficulty understanding where buses go or how often they run.
Unlike in Manhattan, taxis can be difficult to come by in Jersey City. You often have to call ahead to have one pick you up, although taxis are stationed at the Exchange Place, Grove Street and Journal Square PATH stations. Taxis in Jersey City can run either metered or unmetered (flat rate); the price is generally the same either way. If you are going unmetered, ask the price before getting into the taxi (or ask the dispatcher when you call ahead). Taxis are not cheap; a cab from Grove Street to Journal Square is about $10.
Zipcar is available in Jersey City. Most locations are downtown, although there is also one location each for Liberty State Park and Journal Square. Cars are within walking distance of all PATH stations in Jersey City as well as light rail stops between Newport and Liberty State Park. Zipcar locations can also be found in neighboring Hoboken. Generally, cars are readily available on weekdays. Availability is not as certain on weekends, although some cars should be available if one is flexible and only needs the car for a few hours.
Citibike
has many bike docks around Downtown Jersey City. The docks are more spaced out the farther you go out of downtown. The Jersey City Citibike system is separate from the Manhattan system, but bikes and keys from either system are compatible with the other's docks. Beware that most neighboring Hudson towns use
Hudson Bike Share
instead of Citibike, and these systems are not compatible with each other. However, there are plans to build HBS docks in Jersey City and Citibike docks in Hoboken, allowing for easier biking in the region. Many streets have bike lanes. The East Coast Greenway, a bike path that runs from Maine to Florida, cuts through Jersey City from
Newark
, eastward through Lincoln Park and city streets, to the ferries and to the riverfront walkway running north.
See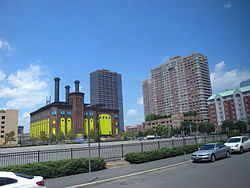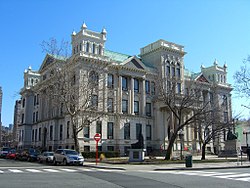 Hudson and Manhattan Railroad Powerhouse

address: Washington Boulevard

The Powerhouse is a Romanesque revival industrial masterpiece built between 1906 and 1908. The Powerhouse was designed by architect John Oakman, an alumnus of the Ecole des Beaux Arts in Paris. The Powerhouse allowed the operation of the first trans-Hudson subway, the direct predecessor of today's PATH. It ceased operation as a power generating station in 1929. After years of neglect, it was placed on the National Register of Historic Places in 2001 after it was nominated by the Jersey City Landmarks Conservancy, an all volunteer not-for-profit organization. The city has designated the Powerhouse a developer, the Cordish company, which has renovated a similar power plant in Baltimore's Harbor.

Jersey City City Hall

address: 280 Grove St.

Completed in 1896, this imposing granite and marble municipal structure was designed by Lewis Broome, who also designed the Trenton Statehouse. A bronze memorial monument by Philip Martiny stands in the small plaza in front of the City Hall entrance. The memorial bears the inscription: "Erected by the People of Hudson County to Commemorate the Valor of the Soldiers, Sailors, and Marines of the Civil War." The statue is of the Goddess of Victory in a seated pose. Although she has lain aside her shield, her hand rests in readiness upon her sword, though she offers the olive branch of peace.

Justice William Brennan Courthouse

phone: +1 201 795-6600

address: 583 Newark Ave.

This stunning Beaux-Arts style building is a glimpse into the county's rich and storied history. Be sure to check out its stained glass dome and detailed murals. Guided tours are available on weekdays.

Colgate Clock

address: 2 Hudson Street

Dating back to 1924, the Colgate clock is a reminder of the numerous industries which once dominated the city. Manhattan residents still glance across the Hudson to tell the time from this iconic clock.

phone: +1 201 915-3440

address: Morris Pesin Drive

Liberty State Park is as large as New York's Central Park but is far less developed. Nonetheless, it gets some 4 million visitors a year, drawn to the waterfront to see unsurpassed views of Manhattan, Ellis Island and the Statue of Liberty. Don't miss fireworks displays over the water in the Fourth of July! Most tourists see the Statue of Liberty from Manhattan, but if you're coming by car, it's easier to do so from the Park. Make your reservations on-line ahead of time. Admission to the Statue of Liberty and Ellis Island are free, but you must buy a ferry ticket to make it to both sites. The ferry is first-come, first-served, but your advance reservation will guarantee you a particular window of time in which to visit the Statue. Tickets are sold in the historic Central Railroad of New Jersey (CRRNJ) terminal. While you are waiting for the ferry to depart, be sure to admire its early 20th-century ironwork and architecture. For immigrants heading west to places like Chicago and Pittsburgh after processing at Ellis Island, this is where their overland rail journeys began.

Liberty Science CenterIn Liberty State Park. The Science Center is open, after a $109-million, 22-month expansion project.

.

address: 350 Montgomery Street

address: 54 Journal Square

One of the five Loew's "Wonder Palaces," the Loew's Jersey was one of New York City's flagship movie palaces. The interior of the theater is surprisingly intricate and detailed; one person remarked that standing in the lobby of the Loew's is like standing inside a Faberge egg. It is being lovingly restored by a local group, and often hosts live events and screens movie revivals.

phone: +1 201 915-1388

address: 690 WestSide Ave

Belmont Avenue at WestSide Avenue. In 1905, "West Side Park", as it used to be called, was designed by landscape architect Charles Lowrie and Daniel W. Langston and features multiple historical points of interest. "Lincoln the Mystic", a seated statue of the US President, was sculpted by James Earle Fraser. It was dedicated on June 14, 1930 when the park was given its current name of Lincoln Park. The fountain at the entrance of Lincoln Park was designed by the sculptor Pierre J. Cheronin and completed in 1911. It is 53-feet high and decorated with water spouting frogs and allegorical figures. The park honors history through several monuments, such the Irish Famine Memorial, Civil War Solider statue, James T. Farrier Firefighter Memorial, and by the display of two historic cannons and sun houses.

phone: +1 201 547-6921

address: 298 Academy St

House where Generals George Washington and Marquis de Lafayette dined and discussed war tactics. A walking cane that was made out of the apple tree that once existed is displayed in the Louvre Museum in Paris. Tours are available on Wednesdays.

Van Vorst House

address: 530 Palisade Ave

Oldest structure in Jersey City and one of the oldest in New Jersey. Build c 1740.

Paulus HookToday, Paulus Hook is a charming neighborhood of Brownstone Row Houses with an excellent view of New York city, served by a light rail. It used to be a small peninsula surrounded by marsh, and connected the mainland by a causeway that was passable only at low tide. It was the main landing point before the Revolutionary War for travelers going into Bergen County from New York City. It has since been backfilled and Paulus Hook is no longer a hook. Paulus Hook was the site of British fortifications during the revolution that caused serious problems for the local revolutionary government- it was used as a base for loyalist raids into Bergen County. Major Henry "Light Horse Harry" Lee (father of the later Confederate General Robert E. Lee) took the fortifications by a night assault carried out during low tide on August 19, 1779.

St Paul's Roman Catholic Church

phone: +1 201 433-8500

address: 14 Greenville Ave

One of the tallest and oldest church towers in New Jersey. Built in the 1860s.

phone: +1 201-653-8814

address: 3026 Kennedy Blvd

Designed in the 1890s with stained-glass windows, a Seth Thomas clock, a Romanesque-Byzantine edifice, and a recreation of Raphael's "Disputation of the Holy Sacrament". The church's design features a gold tessera (a fusion of pure gold leaf and two pieces of glass) which only four other churches in the United States have.

address: Summit Ave

The park offers a lot of recreational activities including a running track, a pool, and an ice-skating rink. However, the park has a very deep military history since it was the location of a military camp during World War I. The park offers memorials for those who served in both world wars, the Korean War, and the Vietnam War. The park even has remnants of an old armory that once was located in McGinley Square.

address: Reservoir Ave at Summit Ave

This was the location of one of the nation's first water works facilities. The reservoir fell into disuse in the 1990s, and it began to look like a smaller version of the New Jersey Meadowlands. Today, the reservoir one of the few places within the New York metro area to view wildlife, but you must make an appointment online.

address: 1 Audrey Zapp Dr

Memorial dedicated to all 746 9/11 casualties from New Jersey. There are remains of the original towers adjacent to the memorial
*
Do

Walk along the Hudson Waterfront. Take in the breathtaking views. From most points along the waterfront, one can see (on a clear day) from the Verrazano Narrows Bridge all the way up the Hudson River to Midtown Manhattan. Just south of the Exchange Place PATH station is a waterfront pier which extends some 250 m into the Hudson River. From the pier, one will often see locals fishing, tourists taking pictures of the Manhattan skyline, and even people playing chess at one of the tables on the pier. This is one of the most popular locations to photograph the Island of Manhattan, as it is directly across from downtown and the World Trade Center.

Take a ferry to the Statue of Liberty or Ellis Island.

phone: +1 877- 523- 9849

address: 1 Audrey Zapp Dr

Although most people visiting these sites take the ferries from Battery Park in Lower Manhattan, you can also catch the Statue Cruises ferries bound for Liberty Island and Ellis Island from Liberty State Park. The landing is directly in front of the old Central Railroad of New Jersey terminal building.

Visit the biggest planetarium in the Western Hemisphere

address: 222 Jersey City Blvd

In 2018, the Liberty Science Center turned their old 89-foot IMAX Dome theater into a planetarium that can has an 88-million-pixel lighting system that can produce more than 280 trillion colors and 30,000 watts of digital sound.
Buy
Although Jersey City isn't known for its extensive shopping options, the City's new gentry have begun to bring with it classier and pricier shops. Nevertheless, some "old school" shops and bodegas (delis) continue to be mainstays, particularly for locals. Parts of Jersey City are in the Urban Enterprise Zone (UEZ) program, which allows retailers to charge half the state's sales tax (3.4375%) rather than the full sales tax rate, and clothing is not taxed at all. Retailers often have stickers on their doors showing that they participate in the UEZ program.
address: Central Ave

address: 277 Grove Street

Trendy clothing store, for the hipster set, catering mostly to women (although they do have a men's section).

phone: +1 201 626-2078

address: 30 Mall Dr West

The county's largest indoor mall. It is just south of the Holland Tunnel, and hosts a Macy's, JCPenney, Kohl's, Sears, AMC (formerly Cineplex Odeon) movie theater, and a variety of other chain stores, such as Toys Express and Spencer Gifts. All of the mall's more than 150 stores are part of the Urban Enterprise Zone. It's not free to park in the mall's parking garages; it's $2 to park there for up to 2 hours. Watch out if you stay parked longer than 6 hours; the rate zooms up, presumably to capture commuters parking there to take the PATH train from the Pavonia/Newport station to Manhattan. HBLR also serves Newport Center.

Stadium Plaza Shopping Center

address: Kellogg St

Shopping center most likely named after the demolished Roosevelt Stadium that once stood on those grounds. The shopping center includes ACME (supermarket), Rainbow (clothing store), Wendy's (fast food), Stadium Pizza (pizzeria), Dollar Ruby (thrift store), Petland (pet store), and Capital One Bank.

McGinley Square and Journal Square Shopping Districts

address: 700-920 Bergen Ave

address: 2-190 Newark Ave
A short walk south from the Journal Square Path, this multi vendor set-up carries a wide assortment of furniture, vintage goods, collectibles, antiques, housewares, fair trade & artisan direct merchandise, hand made, crafts, and other fineries. Enjoy a beverage at
Harry Street Coffee
, whose garden is open whenever the weather permits.
Eat
One of the great things about Jersey City is the diversity of its restaurant options. From wonderfully affordable Indian and Cuban restaurants to uber-trendy hotspots to elegant dining options offering stunning views of Manhattan with dinner, Jersey City has a little something for everyone. The city is also developing its own street food culture, which is somewhat similar to New York's. Vendors are typically around Exchange Place and near other recreational areas throughout the city.
Budget
phone: +1 201 420-6660

address: 777 Newark Avenue

Although Little India abounds with South Indian restaurants serving dosas (a kind of crepe, made from rice and yellow split peas, usually rolled around a filling of potatoes and cashews), the Dosa Hut probably has the widest selection possible, with 30 dosas to choose from. Dosa Hut (as with many South Indian restaurants) is vegetarian.

phone: +1 201 433 9600

address: 817 WestSide Avenue

Fiesta Grill used to have two locations: one in Newark Ave and in WestSide Ave. Fiesta Grill has a large dining room. In 2017, Fiesta Grill closed its Newark Ave location and moved permanently to WestSide Ave

White Manna

phone: +1 201 963-1441

address: 480 Tonnelle Avenue

(US 1-9). It has been here since the 1940s, and served up prize-winning hamburgers at the 1939 New York World's Fair.

phone: +1 201 763-6902

address: 354 Grove Street

A basic taqueria with simple yet satisfying Mexican fare. This is not a typical "Tex-Mex" restaurant. The menu includes rules such as "no oversized burritos," "no guacamole," and "no fajitas." However, with tacos ranging from $2 to $3, you can easily have a cheap meal. Other basic and inexpensive Mexican fare is available.

Park Cafe

phone: +1 201 333 4154

address: 14 Burma Rd

1960s-themed diner at the entrance/exit to Liberty State Park.

Miss America Diner

phone: +1 201 333-5468

address: 322 WestSide Ave

Little Quiapo/Philippine Bread House

address: 530 Newark Ave

Very cheap Filipino "turo-turo" (literally, point-point - as in, you point to the food you want to order) restaurants., while Little Quiapo is tucked away in the back of a shopping center. In front of the same shopping center is Philippine Bread House, a decades-old baking landmark for Filipino pastries such as ensaymada, halaya, and pan de sal.
Mid-range
address: 275 Grove Street

This restaurant is only open for 5 hours a day, and reservations and deliveries aren't a thing here. The crowds, the long wait times, and everything else is all worth it however, as once you are seated you will get to taste some of the best pizza in the NYC area. Even the appetizers such as the bread and butter, as well as the meatballs, are worth the extra money. Some have even controversially dared to call it the best pizza in New York, including food critic Pete Wells writing for the New York Times.

phone: +1 201 434 4115

address: 67 Terhune Ave

An out-of-the-way restaurant that serves some of the best Italian food in the NYC metro area. Don't expect to find anything else noteworthy in the area, but you will not regret coming to Laico's: the complimentary bread and house salad are enough to make it a worthwhile trip!

Hard Grove Cafe

address: 286 1st St

Near and dear to the hearts of long-time residents because of its long tenure at this location (years ago it was just about the only non-dodgy place to get a meal downtown). It is a Cuban-American diner with unique decor (including plastic palm trees), acceptable food, great drinks, and decent (but sometimes lacking) service. Previously owned by Dominic Santana, a local promoter who was known for his attempts to flaunt the city's restrictive cabaret laws and also known for owning the Stone Pony in Asbury Park. It has since gone under new ownership, who have made the decor a bit more colorful and added some fancier menu items while keeping the old favorites. Also has a good selection of Cuban rum mixed drinks.

phone: +1 201 333-7020

address: 313 Grove Street

This semi-Malaysian place serves a variety of Southeast Asian dishes including coconut based curry, Sushi, Singapore Noodles, or a variety of other Asian fusion dishes. Prices are very reasonable, even more so when you take into consideration that it is BYOB. Try the crispy beef. Outside seating is available during the warmer months.

phone: +1 201-324-2788

address: 95 Greene Street, Jersey City NJ

phone: +1 201 839-5818

address: 708 Jersey Avenue

phone: +1 201 839-5604

address: 174 Coles Street

phone: +1 201-451-3606

address: 141 Broadway

Don't let this restaurant's location by the side of a busy highway put you off. This place has some of the best home-cooked Italian food this side of Jersey. Be sure to check out their lunch buffet deal - all-you-can-eat for only $8.

phone: +1 201-876-8800

address: 364 Fourth Street

A tiny French bistro in an unlikely location at the edge of downtown, this restaurant is a tiny piece of Paris in gritty Jersey City.

phone: +1 201-222-6886

address: 611 Jersey Ave

Great thin crust pizza, among the best in town (try the mozzarella!), as well as quality salads and pasta.

phone: +1 201 222-8850

address: 810 Newark Avenue

Easily the best Indian restaurant in Jersey City. Their lunch buffet is fantastic. Service is spotty, but the food is worth it.

phone: +1 201-721-6566

address: 576 Summit Avenue Jersey City, NJ 07306

One of the few places in Metro New York to offer Bangladeshi cuisine. Reservations must be made for parties of 4 or more
Splurge
Drink
Sleep
Many budget-minded New York City tourists decide to stay in moderately-priced Jersey City hotels because of its proximity to Manhattan. Hotels along or near the waterfront are quite safe and very well-appointed. Avoid the strip of motels along US 1-9 (Tonnelle Avenue) north of Journal Square. The area is industrial, unsafe, and is a haven for prostitution and other illicit activities.
Budget
phone: +1 201 963-6200

address: Holland Tunnel Plaza East

This non-descript motel, directly in front of the Holland Tunnel, is a popular option for budget-minded travellers. It's clean, safe, reasonably priced, and only a short walk from the Pavonia/Newport PATH station.

phone: +1 201 432-6100

address: 65 Tonnelle Avenue

Short walk to Journal Square
Mid-range
phone: +1 201 659-2500

address: 21 Second Street

phone: +1 201 626-6600

address: 540 Washington Boulevard

By the Newport Centre Mall and one block from the waterfront.
Splurge
DoubleTree by Hilton Hotel & Suites Jersey City

phone: +1 201 499-2400

address: 455 Washington Boulevard

Popular with business travelers, this all-suite hotel is near the Pavonia/Newport PATH and Newport Mall.

Hyatt Regency Jersey City on the Hudson

phone: +1 201 469-1234

address: 2 Exchange Place

On the Hudson River, this hotel has fabulous views of Manhattan. And it's practically right beside the Exchange Place PATH station, making trips into Manhattan a breeze. The Hyatt is easily Jersey City's nicest hotel.
Connect

Jersey City is served by two area codes - 201 and the overlay area code, 551. This means that 10-digit dialing is required. When dialing locally (within the 201 and 551 area codes), do not dial +1 before the number. For calls to other area codes, you must dial +1 before the number you're calling. Even though New York City is just across the Hudson, it's considered to be a long-distance call. Of course, with the advent of cellphones, long-distance calling is quickly becoming a thing of the past.
As in Manhattan, internet cafes are fairly uncommon in Jersey City as Wi-Fi is becoming more readily available. Notably, Janam Indian Tea on Grove Street and the Daily Grind Coffee Lounge on Morris Street offer free Wi-Fi connections.

Stay safe

Jersey City is very safe for a major city, and its crime rate is comparable to that of New York City. However, it pays to exercise precautions. Outside of Journal Square, Historic Downtown, and the Newark Avenue pedestrian plaza, many streets are virtually deserted after midnight, making those walking alone easy targets. If you must walk alone, stick to well-lit, major streets and don't flash your wallet, cellphone, camera, or iPod.
Try to avoid the southern section of the city, bordering Bayonne, particularly the neighborhood of Greenville. In particular, Martin Luther King Drive and Ocean Avenue should be avoided. This is the most crime-ridden portion of the city and it is a primarily low-income area, which is close to Liberty Science Center, Liberty State Park, and other areas that would be of interest to tourists. Making a wrong turn near these destinations can lead visitors traveling by car into unsavory neighborhoods. The light rail stations south of Jersey Avenue are within the southern areas of the city, and exercising caution is heavily suggested after dark.
Do not leave any valuables in your car.

Go next